23 Grad Student Workers Arrested as Yale Hunger Strike Continues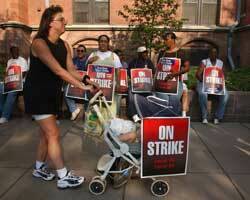 Twen­ty-three Yale grad­u­ate stu­dents were arrest­ed Thurs­day in a civ­il dis­obe­di­ence aimed at pres­sur­ing the uni­ver­si­ty to rec­og­nize its recent­ly cer­ti­fied union of grad­u­ate stu­dent teach­ers, UNITE HERE Local 33.
Eight mem­bers of the union began a hunger strike on April 25. Thursday's civ­il dis­obe­di­ence was the first time the union had staged a protest in city streets. Stu­dents blocked three busy inter­sec­tions in down­town New Haven, Con­necti­cut. Three were report­ed­ly tak­en into cus­tody for refus­ing to accept their court sum­mons; Twen­ty more were tick­et­ed and vol­un­tar­i­ly accept­ed their summons.
Thurs­day was ​"move-out" day for Yale under­grad­u­ates, which gave the action increased impact and vis­i­bil­i­ty. The union plans to con­tin­ue the fasts and protests indefinitely.
"I can't speak for all uni­ver­si­ties," said Sarah Arve­son, a sec­ond-year grad­u­ate stu­dent in geol­o­gy and geo­physics. ​"But cer­tain­ly at Yale, the grad­u­ate stu­dent teach­ers need a union. We're cur­rent­ly sub­ject­ed to rules made by an opaque body that we have no say in."
Arve­son, who was among those tick­et­ed Thurs­day, has tak­en part in the fast for about a week, sub­bing in for one of the orig­i­nal par­tic­i­pants who had to with­draw for med­ical reasons.
UNITE HERE Local 33 is the newest chap­ter in a push for union rep­re­sen­ta­tion among grad­u­ate stu­dents at Yale that start­ed in the ear­ly 1990s. Its found­ing con­ven­tion was in March 2016. In August, the Nation­al Labor Rela­tions Board (NLRB) ruled that grad stu­dents at pri­vate uni­ver­si­ties have a right to col­lec­tive bar­gain­ing. A week lat­er, UNITE HERE Local 33 peti­tioned the NLRB for union elec­tions in sev­er­al depart­ments. The board grant­ed the request in Jan­u­ary, and eight depart­ments vot­ed to unionize.
For its part, Yale has refused to rec­og­nize or nego­ti­ate with the union, and it is stalling the process by appeal­ing the NLRB's deci­sions. It has good rea­son to hope for more favor­able rul­ings. Two of the board's seats are vacant, and Pres­i­dent Don­ald Trump's appointees are all but cer­tain to reshape it in a con­ser­v­a­tive direction.
Jen­nifer Klein, a his­to­ri­an on the Yale fac­ul­ty, recent­ly not­ed in the New York Times that the prospects for grad­u­ate stu­dents looks far dif­fer­ent than media car­i­ca­tures of them as pam­pered snowflakes. In fact, their plight is sim­i­lar to that of work­ers across all sec­tors. About 70 per­cent of fac­ul­ty mem­bers in high­er edu­ca­tion are now ​"con­tin­gent," mean­ing that they work on con­tract, with no hope of tenure, and ​"lack access to afford­able health care, job secu­ri­ty or a voice in their work­ing con­di­tions." The fight at Yale, Klein not­ed, ​"has impli­ca­tions for the entire labor market."
In addi­tion to issues like bet­ter health­care ben­e­fits and child care, sex­u­al harass­ment has been a key issue for UNITE HERE Local 33. On Thurs­day, many of the protest­ing stu­dents held signs that said ​"How much longer?" and ​"End sex­u­al harass­ment at Yale." A 2015 sur­vey showed that 54 per­cent of female grad­u­ate stu­dents at Yale had expe­ri­enced sex­u­al harass­ment. The union's demands include a bet­ter griev­ance process.
"We have pro­ce­dures that do not work for us," Arve­son said, ​"and we're told over and over again that they do work for us."
A Yale spokesman has said that, on the issue of sex­u­al harass­ment, ​"a union of grad­u­ate stu­dents would not make Yale any more dili­gent and respon­sive on this issue than it already is on behalf of all stu­dents." More broad­ly, the admin­is­tra­tion has crit­i­cized Local 33's ​"micro-unit" strat­e­gy — orga­niz­ing a lim­it­ed num­ber of depart­ments at a time, rather than pur­su­ing a vote across the entire grad­u­ate school. Yale Pres­i­dent Peter Salovey claims that Yale is ​"deeply trou­bled" by the ​"unde­mo­c­ra­t­ic" method of micro-unit unionization.
Arve­son said that, what­ev­er the out­come of Yale's appeals, the fight will go on, as it has for a quar­ter of a cen­tu­ry. The stakes are too high not to.
"I think a win here is a win for work­ers every­where, at a time when work­ers are gen­er­al­ly los­ing," Arve­son said. ​"We've done pick­ets and teach-ins and civ­il dis­obe­di­ences, but the uni­ver­si­ty has refused to nego­ti­ate. We'll con­tin­ue until they do. That's where things stand right now."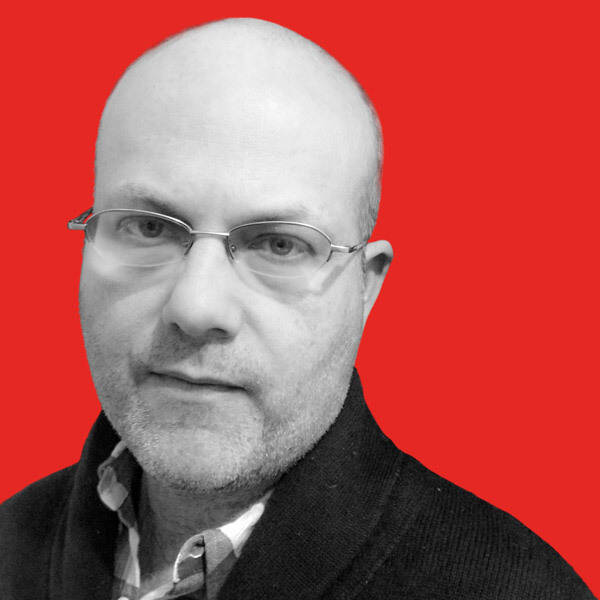 Theo Ander­son
is an In These Times con­tribut­ing writer. He has a Ph.D. in mod­ern U.S. his­to­ry from Yale and writes on the intel­lec­tu­al and reli­gious his­to­ry of con­ser­vatism and pro­gres­sivism in the Unit­ed States. Fol­low him on Twit­ter @Theoanderson
7
.