Artist Molly Crabapple on Refusing Lena Dunham, Sketching Occupy and Achieving Cockroach-Free Hair
Molly Crabapple tells In These Times about her new memoir—and true to form, the interview is no-bullshit in tone and global in scope.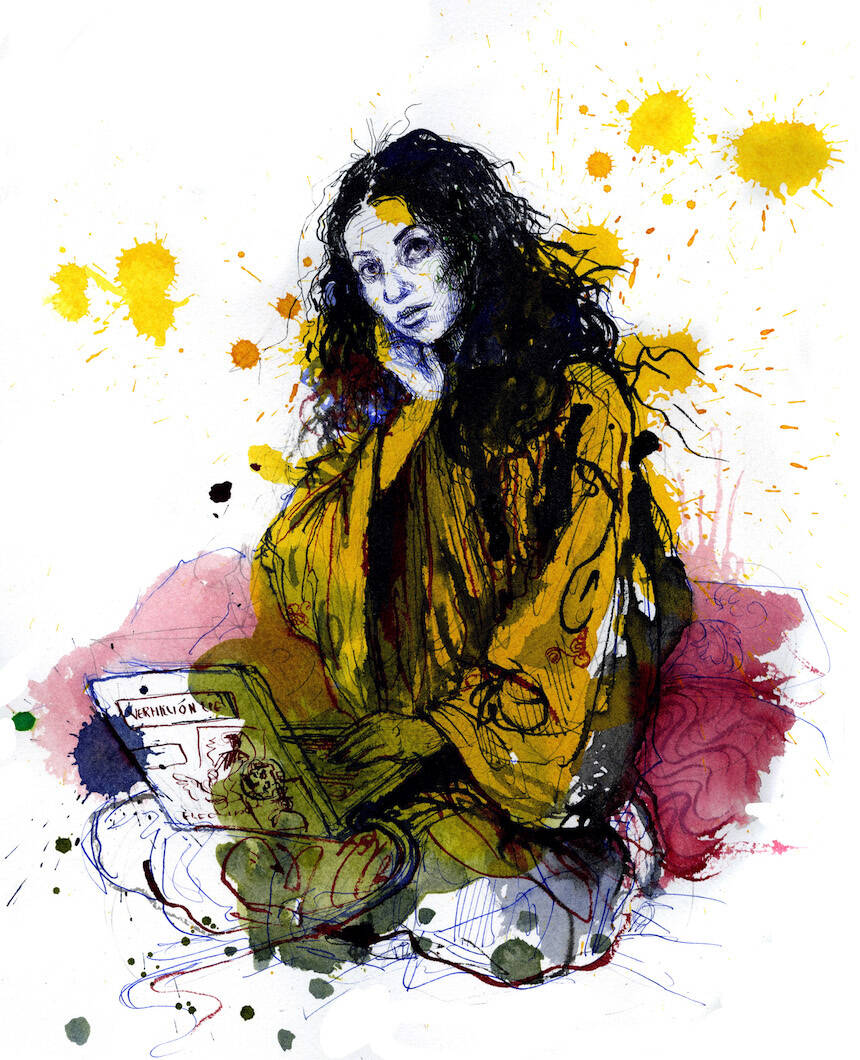 Mol­ly Crabap­ple has gone from ​"Occupy's great­est artist" to a pow­er­house jour­nal­ist. In her art, writ­ing and ani­ma­tions, which have appeared every­where from Van­i­ty Fair to the Paris Review to her col­umn for VICE, she shines light into the dark­est cor­ners of injus­tice: immi­grant deten­tion cen­ters and soli­tary con­fine­ment units, Abu Dhabi's labor camps and Guantánamo's Camp X‑Ray. She has drawn life under ISIS and Greece in cri­sis. She per­son­al­ly con­front­ed Don­ald Trump before it was cool.
I might look at the Thomas Friedmans and the Nicholas Kristofs of the world and think, 'My god, I might not be a genius, but I'm better than them.'
In her new illus­trat­ed mem­oir, Draw­ing Blood, she recounts her per­son­al, artis­tic and polit­i­cal com­ing-of-age. At 18, she start­ed work­ing as what she calls a ​"pro­fes­sion­al naked girl" to fund her art. Nude mod­el­ing and bur­lesque danc­ing intro­duced her to New York's under­world, where artists and sex work­ers rubbed shoul­ders with — and waged ​"class war" against — the rich who were often their patrons.
Then Occu­py politi­cized her art. She draft­ed protest posters, host­ed activists and reporters at her apart­ment near Zuc­cot­ti Park, and got arrest­ed at the Occu­py anniver­sary. Since then, she has tak­en her anti-estab­lish­ment eth­ic all over the world, adding writ­ten report­ing to her reper­toire and com­mand­ing main­stream attention.
Crabap­ple spoke with In These Times about her mem­oir, art and politics.
In the book, you come across both as some­one who's Zelig-like, every­where with every­one at all times, and an out­sider, work­ing in the under­ground econ­o­my and try­ing to break into the art world. Was there a moment when you stopped feel­ing like an out­sider? If so, did any sense of loss come with that?
When you're an out­sider, you don't have loy­al­ties to any­one, so you can be cru­el­ly hon­est if need be. The more you get inside, the more you are involved in polite net­works of pro­fes­sion­al coer­cion that make peo­ple less honest.
When you live in New York and are an artist and are inter­est­ed in peo­ple, you meet a lot of peo­ple. A lot of these peo­ple I met before they were well-known. Then lat­er, peo­ple like Lau­ra Poitras break the Edward Snow­den sto­ry, and they were get­ting drunk in your apart­ment the pre­vi­ous year.
Isn't this always the tragedy of bohemia? Either you come inside and become a well-fed, bor­ing per­son with tenure, or else you stay out­side and die of syphilis. Cap­i­tal­ism co-opts things in that way. But obvi­ous­ly, I'm not a broke kid with cock­roach­es in my hair any­more. And thank God for that.
Are there ever times when your alle­giances to out­siders might inter­fere with your abil­i­ty to be honest?
Recent­ly, Lena Dun­ham signed a real­ly fucked-up peti­tion against Amnesty Inter­na­tion­al when they vot­ed to sup­port the decrim­i­nal­iza­tion of sex work. A lot of impor­tant peo­ple signed it, but Dunham's sig­na­ture was par­tic­u­lar­ly impor­tant because she's an influ­en­tial young feminist.
Around that time, her peo­ple asked me to work for her new fem­i­nist newslet­ter. I said ​"no" and wrote an open let­ter about it. I felt like: Okay, I have this access, I'm respectable enough that they asked me to illus­trate for this — maybe I can per­suade her to lis­ten to sex work­ers and not sign a frankly dan­ger­ous peti­tion. Unfor­tu­nate­ly, it didn't work out. Lena stuck to her posi­tion, despite the many peo­ple in the indus­try point­ing her towards work that sup­port­ed Amnesty's deci­sion. I wish she had lis­tened to sex workers.
You write frankly about your abor­tion. Your expe­ri­ence wasn't won­der­ful. Did you wor­ry it might be used as fod­der for abor­tion opponents?
No one has a fun expe­ri­ence with surg­eries — any surgery. You could go to some­one and be like, ​"Are you hap­py you had a root canal? Do you love it?" No one loves their fuck­ing root canal. Abor­tion is a med­ical pro­ce­dure, and med­ical pro­ce­dures are shit­ty. They're not fun.
I wrote about my abor­tion hon­est­ly, because if you write pro­pa­gan­da that every­one knows is lies, you do more harm to your cause than any­thing else.
You write in the book about work­ing as a ​"pro­fes­sion­al naked girl." There's a moment where you and a friend are talk­ing about what plas­tic surgery you would need to get to be ​"per­fect." Do you feel any ambiva­lence about how cap­i­tal­iz­ing on your looks might affect you personally?
The lie that cap­i­tal­ism tells women is that if you're pret­ty, your life will be per­fect, and so you have to buy a lot of shit to be pret­ty. That's not true — any­one who's a sex work­er knows that if you're pret­ty, your life isn't going to be perfect.
But you do know that if you get breast implants, you can make $300 more a night. That's just a capac­i­ty to earn mon­ey. If you're going to view your looks as a way to get some­thing, that's much health­i­er, because it has noth­ing to do with being loved or your soul. It's the same thing as say­ing, ​"If I got a master's degree, I would earn more money."
Occu­py looms large in your sto­ry, but you don't seem to reach a res­o­lu­tion about it. Did Occu­py ulti­mate­ly dis­ap­point you?
I think Occu­py suc­ceed­ed in politi­ciz­ing a gen­er­a­tion of peo­ple. I don't know if that's just my hope­ful­ness; per­haps when you're involved in these things that fun­da­men­tal­ly trans­form you, it's hard to get an objec­tive his­tor­i­cal view. I know it changed me and my friends.
You say you're more devot­ed to your sketch­book than to any social move­ment. Still, you seem very drawn to move­ments, from Occu­py to Greek anti-aus­ter­i­ty. Do you have some kind of vision for what social move­ments should be going forward?
No, I'm an artist. Artists suck. I look at peo­ple I admire like anti-prison activist Mari­ame Kaba and I'm like, ​"You do that and I will sup­port you." There are peo­ple way smarter than me who can orga­nize shit. I will just draw the posters.
You write about how you can draw in places where you can't pho­to­graph. Do you feel like there's some­thing fun­da­men­tal­ly less objec­ti­fy­ing about draw­ing people?
When you take a pho­to, peo­ple can't real­ly see what you're doing. You have this elec­tron­ic box and it's all hap­pen­ing in the box. But if I have a sketch book and I'm draw­ing, some­one could look over and say, ​"Your draw­ing looks like shit." You're demon­strat­ing your own skills in a vul­ner­a­ble way when you draw.
Objec­ti­fy­ing is kind of a fun­ny thing. Art is objec­ti­fi­ca­tion, all art, because you're tak­ing some­one and mak­ing them into an object. But peo­ple can also talk back more to you when you're sketch­ing them. They can look at you and say, ​"Oh man, you got me wrong."
How does writ­ing about some­thing ver­sus draw­ing change the way you relate to people?
When you write about some­one, you're objec­ti­fy­ing them on a much more inti­mate lev­el. When I'm draw­ing some­one, I'm just draw­ing their sur­face. If I was draw­ing you, I'd be like, ​"Oh, that's where her nos­trils are and that's where her eyes are, and her hair does this lit­tle curve." Where­as when you're writ­ing about some­one, you're ask­ing, ​"How does she laugh? What's her rela­tion­ship like with her room­mate?" It's all these oth­er things that you're tak­ing away from them and mak­ing your own.
In sev­er­al moments in the book, you write about act­ing more dar­ing than you felt. But you're doing things like cov­er­ing huge sto­ries like the anti-aus­ter­i­ty move­ment in Spain with­out hav­ing much writ­ing expe­ri­ence. How did you muster the con­fi­dence to do that?
Most peo­ple cov­er­ing sto­ries, doing most oth­er things, are shit­ty. I wrote about my friend Jen Dziu­ra in the book. She says what inspires her isn't great­ness but medi­oc­rity, because she looks at the mas­sive morass of idiots who feel so self-right­eous. In keep­ing with her idea, I might look at the Thomas Fried­mans and the Nicholas Kristofs of the world and think, ​"My god, I might not be a genius, but I'm bet­ter than them."
You wrote about a hunger strik­ing pris­on­er and drew Khalid Sheikh Mohammed in Guan­tá­namo. Is it intim­i­dat­ing to just pick a top­ic like Guan­tá­namo and entire­ly edu­cate yourself?
Total­ly. Every sin­gle time I feel like I'm going to screw up and betray every­one. I felt the worst when I was writ­ing about Israel's mil­i­tary incur­sions in Gaza, because the stakes are so high for peo­ple. But yes, every sin­gle time, I'm afraid. Every time.
Rachel Luban
is a writer liv­ing in Mary­land. She con­tributes to Full Stop and her work has appeared on Jezebel, The Rum­pus, and In Our Words. Fol­low her on Twit­ter: @rachelcluban.