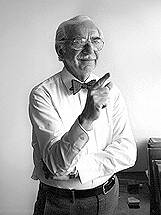 This week, AFL-CIO Pres­i­dent Richard Trum­ka ran unop­posed for the pres­i­den­cy of the AFL-CIO — but only because his oppo­nent, labor activist Har­ry Kel­ber, died before the elec­tion. While foul play is not sus­pect­ed (he died from nat­ur­al caus­es in late March), the death of 98-year-old union dis­si­dent Har­ry Kel­ber still came as a shock to me.
Har­ry had got­ten so good at liv­ing, and at find­ing beau­ty and enjoy­ment in it, that I thought he would nev­er die. Heck, so did he. ​"The way I fig­ure it, I got enough mon­ey to make it till I'm 100," he used to joke.
Har­ry was a famil­iar fig­ure at AFL-CIO con­ven­tions since 1995, when, at 81, he became the first ever rank-and-file union mem­ber to run for exec­u­tive coun­cil of the AFL-CIO, forc­ing a con­test­ed elec­tion against incum­bent Pres­i­dent Lane Kirk­land, whom he saw as ineffectual.
After that, he ran for AFL-CIO pres­i­dent four times, ensur­ing he had a speak­ing slot at the qua­dren­ni­al con­ven­tion — often the only time crit­i­cism of the AFL-CIO was heard from the podi­um dur­ing an oth­er­wise tight­ly chore­o­graphed event. Har­ry con­sid­ered the AFL-CIO lead­er­ship to be a group of ​"self-serv­ing, self-per­pet­u­at­ing bureau­crats" dis­in­clined toward the kind of tumul­tuous debates that empow­ered CIO activists to make the mas­sive orga­niz­ing gains that they did in the 1930s. ​"Win or lose, the Trum­ka group is guar­an­teed their six-fig­ure salaries and lav­ish pen­sion deals when they retire," wrote Har­ry last April. ​"And they use what­ev­er tac­tics are nec­es­sary to pre­vent inter­lop­ers from chal­leng­ing their pow­er." (Har­ry loved to bring up that AFL-CIO Pres­i­dent Richard Trum­ka made $293,750 — dra­mat­i­cal­ly more than the salary of a typ­i­cal union member.)
Har­ry was con­stant­ly search­ing for ways to impart upon younger gen­er­a­tions the lessons of dis­sent, crit­i­cism and reflec­tion that he felt were so cru­cial to the orga­niz­ing tac­tics of the CIO of the ​'30s. Unit­ed Elec­tri­cal Work­ers (UE) Polit­i­cal Action Direc­tor Chris Townsend used to say that Har­ry had for­got­ten more about orga­niz­ing then most peo­ple inside of the AFL-CIO ever knew.
As a reporter with three gen­er­a­tions of fam­i­ly mem­bers involved with the UE and its rank-and-file tra­di­tion of demo­c­ra­t­ic con­trol and self-crit­i­cism, I found it refresh­ing to talk to Har­ry, espe­cial­ly com­pared to my con­ver­sa­tions with the some­times close-mouthed lead­ers of the labor move­ment. When I met him in 2010, he seemed like a con­nec­tion to peo­ple like my then-recent­ly deceased grand­par­ents, whose sto­ries of build­ing the labor move­ment in the ​'30s inspired me to become a labor reporter.
Har­ry con­tin­ued to write three columns a week well into his 90s, in a live­ly, open-to-cri­tique style rem­i­nis­cent of the ear­ly labor move­ment. In some ways, Har­ry Kel­ber was the Thomas Paine of a lag­ging labor move­ment. I've heard him cred­it­ed with start­ing the dis­cus­sion that even­tu­al­ly lead to the first-ever oust­ing of an AFL-CIO pres­i­dent, Kirk­land, in 1995 — and Har­ry often claimed that his land­mark 1990 book, Why Unions Are In Trou­ble… And What They Can Do About It, sold over 125,000 copies.
For Har­ry, it was heart­break­ing to see mod­ern labor lead­ers fail in their promis­es to work­ers, because he knew first­hand the price work­ers have paid for the right to join a union. He often recalled see­ing a group of old Jew­ish wait­ers beat­en on a New York street cor­ner in the 1930s just for demand­ing the right to union­ize. And he recalled the joy of suc­cess­ful­ly lead­ing his own four-month strike as a teenage gro­cery work­er in 1933.
Har­ry wasn't shy about voic­ing his crit­i­cisms of labor lead­ers, even when it meant suf­fer­ing the con­se­quences. Dur­ing the McCarthy era of the 1950s, he faced under­em­ploy­ment and black­list­ing when he fell out of step with the union-backed purge of com­mu­nism in its own ranks. In 1990, he was fired as Direc­tor of the Edu­ca­tion­al and Cul­tur­al Trust Fund of IBEW Local 3 after crit­i­ciz­ing IBEW leadership.
What amazed me the most about Har­ry, though, was how he man­aged to bal­ance his com­mit­ment to labor activism with inter­ests that went far beyond his pas­sion for work­ers' rights. Labor report­ing can be down­right trau­mat­ic some­times — cov­er­ing peo­ple los­ing their jobs for try­ing to join a union, los­ing their pen­sions in slick bank­rupt­cy pro­ce­dures, and some­times even los­ing their lives in all-too-fre­quent acci­den­tal work­place deaths. It's often very depress­ing because it's just peo­ple try­ing to help them­selves, and there is so lit­tle you can do as a jour­nal­ist to help these peo­ple. And the con­trast between rank-and-file shop floor activists and high-paid, inside-the-Belt­way labor lead­ers can be even more depress­ing for those of us who write about the move­ment as a whole.
But Har­ry nev­er let the ugli­ness of it all drag him down, because he could con­stant­ly escape into the beau­ty of his many hobbies.
​"If I had just sat on that couch and watched TV, I would have been been dead 20 years ago," Har­ry told me once. ​"I wake up in the morn­ing and I am excit­ed for what­ev­er I am going to learn that day."
Har­ry pio­neered a new form of poet­ry, known as a sep­tad, which con­sist­ed of 28 syl­la­bles arranged in sev­en lines. He stud­ied for­eign lan­guages well into his 90s, despite the fact that he was only capa­ble of trav­el­ing to the places where those lan­guages were spo­ken in his mind.
When it became too dif­fi­cult for Har­ry to see the keys on a nor­mal key­board, instead of giv­ing up writ­ing, Har­ry sim­ply went out and got a key­board where the keys were twice as large. I remem­ber dur­ing the Egypt­ian Rev­o­lu­tion in 2011, Har­ry called me up to his apart­ment in Brook­lyn Heights and asked me to show him how to use Twit­ter at the age of 95 so he could fol­low what was going on.
​"Wow, this is thrilling," Har­ry exclaimed, watch­ing as the tweets of Egypt­ian activists in Tahrir Square scrolled down the com­put­er mon­i­tor in his Brook­lyn Heights flat.
Harry's ener­gy was astound­ing. He would fre­quent­ly stay up till 3 a.m. writ­ing, read­ing, mak­ing music, explor­ing, or lis­ten­ing to phi­los­o­phy tapes. Har­ry would always encour­age me to call him, no mat­ter what time it was, when­ev­er I got stumped on a piece. I remem­ber once call­ing Har­ry in Feb­ru­ary 2011 at 1 a.m. from Madi­son, Wis. to ask him what he thought of the mas­sive protests in the streets. I sat on the phone with him for more than an hour, lis­ten­ing to his sto­ries of mas­sive strikes and demon­stra­tions in the 1930s.
He always told me that learn­ing new things and keep­ing his mind active was what kept him so ecsta­t­ic about life. When he told me he'd been tak­ing lessons to learn how to com­pose music, I assumed that he meant he was writ­ing music on the piano. In the sum­mer of 2011, I vis­it­ed him with a French friend who final­ly asked Har­ry what kind of music he composed.
​"Avant-garde music," Har­ry said. ​"You know, on the computer?"
My jaw dropped — the guy was 96 and more of a hip­ster than me.
Har­ry knew that I had suf­fered from bouts of depres­sion, and every time we spoke, he would con­stant­ly try to encour­age me to fol­low a path that would help me become a very hap­py 98-year-old labor reporter like him — to devel­op a hob­by, a pas­sion, some­thing that I loved and I could look for­ward to every day, no mat­ter what.
​"Mike, this stuff will kill you if it's all you do," he said. ​"You got­ta have some­thing that you do when you come home that is just beau­ti­ful and makes you think with a dif­fer­ent part of your brain."
While there may have been oth­er writ­ers who inspired me more as a reporter, nobody has inspired me to pur­sue the kind of life I want­ed to have away from the key­board like Har­ry did. I've found my own form of escape clip­ping mag­a­zine art­work to make collages.
Some­times doing col­lage work late at night, I find myself think­ing about Har­ry. I think of him sit­ting at his over­sized key­board strug­gling to make avant-garde elec­tron­ic music. I think of sit­ting around his mas­sive Brook­lyn Heights apart­ment as the 96-year-old labor reporter gave me, a 25-year-old kid, dat­ing advice based on his first failed mar­riage. I think of the way Har­ry howled when he laughed, and it makes me smile. I miss my friend.