Mike Elk
wrote for
In These Times
and its labor blog,
Working In These Times
, from
2010
to
2014
. He is currently a labor reporter at Politico.
Mike Elk is a Pittsburgh native and labor journalist whose investigative work has been cited on the front page of the New York Times and debated by Whoopi Goldberg and Barbara Walters on ABC's The View. Elk won a Sidney Award for his coverage of how corporations crafted legislation to exempt prison labor from U.S. minimum wage laws. A frequent guest on MSNBC and Democracy Now!, Elk has also written for the New York Times, the Washington Post, Reuters and The Nation.
He lives in Washington, D.C. but is often on the road. From the Wisconsin State Capitol to the clubhouses of Major League Baseball to the fried chicken joints of Chattanooga, Tenn., Elk has been there to get the inside scoop.
Follow him on twitter @MikeElk.
Steve Early on Labor Reporting: 'Unions Can Be Thin-Skinned About Criticism'
Verizon Wireless Workers Make History in Brooklyn
Emails Show Sen. Corker's Chief of Staff Coordinated with Network of Anti-UAW Union Busters
The Battle for Chattanooga: Southern Masculinity and the Anti-Union Campaign at Volkswagen
Former Teamster Official Pushed Anti-UAW Message on Social Media
After Historic UAW Defeat at Tennessee Volkswagen Plant, Theories Abound
Corker Flip Flops Again on UAW
After Outcry, White House Extends $10.10 Minimum Wage to Some Disabled Workers
Tenn. Lawmakers Threaten to Block Subsidies If VW Plant Unionizes
Department of Labor May Raise Wages for Disabled Federal Contractors, After All
EXCLUSIVE: Leaked GM Video Raises Questions About Senator Corker's Anti-Union History
Obama's Wage Hike For Federal Contractors Won't Apply to Disabled Workers
A Final Q&A with Pete Seeger (1919-2014)
At one of his last appearances, the singer looked back at an eight-decade career.
Barbara Ehrenreich on Feminism, the Occupy Movement and More
Mistakes of West, Texas Repeated In West Virginia
Employees at Koch-Owned Georgia-Pacific Can Now Tweet About Work Without Fear
Obama Administration Stays Quiet as Boeing Strikes Major Blow to Pensions
Honeywell Workers Get Rare Good News for Christmas
In Memory of Mark Haller: Union Brother, Autistic and a Lifeline for Many
Volkswagen Tied to Another Anti-Union Group
The Union President Who's Helping Put Filibuster Reform in Motion
Bosch Engineering to Guest Workers: Hand Over Tax Refunds or Go Back to India
Ditching Child Labor Laws; Honeywell Looking to Escape Liability; Machinists Reject Boeing Contract
Volkswagen Gave Money to Anti-Union Group That Used Pro-Confederate Rhetoric (Updated)
EXCLUSIVE: Volkswagen Isn't Fighting Unionization—But Leaked Docs Show Right-Wing Groups Are
New Workplace Injury Transparency; Miller Calls for Black Lung Probe; Airport Job Quality Plummets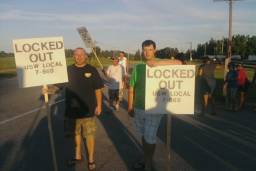 A Fridge Full of Uranium for Honeywell Employees
OSHA Weaknesses Force Workers to Choose: Report Safety Violations, or Keep Their Jobs?
State Department Apologizes for Calling Unionization a Security Threat
Discovering a Black Man Having a Heart Attack on the Sidewalk
The BART Strike Media Fail
Victory for Mineworkers in Battle Against Patriot Coal and Peabody Energy
Fines for Texas Fertilizer Plant; Interns Keep the Government Running; Who Will Pick the Pears?
Teamsters Have Beef with Ted Cruz; Guest Workers' Zero-Dollar Pay; Exxon Mobil Goes Gay-Friendly
A 98-Year-Old Labor Reporter Who Loved Avant-Garde Music
Lessons From the Tomb of Frank Little
For Union Members, Defeat at Crystal Sugar Anything But Sweet
Dollar Store Caught Nickel-and-Diming Workers; Uber Sued; NFL Gets Off Cheap on Concussions
Wisconsin Protests Rejuvenated by Crackdown on Singers in Capitol
A Victory for Silica Dust Exposed Workers?
Koch Brothers Won't Get the LA Times; People of Color Feel Less Safe at Work
Beleaguered Honeywell Workers Cautiously Optimistic As Arbitrator Sides With Union
Rank-And-File Unionists Converge in Detroit as Part of 'Summer of Solidarity'
Patriot Coal Deal Reached, But Fight Still on Against Peabody Energy
New Secretary of Labor To Get Tough; Wage Theft? 'Better Call Saul'; Public Workers Win in Michigan
Honeywell Plant Freezes Summer Vacations
Blame Bangladesh's Middlemen; Public Defenders Get Sequestered; A Mag Just for Interns
EXCLUSIVE: Activists Identify DC Cop Who Infiltrated Bangladesh Sweatshop Protests