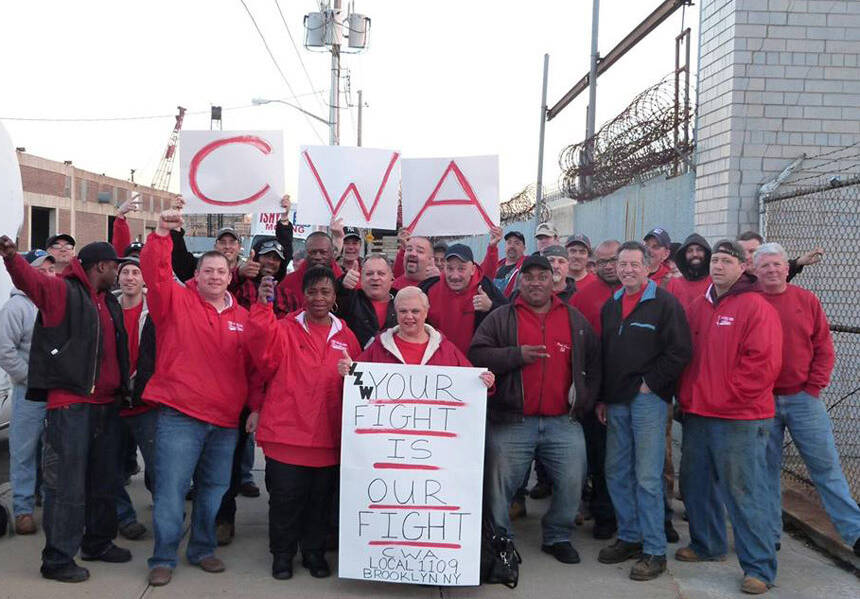 Tim Dub­nau, Dis­trict 1 orga­niz­ing coor­di­na­tor for the Com­mu­ni­ca­tions Work­ers of Amer­i­ca (CWA), saw some­thing ear­li­er this month that he'd nev­er wit­nessed before in all his years in the labor move­ment. On May 14, when Ver­i­zon Wire­less work­ers through­out Brook­lyn held an elec­tion to union­ize with CWA, a preg­nant employ­ee arrived at the Bayridge store at about 11:45 a.m. Already in labor, this work­er was unable to descend the stairs to the vot­ing area. In response, the Nation­al Labor Rela­tions Board shut down vot­ing and set up a spe­cial vot­ing area in the bath­room of the store so the woman could vote.
​"It was incred­i­ble that this union vote was so impor­tant to this woman that she came in to vote while going into con­trac­tions," says Dubnau.
That day, Dub­nau also expe­ri­enced anoth­er first in his tenure with the CWA: a vic­to­ry for the union among Ver­i­zon Wire­less retail workers.
Last week's Brook­lyn elec­tion — which saw Ver­i­zon work­ers at six stores vote 39-to-19 to join CWA Local 1109 — marks a major step for­ward for the union. Though CWA cur­rent­ly rep­re­sents 40,000 Ver­i­zon land­line work­ers, until last week, only 85 Ver­i­zon Wire­less employ­ees were mem­bers: tech­ni­cians in Long Island, New York City and Rock­land Coun­ty, who vot­ed to union­ize in 1989.
Orga­niz­ing Ver­i­zon Wire­less retail employ­ees is key to CWA's strat­e­gy of extend­ing much-need­ed union pro­tec­tions to the grow­ing num­ber of work­ers at the cel­lu­lar giant. Dub­nau and oth­er orga­niz­ers say that the lack of union rep­re­sen­ta­tion at Ver­i­zon Wire­less has impaired the union's abil­i­ty to resist the company's demands for con­ces­sions, includ­ing the elim­i­na­tion of pen­sions for new hires and increased health­care costs. A strike strat­e­gy is an inte­gral part of CWA's plan to have more lever­age against Ver­i­zon — the union staged a high-pro­file strike of 45,000 land­line work­ers in 2011—but enlist­ing retail work­ers in such actions could give them added clout by forc­ing stores to close, great­ly affect­ing Verizon's bot­tom line.
And those work­ers say they're excit­ed to unite with their col­leagues. ​"We walked in the foot­steps of our broth­ers and sis­ters who fought before us. We band­ed togeth­er in the face of adver­si­ty and com­bat­ed fear with hope," Bian­ca Cun­ning­ham, who works at the Ver­i­zon store in Ben­son­hurst, Brook­lyn, said in a state­ment issued by CWA. ​"We look for­ward to Ver­i­zon Wire­less work­ers step­ping out of the shad­ows and join­ing the 40,000 strong in CWA who work at Ver­i­zon to con­tin­ue to fight for the mid­dle class. "
For the recent­ly union­ized work­ers, such a fight will like­ly begin with improv­ing their wages. Ver­i­zon Wire­less employ­ees in Brook­lyn are paid a base salary of about $12 an hour, along with com­mis­sions from prod­uct sales. In total, that aver­ages out to between $40,000 and $60,000 a year — a dif­fi­cult income to sur­vive on in one of the country's most expen­sive cities. Accord­ing to orga­niz­ers, Ver­i­zon uses a com­plex struc­ture to com­pen­sate employ­ees, effec­tive­ly requir­ing them to sell an aver­age of $100 in acces­sories per phone sold.
This frame­work has con­tributed to an envi­ron­ment of ten­sion and fear among employ­ees. ​"These peo­ple would just have pan­ic attacks in the back room if they weren't hit­ting their num­bers. Peo­ple would come in on their day off," says Dub­nau. "[Man­agers] would pick on peo­ple like bul­lies to sell phones. Out of 63 peo­ple [at the six stores], three were out on [the Fam­i­ly Med­ical Leave Act] for stress and anx­i­ety. The pres­sure that these peo­ple are under is tremendous."
In addi­tion to the need to sell in order to earn com­mis­sion-based pay, Dub­nau says work­ers have faced prob­lems com­mon among non-union work­ers, includ­ing ​"job inse­cu­ri­ty, favoritism, dis­re­spect and peo­ple being unheard by management."
Dur­ing the 2011 Ver­i­zon land­line work­er strike, pick­eters amassed out­side the retail stores in Brook­lyn and else­where. After wit­ness­ing such actions, Dub­nau says, the wire­less work­ers were inspired to orga­nize, too.
​"We had pick­et lines out­side of all these stores. The [retail] work­ers thought maybe we could reach out to to [land­line work­ers] and maybe they could help," says Dub­nau. ​"That strike activ­i­ty is what plant­ed the idea of hav­ing a union in these peo­ple's minds."
But the road hasn't been an easy one. As retail employ­ees began gath­er­ing sup­port to orga­nize, Ver­i­zon launched a fero­cious anti-union cam­paign. Orga­niz­ers say work­ers were forced to attend dozens of one-on-one cap­tive audi­ence meet­ings with man­age­ment, some­times as often as three times a day. High-lev­el Ver­i­zon offi­cials, such as Chief Oper­at­ing Offi­cer David Smalls, even vis­it­ed Ver­i­zon retail loca­tions to encour­age employ­ees to vote against the union.
How­ev­er, CWA was able to com­bat Verizon's strat­e­gy. CWA filmed video tes­ti­mo­ni­als from dozens of Ver­i­zon land­line and wire­less tech­ni­cians explain­ing to retail work­ers how join­ing the union would ben­e­fit them; union­ized employ­ees also wrote hand­writ­ten let­ters to each of the 63 retail work­ers who would be par­tic­i­pat­ing in the elec­tion. In addi­tion, the union­ized tech­ni­cians encour­aged retail work­ers to con­tact them to dis­cuss the union; many devel­oped friend­ly rela­tion­ships, says Dub­nau, which proved to be an advan­tage in the orga­niz­ing drive.
Over­all, Dub­nau says, the key to suc­cess at Ver­i­zon Wire­less was let­ting work­ers get behind the wheel and dri­ve their own cam­paigns. He also notes that the vic­to­ry at the Ver­i­zon retail stores fol­lows a series of orga­niz­ing wins by CWA Dis­trict 1 at the pre­vi­ous­ly non-union Cable­vi­sion tele­vi­sion company.
​"Dis­trict 1 allows work­ers to be out there and take own­er­ship of their cam­paign," says Dub­nau. ​"They know best what the risks are and we should do every­thing to sup­port them. As hard as orga­niz­ing is right now, it's not impossible."
Dubnau's opti­mism, cau­tious though it may be, has been fur­ther buoyed by the grim deter­mi­na­tion he's seen from work­ers in recent cam­paigns — espe­cial­ly those new to the labor force.
​"Younger work­ers are will­ing to take the risks to con­front their boss­es. You see it in fast food, you see it now in Ver­i­zon Wire­less," says Dub­nau. ​"They grew up in a coun­try where they were sold the Amer­i­can Dream and they are doing worse than their par­ents. They are sad­dled with ridicu­lous debt, they go into a job that treats them like a num­ber … I think in a lot of ways they are [a] very sophis­ti­cat­ed generation."
And with the orga­niz­ing pow­er of both the younger and old­er gen­er­a­tions, Dub­nau is hop­ing that the suc­cess in Brook­lyn sparks sim­i­lar results elsewhere.
​"Ver­i­zon put up a wall between the Ver­i­zon land­line and Ver­i­zon Wire­less. These work­ers in Brook­lyn took a sledge­ham­mer and they are gonna tear down that wall," says Dub­nau. ​"Now our hope is that it is going to spread around the coun­try. We are get­ting calls from all over the place."
Full dis­clo­sure: The CWA is a web­site spon­sor of In These Times. Spon­sors have no role in edi­to­r­i­al con­tent. This author is a mem­ber of the News­pa­per Guild — CWA.