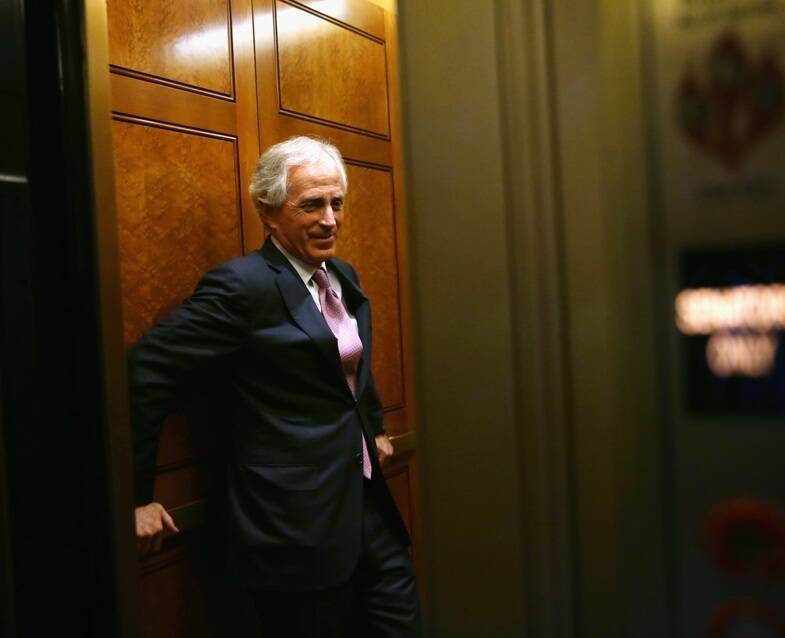 Leaked doc­u­ments obtained by Nashville TV sta­tion NewsChan­nel 5 WVTF reveal com­mu­ni­ca­tions between the employ­ees of two Ten­nessee Repub­li­cans — Sen. Bob Cork­er and Gov. Bill Haslam — and a net­work of promi­nent anti-union pro­fes­sion­als dur­ing the Unit­ed Auto Work­ers' union dri­ve at a Volk­swa­gen plant in Chat­tanooga ear­li­er this year.
Sen. Cork­er and Gov. Haslam have been blamed by the union for con­tribut­ing to the drive's defeat by mak­ing pub­lic state­ments against the UAW. Pri­or to the elec­tion, Cork­er claimed that the plant would add an addi­tion­al SUV assem­bly line if work­ers vot­ed against the union, while Haslam implied that busi­ness­es had told him that they might not relo­cate to Ten­nessee if work­ers at Volk­swa­gen vot­ed to join the UAW.
There was no direct evi­dence, how­ev­er, that these politi­cians were coor­di­nat­ing with the var­i­ous anti-union forces that had gath­ered in Chat­tanooga to oppose the dri­ve, although In These Times report­ed in Novem­ber 2013 that Wash­ing­ton, D.C.-based anti-union cam­paign­er Matt Pat­ter­son had bragged about devel­op­ing anti-UAW mes­sag­ing with ​"politi­cian [sic] and busi­ness­men" in Ten­nessee. The doc­u­ments by NewsChan­nel 5 pro­vide the first direct proof of such coor­di­na­tion. In addi­tion, In These Times mag­a­zine has obtained doc­u­ments and con­duct­ed inter­views with a top anti-union con­sul­tant that shed new light on the ori­gins of the anti-union videos ref­er­enced in the communications.
Chain of evidence
The doc­u­ments released by NewsChan­nel 5 show that, just before the union elec­tion, Sen. Corker's chief of staff and one of Gov. Haslam's cab­i­net mem­bers were part of an email chain with both Chat­tanooga-based and nation­al anti-union con­sul­tants about efforts to draw atten­tion to three videos pro­duced to fight the UAW at Volk­swa­gen. The videos fea­ture tes­ti­mo­ni­als from work­ers at pre­vi­ous UAW plants claim­ing that the UAW destroyed Detroit and led to the clo­sure of a for­mer Volk­swa­gen auto plant in West­more­land Coun­ty, Pa. (Full dis­clo­sure: This author's moth­er worked at the West­more­land Coun­ty Volk­swa­gen plant until it closed, and was a mem­ber of UAW.)
In a Feb­ru­ary 10 email with the sub­ject line ​"Video views so far today," Peter List, the CEO of the anti-union labor-rela­tions con­sul­tant group Kul­ture LLC and edi­tor and chief blog­ger of LaborUnion​Re​port​.com, boast­ed of the videos' web traf­fic. The email was addressed to, among oth­ers, Sen. Corker's chief of staff, Tony Wom­ack; Mau­ry Nice­ly, the head of the local Chat­tanooga anti-union group South­ern Momen­tum; Charleston, S.C.-based anti-union con­sul­tant Jim Gray; and for­mer Volk­swa­gen plant man­ag­er Don Jack­son, whose role in cam­paign­ing against the UAW has been pre­vi­ous­ly detailed by In These Times. Also on the chain was Tim Spires, pres­i­dent and CEO of the Chat­tanooga Region­al Man­u­fac­tur­ers' Asso­ci­a­tion, which pro­mot­ed anti-UAW events, and Ron Harr, pres­i­dent and CEO of the Chat­tanooga Area Cham­ber of Commerce.
The next day, Corker's Chief of Staff Todd Wom­ack for­ward­ed List's email to Ten­nessee eco­nom­ic and com­mu­ni­ty devel­op­ment com­mis­sion­er Bill Hager­ty — a mem­ber of Gov. Haslam's cab­i­net — and Hagerty's chief of staff Will Alexan­der (who is the son of U.S. Sen. Lamar Alexan­der) with a mes­sage say­ing ​"If you would, please don't for­ward this ver­sion, but this is the video I men­tioned. Thanks much, Todd."
Wom­ack did not return request for com­ment about what lev­el of coor­di­na­tion Sen­a­tor Corker's office had with anti-union con­sul­tants. Like­wise, Peter List refused to answer ques­tions about why he was email­ing Sen­a­tor Corker's staff, stat­ing in an email to In These Times, ​"It seems you've fall­en into the trap that peo­ple actu­al­ly pay atten­tion to what politi­cians say."
The oth­er major rev­e­la­tion of the NewsChan­nel 5 inves­ti­ga­tion is a doc­u­ment titled ​"Project Trin­i­ty," dat­ed August 23, 2013 and labeled ​"con­fi­den­tial," in which Haslam offered $300 mil­lion in incen­tives to Volk­swa­gen if the com­pa­ny would bring a new SUV line to its Chat­tanooga plant and add 1,350 jobs. At the time, the UAW and Volk­swa­gen were dis­cussing the process by which the com­pa­ny would rec­og­nize the union and how the UAW would inter­act with a poten­tial Ger­man-style works coun­cil being at the plant. In the ​"Project Trin­i­ty" doc­u­ment, Haslam's office informed Volk­swa­gen that the ​"the incen­tives … are sub­ject to works coun­cil dis­cus­sions between the State of Ten­nessee and VW being con­clud­ed to the sat­is­fac­tion of the State of Tennessee."
In remarks in Chat­tanooga today, Haslam denied that he was attempt­ing to use the incen­tives to influ­ence the union vote. How­ev­er, the emails show that top Haslam staffers con­duct­ed an exten­sive legal analy­sis of how quick­ly the union elec­tion could occur at Volk­swa­gen once either the union or the employ­er filed for it. (Unions tend to advo­cate quick elec­tions, since they believe that delay­ing orga­niz­ing dri­ves deflates their momen­tum.) In a Feb­ru­ary 4 let­ter to the Volk­swa­gen Group of Amer­i­ca Chat­tanooga Oper­a­tions CEO Frank Fish­er, Haslam also voiced con­cerns about union orga­niz­ers being grant­ed access to the plant.
Who's behind the videos?
Through an inter­view with promi­nent ​"union avoid­ance" con­sul­tant Jim Gray and a leaked doc­u­ment from an anti-union con­sult­ing group, In These Times has learned the source of the videos dis­cussed in the email chain. Gray, who was sent the email, tells In These Times that he played a large role in devel­op­ing the videos, in con­junc­tion with South­ern Momen­tum, whose head, Mau­ry Nice­ly, was also on the email chain. Gray says that he helped write the script for the video and ​"helped point towards" Pro­jec­tions Inc., a promi­nent anti-union con­sult­ing group, as a pos­si­ble producer.
A doc­u­ment from Pro­jec­tions' Union​Proof​.com web­site titled ​"Case Study: Volk­swa­gen and the UAW" that is avail­able to the site's ​"insid­er mem­bers" reads, ​"On Feb­ru­ary 3, the call came in to Pro­jec­tions' Union Proof Team from the South­ern Momen­tum non-prof­it group. … When Volk­swa­gen asked for a fast vote on Feb­ru­ary 3, the Union proof Team imme­di­ate­ly went to Chat­tanooga to begin draft­ing a com­mu­ni­ca­tions strat­e­gy. Scripts were writ­ten, tes­ti­mo­ni­als shot, and in plant footage was recorded."
Pro­jec­tions states that it in a mat­ter of four days, it was able to pro­duce three ​"high­ly pro­fes­sion­al" videos against the UAW and even trav­eled to West­more­land Coun­ty, Pa., to film a for­mer Volk­swa­gen work­er who claimed that the UAW forced the plant there to close in 1988.
The videos were then made pub­lic at meet­ings orga­nized by South­ern Momen­tum on Feb­ru­ary 8 and 9, just a few days before the Feb­ru­ary 12 – 14 union elec­tion, and uploaded to www​.no2uaw​.com, a web­site run by anti-UAW work­ers at the plant.
The Case Study doc­u­ment quotes Pro­jec­tions CEO Wal­ter Orech­wa as say­ing, ​"The truth is, regard­less of the time­frame, pow­er­ful employ­ee com­mu­ni­ca­tion is always key to remain­ing union-free."
The legal ramifications
After the union defeat, the UAW filed a case with the Nation­al Labor Rela­tions Board charg­ing that out­side polit­i­cal inter­fer­ence by Cork­er and the state GOP lead­er­ship pre­vent­ed work­ers from receiv­ing a fair elec­tion. On Tues­day, the UAW used the NewsChan­nel 5 report to file a sup­ple­men­tal brief with the NLRB, alleg­ing that the leaked doc­u­ments pro­vide even greater evi­dence that gov­ern­ment offi­cials coor­di­nat­ed their efforts to hin­der the union dri­ve. ​"Doubt­less there is more evi­dence of such coor­di­na­tion in addi­tion to this par­tic­u­lar leaked email chain, giv­en the tone of famil­iar­i­ty among the email recip­i­ents," wrote the UAW in the brief.
Also, the UAW cit­ed the new con­nec­tion in the email chain between the anti-union group South­ern Momen­tum and gov­ern­ment offi­cials to chal­lenge the NLRB's deci­sion to grant South­ern Momen­tum ​"inter­venor sta­tus" to par­tic­i­pate in the NLRB hear­ings. In an unusu­al move in March, South­ern Momen­tum peti­tioned for stand­ing in the case, argu­ing that it was a group rep­re­sent­ing anti-union work­ers involved in the dis­pute. The NLRB agreed, which will allow South­ern Momen­tum to bring in its own legal team to make argu­ments. South­ern Momen­tum has deep pock­ets: Pre­vi­ous­ly, In These Times quot­ed No 2 UAW anti-union VW work­er com­mit­tee activist Mike Bur­ton as say­ing ​"not one of us [work­ers] raised a pen­ny" of the $100,000 raised by South­ern Momen­tum to fight against the UAW dri­ve. The UAW how­ev­er, argues that the email chain pro­vides fur­ther evi­dence that South­ern Momen­tum is tied to out­side spe­cial inter­ests rather than work­ers and that its inter­venor sta­tus should be revoked.
Accord­ing to labor lawyer Moshe Mar­vit, a fel­low at the Cen­tu­ry Foun­da­tion, the case has far-reach­ing legal impli­ca­tions, since out­side groups with dark mon­ey sources are rarely allowed to fight unions in NLRB cases.
How­ev­er, Mar­vit notes that ​"there is an irony to the Board­'s grant­i­ng inter­venor sta­tus to out­side groups" because ​"the hear­ing is only nec­es­sary because out­side groups became involved in the elec­tion in an improp­er way. Now, the Board is affirm­ing that these groups have a legal inter­est in the pro­ceed­ings, and is there­by affirm­ing their posi­tion as parties."
The NLRB tri­al is set for April 21 in Chat­tanooga, Tenn. While it's unclear whether the NLRB will be swayed by the new evi­dence to call for a do-over elec­tion at Volk­swa­gen, to one local activist these doc­u­ments rep­re­sent some­thing startling.
​"When a bil­lion­aire gov­er­nor, a mil­lion­aire sen­a­tor, and the local Cham­ber of Com­merce all unite to kill jobs in reac­tion to the mere pos­si­bil­i­ty of one union local being orga­nized at one fac­to­ry in one city in the state of Ten­nessee, the full extent of the cor­rupt­ing influ­ence of the busi­ness com­mu­ni­ty in our state gov­ern­ment becomes clear­ly vis­i­ble," says Chris Brooks, an activist with the pro-UAW com­mu­ni­ty group Chat­tanooga for Work­ers. ​"What chance do work­ers have to orga­nize a union when they are pit­ted against our state's most pow­er­ful politi­cians who coor­di­nate their attacks in secret with a shad­owy cor­po­rate car­tel com­posed of every­one from the local Cham­ber to out-of-state anti-union consultants?"
Full dis­clo­sure: The UAW is a web­site spon­sor of In These Times. Spon­sors have no role in edi­to­r­i­al content.