A Bill of Rights That Puts Workers Above Corporations
It's up to the voters of Spokane, Washington.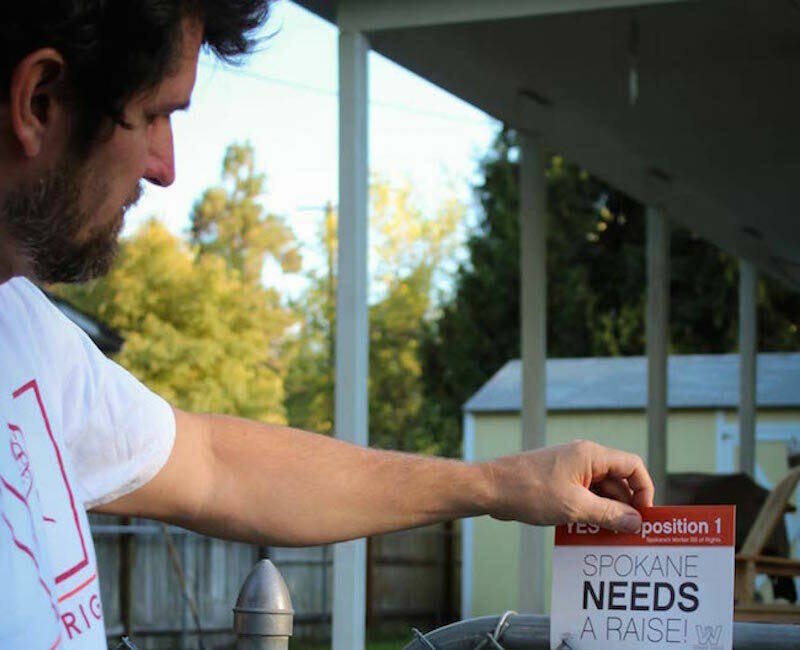 Ralph knows first­hand that non-union­ized work­ers lack basic rights. Last year he got a text from his boss while at a can­cer clin­ic in Spokane, Wash. After receiv­ing chemother­a­py treat­ment, Ralph learned he was being ter­mi­nat­ed from his job in the pro­duce trans­porta­tion indus­try — a deci­sion his employ­er had no legal oblig­a­tion to jus­ti­fy. Accord­ing to Ralph, he was fired for ​"insub­or­di­na­tion" after he began to ques­tion the business's finances. Now, he's been forced to take a min­i­mum-wage job and file for bank­rupt­cy, and could lose his home.
Other than Montana, no state—nor the federal government—requires employers to give a 'just cause' for firings.
"I will not recov­er from this in my life­time," Ralph tells In These Times. ​"Tell me where the jus­tice is in that." (Ralph wished to remain pseudonony­mous because he is explor­ing fil­ing a suit against his for­mer employ­er, though lawyers have told him that he prob­a­bly does not have a viable case.)
Work­ers with­out a union con­tract lack any guar­an­tee of due process on the job, let alone a dig­ni­fied wage. Oth­er than Mon­tana, no state — nor the fed­er­al gov­ern­ment — requires employ­ers to give a ​"just cause" for fir­ings. But a move­ment in Spokane has got­ten a first-in-the-nation Work­er Bill of Rights on November's bal­lot, which, if passed, would act as a kind of union con­tract for all work­ers in the city.
The propo­si­tion is being cham­pi­oned by Envi­sion Spokane, a labor-com­mu­ni­ty coali­tion. Envi­sion Work­er Rights, a sis­ter polit­i­cal com­mit­tee of the group, announced that it would intro­duce a new, work­er-focused mea­sure, and gath­ered more than 2,600 sig­na­tures to ensure its place on the city's ballot.
Spokane's Work­er Bill of Rights would amend the city char­ter to pro­vide sev­er­al new on-the-job pro­tec­tions. It would give all Spokane work­ers rights to equal pay for equal work and to not be wrong­ful­ly ter­mi­nat­ed, as Ralph believes he was. It would also guar­an­tee a ​"fam­i­ly wage" suf­fi­cient to cov­er basic neces­si­ties such as food, hous­ing, util­i­ties and child­care for work­ers of large employ­ers. When employ­ers run afoul, work­ers would be enti­tled to sue.
This may seem straight­for­ward, but typ­i­cal­ly work­ers must hash out these pro­tec­tions through the ardu­ous process of bar­gain­ing a union con­tract. Grant­i­ng them proac­tive­ly to all work­ers rep­re­sents a promis­ing new paradigm.
Thomas Linzey, exec­u­tive direc­tor of the Com­mu­ni­ty Envi­ron­men­tal Legal Defense Fund, which is sup­port­ing the Work­er Bill of Rights, explains that under cur­rent law, ​"in non-union­ized, pri­vate work­places, work­ers have no con­sti­tu­tion­al rights. It's why e‑mails can be read, urine can be test­ed, lock­ers searched. … By pro­hibit­ing fir­ings with­out cause, due process con­sti­tu­tion­al rights would be afford­ed to all peo­ple work­ing with­in the City of Spokane." This departs from the ​"state-action" doc­trine, the bedrock legal prin­ci­ple that the Con­sti­tu­tion only pro­tects cit­i­zens from the gov­ern­ment, not from pri­vate entities.
When faced with efforts to pro­tect work­ers and com­mu­ni­ties, cor­po­ra­tions have often carped that their own rights are being vio­lat­ed. The Inter­na­tion­al Fran­chise Asso­ci­a­tion (IFA), for exam­ple, sued the City of Seat­tle over a $15 min­i­mum-wage ordi­nance passed in June 2014, say­ing, among oth­er things, that it dis­crim­i­nat­ed against fran­chis­es and vio­lat­ed their con­sti­tu­tion­al right to equal pro­tec­tion. A U.S. appeals court ruled oth­er­wise, and Spokane's ini­tia­tive is clear­ly not afraid of vio­lat­ing so-called cor­po­rate rights. The amend­ment declares that cor­po­ra­tions ​"shall not be deemed to be ​'per­sons' " with legal rights if this inter­feres with the work­ers' rights out­lined in the mea­sure. While Spokane is unlike­ly to reverse long­stand­ing legal prece­dent on its own, advo­cates see the Work­er Bill of Rights as part of a nation­al move­ment to chal­lenge cor­po­rate personhood.
This con­cept is res­onat­ing with many in the region and beyond. Some nine local unions and two region­al labor coun­cils have endorsed the ini­tia­tive, along with com­mu­ni­ty groups such as 15 Now Ore­gon and nation­al fig­ures like Noam Chom­sky. Beth Thew, sec­re­tary-trea­sur­er of the Spokane Region­al Labor Coun­cil, the region­al arm of the AFL-CIO, tells In These Times that the Work­er Bill of Rights is ​"basi­cal­ly every­thing that orga­nized labor stands for." Giv­en the decline in union den­si­ty nation­wide, she says, it makes sense ​"to take a more rad­i­cal tactic."
The list of back­ers also includes Demo­c­ra­t­ic and Green Par­ty-endorsed Spokane may­oral can­di­date Shar Lichty, the self-pro­claimed ​"Bernie Sanders of Spokane." Lichty acknowl­edges that ​"pover­ty is a huge issue here in Spokane"—more than 15 per­cent of res­i­dents live below the pover­ty line — and says she will defend the mea­sure if elected.
As a result, Envi­sion Spokane's mes­sage is win­ning sup­port from peo­ple like Ralph, who, though strug­gling to stay out of pover­ty him­self, is phone bank­ing for the cam­paign. ​"Peo­ple today are just try­ing to frick­ing sur­vive till the next day," he tells In These Times.
The Work­er Bill of Rights builds on Envi­sion Spokane's pre­vi­ous efforts to pass a Com­mu­ni­ty Bill of Rights, which sim­i­lar­ly chal­lenged cor­po­rate per­son­hood. The mea­sure would have giv­en neigh­bor­hoods pow­er over local devel­op­ment and increased local envi­ron­men­tal pro­tec­tions, among oth­er pro­vi­sions. First intro­duced on the bal­lot in 2009, the propo­si­tion failed to gain a major­i­ty of votes, and an updat­ed ver­sion lost nar­row­ly in 2011. The mea­sure qual­i­fied again in 2013, but that vote has been delayed by a pre-elec­tion law­suit brought by a coali­tion of coun­ty com­mis­sion­ers and busi­ness groups. The Wash­ing­ton Supreme Court will hear the case in November.
In August, the Work­er Bill of Rights dodged a sim­i­lar legal chal­lenge, this time by Spokane's own Repub­li­can May­or David Con­don, who sought to keep the mea­sure off the bal­lot. The City of Spokane filed a law­suit argu­ing, among oth­er things, that the pro­vi­sion deny­ing cor­po­rate per­son­hood was uncon­sti­tu­tion­al because it would deny cor­po­ra­tions access to the courts. A supe­ri­or court judge ruled that the may­or did not have legal stand­ing to keep the mea­sure off of bal­lots, but city offi­cials have per­sist­ed in their oppo­si­tion. City Coun­cil mem­bers have also added con­tro­ver­sial advi­so­ry ques­tions about the poten­tial costs of the ini­tia­tive — whether, for exam­ple, the city should raise tax­es to pay for it — that could sway vot­ers against the measure.
Brad Read, a long­time Spokane high school Eng­lish teacher and Envi­sion Spokane orga­niz­er, is hop­ing that vot­ers rec­og­nize the crit­i­cal impor­tance of the Work­er Bill of Rights.
"It's about the rights of real peo­ple … tak­ing prece­dence over cor­po­ra­tions," he says. ​"If we don't start to chip away at this edi­fice that has been care­ful­ly craft­ed for over 200 years, then we're screwed."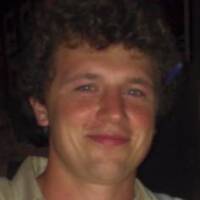 Simon is a writer, film­mak­er, and works part time for the Com­mu­ni­ty Envi­ron­men­tal Legal Defense Fund. He edits the Ear to the Ground newslet­ter and can be found on Twit­ter @SimonDavisCohen