Discovering a Black Man Having a Heart Attack on the Sidewalk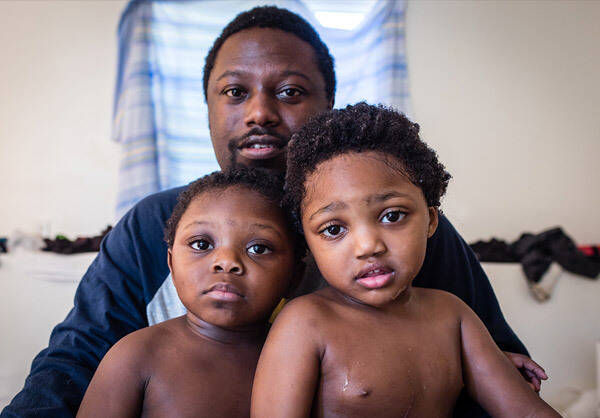 Ear­li­er this month, a ter­ri­fy­ing event occurred that made me won­der if I had been lying to myself about some­thing impor­tant.
&
nbsp;As a Jew, I've always prid­ed myself on my fam­i­ly and peo­ple's tra­di­tions on being pro­gres­sive about mat­ters of race. Indeed, my father, a very dark-skinned Jew who was once called the n‑word by a scab try­ing to break through a pick­et line in the
1980
s, insist­ed that I attend the last high school in Amer­i­ca still under fed­er­al inte­gra­tion order
&
mdash;Woodland Hills High School in Pitts­burgh, Pa. There, I was schooled at a young age in the lit­er­a­ture of Zora Neale Hurston, Ralph Elli­son and James Bald­win.In some ways, being around black cul­ture saved me as I grew up strug­gling with depres­sion. Heck, at my
10
th
birth­day par­ty, only black kids showed up. I was an awk­ward kid with Asperg­er's Syn­drome who was intense­ly bul­lied, and it seemed when I was young that the mem­bers of the African-Amer­i­can com­mu­ni­ty in our work­ing-class Pitts­burgh school were more accept­ing than my white class­mates of a very weird Jew like me. It was like they knew what it was like to feel dif­fer­ent from every­one else.Even­tu­al­ly, as I got old­er and grew into elite cir­cles of acad­e­mia and intel­li­gentsia, my cir­cle of friends became dra­mat­i­cal­ly whiter. Still, I always thought of myself as being a ded­i­cat­ed anti-racist. But dis­cov­er­ing a black man hav­ing a heart attack a few weeks ago made me won­der if I had been lying to myself all along.
On a sun­ny Sat­ur­day after­noon ear­li­er this month, I was in a hun­gover stu­por and need­ed to go for a walk through the Wash­ing­ton, D.C. streets to clear my head. As I was ready to escape into the world of the Yo La Ten­go play­ing on my iPhone, I spot­ted a black man lying on the cor­ner of Park Road and Klin­gle, lead­ing into Rock Creek Park.A num­ber of jog­gers and oth­er white folks passed by the black man as he lay flail­ing around on top of a bicy­cle. It's not an uncom­mon site in my increas­ing­ly gen­tri­fy­ing neigh­bor­hood of Mt. Pleas­ant to see dark-skinned home­less peo­ple passed out on the streets.
&
nbsp;As oth­er white peo­ple walked by the strug­gling black man, who looked poor­ly dressed and disheveled, I stopped on the oth­er side of the street and tried to assess if the sit­u­a­tion was dan­ger­ous or not before approach­ing him.Final­ly, after see­ing an elder­ly white woman try to help the man up, I decid­ed to cross the street so she wouldn
&
rsquo;t have to deal with him on her own.I asked the guy if he was okay. ​
"
Oh, I am just a lit­tle tired and tak­ing a rest," he replied in a West African accent. Hav­ing lived in Brazil, I was used to cul­tures that seemed absurd­ly laid back to me as an Amer­i­can, so I thought it was plau­si­ble that in some soci­eties, lying down on the side­walk is just what you do when you are mid­dle-aged and exhaust­ed.As I start­ed to walk away, I saw the elder­ly woman attempt to help the guy stand up for a sec­ond time. He stum­bled back into the street, though, this time hit­ting his head. I approached the pair again and tried to talk to him, but he went between being com­mu­nica­tive to being entire­ly unre­spon­sive. Giv­en that the guy was lying in the mid­dle of a pub­lic road and strug­gling to speak, I hadn
&
rsquo;t ruled out the pos­si­bil­i­ty he might be drugged up.
&
nbsp;Sud­den­ly, a car stopped. A tall, thin white man in his
60
s, wear­ing a polo shirt and a belt with lit­tle sail­boats on it, got out of his car and walked over to the guy.
&
nbsp;​
"
Let me take his pulse," the new­com­er said as he touched the man's wrist. A crowd of peo­ple had begun to assem­ble and offer sug­ges­tions, but he ignored them. After a few moments, he said, ​
"
I think he
&
rsquo;s hav­ing a heart attack.
&
rdquo;​
"
How do you know?" I asked, star­tled.​
"
I am an ortho­pe­dic sur­geon," he said.
&
ldquo;I was just dri­ving back from a surgery and saw this guy on the road and stopped.
&
rdquo; He looked more like he was com­ing back from a round of golf at the coun­try club.The man on the street was sweaty and disheveled not because he was a drug addict, but because he had been work­ing out and col­lapsed. In that instance, my sus­pi­cion of the man turned to con­cern and pan­ic. It hit me that we did­n't need to call the police
&
mdash;we need­ed to call an ambu­lance.Some­one did, and the rest of us start­ed to do every­thing we could to help him. We col­lect­ed his things, made sure the para­medics wouldn
&
rsquo;t step on his glass­es when they arrived and tried to ask him if there was some­body in his fam­i­ly that we could call. Some­one else went to go fetch a glass of water. The coun­try club doc­tor stayed at the guy
&
rsquo;s side, pat­ting him to com­fort him as the man slipped through states of dis­ori­en­ta­tion caused by a lack of oxy­gen going to his brain.While we wait­ed for an ambu­lance, every­one in the assem­bled crowd of yup­pie white folks tried to piece togeth­er the iden­ti­ty of this mys­te­ri­ous black man as he slipped in and out of con­scious­ness at our feet.​
"
He's got a Fan­nie Mae shirt on and a Fred­die Mac jack­et," said the coun­try club doc­tor.
&
ldquo;Maybe he works there.
&
rdquo;Dur­ing a brief time of lucid­i­ty, the man man­aged to tell us he lived only a block away from me. Despite liv­ing down the street from this guy for near­ly half a decade, I had nev­er met or spo­ken to him. He was in incred­i­ble pain, and we were all he had: a group of total strangers try­ing to com­fort him. He was my neigh­bor, and he was dying. And only a few min­utes before, I had sus­pect­ed the guy of being a vagrant.After five or ten min­utes, the ambu­lance showed up. The emer­gency respon­ders con­firmed that the man was hav­ing a mild heart attack, which had made him appear as if he could be on drugs.As we wait­ed for the ambu­lance to take off, mem­bers of the crowd began to remark on how incred­i­ble it was that we were able to come to the man
&
rsquo;s aid in his time of need.
&
ldquo;Can you believe that how we, as a bunch of strangers, were able to come togeth­er and help this guy?
&
rdquo; said the coun­try club doc­tor.
&
ldquo;Only in Amer­i­ca. Only in Amer­i­ca.
&
rdquo;​
"
This is what Mt. Pleas­ant is all about," said a hip­pie-look­ing woman in her
40
s.
&
ldquo;This is what this neigh­bor­hood is all about.
&
rdquo;
&
nbsp;I even post­ed a pho­to of the crowd attend­ing to the downed man on Insta­gram, with a cap­tion echo­ing the woman
&
rsquo;s sen­ti­ment:
&
ldquo;I didn
&
rsquo;t wake up this morn­ing and think I
&
rsquo;d have to call an ambu­lance on a neigh­bor hav­ing a heart attack, but that
&
rsquo;s what being a neigh­bor in Mt. Pleas­ant is all about.
&
rdquo;Lat­er, though, when my dad called me to con­grat­u­late me on doing the right thing and sav­ing the guy
&
rsquo;s life, I told him the truth: I had nev­er felt so ashamed to be a white man in my entire life. Here were what could be this man
&
rsquo;s last moments, and I sus­pect­ed him of being a crim­i­nal nui­sance. What the fuck?
&
nbsp;If I col­lapse on the street from a heart attack, you can guar­an­tee that folks are going to stop and try to help me. But if you are a black guy wear­ing work­out clothes and you col­lapse in a gen­tri­fy­ing neigh­bor­hood, you may be a goner.
&
ldquo;Only in Amer­i­ca,
&
rdquo; the coun­try club doc­tor said. Yes, there was some­thing about how we helped a total stranger instead of escap­ing into the self­ish­ness of our own dai­ly rou­tines that made me proud as an Amer­i­can. But what about all those peo­ple who sim­ply walked by before the crowd even­tu­al­ly gathered
&
mdash;what does that say about Amer­i­ca?
&
nbsp;That
&
rsquo;s Amer­i­ca: a place where total strangers can come togeth­er to help a strange black man in what could be the last moments of his life, but they still might still waste pre­cious moments writ­ing him off because of their own prej­u­dices.That's
&
nbsp;Amer­i­ca: a land of intense con­tra­dic­tion, but still, I hope, a lot of love.