A Border of Cruelty
A new report ties migrants' deaths to U.S. policies and abusive federal agents.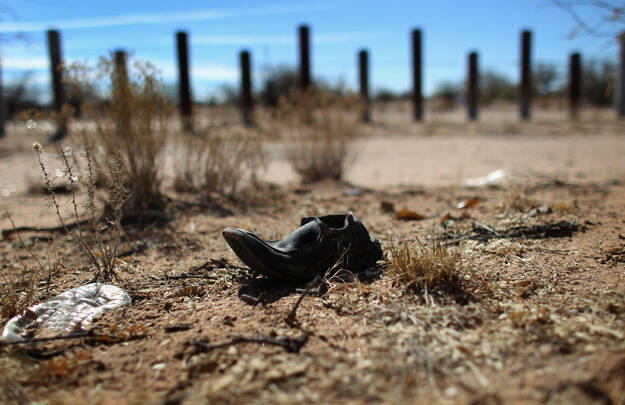 We wanted to make sure you didn't miss the announcement of our new Sustainer program. Once you've finished reading, take a moment to check out the new program, as well as all the benefits of becoming a Sustainer.

Earlier this month, authorities recovered the bodies of two Mexican nationals off the coast of San Diego county. One was discovered adrift near Imperial Beach, just across the border from Tijuana. The man's two companions, who successfully reached shore, remarked to Border Patrol agents that the deceased was a ​"weak swimmer." The other drowning victim was found on a boat that had held a dozen other migrants Border Patrol agents chased and apprehended.
'The problems that have occurred are systematic and pervasive,' says Katerina Sinclair of No More Deaths. 'The thing that affected me the most was that Border Patrol disproportionately denies water to children.'
"Migrants are turning to the Pacific Ocean to cross the border illegally, as entering by land has turned more arduous and dangerous," the AP reported.
Indeed, the danger of crossing by land has reached unprecedented levels. In 1990, fewer than 200 people died trying to enter the United States. The number rose to nearly 500 in 2005, although the annual number of deaths has been lower since then.
A new study by the nonprofit humanitarian organization No More Deaths directly attributes the high number of border fatalities to U.S. policies. In September, the group released a report (PDF link) detailing America's increasingly militarized border and Border Patrol agents' abuse of migrants. ​"A Culture of Cruelty: Abuse and Impunity in Short-Term U.S. Border Patrol Custody" also summarizes interviews with more than 12,500 people held and deported by U.S. Border Patrol between 2008 and 2011.
"We were not anticipating what we found in the report, which is that the problems that have occurred are systematic and pervasive," stated Katerina Sinclair, one of the report's co-authors. ​"The thing that affected me the most was that Border Patrol disproportionately denies water to children."
Current U.S. Border Patrol policies descend from the early 90s, when the agency initiated programs aimed at deterring migrant border crossing such as ​"Operation Hold the Line" and ​"Operation Gatekeeper." These initiatives deliberately pushed the primary crossing points of migrants from comparatively safe urban areas to the barren desert.
The authors of A Culture of Cruelty state that the Border Patrol hoped to deter immigrants by ​"increasing the physical risks and financial costs of trying to enter the U.S." Under the policy of deterrence – and in tandem with the heightened physical risk of crossing – the federal agency also ushered in procedures that disregard the civil rights of migrants detained by U.S. agents, such as the confiscation of money and legal papers, physical and psychological abuse, threats of death, water and food deprivation, subjection to extreme temperatures and brutal holding conditions.
Other offenses include inhumane deportation practices. For instance, the Border Patrol frequently separates families during deportation, sometimes submitting individual family members to ​"lateral repatriation," in which detainees are deported through distant ports of entry far from where they crossed the border.
In one case, three married women apprehended outside of Sasabe Ariz. were separated from their spouses. The women were processed quickly and told they would be immediately be deported. The interviewee (an anonymous Chiapas woman) asked to be with her husband, to which agents demanded legal proof: ​"She replied that she did not have it with her. The agents began laughing, ridiculing, and insulting her and said that they did not believe that she was married." After deportation, she contacted the Mexican consulate about her husband. She learned of his transfer to a New Mexico detention center, but there was no information about his release. She was still unaware of his status when interviewed by No More Deaths.
The illegal, night-time deportation of women and children, alone and without their family, also occurs frequently.
Two documents dictate guidelines for the safe repatriation of unaccompanied women and children: The Memorandum of Understanding (MOU) is an agreement signed in 2004 between the U.S. Customs and Border Protection and the Mexican consulate that establishes guidelines for repatriating vulnerable groups – such as women traveling alone – during daylight; additionally, the 2008 Trafficking Victims Protection Reauthorization Act (TVPRA) consists of provisions barring the night-time repatriation of unaccompanied minors.
No More Deaths found that of the 2,948 women and children the organization interviewed, MOU and TVPRA were violated 1,335 times, nearly half the number of those two sample groups combined. These experiences reveal systemic problems, rather than individual agents' misbehavior or bureaucratic mistakes.
"What we've found is clearly not the result of a few ​'bad apples,'" report co-author Danielle Alvarado writes. ​"We continue to hear the same stories from thousands of people, released from different Border Patrol stations, year after year. They are alarmingly consistent."
A spokesperson for the U.S. Border Patrol did not immediately respond to requests for comment on No More Death's report.
Privatizing the border
The border status quo detailed by No More Deaths is increasingly privatized, as state governments contract private security firms to take over surveillance, detention and deportation responsibilities. As the government outsources enforcement of its own policies, it can become more difficult to ensure effective oversight over detention and repatriation procedures.
A recent report by The New York Times details the international nature of this privatization, noting that ​"a handful of multinational security companies have been turning crackdowns on immigration into a growing global industry." According to the article, private companies currently operate nearly half of all detention beds in the United States.
As the industry grows, it has exhibited a greater willingness and capacity to affect state legislation that maintains current immigration practices.
In a report published last year by In These Times, Beau Hodai explored the influence that private security and prison industries exerted on the formation of anti-immigrant legislation in Arizona, specifically the formulation of SB 1070. The Corrections Corporation of America and the GEO Group, members of the American Legislative Exchange Council, were two of the bill's largest corporate backers. Both are among the largest benefactors of state government contracts; in 2010, the companies pulled in a combined $2.9 billion, their highest earnings to date.
But the profitable nature of the United States' current border policy is not solely responsible for the disturbing status quo detailed in A Culture of Cruelty. The Obama administration has set a record for the annual number of deportations; 2010 saw a 25 percent increase compared to 2007.
But that spike in deportations is unlikely to stem the flow of migrants north. When asked by No More Deaths if their experience with the Border Patrol would deter them from attempting the perilous journey again, 69 percent of interviewees said they would retry because they have family in the United States. Migrants overwhelmingly stated that their spouses and children in the United States were dependent on their labor.
In other words, according to No More Deaths, the U.S. government is treating an economic problem as though it were a criminal problem – and the punishments it metes out are growing more belligerent.
Be a Sustainer
We surveyed thousands of readers and asked what they would like to see in a monthly giving program. Now, for the first time, we're offering three different levels of support, with rewards at each level, including a magazine subscription, books, tote bags, events and more—all starting at less than 17 cents a day. Check out the new Sustainer program.
Patrick Glennon
is a writer and musician living in Chicago. He received his B.A. in History from Skidmore College and currently works as Communications Manager for the Michael Forti for Cook County Court campaign and as the web intern at
In These Times
.