Orwell's Defeats
A new book of letters offers a glimpse at the man behind the reputation.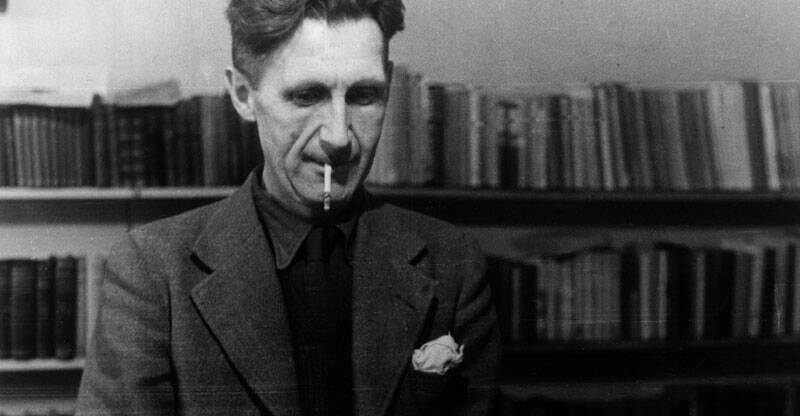 George Orwell was, famous­ly, a man in dia­logue with his time. From Down and Out in Paris and Lon­don to 1984, he showed the ways large, inhu­mane sys­tems of pow­er impinge on the lives of indi­vid­ual peo­ple. A devot­ed social­ist, he was vocal­ly hos­tile toward cap­i­tal­ism, Com­mu­nism and Fas­cism, as well as British Impe­ri­al­ism. His polit­i­cal views were large­ly shaped by his per­son­al expe­ri­ences, from serv­ing in the Impe­r­i­al Police in Bur­ma, to work­ing as a dish­wash­er in France and pick­ing hops in the Eng­lish coun­try­side, to fight­ing in the Span­ish Civ­il War, where he was shot by a Fas­cist sniper and had to flee the Com­mu­nist secret police. His work, in turn, pro­voked con­tro­ver­sy from left and right alike, and earned him a rep­u­ta­tion for con­trar­i­an integri­ty. This rep­u­ta­tion had some iron­ic results: Some of his work was banned by the British gov­ern­ment in India even while he was mak­ing pro­pa­gan­da broad­casts to the coun­try, com­ment­ing on the war effort for the BBC.
As Orwell himself noted, 'any life when viewed from the inside is simply a series of defeats.'
George Orwell: A Life in Let­ters, out this month from Liv­eright, can be read as a record of the dia­logue between Orwell and his era. The cor­re­spon­dence col­lect­ed here spans forty years, begin­ning with a bad­ly spelled let­ter home from board­ing school and end­ing with a let­ter his wife, Sonia, wrote on his behalf because he ​"isn't strong enough to write him­self." It pro­vides an inti­mate view of Orwell's life, though often the most reveal­ing let­ters are not his but those of his friends, and espe­cial­ly those of his first wife, Eileen, whose cor­re­spon­dence shows her to be a gift­ed writer in her own right.
Unfor­tu­nate­ly, those turn­ing to A Life in Let­ters for com­men­tary on Orwell's lit­er­ary work will large­ly be dis­ap­point­ed. One can find, read­ing his cor­re­spon­dence, occa­sion­al insights into the ori­gins of 1984 and the ​"moral" of Ani­mal Farm ("that rev­o­lu­tions only effect a rad­i­cal improve­ment when the mass­es are alert and know how to chuck out their lead­ers as soon as the lat­ter have done their job"). But what we see far more often are quar­rels with pub­lish­ers and wor­ries about money.
On the oth­er hand, those look­ing to under­stand the scope and nature of Orwell's polit­i­cal com­mit­ments will find some inter­est­ing facts to work with. Many of these let­ters deal with his excite­ment in see­ing Ani­mal Farm trans­lat­ed into East­ern Bloc lan­guages, along with his refusal to prof­it from such edi­tions. A cou­ple of notes to the anar­chist Sir Her­bert Read con­cern prepa­ra­tions to secure a print­ing press with which to pro­duce anti-war pro­pa­gan­da in the event of strin­gent cen­sor­ship. Oth­ers touch on his cri­tique of impe­ri­al­ism, his devo­tion to intel­lec­tu­al free­dom, and his con­cern with the treat­ment of Ger­man POWs, among oth­er things. One theme that comes across repeat­ed­ly is Orwell's insis­tence on fair deal­ing, even for his adver­saries — whether paci­fists like Alex Com­fort or fas­cists like Sir Oswald Mosley.
Orwell the writer is present through­out the book as a kind of shad­ow fig­ure. Orwell the man stands in the fore­ground. The most dra­mat­ic inci­dents in Orwell's life — those that form the sub­ject of much of his pro­fes­sion­al writ­ing — pass large­ly with­out com­ment in his let­ters. There are no notes here from his years in the Impe­r­i­al Police in Bur­ma, none from his time ​"down and out" in Paris, just one from his ​"adven­ture as an ama­teur tramp" in Eng­land, very few from Wigan, where he report­ed on the liv­ing con­di­tions of the min­ers, and hard­ly any from Spain. There are, how­ev­er, numer­ous let­ters from his days in a sana­to­ri­um, chron­i­cling the pro­gres­sion of his tuber­cu­lo­sis and the numer­ous, fruit­less attempts to treat it. These last are remark­ably mat­ter-of-fact, with a resigned — and even some­times rather cheer­ful — tone. His own suf­fer­ings are lit­tle com­ment­ed on, his chief frus­tra­tions being the ill­ness's inter­fer­ence with his work and the dis­tance it put between him and his son, Richard, who could not vis­it until the infec­tion had cleared.
What this book offers is real­ly a series of vignettes, pri­mar­i­ly from Orwell's per­spec­tive, into the qui­et, every­day aspects of his life. Such a view is, in one sense, hard­er to attain than a chronol­o­gy of pub­lic actions and per­son­al mile­stones, and is there­fore that much more valu­able. But it is hard to know exact­ly for whom this book is meant. Most of these let­ters will already be famil­iar to Orwell enthu­si­asts, while the pre­sen­ta­tion here does not include enough nar­ra­tive con­text to ori­ent the casu­al read­er to the sig­nif­i­cance of much of the book's con­tent. In either case, one would like­ly be bet­ter served by con­sult­ing the four-vol­ume Col­lect­ed Essays, Jour­nal­ism, and Let­ters of George Orwell (Har­court, Brace & World, 1968), which includes the most impor­tant of the let­ters, along­side his essays and news­pa­per com­men­tary, excerpts from his diaries, and so on.
Still, with such a sym­bol­ic fig­ure, it is worth the time to pause and con­sid­er the pure­ly human aspects of his sto­ry — the unwrit­ten books, the can­celed trav­els, the botched romances, the ill­ness, the mon­ey woes, the dif­fi­cul­ty find­ing shoes that fit and, more sweet­ly, his affec­tion for his lit­tle boy.
A Life in Let­ters lets us see Orwell's sto­ry, as it were, from the inside — and, as Orwell him­self not­ed, ​"any life when viewed from the inside is sim­ply a series of defeats."
The sense of defeat may help us to see past his reputation.That that rep­u­ta­tion was already tak­ing hold dur­ing his life, and found pro­po­nents among peo­ple who knew him well, sug­gests that it was in some impor­tant ways deserved; but the image it cre­ates is nec­es­sar­i­ly a sim­pli­fi­ca­tion, and there­fore a distortion.
When Orwell was work­ing at the BBC, pro­duc­ing what was essen­tial­ly pro­pa­gan­da, his super­vi­sor issued a report (excerpt­ed in this vol­ume) stat­ing: ​"I have the high­est opin­ion of his moral, as well as of his intel­lec­tu­al capac­i­ty. He is trans­par­ent­ly hon­est, inca­pable of sub­terfuge, and in ear­ly days, [he] would have either been can­on­ized — or burnt at the stake!" Orwell him­self had a very dif­fer­ent assess­ment. He wrote in his diary: ​"All pro­pa­gan­da is lies, even when one is telling the truth." Besides which, it was Orwell who remind­ed us (in his essay on Gand­hi) that ​"Saints should always be judged guilty until they are proved innocent…"
Two inci­dents in par­tic­u­lar invite rebuke. In the first, Orwell made aggres­sive and unwant­ed sex­u­al advances toward his friend Jacintha Bud­di­com, going so far as to hold her down and tear her dress. In the sec­ond, he passed a list of sus­pect­ed Com­mu­nists to a gov­ern­ment agent. A Life in Let­ters han­dles each of these mat­ters, I feel, too briefly, yet by print­ing let­ters from the oth­er par­ties, it does add impor­tant context.
The lat­ter case, which sounds so much like the ​"nam­ing names" of the McCarthy peri­od, turns out to be some­thing pret­ty dif­fer­ent. Orwell's friend Celia Kir­wan was employed by the Infor­ma­tion Research Depart­ment, which was look­ing for left­wing anti-Stal­in­ists to help counter Sovi­et pro­pa­gan­da. She asked Orwell for an arti­cle, but he was too ill to oblige. He did, how­ev­er, sug­gest some oth­er writ­ers who might be good for the job and, as a pre­cau­tion, offered to ​"give you a list of jour­nal­ists & writ­ers who in my opin­ion are cryp­to-Com­mu­nists, fel­low-trav­el­ers or inclined that way & should not be trust­ed as pro­pa­gan­dists." Whether this was wise (or fair) could of course be debat­ed, but it is clear­ly some­thing dif­fer­ent than tes­ti­fy­ing before HUAC.
In the for­mer case, noth­ing can be said to excuse Orwell's con­duct. But in a let­ter writ­ten to a friend decades lat­er (and reprint­ed in this col­lec­tion), Bud­di­com offered her assess­ment: ​"He had ruined what had been such a close and ful­fill­ing rela­tion­ship since child­hood. … It took me lit­er­al­ly years to realise that we are all imper­fect crea­tures but that [he] was less imper­fect than any­one else I ever met."
That phrase — ​"less imper­fect" — fits nice­ly with Orwell's own out­look, his rejec­tion of utopias, his dis­taste for saint­hood and hero-wor­ship, his pes­simism about all vari­eties of per­fec­tion­ism, and also his insis­tence that we accept dilem­mas on their own terms and be will­ing to choose between greater and less­er evils. It fits, too, with his self-dep­re­cat­ing man­ner, his humil­i­ty with regard to his work and his gift for ​"fac­ing unpleas­ant facts." Tak­en togeth­er, these fea­tures make up an atti­tude that is both real­is­tic and humane, strict in its adher­ence to the truth but for just that rea­son for­giv­ing of human weak­ness. This atti­tude is present, of course, in indi­vid­ual let­ters. More inter­est­ing, the col­lec­tion as a whole encour­ages us to take the same atti­tude toward Orwell. Rather than hold him up as a sym­bol or a saint, it shows us some­thing more — George Orwell as a human being, greater than his faults, small­er than his hopes.
Kris­t­ian Williams
is the author of
Our Ene­mies in Blue: Police and Pow­er in Amer­i­ca
and
Amer­i­can Meth­ods: Tor­ture and the Log­ic of Dom­i­na­tion
.