The Legacy of Anarchy Comics
A new volume revisits the series that breathed new life into the genre.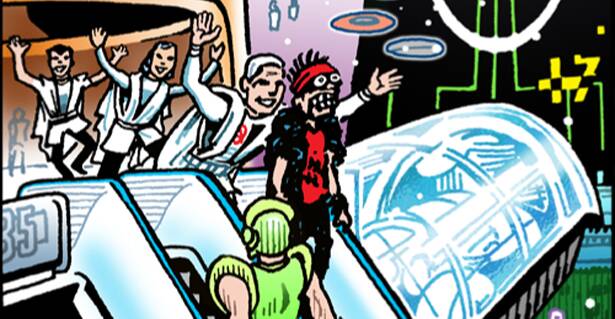 In the late 1970s, main­stream comics were a dull affair, dom­i­nat­ed by super­heroes and still bound to the polit­i­cal­ly con­ser­v­a­tive and cul­tur­al­ly puri­tan­i­cal guide­lines of the Comics Code Author­i­ty. Maus, Watch­men, and The Dark Knight Returns—along with the broad­er recog­ni­tion that comics ​"aren't just for kids any­more" — were still almost a decade away. The Under­ground Comix scene, like the hip­pie coun­ter­cul­ture with which it was asso­ci­at­ed, had peaked a few years ear­li­er and bad­ly need­ed a new direc­tion. Then, in 1978, came the first issue of Anar­chy Comics. Thank god for punk rock.
Anarchy Comics represented a unique collision of Underground Comix sensibility, punk aesthetics and utopian politics. The result was cacophonous, more chaos than order, closer to the antics of the Sex Pistols than the philosophical reflections of Kropotkin.
Anar­chy Comics, which appeared four times between 1978 and 1987, pub­lished by a col­lec­tive in San Fran­cis­co, rep­re­sent­ed a unique col­li­sion of Under­ground Comix sen­si­bil­i­ty, punk aes­thet­ics and utopi­an pol­i­tics. On its pages, rad­i­cal his­to­ry, auto­bi­og­ra­phy, poet­ry, satire, cul­tur­al crit­i­cism and gag car­toons gath­ered togeth­er promis­cu­ous­ly. Art and pulp, fic­tion and non­fic­tion, ide­al­ism and cyn­i­cism did­n't mere­ly appear along­side one anoth­er but often inter­min­gled, and even blend­ed togeth­er. The result was cacoph­o­nous, more chaos than order, clos­er to the antics of the Sex Pis­tols than the philo­soph­i­cal reflec­tions of Kropotkin.
Now, PM Press has col­lect­ed all four issues into a sin­gle vol­ume. In addi­tion to repro­duc­ing the con­tent of the orig­i­nal comics, Anar­chy Comics: The Com­plete Col­lec­tion also includes col­or reprints of the cov­ers, unpub­lished sketch­es, archival pho­tos, a long intro­duc­tion from editor/​contributor (and for­mer In These Times car­toon­ist) Jay Kin­ney, a short pref­ace from his­to­ri­an and comics schol­ar Paul Buh­le, and a recent sto­ry by one of the orig­i­nal con­trib­u­tors, Sharon Rudahl.
Anar­chy Comics was in many ways an obvi­ous prod­uct of its time. The Cold War, the pos­si­bil­i­ty of nuclear anni­hi­la­tion, the ascen­dan­cy of neolib­er­al­ism, and the Left­'s increas­ing­ly sec­tar­i­an and polit­i­cal­ly-cor­rect self-iso­la­tion, all form part of the back­ground of the pub­li­ca­tion. Aes­thet­i­cal­ly, as well, Anar­chy Comics reflects the moment of its birth. The irrev­er­ent play­ful­ness of the Under­ground Comix era car­ries over into many of the pieces here, but they also incor­po­rate a punk aes­thet­ic (or anti-aes­thet­ic) and thus feel hasti­ly, or almost indif­fer­ent­ly, slapped togeth­er. Some of the pieces make ready use of clip art; some pages are almost illeg­i­bly crowd­ed with images or text; much of the art is aggres­sive­ly crude; and sev­er­al sto­ries halt abrupt­ly, with­out res­o­lu­tion, at the end of the page. As a result, much of the work seems unfin­ished, frag­ment­ed or aban­doned, though this effect some­times also pro­vides a dar­ing, exper­i­men­tal, spon­ta­neous feel — like a flash of pure cre­ative ener­gy, bril­liant for a moment but impos­si­ble to sustain.
The best qual­i­ties of the vol­ume are rep­re­sent­ed by the con­tents of the sec­ond issue, which includ­ed an auto­bi­o­graph­i­cal tale in which Steve Stiles is inter­ro­gat­ed by Army Intel­li­gence about IWW activ­i­ty; a punk-inspired Archie par­o­dy titled ​"Anar­chie in Prob­lem Child"; and lush, grotesque, erot­ic images paired with quotes from Emma Gold­man. Some of the art, such as Clif­ford Harper's cubism-inspired illus­tra­tions for Brecht's poem ​"The Black Freighter," is so strik­ing that the word ​"car­toon" will not even come to mind.
Per­haps the most inter­est­ing ele­ment of Anar­chy Comics is its ros­ter of con­trib­u­tors. Fea­tur­ing tal­ent from through­out the U.S., Cana­da and Europe, the com­ic ranged freely across sub­jects, styles and out­looks. Alto­geth­er, the col­lec­tion includes more than 65 sep­a­rate sto­ries from 30 car­toon­ists who as a group rep­re­sent both the past and the (then-)future of anar­chist cartooning.
Con­tri­bu­tions from fig­ures from the Under­ground Comix era — like Gilbert Shel­ton, the cre­ator of the ​"Fab­u­lous Fur­ry Freak Broth­ers," Greg Irons and Peter Pon­ti­ac — give the book a sense of lin­eage, and help to posi­tion it at a piv­ot between two counter-cul­tures — the bleary hip­py scene before, punk aggres­sion after.
Fas­ci­nat­ing too are the con­tri­bu­tions from artists who had yet to reach their prime. Sharon Rudahl, who began in the 1970s Under­ground scene, went on in 2007 to pub­lish a book-length com­ic biog­ra­phy of Emma Gold­man called A Dan­ger­ous Woman. Her growth as an artist is on dis­play in this vol­ume as well, with a love­ly short bio of Vic­to­ria Wood­hull (from 2010) con­trast­ing marked­ly with the com­pe­tent but unin­spired his­tor­i­cal pieces from the first cou­ple of issues. Mean­while, ​"Quotes from Red Emma," along with a first­hand account of fac­ing cen­sor­ship, illus­tra­tions accom­pa­ny­ing a pair of Ben­jamin Peret poems, and the fem­i­nist fable ​"The Quilt­ing Bee," are all the work of Melin­da Geb­bie, who would lat­er become noto­ri­ous as the co-cre­ator (with Alan Moore) of the self-con­scious­ly porno­graph­ic three-vol­ume com­ic Lost Girls. Her Anar­chy Comics con­tri­bu­tions, while less con­strained and less refined, are clear­ly the work of the same artist, and these ear­ly pieces — espe­cial­ly with their themes of free love, free speech and fem­i­nism — pro­vide anoth­er point of com­par­i­son for her lat­er, bet­ter known work.
Clif­ford Harp­er — who would become famous for his bold, dark, wood­cut-like images, his anar­chist por­traits, and for Anar­chy: A Graph­ic Guide—con­tributes a piece to every issue col­lect­ed here, each in a star­tling­ly dif­fer­ent style. The illus­tra­tions for ​"Owd Nan­cy's Pet­ti­coat," in the first issue, resem­ble ear­ly nine­teenth-cen­tu­ry wood­cuts; the Brecht illus­tra­tions in the sec­ond issue are near­ly cubist; the ones accom­pa­ny­ing Proud­hon's ​"What is Gov­ern­ment?" in issue three are soft­er, with round­ed edges and gray shad­ing; and by the last issue, his illus­tra­tions for ​"On the Night of March 3, 1982" final­ly achieve his char­ac­ter­is­tic high-con­trast, block-print style. To encounter these decades-old works, know­ing the artist that he would even­tu­al­ly become, is inter­est­ing, and even revealing.
Of course, along­side these works are oth­er con­tri­bu­tions which seem, at least in ret­ro­spect, sil­ly, point­less, crude, or — per­haps worst of all — dull. It's tempt­ing to wish that the vol­ume had been edit­ed dif­fer­ent­ly, offer­ing the best works from the orig­i­nal issues and dis­card­ing the weak, unfin­ished or dat­ed. But in fact Kin­ney has done us a favor in offer­ing a fac­sim­i­le edi­tion. The raw, con­fused feel of the work includ­ed here — along with its uneven qual­i­ty, and the occa­sion­al obvi­ous fail­ure — offers an hon­est pic­ture of cul­ture as it is cre­at­ed, and of pol­i­tics as it is prac­ticed. Nei­ther mas­ter­pieces nor rev­o­lu­tions arrive ful­ly formed. They arise, instead, hap­haz­ard­ly, from messy social cir­cum­stances, caught with­in the ten­sions of their time. To cut out every­thing embar­rass­ing or regret­table would be to mis­rep­re­sent the past, to lead us toward nos­tal­gia rather than history.
Such an approach would also mis­un­der­stand the virtues of Anar­chy Comics as a project. Con­sid­ered in its con­text — born in the midst of the punk era, after the dis­in­te­gra­tion of the New Left, before ​"graph­ic nov­els" gained respectabil­i­ty — the effort seems bold, auda­cious, even fool­hardy. The crass, awk­ward, ugly, ama­teur­ish ele­ments are all a part of that. They remind us that suc­cess and fail­ure are often twins — arriv­ing in the same moment, emerg­ing from the same process — and that con­tin­u­ous fail­ure is some­times a nec­es­sary accom­pa­ni­ment to the matur­ing of success.
Anar­chism may be utopi­an, but, as Anar­chy Comics reminds us, it has nev­er been perfectionist.
Kris­t­ian Williams
is the author of
Our Ene­mies in Blue: Police and Pow­er in Amer­i­ca
and
Amer­i­can Meth­ods: Tor­ture and the Log­ic of Dom­i­na­tion
.