The Best Police Money Can Buy
In the Fox series APB, police misconduct doesn't exist, and privatization and technology can fix any problem.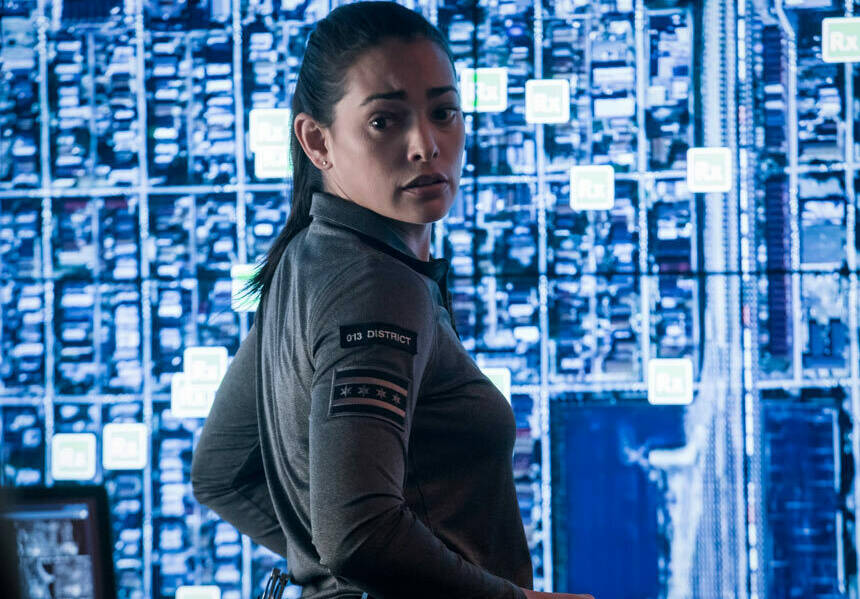 If one were to pro­duce an infomer­cial pro­claim­ing the ben­e­fits of a cor­po­rate-run high-tech police state, the result might be some­thing like the new Fox series APB. The show fol­lows the adven­tures of bil­lion­aire engi­neer Gideon Reeves (played by Justin Kirk), who, after wit­ness­ing a friend's mur­der while on hold with 911, decides the cops are due for an upgrade.
The fantasy of technology, like the fantasy of privatization, is that it can take the politics out of policing.
He there­fore buys a police precinct in Chica­go — sim­ply writ­ing a check to the City Coun­cil and threat­en­ing to fund their oppo­nents if they refuse — and runs it as a pri­vate fief­dom. Thank­ful­ly, APB is unlike­ly to last more than a sea­son. Future his­to­ri­ans, how­ev­er, may find it use­ful as an ide­o­log­i­cal arti­fact of ear­ly-21st-cen­tu­ry neolib­er­al­ism — the belief that pri­vate enter­prise is more effi­cient, effec­tive and inno­v­a­tive than state ser­vices; that progress is always tech­ni­cal, rather than polit­i­cal; that advances come only from indi­vid­ual intel­li­gence and ini­tia­tive; and that the pub­lic good is best advanced through per­son­al philanthropy.
This log­ic is applied to the police in APB, but it could just as well attach to the post office or the Envi­ron­men­tal Pro­tec­tion Agency. It's the same think­ing behind char­ter schools and Black­wa­ter-style mil­i­tary con­trac­tors. In fact, APB is just a half-step from real­i­ty: In Ore­gon, for exam­ple, the Port­land Busi­ness Alliance has hired its own armed patrols to main­tain ​"order" down­town, and even leas­es sworn offi­cers from the police department.
The show may be of inter­est as an arti­fact, but as art, it has lit­tle to rec­om­mend it. Reeves is charm­ing in an arro­gant, wise­crack­ing, Tony Stark sort of way, but oth­er­wise weird­ly blank— or just bad­ly writ­ten. The fact that he views his friend's mur­der as just anoth­er engi­neer­ing prob­lem tells you every­thing you need to know about the char­ac­ter. And the plots, such as they are, gen­er­al­ly turn on the ques­tion of whether the good guys have bet­ter tech sup­port than the bad guys. (They do.) The cli­max of every episode — pre­dictably, a chase and/​or fight, lead­ing to an arrest — is pre­sent­ed at two lev­els simultaneously.
First there is the action itself: cops vs. rob­bers, remote­con­trolled drones vs. shot­gun-wield­ing thugs. Then there is the obser­va­tion of the action: a crowd of police com­man­ders, tech­ni­cians and advi­sors, includ­ing (of course) Reeves him­self, watch­ing the dra­mat­ic finale on a giant screen in a high-tech war room. This means a sur­pris­ing amount of each episode has us watch­ing oth­er peo­ple watch cops on tele­vi­sion. Black Mir­ror might have turned this into a mean­ing­ful com­ment on sur­veil­lance or alien­ation — but here it's just a clum­sy tool for con­nect­ing the cor­ner-office pro­tag­o­nist to the action on the street.
That pro­tag­o­nist is explic­it about see­ing crime-fight­ing as a tech­ni­cal prob­lem, and he seems to give no thought at all to root caus­es like pover­ty. He instead takes for grant­ed that the solu­tion to crime is bet­ter polic­ing — bet­ter defined as faster cars, lighter armor, smarter algo­rithms and the more fre­quent use of tasers. In this, he's less an out­lier than the norm: The neolib­er­al approach to pub­lic pol­i­cy that has found bipar­ti­san sup­port sees pol­i­tics as dirty, but cor­po­rate and police pow­er as bland and benign. The fan­ta­sy of tech­nol­o­gy, like the fan­ta­sy of pri­va­ti­za­tion, is that it can take the pol­i­tics out of polic­ing. To these reform­ers, the racial and eco­nom­ic inequal­i­ties that struc­ture crime and polic­ing might as well not exist.
But even by the show's technophilic stan­dards, the solu­tions it pro­pos­es aren't as com­pre­hen­sive as they seem. Reeves's sig­na­ture inno­va­tion is an app that bypass­es the 911 sys­tem and sum­mons police direct­ly, pro­vid­ing them with an imme­di­ate audio and video link and loca­tion data. Some­how — the details are not explained— this allows police to respond instan­ta­neous­ly. That would be impres­sive, but obscures that many calls to police are not reports of crimes in progress; so the cops' ​"response time" is not the most use­ful mea­sure of their per­for­mance. But this doesn't mat­ter to Reeves or to APB, because if the show is ide­o­log­i­cal­ly teth­ered to our real­i­ty, in every oth­er sense it's total­ly detached.
Giv­en the state of real-world polic­ing, APB is sur­pris­ing­ly silent about racial pro­fil­ing, exces­sive force or the fact that as recent­ly as 2015, the Chica­go Police Depart­ment was revealed to be ille­gal­ly oper­at­ing a secret jail and tor­ture site. The show like­wise says noth­ing of the inglo­ri­ous and marked­ly un-phil­an­thropic his­to­ry of pri­vate police forces — most notably their use in strike­break­ing. In the world of APB, the only thing wrong with the cops is that they lack the tools they need to do their jobs. It's a line of thought that appeals to law-and-order con­ser­v­a­tives, and in a more sub­tle way to many pro­gres­sives as well.
The idea of impar­tial jus­tice, and thus of imper­son­al polic­ing, is seduc­tive, and reform­ers of all kinds still some­times invest their hopes in tech­ni­cal solu­tions: body cams, less-lethal weapon­ry, com­put­er­ized sta­tis­tics. The results are inevitably dis­ap­point­ing, though, because they mis­un­der­stand the prob­lem. It's not as though police engage in racial pro­fil­ing and rou­tinized vio­lence because they use out­dat­ed soft­ware. These are struc­tur­al fea­tures of the insti­tu­tion, direct­ly linked to the inequal­i­ty of our soci­ety. Chang­ing that will require some­thing more than a wealthy bene­fac­tor and a smartphone.
Kris­t­ian Williams
is the author of
Our Ene­mies in Blue: Police and Pow­er in Amer­i­ca
and
Amer­i­can Meth­ods: Tor­ture and the Log­ic of Dom­i­na­tion
.