'Two Wasted Years': Orwell at the BBC
Some at the BBC fear commemorating George Orwell because he was 'too left-wing.' They probably shouldn't bother anyway.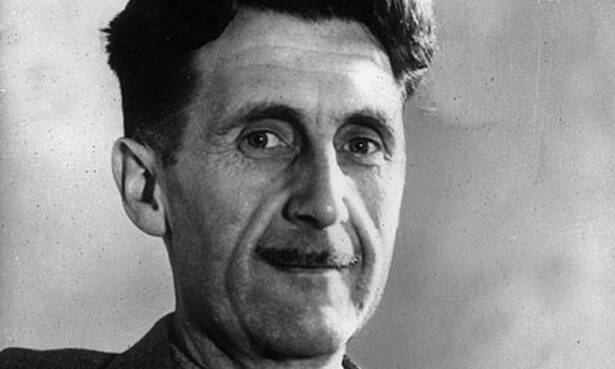 A few weeks ago, the Tele­graph report­ed that BBC direc­tor Mark Thomp­son had vetoed a pro­posed stat­ue of George Orwell on the grounds that the writer was ​"too left-wing."
There are sure­ly bet­ter rea­sons not to adorn BBC head­quar­ters with Orwell's image.
Orwell is not, I think, a fig­ure suit­ed to being cast in bronze. He was nat­u­ral­ly sus­pi­cious of ​"great men," averse to hero-wor­ship, and believed that ​"saints should always be judged guilty until they are proved innocent."
Besides which, Orwell's feel­ings about his for­mer employ­er were not always friend­ly. Though he pub­licly insist­ed that ​"in my expe­ri­ence the BBC is rel­a­tive­ly truth­ful," he pri­vate­ly described the orga­ni­za­tion as ​"a mix­ture of whore­shop and lunatic asylum."
Pro­pa­gan­da and censorship
Orwell worked for the BBC East­ern Ser­vice from 1941 to 1943 — ​"two wast­ed years" — pro­duc­ing cul­tur­al pro­gram­ming and writ­ing com­men­tary on the progress of the war.
The sit­u­a­tion was deeply iron­ic. As he wrote to his supe­ri­ors, respond­ing to an Intel­li­gence Offi­cer's sug­ges­tion that they cap­i­tal­ize on his noto­ri­ety, ​"If I broad­cast as George Orwell I am as it were sell­ing my lit­er­ary rep­u­ta­tion, which so far as India is con­cerned prob­a­bly aris­es chiefly from books of anti-impe­ri­al­ist ten­den­cy, some of which have been banned in India." This rep­u­ta­tion, based part­ly on his books being sup­pressed as sub­ver­sive to Eng­lish rule, became an asset in the pro­pa­gan­da effort to pro­mote loy­al­ty to the Empire. There­fore, Orwell rea­soned, to pre­serve his cred­i­bil­i­ty ​"as an inde­pen­dent and more or less ​'agin the gov­ern­ment' com­men­ta­tor," he would have to be allowed ​"rea­son­able free­dom of speech" — though he also offered to ​"avoid men­tion of sub­jects on which I could not con­sci­en­tious­ly agree with cur­rent Gov­ern­ment policy."
Such silence was not only pru­dent, it was direct­ly enforced: Orwell's com­men­tary was sub­ject to a triple cen­sor­ship. Before broad­cast, his scripts had to be cleared by the Min­istry of Infor­ma­tion both to avoid breach­es of secu­ri­ty and to ensure con­gru­ence with offi­cial pol­i­cy. Then, dur­ing the broad­cast itself, an Angli­can cler­gy­man lis­tened from the con­trol booth, ready to kill the mic should the dis­cus­sion start to stray.
Hon­esty ver­sus integrity
Though he could not say every­thing he want­ed, Orwell at least avoid­ed say­ing things he did­n't want to say. ​"On no occa­sion," he wrote in his res­ig­na­tion let­ter, ​"have I been com­pelled to say on the air any­thing that I would not have said as a pri­vate individual."
But that is not to sug­gest that he always told the truth. As he record­ed in his diary: ​"one rapid­ly becomes pro­pa­gan­da-mind­ed and devel­ops a cun­ning one did not pre­vi­ous­ly have." For exam­ple: ​"I am reg­u­lar­ly alleg­ing in all my newslet­ters that the Japan­ese are plot­ting the attack Rus­sia," even though ​"I don't believe this to be so." Under the cir­cum­stances, Orwell thought, per­fect hon­esty was not mere­ly a lux­u­ry, but an impos­si­bil­i­ty. He rea­soned, in the same diary entry: ​"All pro­pa­gan­da is lies, even when one is telling the truth. I don't think this mat­ters so long as one knows what one is doing, and why."
There­fore, at the BBC, Orwell's stan­dard became not pub­lic truth­ful­ness, but a kind of pri­vate clar­i­ty. One could utter false­hoods, as long as one did so res­olute­ly, with clear pur­pose and with­out self-decep­tion. The point was not so much to speak the truth, but to pre­serve one's own out­look, the sense that there is a truth inde­pen­dent of any doc­trine, or any par­ty's line. One could become a liar and yet retain a sense of integrity.
That strug­gle for men­tal free­dom, the notion that one might find refuge in his own pri­vate thoughts, became the basis for the cen­tral con­flict of 1984. And Orwell's refusal to believe the lies, even those of his own side, con­stant­ly cre­at­ed fric­tion with doc­tri­naires of all kinds, from Stal­in­ists to anar­chist-paci­fists. As he wrote in an exchange with Alex Comfort:
All pro­pa­gan­da's lying, yours or mine;

It's lying even when its facts are true; …

But there are truths that small­er lies can serve,

And dirt­i­er lies that scru­ples can guild over; …

It's mean enough when oth­er men are dying,

But when you lie, it's much to know you're lying."
Still, Orwell may not have been entire­ly sat­is­fied with his own jus­ti­fi­ca­tions. As he made his plans to resign, he wrote to Rayn­er Heppenstall:
Re cyn­i­cism, you'd be cyn­i­cal your­self if you were in this job. How­ev­er I am def­i­nite­ly leav­ing it prob­a­bly in abt 3 months. Then by some time in 1944 I might be near-human again & able to write some­thing seri­ous. At present I'm just an orange that's been trod­den on by a very dirty boot.
Fit­ting tributes
If we are to memo­ri­al­ize Orwell with a sculp­ture, let's not place him on a pedestal at the BBC. It would not serve his mem­o­ry well, and the BBC does not deserve it.
Let the sculp­ture show him, instead, dressed as a tramp sleep­ing rough in Trafal­gar Square, or note­book in hand, sit­ting with a min­er next to the pit in Wigan, or push­ing a stroller with his lit­tle boy near Canon­bury Square, or hold­ing an ancient rifle, shiv­er­ing in a trench in Spain.
Most of all, let's be clear-sight­ed in our view of this great writer. A stat­ue of Orwell should be life-sized, and no bigger.
Kris­t­ian Williams
is the author of
Our Ene­mies in Blue: Police and Pow­er in Amer­i­ca
and
Amer­i­can Meth­ods: Tor­ture and the Log­ic of Dom­i­na­tion
.