A New Native-Led Strategy for Fighting Keystone XL
At a June corn-planting ceremony, the Ponca Tribe took ownership of land in the pipeline's path.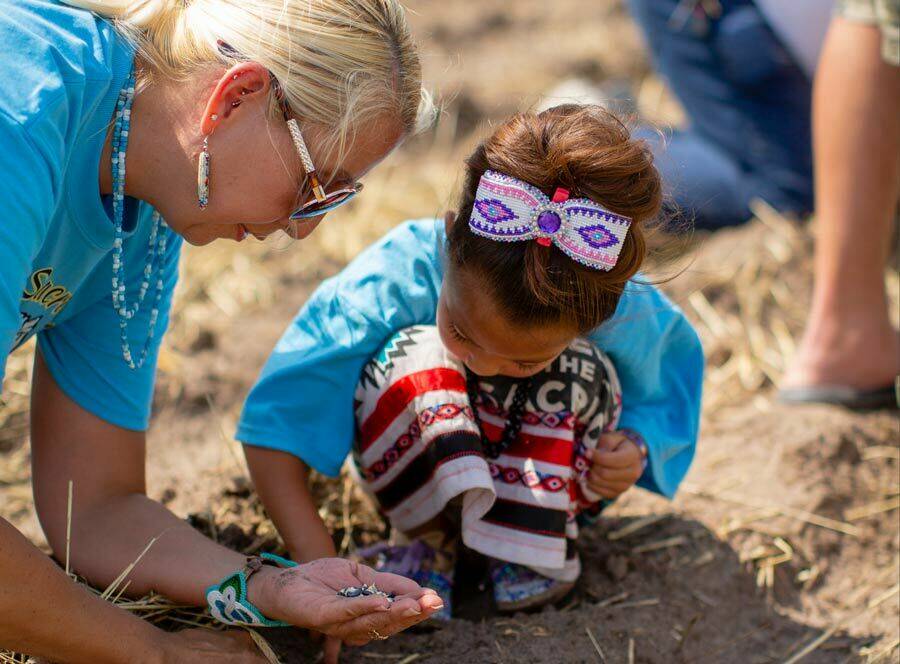 We wanted to make sure you didn't miss the announcement of our new Sustainer program. Once you've finished reading, take a moment to check out the new program, as well as all the benefits of becoming a Sustainer.

NELIGH, NEB. — Ponca tribal activists Casey Camp-Horinek and Larry Wright Jr. sit beside Nebraska farmers Art and Helen Tanderup at a folding table on open farmland. Nearly 100 people, including landowners, candidates for the state Public Service Commission and members of surrounding tribes, have gathered here for the fifth annual planting of sacred Ponca corn.
The Tanderups pass a slip of paper across a table adorned with a painted buffalo robe. Camp-Horinek, councilwoman of the Ponca Tribe of Oklahoma, and Wright, tribal chairman of the Ponca Tribe of Nebraska, receive the paper. ​"This day," Camp-Horinek declares, ​"the course of the Black Snake has changed."
On June 10, in a ceremony equal parts prayer and protest, the Tanderups deeded 1.6 acres of land back to the Ponca tribes. It was along this tract of land that Camp-Horinek's grandfather and tribe walked into exile in 1877 when he was just eight years old — land that now lies along the route of the approved Keystone XL pipeline (KXL).
This is now the only tribally owned land that sits directly on KXL's U.S. route, and as such could present legal barriers to its construction.
In May 1877, when the U.S. Army forcibly removed the Ponca from their Nebraska homeland, the tribe had already planted its corn crop and was forced to leave with few seeds.
Six years ago, at a gathering with tribal leaders, Camp-Horinek's son Mekasi conceived the idea of planting the Ponca's nearly extinct heirloom corn along the Ponca Trail of Tears. Because the corn is considered sacred, he believed this might present a legal hurdle to KXL through the Freedom of Religion Act. After rediscovering a handful of seeds in an old medicine bundle, in 2014 the Ponca planted the seeds — some over a century old — on the Tanderup farm, returning the corn to ancestral Ponca homeland for the first time in 137 years. The ancient strains are considered a medicine for the land and people, and seen as one of the first gifts from the Creator.
"This sets precedence for our people to look to our medicines, to our plants and to our animals," Mekasi Camp-Horinek said before those gathered. ​"They're going to take care of us the way they always have."
The planting, especially alongside this year's deeding, represents an important step in both the decade-long fight against KXL and the centuries-long struggle for the Ponca to reclaim their ancestral land.
TransCanada, the company orchestrating the KXL project, must now confront the legal barriers of crossing historic and sacred sites owned by a sovereign tribal nation.
TransCanada claims the pipeline, which would pump up to 830,000 barrels of diluted bitumen per day from the tar sands of Alberta to Steele City, Neb., will be one of the safest in North America. Yet four days before Nebraska approved KXL's route in November 2017, TransCanada's Keystone pipeline ruptured in South Dakota, spilling 407,000 gallons of crude oil.
Though the state required some rerouting, the approved path would still cross parts of the fragile Sandhills ecosystem, which houses the Ogallala Aquifer, the United States' largest underground source of freshwater.
"All it's going to take is one leak — it could be a pinhole leak— and those chemicals would be in there," Tanderup tells In These Times. ​"Nobody can clean that."
Soon, bulging grain sacks are passed around as each person cups a handful of blue corn seeds. At Tanderup's word, the crowd lurches forward, a throng of backs and arms raking seeds into the earth.
"When we talk about our tie to the land, it's not about ownership," Wright says. ​"It's the fact that our relatives, our ancestors are buried in these hills. And every year when the grass grows [and] things green up, their spirit, their DNA is in those trees, in those flowers, in the corn that's grown. That's who we are."
Be a Sustainer
We surveyed thousands of readers and asked what they would like to see in a monthly giving program. Now, for the first time, we're offering three different levels of support, with rewards at each level, including a magazine subscription, books, tote bags, events and more—all starting at less than 17 cents a day. Check out the new Sustainer program.
Justin Perkins
is a Rural America In These Times editorial intern. He's from Nebraska.