A New Native-Led Strategy for Fighting Keystone XL
At a June corn-planting ceremony, the Ponca Tribe took ownership of land in the pipeline's path.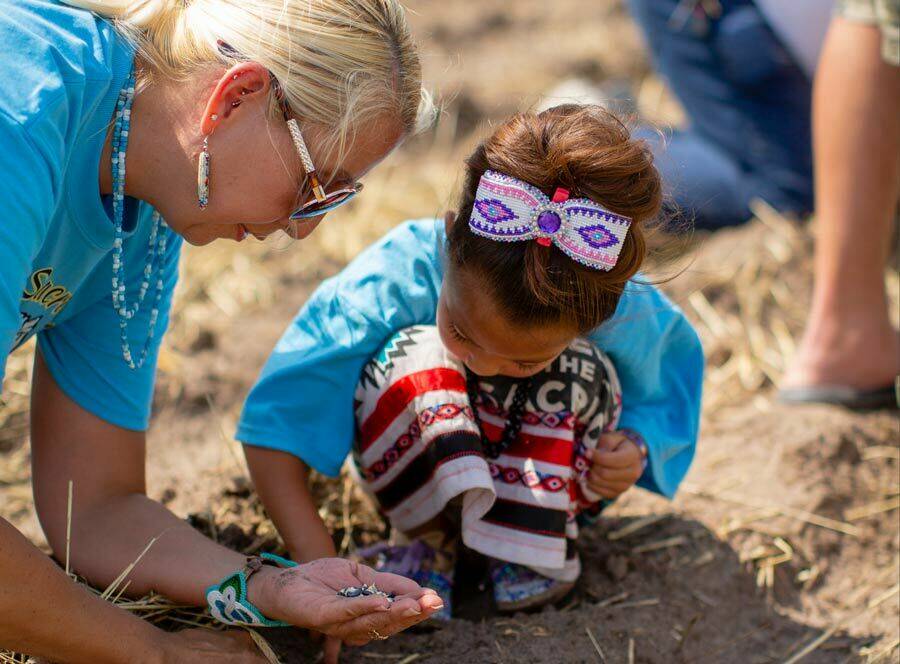 NELIGH, NEB. — Pon­ca trib­al activists Casey Camp-Horinek and Lar­ry Wright Jr. sit beside Nebras­ka farm­ers Art and Helen Tanderup at a fold­ing table on open farm­land. Near­ly 100 peo­ple, includ­ing landown­ers, can­di­dates for the state Pub­lic Ser­vice Com­mis­sion and mem­bers of sur­round­ing tribes, have gath­ered here for the fifth annu­al plant­i­ng of sacred Pon­ca corn.
The Tanderups pass a slip of paper across a table adorned with a paint­ed buf­fa­lo robe. Camp-Horinek, coun­cil­woman of the Pon­ca Tribe of Okla­homa, and Wright, trib­al chair­man of the Pon­ca Tribe of Nebras­ka, receive the paper. ​"This day," Camp-Horinek declares, ​"the course of the Black Snake has changed."
On June 10, in a cer­e­mo­ny equal parts prayer and protest, the Tanderups deed­ed 1.6 acres of land back to the Pon­ca tribes. It was along this tract of land that Camp-Horinek's grand­fa­ther and tribe walked into exile in 1877 when he was just eight years old — land that now lies along the route of the approved Key­stone XL pipeline (KXL).
This is now the only trib­al­ly owned land that sits direct­ly on KXL's U.S. route, and as such could present legal bar­ri­ers to its construction.
In May 1877, when the U.S. Army forcibly removed the Pon­ca from their Nebras­ka home­land, the tribe had already plant­ed its corn crop and was forced to leave with few seeds.
Six years ago, at a gath­er­ing with trib­al lead­ers, Camp-Horinek's son Mekasi con­ceived the idea of plant­i­ng the Ponca's near­ly extinct heir­loom corn along the Pon­ca Trail of Tears. Because the corn is con­sid­ered sacred, he believed this might present a legal hur­dle to KXL through the Free­dom of Reli­gion Act. After redis­cov­er­ing a hand­ful of seeds in an old med­i­cine bun­dle, in 2014 the Pon­ca plant­ed the seeds — some over a cen­tu­ry old — on the Tanderup farm, return­ing the corn to ances­tral Pon­ca home­land for the first time in 137 years. The ancient strains are con­sid­ered a med­i­cine for the land and peo­ple, and seen as one of the first gifts from the Creator.
"This sets prece­dence for our peo­ple to look to our med­i­cines, to our plants and to our ani­mals," Mekasi Camp-Horinek said before those gath­ered. ​"They're going to take care of us the way they always have."
The plant­i­ng, espe­cial­ly along­side this year's deed­ing, rep­re­sents an impor­tant step in both the decade-long fight against KXL and the cen­turies-long strug­gle for the Pon­ca to reclaim their ances­tral land.
Tran­sCana­da, the com­pa­ny orches­trat­ing the KXL project, must now con­front the legal bar­ri­ers of cross­ing his­toric and sacred sites owned by a sov­er­eign trib­al nation.
Tran­sCana­da claims the pipeline, which would pump up to 830,000 bar­rels of dilut­ed bitu­men per day from the tar sands of Alber­ta to Steele City, Neb., will be one of the safest in North Amer­i­ca. Yet four days before Nebras­ka approved KXL's route in Novem­ber 2017, TransCanada's Key­stone pipeline rup­tured in South Dako­ta, spilling 407,000 gal­lons of crude oil.
Though the state required some rerout­ing, the approved path would still cross parts of the frag­ile Sand­hills ecosys­tem, which hous­es the Ogal­lala Aquifer, the Unit­ed States' largest under­ground source of freshwater.
"All it's going to take is one leak — it could be a pin­hole leak— and those chem­i­cals would be in there," Tanderup tells In These Times. ​"Nobody can clean that."
Soon, bulging grain sacks are passed around as each per­son cups a hand­ful of blue corn seeds. At Tanderup's word, the crowd lurch­es for­ward, a throng of backs and arms rak­ing seeds into the earth.
"When we talk about our tie to the land, it's not about own­er­ship," Wright says. ​"It's the fact that our rel­a­tives, our ances­tors are buried in these hills. And every year when the grass grows [and] things green up, their spir­it, their DNA is in those trees, in those flow­ers, in the corn that's grown. That's who we are."
Justin Perkins
is a Rur­al Amer­i­ca In These Times edi­to­r­i­al intern. He's from Nebraska.