The 38 Dakota Warriors Lincoln Hanged
Native riders commemorate a forgotten massacre.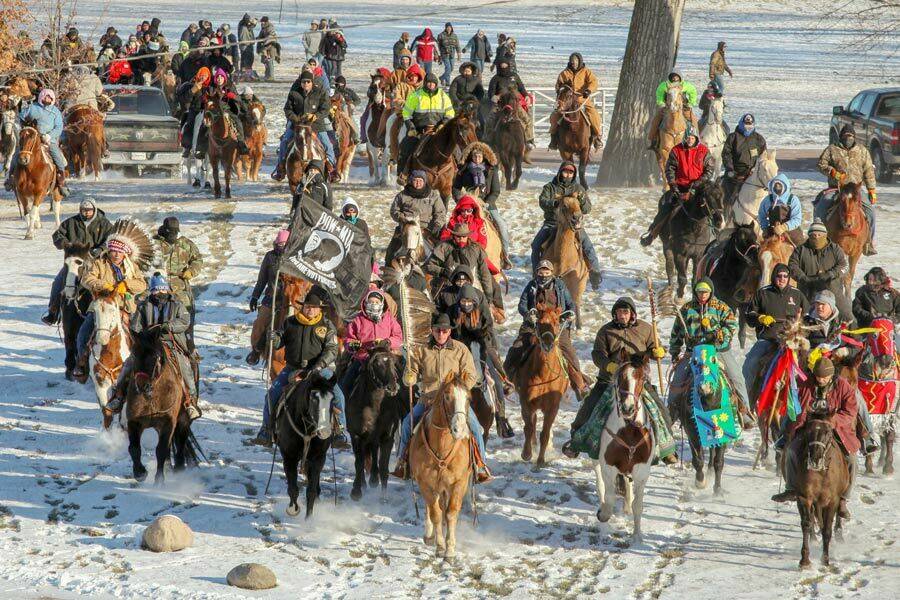 MANKATO, MINN. — On Dec.
26
,
2017
, Mankato's salt-caked streets awoke from their subzero slumber to a thunder of riders on horseback loping down the asphalt of Riverfront Drive. A wave of steam emanated from the horses and riders. Leading the charge was Jim Miller, an elder of the Cheyenne River Reservation in South Dakota. Wearing a black cowboy hat, he held the reins in his left hand and in his right a wooden staff arrayed with dozens of eagle feathers.
Blocks away, a crowd of more than
100
gathered at Mankato's Reconciliation Park. Some tied prayer ribbons on a nearby memorial, awaiting the riders at the end of the
13

th annual Dakota

38

+

2

Wokiksuye Ride
. The nearby banks of the Minnesota River hissed and crackled as ice fragments crashed into the shore. ​
"
Remember the
38
" was spray-painted on the levee wall.
Over a span of
17
days, riders had trekked
330

miles
from Lower Brule Indian Reservation in South Dakota across the northern plains to honor
38

Dakota men
hanged here on the orders of Abraham Lincoln in
1862
 — the largest mass execution in U.S. history.
As the riders approached, Jon Eagle Sr., the Tribal Historic Preservation Officer of the Standing Rock Sioux Tribe, quoted one of those hanged over the loudspeaker: ​
"
Remember today, because today is not a day of defeat, but a day of victory."
Many of the more than
50
riders and their supporters in the Dakota diaspora are descendants of those who were executed, returning to their ancestral homeland.
By 1858, under threat of miliary action from the United States, the Dakota had ceded much of their land, including the fertile northern side of the Minnesota River. Forced onto a reservation and unable to hunt outside their small tract of land, the Dakota became reliant on the goods and services of settler traders in addition to the annuity payments that had been promised by the U.S. government. Most often, these annuity payments were nonexistent, delayed or paid directly to the traders, who sold the Dakota goods on credit.
"Remember today, because today is not a day of defeat, but a day of victory."
In August 1862, spurred by starvation, the Dakota revolted; the fighting lasted six weeks. More than a thousand Dakota were arrested and interned. Out of 392 tried, the U.S. military sentenced 303 to death for murder and rape. Lincoln commuted the sentences of all but 39, with one acquitted before the hanging.
On Dec. 26, 1862, 38 Dakota warriors were hanged in front of 4,000 spectators. The Dakota were then
banished
from Minnesota to
reservations
in the Dakota and Nebraska Territories. (The "38+2" refers to these 38 warriors as well as Shakopee and Medicine Bottle, two Dakota leaders who were executed at Fort Snelling, Minn., in 1865.)
In some cases, trials lasted
less than five minutes
. None of the accused were provided with legal representation, and much of the evidence was based on hearsay. In no other war between the U.S. and Indian nations did the United States apply criminal sanctions to punish those captured. "It was very unclear that there was authority to have this kind of trial," says Carol Chomsky, a professor at the University of Minnesota Law School. "They treated those individuals as essentially criminals. We were treating Confederate soldiers as prisoners of war, but we did not treat the Dakota as prisoners of war."
The idea for the ride came to Jim Miller in a dream in 2005. Jon Eagle explained to those gathered that Miller's dream also became a way to reconcile his experience fighting in Vietnam. "Through that dream… he found healing," Eagle said. "And as a warrior he found love, because that's who our warriors really are."
Murmurs rushed through the crowd as someone spotted a bald eagle flying above.
Curtis McKay of the Sioux Valley Dakota Nation read the names of all 40 men. "I want you to hear the Dakota language," he said, "to know that we're still here." Wilfred Keeble, chair of the Crow Creek Sioux Tribe in South Dakota, spoke, too, saying, "We're here for the dream, the message—healing, reconciliation, cultural diversity."
Later, while everyone warmed up with a large community meal at the New Creation World Outreach Church, Miller sat with his wife and family. "We have to reconcile ourselves first," he says. "And then we can reconcile with the community."
Justin Perkins
is a Rural America In These Times editorial intern. He's from Nebraska.