The 2018 Farm Bill's Hidden Agenda to Push Millions off Food Stamps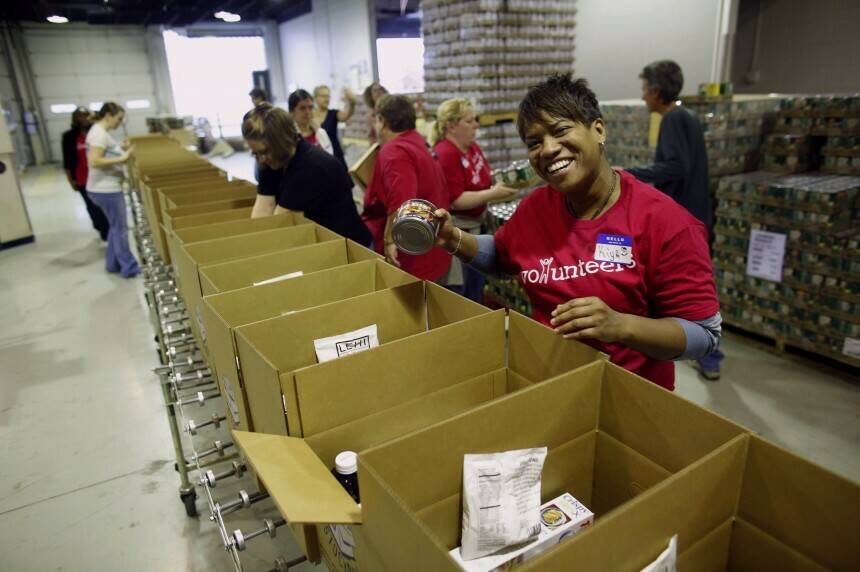 Last August, on the first day of an eight state, two-install­ment RV tour to address pover­ty and pros­per­i­ty in rur­al Amer­i­ca for the upcom­ing farm bill, U.S. Depart­ment of Agri­cul­ture Sec­re­tary George ​"Son­ny" Per­due vis­it­ed the Wis­con­sin State Fair.
Activ­i­ties that morn­ing includ­ed car­ni­val rides and a lis­ten­ing ses­sion with farm­ers, which Per­due host­ed along­side Wis­con­sin Gov. Scott Walk­er. After­ward, Per­due, Walk­er and their fam­i­lies were in search of food. Walk­er quipped, ​"We'll prob­a­bly find a few things on a stick."
Per­due then set out in a Class A Hur­ri­cane Thor Motor Coach (floor­plans start with an MSRP val­ue above $100,000) to meet with young farm­ers at a farm he called, ​"a feed the hunger" type farm — in ref­er­ence to the Hunger Task Force Farm south of Mil­wau­kee. Per­due also host­ed Paul Ryan in the RV lat­er that day. They sat around a thumb­nail kitchen table beneath a blank, wall-mount­ed LED tele­vi­sion, before host­ing a speak­ing event.
Dubbed the ​"Back to Our Roots" tour, Per­due vowed that the ​"USDA will be inti­mate­ly involved" with Con­gress in writ­ing the next farm bill, and that the tour would put him out ​"on the front lines of Amer­i­can agri­cul­ture" and enable him to ​"know best what the cur­rent issues are."
His quest cul­mi­nat­ed in late Jan­u­ary in Mif­fling­town, Penn., where he pre­sent­ed the USDA's ​"2018 Farm Bill & Leg­isla­tive Prin­ci­ples" to Penn­syl­va­nia Farm Bureau mem­bers at Rein­ford Farms. Per­due described the four-page doc­u­ment as the ​"roadmap" to the USDA's farm bill priorities.
The report comes as Con­gress has begun delib­er­a­tions for the next farm bill — what could be one of the largest non-defense fund­ing autho­riza­tions in our nation's his­to­ry. The cur­rent bill expires on Sep­tem­ber 30, and the House Ag com­mit­tee could take its first votes on a new bill any day now.
The farm bill struc­tures almost every­thing that gov­erns our food sys­tem. It dic­tates incen­tives as to what is grown and what we eat. It estab­lish­es farm sub­si­dies and trade pol­i­cy. It reg­u­lates crop insur­ance, nutri­tion pro­grams, forestry polices and con­ser­va­tion pro­grams. It allo­cates funds for dis­as­ter relief and food assis­tance pro­grams. Farm bills are passed by Con­gress about every four or five years.
But what began as a strat­e­gy to restore farm pur­chas­ing pow­er has become infa­mous for its his­to­ry of polit­i­cal dra­ma and logrolling spec­ta­cle; a chimeric piece of leg­is­la­tion over which a dizzy­ing array of inter­ests vie for their stake. Lurk­ing behind a name that con­notes pas­toral inno­cence, lies a knot­ted entan­gle­ment of Con­gress­peo­ple serv­ing the inter­ests of Big Ag and cor­po­rate lob­by­ists. Some experts have even decried the bill as a pub­lic health crisis.
"No one per­son has a han­dle over the entire bill. They can't pos­si­bly do that," says Mar­i­on Nes­tle, for­mer pro­fes­sor of Nutri­tion, Food Stud­ies, and Pub­lic Health at New York Uni­ver­si­ty. ​"Every­body knows what a farm bill ought to do. But pow­er pol­i­tics gets involved. There were hun­dreds of amend­ments put forth for the last one. Nobody can pos­si­bly know the issues involved in them. So, it's who push­es the hardest."
Nes­tle recalls how one staff mem­ber from the Sen­ate Agri­cul­tur­al Com­mit­tee met with an NYU class she taught on the farm bill. The staffer admit­ted to the class that after eight years work­ing with the com­mit­tee, her best resources for learn­ing what was in the bill were lobbyists.
"[Sen­ate Agri­cul­ture Com­mit­tee staff] would meet with lob­by­ists and lob­by­ists would explain what the pro­grams were about and what they want­ed, and that's how she learned it," Nes­tle says. In 2014, the farm bill was the sixth most lob­bied piece of leg­is­la­tion that year.
Since the tumul­tuous pas­sage of the last farm bill in 2014 (it was passed two years after the pre­vi­ous farm bill expired), farm­ers have been expe­ri­enc­ing an eco­nom­ic upheaval sim­i­lar to that of the 1980s.
In May 2017, the Nation­al Farm­ers Union launched a web­site to address a four-year pro­longed farm cri­sis, replete with infor­ma­tion on dis­as­ter relief for the year's weath­er cat­a­stro­phes, how to apply for emer­gency relief loans, and a sui­cide pre­ven­tion hot­line. (A 2016 study by the Cen­ters for Dis­ease Con­trol found that that peo­ple work­ing in agri­cul­ture — includ­ing farm­ers, farm labor­ers, ranch­ers, fish­ers, and lum­ber har­vesters — take their lives at a high­er rate than any oth­er occupation.)
Accord­ing to Jen­nifer Fahy, com­mu­ni­ca­tions direc­tor for the non­prof­it orga­ni­za­tion Farm Aid, in 2017 chap­ter 12 bank­rupt­cies — farm bank­rupt­cies — increased at a faster rate than any oth­er type of bank­rupt­cy. Fahy says the Farm Aid has been receiv­ing a record num­ber of calls in recent years. In 2017, Farm Aid tripled the num­ber of emer­gency grants made to farm­ers, and in 2018 they're on track to triple that num­ber again. ​"Land rents are up and expens­es are up and [farm­ers'] mar­gins are small­er and small­er," she says. ​"These are peo­ple who have built their lives around their farms. When a farm goes under, it's not just the busi­ness that goes under; it's the loss of the farm and the land, and usu­al­ly the family's home."
The USDA esti­mates that from 2009 to 2016, about 109,660 farms have dis­ap­peared, with small and mid­sized farms bear­ing the brunt of these clo­sures. Over the past four years, net farm income has declined by an esti­mat­ed 50 per­cent, mark­ing the largest drop since the Great Depres­sion. Com­mod­i­ty prices have tak­en a nose­dive across the indus­try, with sig­nif­i­cant loss­es to corn, wheat, soy­bean, and dairy prices dip­ping below their post-2008-reces­sion levels.
To address the cri­sis, Per­due has com­man­deered rhetoric of his pre­de­ces­sor Hen­ry A. Wal­lace, Roosevelt's agri­cul­ture sec­re­tary. Per­due chairs the Inter­a­gency Task Force on Agri­cul­ture and Rur­al Pros­per­i­ty, which was estab­lished by Trump in 2017, and he's donned a new mantra for the USDA: ​"Do Right and Feed Everyone."
The first farm bill, passed in 1933, in many ways embod­ied Wallace's New Deal vision. In the years lead­ing to the Great Depres­sion, many farm jour­nals and farm orga­ni­za­tions had warned farm­ers to con­trol pro­duc­tion, as ready mar­kets and fair prices were shrink­ing or not avail­able. When the econ­o­my crashed, farm­ers were struck swift­ly and direct­ly. As prices for com­modi­ties plum­met­ed, farm­ers faced a sur­plus of pro­duc­tion because many U.S. fam­i­lies were too poor to buy food. Wal­lace pledged that the gov­ern­ment would buy ​"from those who have too much to give to those who have too lit­tle." The Agri­cul­tur­al Adjust­ment Act of 1933 was estab­lished by Con­gress' to ​"relieve the exist­ing Nation­al Eco­nom­ic Emer­gency by increas­ing agri­cul­tur­al pur­chas­ing pow­er." It was the first major New Deal agri­cul­tur­al leg­is­la­tion, and was declared uncon­sti­tu­tion­al by the U.S. Supreme Court in 1936.
For farm­ers and farm advo­cates, Perdue's rhetoric has so far shown to be full of emp­ty promis­es, rais­ing great con­cerns with how the farm bill will pro­ceed. Per­due has helmed some­thing of a skele­ton crew at the USDA, which is under­go­ing major orga­ni­za­tion­al restruc­tur­ings (he elim­i­nat­ed the Rur­al Devel­op­ment Mis­sion Area), staff vacan­cies and scan­dal. It was not until Jan­u­ary — long after farm bill dis­cus­sions had begun — that the USDA appoint­ed an offi­cial con­gres­sion­al liai­son. As of April 12, only six of the 13 USDA posi­tions that require Sen­ate con­fir­ma­tion have been con­firmed. Three are pend­ing and the oth­er four have no nominee.
Farm­ers and farmer advo­cates say such admin­is­tra­tive uncer­tain­ty and neg­li­gence has result­ed in delays and impaired access for essen­tial ser­vices dur­ing the Spring plant­i­ng sea­son, and have raised con­cerns about how com­mit­ted the USDA will be to small farm­ers through the sti­fling polit­i­cal process of the farm bill.
"The lan­guage from the admin­is­tra­tion on issues like trade and immi­gra­tion have been real­ly chal­leng­ing because they're cre­at­ing this cli­mate of uncer­tain­ty that's impact­ing farm­ers," says Fahy of Farm Aid. ​"There's lan­guage out there that rur­al Amer­i­ca is impor­tant and that the admin­is­tra­tion is going to do the right thing, but the details are miss­ing. We have farm­ers call­ing because they can't get access to the cred­it they need for the oper­at­ing loans to put seeds in the ground for this spring."
In the months since Sec­re­tary Perdue's vis­it to the Hunger Task Force Farm, Sher­rie Tus­sler, exec­u­tive direc­tor of the Hunger Task Force, has like­wise not­ed a sig­nif­i­cant shift in her group's rela­tion­ship with the USDA.
"There seems to be a chill­ing effect, frankly, on the work that we've done togeth­er pre­vi­ous­ly of improv­ing the qual­i­ty of the fed­er­al nutri­tion pro­grams and their access at a local lev­el," says Tussler.
For Tus­sler, Perdue's vis­it to Wis­con­sin may have sig­naled the USDA's leg­isla­tive agen­da to come. When asked about food assis­tance pro­grams dur­ing his trip, Per­due said at the time, ​"Every­body can get down on their luck. We under­stand that. We under­stand com­pas­sion is need­ed. But that should not be a lifestyle of depen­den­cy on the gov­ern­ment for food."
Tus­sler was recent­ly sur­prised to see her pho­to with Per­due in the 2018 report next to the sec­tion call­ing for strength­en­ing work require­ments for SNAP (Sup­ple­men­tal Nutri­tion Assis­tance Pro­gram) recip­i­ents. ​"I'm hold­ing up com­modi­ties because I'm show­ing him what kind of foods low-income peo­ple live on," Tus­sler says. ​"He was not ter­ri­bly impressed with the pow­dered milk," which is one of the com­mod­i­ty prod­ucts seniors receive through the USDA's Com­mod­i­ty Sup­ple­men­tal Foods Pro­gram. ​"We're at the farm, but I'm show­ing him commodities."
Tus­sler, who has been with the Hunger Task Force for 20 years, sees what has been hap­pen­ing in Wis­con­sin as fore­shad­ow­ing what Con­gress might do with the farm bill with its largest Repub­li­can major­i­ty in Con­gress since 1929.
A bureau­cra­cy that ben­e­fits the rich at the expense of the poor
In 2015, Wis­con­sin extend­ed work require­ments for able-bod­ied adults with­out depen­dents through­out the state, requir­ing 80 hours of unpaid work expe­ri­ence a month for enrollees in order to receive Food­Share ben­e­fits — the state's ver­sion of SNAP. As a result, Tus­sler says, peo­ple are required to work more than 100 hours in unpaid labor to receive an aver­age of $105 in food assis­tance ben­e­fits per month. ResCare, a for-prof­it agency in Mil­wau­kee that pro­vides such employ­a­bil­i­ty pro­grams for Food­Share recip­i­ents, found that only 7 per­cent gained employ­ment, while 53 per­cent lost their ben­e­fits and were banned from the Food­Share pro­gram for three years.
As a part of Gov­er­nor Walker's plan to root out fraud in food assis­tance pro­grams, he also estab­lished an Office of the Inspec­tor Gen­er­al in Wis­con­sin. Accord­ing to Tus­sler, recent mem­os inter­nal to the OIG's wel­fare office in Mil­wau­kee — the state's largest wel­fare office — report that each new case being opened was required to be marked as poten­tial fraud.
"We don't real­ly have a fraud prob­lem," Tus­sler says, cit­ing Wis­con­sin as hav­ing one of the low­est error rates in food assis­tance ben­e­fits, at 2.5 per­cent com­pared with the nation­al aver­age of 3.6 per­cent. ​"It just shows a com­plete lack of under­stand­ing for how peo­ple live on food stamps."
The cru­sade by con­ser­v­a­tives to reign in anti-pover­ty and anti-hunger pro­grams was poignant­ly on dis­play last Feb­ru­ary when Per­due pitched the idea of sup­ple­ment­ing SNAP with ​"Har­vest Box­es." As part of the Trump administration's goal to slash food assis­tance pro­grams by $214 bil­lion over the next 10 years, the box­es would include ​"shelf-sta­ble," low nutri­tion indus­tri­al­ized calo­ries — in essence the same pow­dered milk that made Per­due cringe at the Hunger Task Force Farm.
Yet, what received lit­tle cov­er­age in the media was not the proposal's bla­tant inabil­i­ty to pro­vide healthy food, but rather the fact it's already been nor­mal­ized. Since 1977, the USDA's Food Dis­tri­b­u­tion Pro­gram on Indi­an Reser­va­tions—designed as an alter­na­tive to SNAP — has been dis­trib­ut­ing shelf-sta­ble processed food com­modi­ties, like apple sauce that con­tains no apples, to low-income Native Amer­i­cans. The pro­gram has been infa­mous for per­pet­u­at­ing the ​"thrifty gene the­o­ry" — the notion that false­ly puts forth a bio­log­i­cal rea­son as to why Amer­i­can Indi­ans and Alas­ka Natives have a high­er rate of obe­si­ty than whites and are far more like­ly to have Type 2 diabetes.
The effect of impos­ing this diet of processed food on Native com­mu­ni­ties has giv­en rise to the phe­nom­e­non: ​"com­mod bod." As one Uni­ver­si­ty of Okla­homa researcher told NPR, ​"It makes you look a cer­tain way when you eat these foods." It has also done lit­tle to reduce the preva­lence of hunger and pover­ty. Today 60 per­cent of Native Amer­i­cans liv­ing on reser­va­tions who receive food assis­tance through SNAP rely on the pro­gram as their pri­ma­ry source of food.
Efforts to block-grant the SNAP pro­gram have been pro­posed by House Repub­li­cans in the past — a mea­sure Paul Ryan has cham­pi­oned for years, and one that has already been imple­ment­ed in Puer­to Rico with dis­as­trous effect. Such mea­sures would elim­i­nate the program's enti­tle­ment struc­ture, cap spend­ing, cut ben­e­fits and increase com­pe­ti­tion between com­mu­ni­ties for the program's resources.
Chang­ing work require­ments for SNAP eli­gi­bil­i­ty would tar­get low-income Amer­i­cans already strug­gling to pro­vide for them­selves and their fam­i­lies. In 2015, near­ly half of all SNAP par­tic­i­pants (44 per­cent) were under age 18, while 11 per­cent were over the age of 60 and 10 per­cent were dis­abled nonelder­ly adults. Fur­ther­more, most SNAP house­holds already held earn­ings, and a major­i­ty of house­holds did not receive cash wel­fare ben­e­fits. Near­ly half of all SNAP par­tic­i­pants (42 per­cent) held income at or below the pover­ty, and more than half (55 per­cent) of house­holds with chil­dren already held jobs. Accord­ing to the USDA, dur­ing the past 25 years, the pri­ma­ry form of income among SNAP par­tic­i­pants has shift­ed from wel­fare to work. In that time, the num­ber of SNAP house­holds with zero net income rose more than two-fold.
"We are going to reach a point where peo­ple are not only liv­ing as a sub-class in pover­ty con­stant­ly, but we're going to put them at risk of not even being able to eat reg­u­lar­ly," says Tussler.
Writ­ing a bill ​"in secret"​ that puts com­modi­ties and cor­po­ra­tions first
As of mid-Feb­ru­ary, the House ver­sion of the farm bill had been draft­ed, but the draft had not been made pub­lic. ​"There is a bill out there that is sup­pos­ed­ly being scored by the Con­gres­sion­al Bud­get Office, but nobody's seen it," said Con­gress­man Jim McGov­ern (D‑Mass.) at a pub­lic forum in Mass­a­chu­setts. Accord­ing to McGov­ern, the bill was ​"being writ­ten in secret," bypass­ing the tra­di­tion­al sub­com­mit­tee structure.
Yet as the process wore on, ini­tial rhetoric with­in the House Agri­cul­tur­al Com­mit­tee of gain­ing a need­ed a bipar­ti­san con­sen­sus had dis­solved. In March, Reps. David Scott (D- GA) and Jim Cos­ta (D‑CA) sent a let­ter to rank­ing Demo­c­ra­t­ic Ag com­mit­tee mem­ber Rep, Collin Peter­son (Calif.) ask­ing that he abstain from all farm bill nego­ti­a­tions until Conaway agreed to share part of the draft­ed leg­isla­tive text. ​"At no point dur­ing the Committee's 23 hear­ings on SNAP was there tes­ti­mo­ny in favor of rad­i­cal reforms to SNAP," Scott and Cos­ta wrote.
By ear­ly April, House Ag Com­mit­tee Chair­man Mike Conaway (R‑Texas) made the pledge of ​"going for­ward" with the farm bill in order to defend SNAP eli­gi­bil­i­ty changes. On April 12, the House Ag Com­mit­tee released the first draft of their bill. With mount­ing oppo­si­tion from House Democ­rats, along with pres­sure to pass a farm bill with a Repub­li­can major­i­ty before mid-term elec­tions this year, the new draft faces the chance of a par­a­lyz­ing death on the House floor.
The draft­ed bill would increase the age lim­it of able-bod­ied work­ing adults from 49 to 59, and would require indi­vid­u­als to work or be enrolled in a job-train­ing pro­gram for at least 20 hours a week begin­ning in fis­cal year 2021. By 2026, that min­i­mum num­ber would jump to 25 hours per week. Those who vio­late the work require­ments could become inel­i­gi­ble for SNAP ben­e­fits for a 12-month peri­od. Those who fail to meet the require­ments a sec­ond time would be sub­ject to three years of lost ben­e­fits, ​"unless an indi­vid­ual obtains employ­ment suf­fi­cient to meet the hourly require­ment or is no longer sub­ject to the work require­ments at an ear­li­er time." Such changes could make as many as 5 to 7 mil­lion SNAP recip­i­ents sub­ject to stricter work requirements.
And as pre­saged by Wis­con­sin's Food­Share pro­gram, the bill seeks to expand a nation-wide crack­down on pur­port­ed fraud. For instance, state agen­cies would be allowed to use retained SNAP funds to car­ry out ​"actions to pre­vent fraud," while also pro­mot­ing pub­lic-pri­vate partnerships,paving the way to imple­ment pro­grams such as ResCare and Wis­con­sin's Food­Share nation­al­ly. It would also expand the Duplica­tive Enroll­ment Data­base in order to ​"pre­vent Sup­ple­men­tal Nutri­tion Assis­tance Pro­gram par­tic­i­pants from receiv­ing duplica­tive ben­e­fits in mul­ti­ple states."
Accord­ing to a state­ment, Conaway said, ​"The farm bill also keeps faith with these fam­i­lies by not only main­tain­ing SNAP ben­e­fits but by offer­ing SNAP ben­e­fi­cia­ries a spring­board out of pover­ty to a good pay­ing job, and oppor­tu­ni­ty for a bet­ter way of life for them­selves and their families."
In addi­tion to oppo­si­tion from Democ­rats over cuts to food assis­tance, Conaway faces a divid­ed Repub­li­can Par­ty when it comes to crop insur­ance, with some of the more con­ser­v­a­tive and lib­er­tar­i­an wings of the par­ty (as rep­re­sent­ed by the Her­itage Foun­da­tion) also in sup­port of cut­ting crop insur­ance. Paul Ryan him­self claimed in 2013 that crop insur­ance was evi­dence of ​"crony capitalism."
"The inter­ests of the com­mod­i­ty pro­duc­ers and the cor­po­ra­tions out­weigh the inter­ests of low-income peo­ple, and as a result we don't end up assur­ing the dietary guide­lines for Amer­i­cans," says Tussler.
"Peo­ple are sup­posed to get fruits and veg­eta­bles to be half their plate, but we don't get fruit and veg­eta­bles as half our sup­ply," she says. ​"The process by which [fruits and veg­eta­bles] are offered and the fre­quen­cy [of which they are pro­vid­ed] real­ly has noth­ing to do with the needs of low-income peo­ple and every­thing to do with excess­es the agri­cul­tur­al mar­ket and the pol­i­tics of the peo­ple on the Ag Committee."
"Peo­ple can't just eat canned green beans every sin­gle night for din­ner," says Tus­sler. That is one of the rea­sons the Hunger Task Force estab­lished its own farm to sup­ple­ment the food and emer­gency assis­tance it receives. ​"We're a farm our­selves," says Tus­sler. ​"That's a damn hard life."
Justin Perkins
is a Rur­al Amer­i­ca In These Times edi­to­r­i­al intern. He's from Nebraska.