Putting the Brakes on Privatization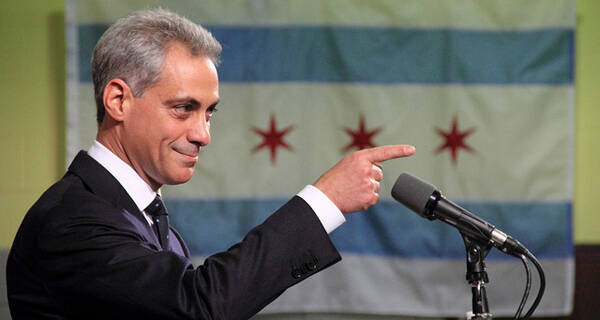 Chicago's Bet­ter Gov­ern­ment Asso­ci­a­tion (BGA), a watch­dog group that has fought waste, fraud and abuse in City Hall for the last eight decades, sent out a peti­tion this week to sup­port­ers and city offi­cials demand­ing a ​"full and fair hear­ing" from City Hall for a pro­posed city of Chica­go law ​"that pro­tects [Chica­go] from bad pri­va­ti­za­tion deals."
In cham­pi­oning the law — titled the Pri­va­ti­za­tion Trans­paren­cy and Account­abil­i­ty Ordi­nance—BGA main­tains that fur­ther pri­va­ti­za­tion in the city risks los­ing jobs for pub­lic employ­ees, which can, in turn, lead to weak­ened Chica­go neigh­bor­hoods. ​"The rights of work­ers are syn­ony­mous with the rights of com­mu­ni­ties," says Emi­ly Miller, pol­i­cy and gov­ern­ment affairs coor­di­na­tor for BGA. ​"Lost jobs mean a set­back for communities."
Alder­man Rod­er­ick Sawyer, who pro­posed the ordi­nance, agrees. He asserts that his pre­dom­i­nant­ly black South Side ward has seen for­mer pub­lic employ­ees lose their jobs and lat­er have their homes fore­closed upon.
His ordi­nance could slow down May­or Rahm Emanuel's ini­tia­tives to pri­va­tize city ser­vices. Though the may­or has defend­ed his efforts, such as com­pet­i­tive bid­ding for recy­cling ser­vices, as being more cost-effec­tive for the city, cit­i­zens and pub­lic employ­ees feel that they could com­pro­mise ser­vice qual­i­ty and job secu­ri­ty for sup­posed finan­cial gain.
In gen­er­al, Chica­go res­i­dents are wary about pri­va­ti­za­tion thanks in large part to the city's 75-year lease of its park­ing meters in 2009 to a pri­vate con­glom­er­ate head­ed by Mor­gan Stan­ley. The deal hiked meter prices for motorists while rob­bing the city of steady rev­enue, as then-May­or Richard Daley used the entire­ty of sale pro­ceeds to bal­ance the bud­get before he left office in 2011. As a result, Miller says, ​"Pri­va­ti­za­tion is a dirty word in Chicago."
Emanuel con­demns the park­ing meter deal. But else­where, the cur­rent may­or has pri­va­tized pri­ma­ry health care clin­ics, water man­age­ment ser­vices, fam­i­ly and sup­port ser­vices, and some recy­cling pick-up. AFSM­CE Coun­cil 31, the main union rep­re­sent­ing city work­ers, esti­mates that 250 of its mem­bers have lost their jobs from pri­va­ti­za­tion dur­ing the Emanuel admin­is­tra­tion, a fig­ure that includes the con­sol­i­da­tion of the city's men­tal health clin­ics.
And fur­ther lay­offs could ensue if the city con­tin­ues with its plan to pri­va­tize free mam­mo­gram ser­vices to unin­sured women. Alice John­son, exec­u­tive direc­tor of the Illi­nois Nurs­es Asso­ci­a­tion, said that her union has received notices from the Chica­go Depart­ment of Pub­lic Health warn­ing of pos­si­ble lay­offs and clin­ic closings.
In response, the Illi­nois Nurs­es Asso­ci­a­tion has filed a griev­ance with the city to stop the poten­tial lay­offs. ​"Pub­lic health nurs­ing is a spe­cial­ty," John­son argues. ​"Pub­lic health nurs­es can pro­vide the best care because they live in com­mu­ni­ties where the patients are from."
Fur­ther details on breast can­cer screen­ing pri­va­ti­za­tion may emerge next Wednes­day, when Emanuel is sched­uled to unveil his pro­posed 2014 budget.
Per­haps the biggest instance of pri­va­ti­za­tion under Emanuel is the clos­ing of 50 Chica­go pub­lic schools this year even as CPS increased its num­ber of con­tracts for char­ter schools, which are most­ly staffed by non-union employees.
The school clos­ings would not be con­sid­ered direct pri­va­ti­za­tion, as stu­dents and some staff from the clos­ing schools most­ly moved to oth­er pub­lic schools. But 855 CPS teach­ers and staff were still laid off as a con­se­quence of the shut­downs. Sta­cy Davis Gates, leg­isla­tive coor­di­na­tor of the Chica­go Teach­ers Union, says that through pri­va­ti­za­tion, the city is ​"fur­ther divid­ing already nom­i­nal resources."
To increase trans­paren­cy and expose the effects of pri­va­ti­za­tion, Sawyer's ordi­nance calls for pub­lic City Coun­cil hear­ings and a cost-effec­tive­ness study on all city con­tracts worth more than $250,000. The ordi­nance also pro­tects pri­vate­ly con­tract­ed work­ers by guar­an­tee­ing them wages and ben­e­fits equal to the pub­lic employ­ees they are replac­ing. That mea­sure is intend­ed to either deter lay­offs or pre­vent over­all city wage lev­els from declin­ing if the pri­va­ti­za­tion in ques­tion nev­er­the­less goes through.
The leg­is­la­tion also demands that 50 per­cent of all con­tract work ​"should be per­formed by bona fide city of Chica­go res­i­dents." Again, the hope is that even if pri­va­ti­za­tion does still hap­pen, the city will still have to pro­vide decent wages to local workers.
In addi­tion, the ordi­nance requires report­ing on the progress of pri­va­tized pro­grams. As of now, says Anders Lin­dall, pub­lic affairs direc­tor for AFSCME Coun­cil 31, ​"the pub­lic sim­ply doesn't know whether these [city] ser­vices — and ser­vice qual­i­ty — [are] being maintained."
How­ev­er, giv­en Chicago's strong-may­or sys­tem — among oth­er pow­ers, Emanuel dic­tates City Coun­cil lead­er­ship posi­tions and has direct author­i­ty over the Chica­go Pub­lic Schools — it could per­haps be impos­si­ble for the bill to become law with­out the sup­port of Emanuel himself.
Elect­ed alder­men could over­ride a may­oral veto with two-thirds coun­cil sup­port. But may­oral vetoes, and coun­cil veto over­rides, are exceed­ing­ly rare: Coun­cil mem­bers are reluc­tant to pub­licly oppose the may­or by pass­ing any leg­is­la­tion for which the may­or has not already indi­cat­ed his support.
​"The polit­i­cal real­i­ty is that until the may­or is on board, this thing isn't going any­where," Miller contends.
Accord­ing to Sawyer, the mayor's office has said it does not sup­port the leg­is­la­tion, but it ​"nev­er [gives] any details about why they don't like it — We're more than hap­py to lis­ten to sug­ges­tions." Mes­sages left with Emanuel's press office were not returned at press time.
To over­come this poten­tial hur­dle, Sawyer sees two main strate­gies for advanc­ing the bill. The plan for now, echoed by BGA's peti­tion, is a pub­lic hear­ing, con­vened by the City Council's Rules Com­mit­tee, on the leg­is­la­tion. A hear­ing would pre­sum­ably include tes­ti­mo­ny from Emanuel admin­is­tra­tion offi­cials, pres­sur­ing the admin­is­tra­tion to either sup­port a ver­sion of the ordi­nance or at least pub­licly explain their opposition.
​"We're bas­ing a lot of activ­i­ty around the ordi­nance right now," Sawyer says. ​"A lot more pres­sure is being put on the rules com­mit­tee and the [Emanuel] administration."
But if Alder­man Michelle Har­ris, whom Emanuel appoint­ed as chair­man of the Rules Com­mit­tee this sum­mer, declines to call a hear­ing, Sawyer could pur­sue a riski­er strat­e­gy — ​"dis­charg­ing" the bill from com­mit­tee and bring­ing it to the coun­cil floor for a yes/​no vote.
The ordi­nance does enjoy co-spon­sor­ship from 32 out of 50 alder­men. Even so, the dis­charge strat­e­gy could back­fire. Sawyer says that based on pre­vi­ous coun­cil his­to­ry, a few of those alder­men will like­ly back out from defy­ing the may­or. ​"A lot of peo­ple have signed on as co-spon­sors," Sawyer says. ​"But we need to fig­ure out who actu­al­ly sup­ports it."
Matthew Blake
is a free­lance jour­nal­ist based in Chica­go. He has writ­ten for the
Chica­go Jour­nal, Wash­ing­ton Month­ly, Wash­ing­ton Inde­pen­dent
and
The Nation
, among oth­er publications.