Web Engineer: 'I Started Making Websites in Middle School'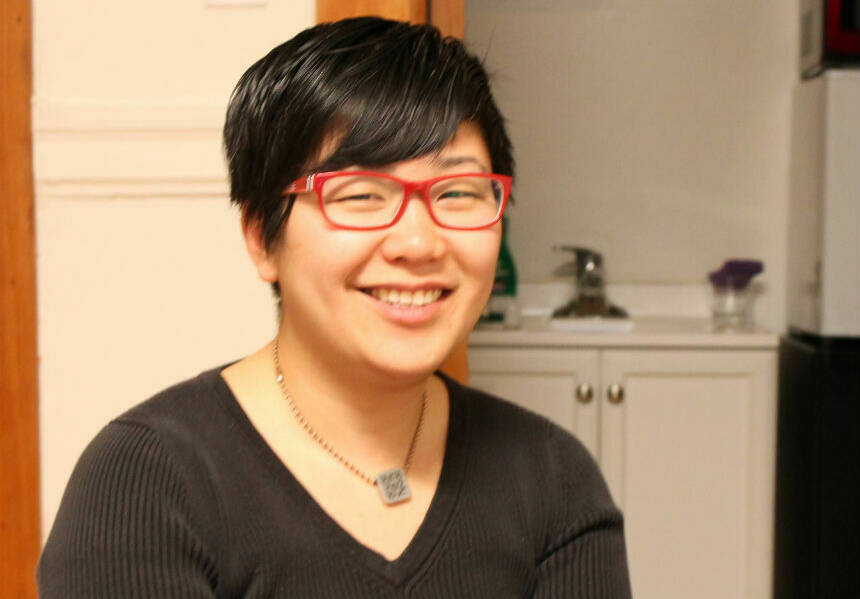 For three years in the ear­ly 1970s, jour­nal­ist Studs Terkel gath­ered sto­ries from a vari­ety of Amer­i­can work­ers. He then com­piled them into Work­ing, an oral-his­to­ry col­lec­tion that went on to become a clas­sic. Four decades after its pub­li­ca­tion, Work­ing is more rel­e­vant than ever. Terkel, who reg­u­lar­ly con­tributed to In These Times, once wrote, ​"I know the good fight — the fight for democ­ra­cy, for civ­il rights, for the rights of work­ers — has a future, for these val­ues will live on in the pages of In These Times." In hon­or of that sen­ti­ment and of Work­ing​'s 40th anniver­sary, ITT writ­ers have invit­ed a broad range of Amer­i­can work­ers to describe what they do, in their own words. More ​"Work­ing at 40" sto­ries can be found here.
In Work­ing, Terkel spoke with Mike Lefevre, a steel mill employ­ee who spoke about how he felt it was hard for Amer­i­cans to take pride in the things they had built, because they could no longer see their own mark in the con­struc­tion. Lefevre remarked, ​"I would like to see on one side of [a build­ing] a foot-wide strip from top to bot­tom with the name of every brick­lay­er, the name of every elec­tri­cian, with all the names."
Today, just as many Amer­i­cans move through cities with­out think­ing much about the peo­ple who phys­i­cal­ly con­struct­ed them, we often surf the web with­out dwelling on those who cre­ate its infra­struc­ture. For the last year and a half, 29-year-old Sunah Suh has worked as a Chica­go-based web engi­neer for a Brook­lyn-head­quar­tered web­site con­nect­ing buy­ers and sell­ers of hand­made goods.
Etsy​.com is a mar­ket­place for hand­made and vin­tage goods and craft sup­plies. Every­thing that you can buy on the site is either hand­made by a real per­son, or is vin­tage, mean­ing it's old­er than 20 years old.
So you can sign up pret­ty eas­i­ly to be a sell­er or to put your own stuff up there. We have a cou­ple of ​"mis­sions" that we like to talk about, like bring­ing heart back to com­merce and just mak­ing more mean­ing­ful con­nec­tions between buy­ers and sell­ers. That's one of the things that attract­ed me to Etsy when I was interviewing.
I gen­er­al­ly work from home. But I live a cou­ple of blocks away from my office.
I don't have any oth­er col­leagues in this office. We just hired two peo­ple in Chica­go, but they haven't start­ed yet. Before that, I was the sole employ­ee in Chicago.
Is any of your work location-specific?
Once in a while. We have a lot of sell­ers and so I'll try to meet up with them and such. Oth­er­wise my job is on the soft­ware side; I sit at home.
Etsy has been around for sev­en years. The com­pa­ny employs around 500 peo­ple; about 200 of us are engi­neers. My whole team is remote. We're kind of exper­i­ment­ing with­in the com­pa­ny to see how this will work. We have some­one in Min­neso­ta and Seat­tle, and my man­ag­er is in Boul­der. So we're fair­ly dispersed.
Is the job stressful?
In the spec­trum of jobs, I would say no. No one is ever going to die if I take down the site.
I'm some­times work­ing on exist­ing code — updat­ing code that oth­er peo­ple have writ­ten. Oth­er times I'm work­ing to cre­ate new fea­tures for the site.
What is cod­ing? Let's say you're telling fifth-graders what cod­ing is.
It's mak­ing the com­put­er do what you want it to do. Fifth-graders now all have ​"apps" on their phones. They love their phones. So I would say that peo­ple have to make those apps, and mak­ing those apps involves pro­gram­ming, which is telling the com­put­er what to do by using a spe­cial type of lan­guage. I wrote in a pro­gram­ming lan­guage all day today.
Because of me, peo­ple on the site can do things that they couldn't do before, I guess. For exam­ple, my team and I cre­at­ed a way to tar­get mes­sages to cer­tain cus­tomers in a data-dri­ven way, so that the site's con­tent quick­ly responds to any chang­ing demo­graph­ics among Etsy customers.
How much longer do you think you'll do your job?
I assume I'll be doing this for the rest of my life. There's a well-known age bias in soft­ware engi­neer­ing, but it's a very young field so maybe it will get bet­ter as I get older.
I read my first pro­gram­ming book when I was 8. I start­ed mak­ing web­sites in mid­dle school. I start­ed cre­at­ing and writ­ing what we would call ​"apps" now when I was in high school. So it was a thing that I had done for a long time, and I knew that there was a good career in it.
Web engi­neer­ing has a rep­u­ta­tion as a male-dom­i­nat­ed field. Is that your experience?
Yes! My under­grad major, com­put­er engi­neer­ing, had nine men to every one woman. It's a field in which, since the ​'80s, the num­ber of females has actu­al­ly been going down.
It's been termed as a pipeline prob­lem, where girls are dis­cour­aged from pur­su­ing careers in STEM [Sci­ence, Tech­nol­o­gy, Engi­neer­ing and Math] fields in gen­er­al. Becom­ing a com­put­er pro­gram­mer is increas­ing­ly asso­ci­at­ed with being male.
I don't how much of this hap­pens overt­ly. But you don't see many mod­els of women, both in the media and in tech work­places, whom we should uphold as shin­ing exam­ples of com­put­er programmers.
Are there pro­fes­sions that the pro­gram­ming world could fol­low in terms of women increas­ing their pres­ence in a male-dom­i­nat­ed field?
Tons. For instance, lawyers: One-third of lawyers are now women, com­pared to less than 5 per­cent in the ​'70s. And yet we still find that the high­est-paid lawyers — the high­est ranks in law — are still dom­i­nat­ed by men, and that's been a strug­gle for 70 years. That's endem­ic of a larg­er social prob­lem we have to address.
How does the gen­der dis­par­i­ty affect your job?
I think work­ing remote­ly helps a lot. I'm on the screen, so it's not such a salient part of my day-to-day expe­ri­ence as a pro­gram­mer, but the absence of gen­der par­i­ty is still some­thing that I notice.
There's been work to address the lack of women web engi­neers, but we haven't cracked the nut yet, I guess. A huge fac­tor for me in going to Etsy was that it was com­mit­ted to a more equi­table envi­ron­ment. I feel like I'm in sort of this hap­py place, or at least a hap­pi­er place than most oth­er women in my industry.
But it's hard. It's hard to swim against the tide. Maybe it will come to a break­ing point like it did with oth­er careers in the ​'60s.
Matthew Blake
is a free­lance jour­nal­ist based in Chica­go. He has writ­ten for the
Chica­go Jour­nal, Wash­ing­ton Month­ly, Wash­ing­ton Inde­pen­dent
and
The Nation
, among oth­er publications.