The Workers Center-Union Partnership That's Transforming Big-Box Janitorial Work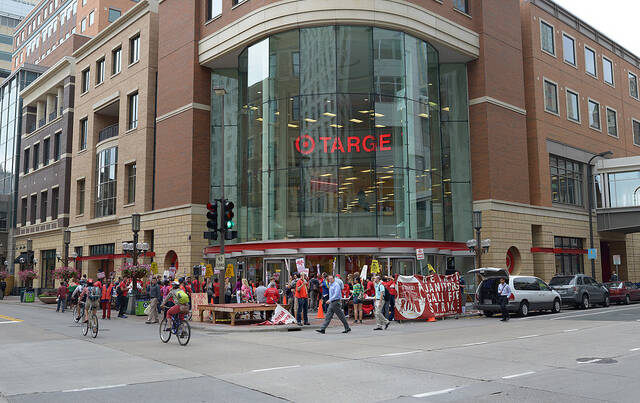 The last few years have seen significant labor unrest among the cleaning staff of Minneapolis and St. Paul, Minnesota's big box stores. Janitors cleaning these stores have leafleted, protested, marched, struck and even gone on hunger strike since 2010, when workers first began organizing with CTUL (the Center for Workers United in Struggle), a workers center in Minneapolis. At that time, most janitors earned around $7.25 an hour and say they faced pervasive wage theft. Today, they say, their rates are between $8.50 and $9.00 an hour, wage theft is rare, and working conditions have improved.
Now, the janitors are taking a step beyond their agitation through the workers center by trying to form a union.
In November 2014, janitors at Kellermeyer Bergensons Services (KBS) won a card check neutrality agreement with their employer. The agreement gives janitors the right to organize a union without employer intimidation and allows the workers to form the union through signing a majority of union cards rather than through a secret ballot election (a process which unions say bosses exploit to intimidate workers and avoiding a union).
This agreement comes shortly after KBS received a contract to clean Best Buy's Twin Cities metro stores, beating out incumbent cleaning contractor Diversified Maintenance. The change in contractors occurred just before a planned Black Friday strike by the janitors over working conditions. Workers with Diversified Maintenance in Best Buy stores had participated in three previous strikes over unfair labor practices in the past year. KBS signed the card check agreement just in time to avert a fourth strike at Best Buy stores.
The agreement gives janitors a chance to freely elect to join SEIU Local 26, the janitors union in the Twin Cities metro area. CTUL and SEIU Local 26 formed a partnership in 2012 to transform the industry — and to try to make the work of the union and the workers center greater than the sum of their parts. SEIU Local 26 represents janitors in commercial office buildings throughout the Twin Cities, including at Best Buy's headquarters. Janitors there earn $14.62 per hour and have affordable healthcare under a union contract.
Maricela Flores Solorio, a janitor with Carlson Building Maintenance, says that ​"if we were able to win a union, it would make a huge difference for me. We'd be able to get fair wages. And we'd be able to get paid sick days. Right now we don't have any benefits or paid days off, so if I get sick, or a family member gets sick, I can't take that day off paid."
CTUL says the KBS agreement is a prelude to bigger changes. In June 2014, Target created a ​"responsible contracting policy" that urges its retail janitorial contractors in the Twin Cities metropolitan area to sign unionization agreements. CTUL and Local 26 are in talks with Target's janitorial contractors over those agreements.
Target said in a statement, ​"We have actively encouraged both the SEIU/CTUL and our housekeeping vendors to have a six-month open dialogue that is focused on finding mutually agreeable solutions. Both the SEIU/CTUL and the vendors agreed to that approach. It is our expectation that all parties will remain committed to that agreement, and to the extent our vendors fail to do so we will hold them accountable."
The responsible contracting policy was created in June on the verge of a strike. Like the janitors who clean Best Buy stores, Target's janitors struck three times in 2013 and were just days from a fourth strike when the agreement was reached.
The strikes haven't just changed employer attitudes; they've also had a profound impact on workers. Luciano Balbuena, a janitor at a Home Depot, says that during the first strike, ​"I was really scared to participate." But by the fourth strike, ​"I wasn't nervous. … They didn't say anything at all to me about it. I was actually wishing those supervisors would come ask me why I participated because I want to be able to tell them face-to-face about why I've been doing these actions."
Today, only two major retail janitorial contractors, Eurest/​Kimco and Diversified Maintenance, are refusing to engage in dialogue with CTUL. In addition to the Best Buy contract, Diversified has lost many of their Twin Cities contracts, according to the union. The company was recently subject to a class action lawsuit alleging they forced employees to use ​"ghost employee timecards" to avoid paying overtime.
CTUL says Eurest/​Kimco refuses to meet with them. Balbuena works for Kimco and says that ​"at Kimco we're fighting for them to even open dialogue with us." One of Eurest/Kimco's major contracts is with Kohl's department stores. Representatives from Kohl's did not respond to requests for comment.
The six-month window for dialogue that Target gave janitorial contractors ends on April 1. Janitors are planning a major action for mid-April. Given CTUL's history of boisterous protest, janitorial contractors and big box stores are likely watching that deadline closely.
"We're calling on my company, Kimco, to listen to our basic petition to sit down and dialogue about wages and working conditions," Balbuena says. ​"We hope it doesn't have to get to the point where there would be a strike just for them to listen to us."
Full disclosure: the author is a former organizer for SEIU.
Steve Payne
was an organizer for SEIU in Minneapolis for eight years. He is now a graduate student at the University of Memphis.