The Workers Center-Union Partnership That's Transforming Big-Box Janitorial Work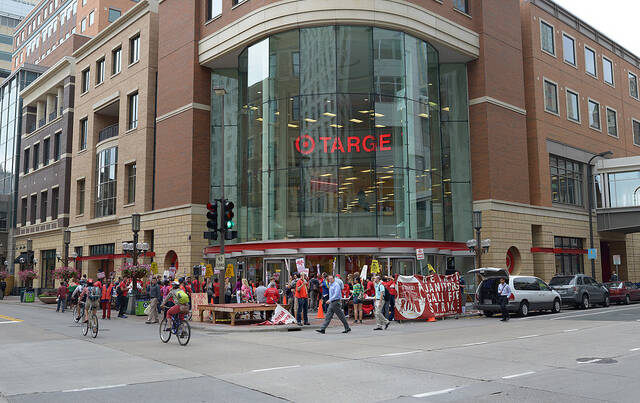 The last few years have seen sig­nif­i­cant labor unrest among the clean­ing staff of Min­neapo­lis and St. Paul, Minnesota's big box stores. Jan­i­tors clean­ing these stores have leaflet­ed, protest­ed, marched, struck and even gone on hunger strike since 2010, when work­ers first began orga­niz­ing with CTUL (the Cen­ter for Work­ers Unit­ed in Strug­gle), a work­ers cen­ter in Min­neapo­lis. At that time, most jan­i­tors earned around $7.25 an hour and say they faced per­va­sive wage theft. Today, they say, their rates are between $8.50 and $9.00 an hour, wage theft is rare, and work­ing con­di­tions have improved.
Now, the jan­i­tors are tak­ing a step beyond their agi­ta­tion through the work­ers cen­ter by try­ing to form a union.
In Novem­ber 2014, jan­i­tors at Keller­mey­er Bergen­sons Ser­vices (KBS) won a card check neu­tral­i­ty agree­ment with their employ­er. The agree­ment gives jan­i­tors the right to orga­nize a union with­out employ­er intim­i­da­tion and allows the work­ers to form the union through sign­ing a major­i­ty of union cards rather than through a secret bal­lot elec­tion (a process which unions say boss­es exploit to intim­i­date work­ers and avoid­ing a union).
This agree­ment comes short­ly after KBS received a con­tract to clean Best Buy's Twin Cities metro stores, beat­ing out incum­bent clean­ing con­trac­tor Diver­si­fied Main­te­nance. The change in con­trac­tors occurred just before a planned Black Fri­day strike by the jan­i­tors over work­ing con­di­tions. Work­ers with Diver­si­fied Main­te­nance in Best Buy stores had par­tic­i­pat­ed in three pre­vi­ous strikes over unfair labor prac­tices in the past year. KBS signed the card check agree­ment just in time to avert a fourth strike at Best Buy stores.
The agree­ment gives jan­i­tors a chance to freely elect to join SEIU Local 26, the jan­i­tors union in the Twin Cities metro area. CTUL and SEIU Local 26 formed a part­ner­ship in 2012 to trans­form the indus­try — and to try to make the work of the union and the work­ers cen­ter greater than the sum of their parts. SEIU Local 26 rep­re­sents jan­i­tors in com­mer­cial office build­ings through­out the Twin Cities, includ­ing at Best Buy's head­quar­ters. Jan­i­tors there earn $14.62 per hour and have afford­able health­care under a union contract.
Maricela Flo­res Solorio, a jan­i­tor with Carl­son Build­ing Main­te­nance, says that ​"if we were able to win a union, it would make a huge dif­fer­ence for me. We'd be able to get fair wages. And we'd be able to get paid sick days. Right now we don't have any ben­e­fits or paid days off, so if I get sick, or a fam­i­ly mem­ber gets sick, I can't take that day off paid."
CTUL says the KBS agree­ment is a pre­lude to big­ger changes. In June 2014, Tar­get cre­at­ed a ​"respon­si­ble con­tract­ing pol­i­cy" that urges its retail jan­i­to­r­i­al con­trac­tors in the Twin Cities met­ro­pol­i­tan area to sign union­iza­tion agree­ments. CTUL and Local 26 are in talks with Target's jan­i­to­r­i­al con­trac­tors over those agreements.
Tar­get said in a state­ment, ​"We have active­ly encour­aged both the SEIU/CTUL and our house­keep­ing ven­dors to have a six-month open dia­logue that is focused on find­ing mutu­al­ly agree­able solu­tions. Both the SEIU/CTUL and the ven­dors agreed to that approach. It is our expec­ta­tion that all par­ties will remain com­mit­ted to that agree­ment, and to the extent our ven­dors fail to do so we will hold them accountable."
The respon­si­ble con­tract­ing pol­i­cy was cre­at­ed in June on the verge of a strike. Like the jan­i­tors who clean Best Buy stores, Target's jan­i­tors struck three times in 2013 and were just days from a fourth strike when the agree­ment was reached.
The strikes haven't just changed employ­er atti­tudes; they've also had a pro­found impact on work­ers. Luciano Bal­bue­na, a jan­i­tor at a Home Depot, says that dur­ing the first strike, ​"I was real­ly scared to par­tic­i­pate." But by the fourth strike, ​"I wasn't ner­vous. … They didn't say any­thing at all to me about it. I was actu­al­ly wish­ing those super­vi­sors would come ask me why I par­tic­i­pat­ed because I want to be able to tell them face-to-face about why I've been doing these actions."
Today, only two major retail jan­i­to­r­i­al con­trac­tors, Eurest/​Kimco and Diver­si­fied Main­te­nance, are refus­ing to engage in dia­logue with CTUL. In addi­tion to the Best Buy con­tract, Diver­si­fied has lost many of their Twin Cities con­tracts, accord­ing to the union. The com­pa­ny was recent­ly sub­ject to a class action law­suit alleg­ing they forced employ­ees to use ​"ghost employ­ee time­cards" to avoid pay­ing overtime.
CTUL says Eurest/​Kimco refus­es to meet with them. Bal­bue­na works for Kim­co and says that ​"at Kim­co we're fight­ing for them to even open dia­logue with us." One of Eurest/Kimco's major con­tracts is with Kohl's depart­ment stores. Rep­re­sen­ta­tives from Kohl's did not respond to requests for comment.
The six-month win­dow for dia­logue that Tar­get gave jan­i­to­r­i­al con­trac­tors ends on April 1. Jan­i­tors are plan­ning a major action for mid-April. Giv­en CTUL's his­to­ry of bois­ter­ous protest, jan­i­to­r­i­al con­trac­tors and big box stores are like­ly watch­ing that dead­line closely.
"We're call­ing on my com­pa­ny, Kim­co, to lis­ten to our basic peti­tion to sit down and dia­logue about wages and work­ing con­di­tions," Bal­bue­na says. ​"We hope it doesn't have to get to the point where there would be a strike just for them to lis­ten to us."
Full dis­clo­sure: the author is a for­mer orga­niz­er for SEIU.
Steve Payne
was an orga­niz­er for SEIU in Min­neapo­lis for eight years. He is now a grad­u­ate stu­dent at the Uni­ver­si­ty of Memphis.