Brazilian Workers, Students Battle Fare Hikes Pushed By Workers Party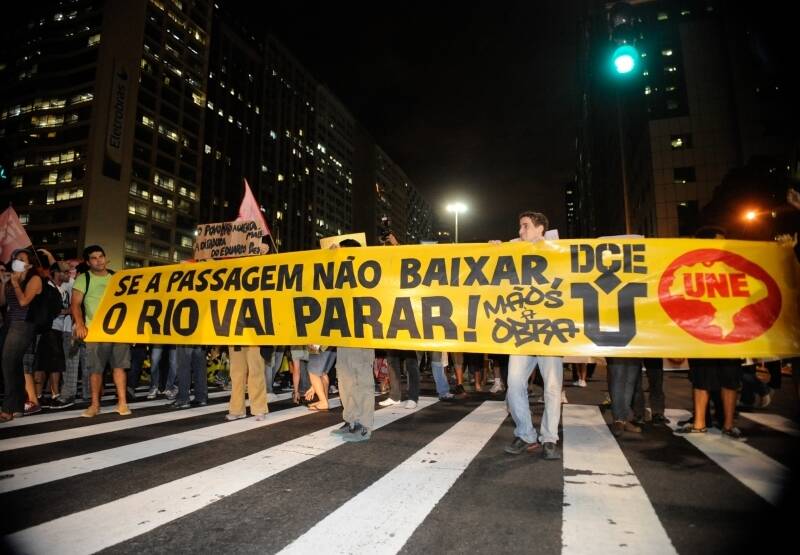 When I scanned my metro card in São Paulo the morn­ing of Jan­u­ary 6, the price rang up at 3.5 reals (1.33 US dol­lars) — 50 cen­tavos more than yesterday.
I'd been in São Paulo for about a week and a half, and the fare had been 3 reals every oth­er day. Had I missed something?
As it turned out, the munic­i­pal gov­ern­ment had just increased the cost of sub­way trips. I had seen ​"passé livre ja!" ("free pass­es now!") graf­fi­ti around the city. And in 2013, mil­i­tant protests, includ­ing many dur­ing the World Cup, beat back a 20 cen­ta­vo fare increase.
Move­ment par­tic­i­pants cel­e­brat­ed that vic­to­ry and con­tin­ued fight­ing for com­plete­ly free, pub­lic tran­sit sys­tem. And on Fri­day, Jan­u­ary 9, tens of thou­sands of Paulis­tanos, as res­i­dents of São Paulo are known, ral­lied and marched against the most recent fare increase.
The protest was met with a strong back­lash from the city gov­ern­ment, con­trolled by the Work­ers Par­ty (PT in Por­tuguese), when police unleased tear gas bombs and trun­cheons on the peace­ful demon­stra­tors — in plain con­tra­dic­tion to the man­date from left­ists and people's move­ments giv­en to the PT in the last election.
The Free Pass Movement
The Jan­u­ary 9 protest was orga­nized by the Movi­men­to Passé Livre (the Free Pass Move­ment, or MPL) that advo­cates for free pub­lic tran­sit in Brazil. The move­ment was found­ed in 2005 at the World Social Forum in Brazil and gained inter­na­tion­al atten­tion in mas­sive protests in 2013 when demon­stra­tors clashed with police in cities through­out the coun­try. In some cities, pro­tes­tors took over tran­sit sta­tions, demol­ish­ing turn­stiles to allow pas­sen­gers free access to the sub­way. Those protests came to be known as the Vine­gar Revolt after 60 peo­ple were arrest­ed for car­ry­ing vine­gar to counter the effects of tear gas and pep­per spray used by the police at protests.
The protests began when the city gov­ern­ment announced that the cost of metro rides and bus fares would increase 6% by 20 cen­tavos. Graf­fi­ti read­ing ​"3.20 nao!" ("3.20 no!") still dots the walls of down­town build­ings. The mass protests, which repeat­ed­ly jammed city streets, suc­cess­ful­ly pre­vent­ed those increases.
In anoth­er vic­to­ry for the move­ment, high school stu­dents in São Paulo received free fares start­ing in mid-Jan­u­ary 2015. Stu­dents were a key part of the 2013 protests, pro­vid­ing an impor­tant mil­i­tant fac­tion able to effec­tive­ly main­tain protests even in the face of police violence.
This vic­to­ry, how­ev­er, was soured by the Jan­u­ary 6 fare increase, which amounts to an almost 17% rise, from 3 reals to 3.5 reals — $1.14 to $1.33, in U.S. dol­lars. (As of this writ­ing, one dol­lar is worth 2.61 reals).
The min­i­mum wage in Brazil was recent­ly raised to 724 reals a month ($268.21 US). With the fare increase, pub­lic trans­porta­tion com­mutes will now eat up 19% of a min­i­mum wage earner's month­ly pay.
"The cost of pub­lic tran­sit is some­thing that affects all work­ers," says Sean Pur­dy, a his­to­ry pro­fes­sor at the Uni­ver­si­ty of São Paulo and the rep­re­sen­ta­tive for his depart­ment in the Brazil­ian pro­fes­sors union. ​"The cost is some­thing that trade unions need to tack­le. While there has been some improve­ment [for work­ers] in the last few years, there are still key issues of access to cul­tur­al and eco­nom­ic goods."
The Work­ing Class in the Free Pass Movement
From the begin­ning, work­ers and indi­vid­ual trade union activists have played impor­tant roles in the move­ment, and at var­i­ous points, unions have sup­port­ed the protests. The union that rep­re­sents metro work­ers joined the 2013 protests, and the MPL main­tained a reg­u­lar dia­logue with metro work­ers. The metro work­ers' union issue a state­ment decry­ing the fare hikes:
The rise in price of sub­way, train and bus fares has a tremen­dous impact on the life of many peo­ple, prin­ci­pal­ly work­ers. … We know that the demon­stra­tions show the dis­sat­is­fac­tion of the peo­ple with the high cost of liv­ing and against the politi­cians who don't care about the awful con­di­tions of trans­port and who priv­i­lege prof­it over social function.
The met­al­work­ers union joined protests in 2013, protest­ing cor­rup­tion in the tran­sit sys­tem. In São Paulo, one metro line and the entire bus sys­tem is pri­va­tized. The São Paulo munic­i­pal gov­ern­ment awards con­tracts to a car­tel of tran­sit com­pa­nies which then main­tains the sys­tem. The met­al­work­ers union and oth­er crit­ics argued that sav­ings from over­priced con­tracts and cor­rup­tion could have more than cov­ered the fare increases.
At a 2013 city coun­cil meet­ing in São Paulo, the pres­i­dent of the left­ist trade union con­fed­er­a­tion, CUT (Cen­tral Worker's Union), denounced the fare increas­es. At the same meet­ing, the pres­i­dent of the São Paulo bank work­ers union said that a 2011 sur­vey revealed that 50% of mem­bers described prob­lems with pub­lic tran­sit as their high­est priority.
The protests have, how­ev­er, been orga­nized com­plete­ly out­side the offi­cial labor move­ment. The MPL main­tains an anti-par­ty posi­tion. Most pro­gres­sive trade unions in São Paulo are close­ly allied with the Work­ers' Par­ty (PT), the par­ty cur­rent­ly in pow­er in both the city of São Paulo and the fed­er­al government.
The PT has become the tar­get of the free pass protests, with many view­ing the PT's advo­ca­cy of high­er tran­sit fees as a betray­al of their work­ing class ties. The PT was cre­at­ed in large part by left­ist trade unions in 1980 as part of a pro-democ­ra­cy move­ment fight­ing the dic­ta­tor­ship, which came to end in 1985.
In a 1964 mil­i­tary coup, author­i­tar­i­an forces took con­trol of the Brazil­ian gov­ern­ment. Fol­low­ing in the foot­steps of Mussolini's ver­sion of fas­cism, rather than out­law­ing labor unions, the dic­ta­tor­ship incor­po­rat­ed them into the offi­cial gov­ern­ment and eco­nom­ic struc­ture. Labor unions every year nego­ti­at­ed pay rais­es, and most work­ers were obsti­nate­ly cov­ered by union contracts.
In the late 1970s, an insur­gent group of young trade union­ists, includ­ing future pres­i­dent Luiz Iná­cio Lula da Silva's metalworker's union, led a series of strikes which ulti­mate­ly helped top­ple the dic­ta­tor­ship. In 1980, these union­ists, along with allies in the Catholic Church and com­mu­ni­ty groups, launched the PT to con­test polit­i­cal power.
Like many social demo­c­ra­t­ic par­ties around the world, once in pow­er, the PT has found itself in the posi­tion of imple­ment­ing aus­ter­i­ty mea­sures. Lula's 2002 elec­tion as pres­i­dent gave social move­ments high hopes that rad­i­cal change was com­ing to Brazil. Today, many of those same move­ments cri­tique the PT's embrace of a neolib­er­al framework.
The PT and its allies, how­ev­er, argue that they are in a sort of ​"finan­cial straight­jack­et." In their book on the his­to­ry of the PT, Lula and the Work­ers Par­ty in Brazil, Sue Bran­ford and Bernan­do Kucin­s­ki described the pan­ic that inter­na­tion­al finan­cial mar­kets felt at Lula's poten­tial elec­tion in 2002 — and the almost extor­tion­ist mea­sures they took to ensure that the new left­ist gov­ern­ment did not renege on pay­ing back inter­na­tion­al debt.
MPL par­tic­i­pants are most­ly stu­dents and work­ers, who orga­nize protests through social media. Many are also union mem­bers and activists, but unions lack a strong vis­i­ble pres­ence at these marches.
The Jan­u­ary
9

Protest

The protest on Jan­u­ary 9 was live­ly, with 30,000 Paulis­tanos play­ing drums, hold­ing ban­ners, chant­i­ng and singing. Ban­ners denounced both the São Paulo PT may­or, Fer­nan­do Hab­bab, and the state gov­er­nor, Ger­al­do Alck­min (from the con­ser­v­a­tive PSDB par­ty). The two had coor­di­nat­ed to imple­ment the fare increase across the metro area.

After an open-air assem­bly where par­tic­i­pants vot­ed on the route, the march set off down major streets, pass­ing mul­ti­ple build­ings that had been occu­pied by a home­less move­ment. Occu­piers hung ban­ners from bal­conies in the build­ings, and the crowd paused to cheer for them.

When the march reached Paulista Avenue, one of the busiest com­mer­cial thor­ough­fares in São Paulo, riot police began fir­ing tear gas can­is­ters and rub­ber bul­lets. The huge protest dis­in­te­grat­ed as tear gas choked marchers' lungs, mak­ing it dif­fi­cult to run from the police.

Many ducked into local cafes, where marchers watched broad­cast live cov­er­age as the police beat pro­tes­tors at Paulista Avenue and drove them back with tear gas bombs. Giv­en how peace­ful the protest had been, onlook­ers found the lev­el of force was shocking.

Out­side of one café, a stream of pro­tes­tors flee­ing the vio­lence filed by. They paused to show me bruis­es and burns from where they had been struck by rub­ber bul­lets or tear gas bombs. Everyone's eyes were red, and many held ban­danas soaked in vine­gar on their faces.

This type of repres­sion is like­ly to back­fire on the Work­ers Par­ty (PT), how­ev­er. Most rank-and-file trade union­ists and left­ists sup­port­ed the PT in the last round of elec­tions. But giv­en the numer­ous ban­ners and posters denounc­ing the PT may­or, Fer­nan­do Had­dad, it was clear that many pro­tes­tors were already dis­en­chant­ed with the par­ty. This lib­er­al use of tear gas will like­ly only fur­ther fuel that anger.

The 2013 protests began as small affairs, with only a cou­ple thou­sand left­ists, main­ly stu­dents, march­ing through the streets. The protests explod­ed into mas­sive urban rebel­lions after the police unleashed a wave of vio­lence against the demon­stra­tions. Labor unions, which had large­ly ignored the protests, joined in denounc­ing the police vio­lence; despite their close ties to the PT, many began speak­ing pub­licly against the tran­sit fare increase.

Giv­en the MPL's his­to­ry, it was unlike­ly that the Jan­u­ary 9 protest would be the last. Indeed, the last few weeks have seen two addi­tion­al mass protests against the hikes, with even greater lev­els of police violence.

While the offi­cial labor move­ment didn't par­tic­i­pate in the Jan­u­ary 9 protest, this may change rapid­ly if the PT gov­ern­ment con­tin­ues tear-gassing union mem­bers. Giv­en the already high cost of tran­sit, work­ers are unlike­ly to tol­er­ate fur­ther increas­es with­out increased lev­els of protest.
Steve Payne
was an orga­niz­er for SEIU in Min­neapo­lis for eight years. He is now a grad­u­ate stu­dent at the Uni­ver­si­ty of Memphis.