Sao Paulo Teachers Vote to Continue Two-Month Strike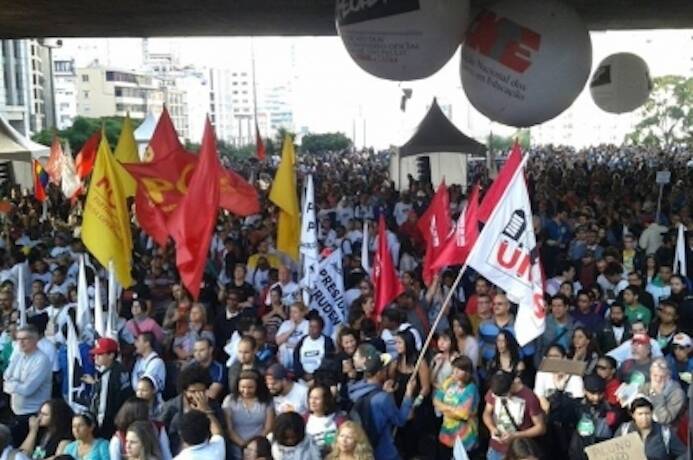 This post first appeared at Labor Notes.
Thou­sands of teach­ers in the Brazil­ian state of São Paulo vot­ed on May 15 to con­tin­ue their now two-month strike.
"We are lack­ing very basic things … like water to drink or paper to write on," said Glo­vis, a high school teacher in São Paulo. In nego­ti­a­tions, ​"the gov­ern­ment is not propos­ing any­thing concrete."
At an open-air assem­bly on the plaza next to the São Paulo Art Muse­um, ven­dors min­gled, sell­ing food and beer. Giant sound trucks occu­pied an entire lane on busy Paulista Avenue. The crowd swelled, soon spilling onto the street and block­ing traf­fic both ways on a major thoroughfare.
Every Fri­day the teach­ers hold these assem­blies to dis­cuss how the strike is going and vote on whether to con­tin­ue it. Reg­u­lar votes by assem­blies are part of the Brazil­ian labor tra­di­tion, and are often the lifeblood of a strike. Pick­et­ing is both legal­ly dif­fi­cult and not a tra­di­tion­al tactic.
Teach­ers car­ried col­or­ful signs, many mock­ing Gov­er­nor Ger­al­do Alk­min, whose Social Demo­c­ra­t­ic Par­ty of Brazil, despite its lib­er­al-sound­ing name, is staunch­ly right-wing.
The gov­er­nor is a major adver­sary of São Paulo's social move­ments. He has gone on the attack against unions and com­mu­ni­ty orga­ni­za­tions, and refus­es to invest in bad­ly need­ed improve­ments to trans­porta­tion and water infrastructure
Strikes across Brazil
Teach­ers in at least 10 states went on strike in March, at the begin­ning of the Brazil­ian school year. They are demand­ing small­er class­es, ade­quate infra­struc­ture for stu­dents, and increased pay for teachers.
The issues vary from state to state — for exam­ple, in Parana, teach­ers are strik­ing to pro­tect their retire­ment funds.
While the strike has been peace­ful in most parts of the coun­try, Parana police attacked demon­stra­tors on April 30, injur­ing more than 200 teach­ers with rub­ber bul­lets, trun­cheons, and tear gas.
The strike in São Paulo began March 13 with a 60,000-person rally.
For two months, teach­ers in the city of São Paulo have main­tained an encamp­ment in front of the Depart­ment of Edu­ca­tion. The union, APEOE­SP (Offi­cial Teach­ers Asso­ci­a­tion in the State of São Paulo), has taped up sam­ple pay­checks tes­ti­fy­ing to the teach­ers' low pay.
I saw checks rang­ing from 603 to 3,076 reais ($192 to $978) a month; most were around 1,000 reais ($318). Brazil's min­i­mum wage is 788 reais ($251) per month.
Pover­ty wages force many teach­ers to work sec­ond jobs as tutors in pri­vate schools after their work­days in the pub­lic schools. Most pub­lic schools in Brazil only run for a half-day.
Besides low salaries, Flavia, a high school teacher, told me that ​"there are teach­ers that are con­tract­ed out, and their jobs are very pre­car­i­ous. They don't have any rights, and do not receive any salary increases."
Steve Payne
was an orga­niz­er for SEIU in Min­neapo­lis for eight years. He is now a grad­u­ate stu­dent at the Uni­ver­si­ty of Memphis.