After Polling Its Members, Communications Workers of America Endorses Bernie Sanders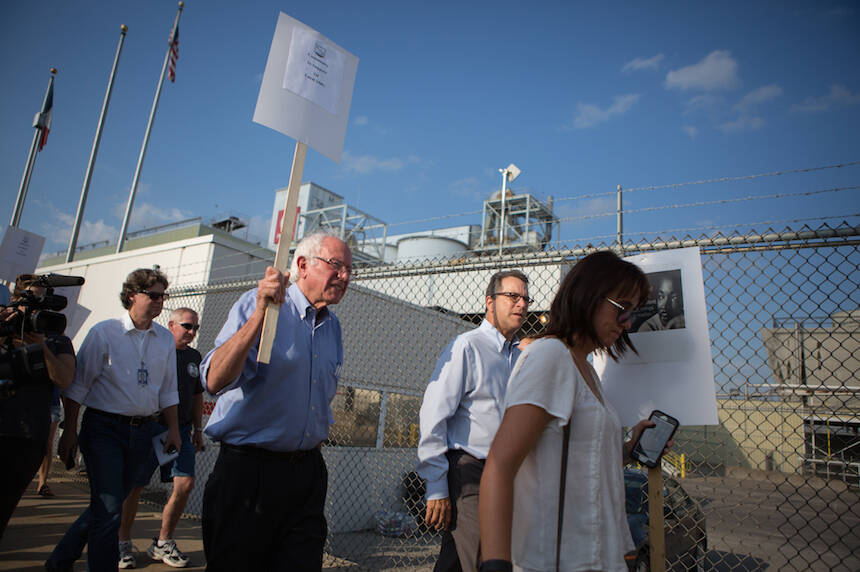 Almost two months ago, I received an email from my inter­na­tion­al union, the Com­mu­ni­ca­tions Work­ers of Amer­i­ca (CWA), with a poll ask­ing which can­di­date the CWA should sup­port for president.
As a Sanders sup­port­er, I was skep­ti­cal that CWA might endorse a demo­c­ra­t­ic social­ist call­ing for a polit­i­cal rev­o­lu­tion. I filled out the poll and over the next cou­ple of months I dis­cussed it with my co-work­ers at the Uni­ver­si­ty of Mem­phis, sev­er­al of whom also filled it out.
I was pleas­ant­ly sur­prised when on Decem­ber 17 I saw that the CWA had decid­ed to fol­low the lead of rank-and-file work­ers and endorse Bernie Sanders for pres­i­dent. The CWA endorse­ment came after an online poll of tens of thou­sands of mem­bers and work­site meet­ings showed a deci­sive major­i­ty of mem­bers sup­port­ed Sanders.
"The main rea­son CWA endorsed Bernie is because that's what the mem­bers want­ed the union to do," said Bradley Har­mon, Pres­i­dent of CWA Local 6355. Har­mon works for the Mis­souri Depart­ment of Social Ser­vices, Children's Divi­sion. ​"When the union was con­sid­er­ing how to pro­ceed with the endorse­ment process, they put up an online poll. … Tens of thou­sands of union mem­bers from all over the coun­try researched the can­di­dates' back­grounds and decid­ed that the can­di­date best for work­ing fam­i­lies was Bernie Sanders."
Har­mon con­tin­ued, say­ing that ​"in CWA we've been work­ing for years on real­ly build­ing a move­ment for democ­ra­cy and eco­nom­ic jus­tice. We've been doing a lot of edu­ca­tion among our mem­bers, and the union's been work­ing on a mem­ber edu­ca­tion cam­paign about what the polit­i­cal and eco­nom­ic real­i­ties are real­ly like in our country."
With 700,000 mem­bers nation­wide, the CWA rep­re­sents an impor­tant polit­i­cal force in the pres­i­dent elec­tion. They can also acti­vate tens of thou­sands of mem­bers to knock on doors and make phone calls. The CWA joins two oth­er nation­al unions in endors­ing Sanders: Nation­al Nurs­es Unit­ed and the Amer­i­can Postal Work­ers Union. These endorse­ments rep­re­sent an impor­tant coup for Sanders and a break from oth­er large labor unions that have endorsed Clinton.
Clin­ton has refused to endorse a $15 min­i­mum wage and until recent­ly sup­port­ed the Trans-Pacif­ic Part­ner­ship, an inter­na­tion­al trade agree­ment the CWA and many oth­er labor unions opposed. In addi­tion, she has received large dona­tions from banks and big cor­po­ra­tions, as opposed to Sanders reliance on small donors.
For­mer CWA pres­i­dent Lar­ry Cohen cites Sanders' oppo­si­tion to trade deals as a key fac­tor in his deci­sion to sup­port Sanders over Clin­ton. Since leav­ing the CWA this sum­mer, Cohen has vol­un­teered with the Sanders campaign.
Sanders has used his pres­i­den­tial cam­paign to sup­port unions by walk­ing the walk — not just talk­ing. On the day he received the endorse­ment, Sanders joined flight atten­dants with the CWA on a pick­et line in Wash­ing­ton D.C. In Octo­ber this year, Sanders joined a pick­et line with Ver­i­zon work­ers affil­i­at­ed with the CWA in New York City who were in a con­tract dis­pute. He has also joined pick­et lines with elec­tri­cal work­ers in Ver­mont and work­ers at a corn pro­cess­ing plant in Cedar Rapids.
CWA mem­ber Thomas Ander­son, who works at the Uni­ver­si­ty of Ten­nessee-Knoxville, spoke to the neces­si­ty of a pres­i­dent who stands with labor. ​"We need a pres­i­dent who under­stands and will fight for work­ing peo­ple every­where and Bernie Sanders will be that pres­i­dent. Pub­lic work­ers in Ten­nessee are in a hard fight against a cor­po­rate takeover engi­neered by Gov­er­nor Bill Haslam and his cor­po­rate cronies. They want to sell off main­te­nance and man­age­ment of all our pub­lic resources, includ­ing parks, pris­ons, and pub­lic uni­ver­si­ties to the very cor­po­rate, Wall Street crooks Bernie Sanders has spent his entire career fighting."
It is not just labor issues that moti­vate CWA mem­bers to sup­port Sanders, how­ev­er. For­mer pres­i­dent Lar­ry Cohen wrote that Sanders has fought ​"for envi­ron­men­tal jus­tice, for vot­ing rights and get­ting big mon­ey out of pol­i­tics. Bernie is there for crim­i­nal jus­tice reform and a path to cit­i­zen­ship for 20 mil­lion immigrants."
Uni­ver­sal health­care is an issue for oth­er mem­bers. ​"I vot­ed in our union's poll to sup­port Bernie Sanders because he is for a sin­gle pay­er health­care sys­tem. I believe access to qual­i­ty health­care is a fun­da­men­tal right for every per­son." said Daryl Stephens, one of my co-work­ers at the Uni­ver­si­ty of Memphis.
Sanders' call for a polit­i­cal move­ment, not just a pres­i­dent, is also sig­nif­i­cant. Sanders has built his cam­paign on mobi­liz­ing ordi­nary Amer­i­cans to engage in the polit­i­cal process. Cur­rent CWA Pres­i­dent Chris Shel­ton says that ​"Bernie has called for a polit­i­cal rev­o­lu­tion — and that is just what Amer­i­cans need today." Thomas Ander­son told me that ​"Bernie also knows that it can only be won by a move­ment and not an individual."
Bradley Har­mon fin­ished his inter­view by say­ing that ​"Sen­a­tor Sanders is the can­di­date pre­pared to take on Wall Street, the one per­centers, and the bil­lion­aire class that has real­ly stolen democ­ra­cy from America's work­ing fam­i­lies, and there's just not anoth­er can­di­date that's pre­pared to do that."
The Com­mu­ni­ca­tion Work­ers of Amer­i­ca is a spon­sor of In These Times. Spon­sors play no role in edi­to­r­i­al con­tent. In These Times staff mem­bers are also mem­bers of the CWA.
Steve Payne
was an orga­niz­er for SEIU in Min­neapo­lis for eight years. He is now a grad­u­ate stu­dent at the Uni­ver­si­ty of Memphis.