With Sanders and Ocasio-Cortez Backing Him, Abdul El-Sayed May Be on the Verge of a Stunning Upset
Riding a wave of left energy, gubernatorial candidate El-Sayed could follow the lead of Sanders in 2016 and score a shocking primary win in Michigan.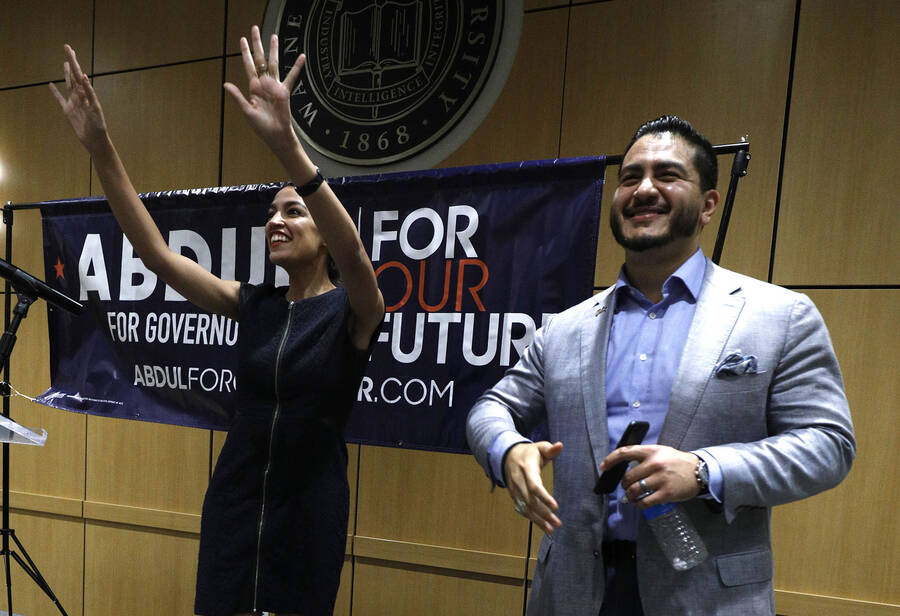 What does it mean when you can turn out over 1,200 peo­ple for your cam­paign ral­ly in a midterm pri­ma­ry elec­tion in Michi­gan, and Alexan­dria Oca­sio-Cortez, the new­ly famous demo­c­ra­t­ic social­ist from New York, is by your side?
In El-Sayed, voters have the choice of a candidate speaking directly to their major concerns—healthcare, corruption, inequality—and harnessing the energy of a building movement at a moment when it's been driven by its highest-profile victory to date, with ripple effects still being felt across the country.
For one, it means you're the new ​"it" can­di­date, the one polit­i­cal observers across the coun­try are look­ing to for sig­nals of the Demo­c­ra­t­ic Party's future direc­tion — and whether the polit­i­cal rev­o­lu­tion is for real.
Such is now the case for Abdul El-Sayed, who would become the first Mus­lim gov­er­nor in the nation if he wins the Demo­c­ra­t­ic pri­ma­ry on August 7 and the gen­er­al elec­tion in November.
Like Oca­sio-Cortez, El-Sayed has the back­ing of the Left's new elec­toral infra­struc­ture, includ­ing Jus­tice Democ­rats and Our Rev­o­lu­tion. He's also being sup­port­ed by much of the dig­i­tal media team from the Bernie Sanders' 2016 pres­i­den­tial cam­paign, and has been endorsed by both Oca­sio-Cortez and Sanders.
El-Sayed bare­ly reg­is­tered in the polls through ear­ly March, and he still trails his main oppo­nent, for­mer state Sen­ate Minor­i­ty Leader Gretchen Whit­mer, by dou­ble dig­its. But state-lev­el polls are noto­ri­ous­ly unre­li­able, and the El-Sayed cam­paign released an inter­nal poll on July 31 showed him down just 5.8 points. The late-stage surge of ener­gy behind El-Sayed could also help make the race a close one.
There were, for exam­ple, the rau­cous ral­lies last week­end fea­tur­ing Oca­sio-Cortez. In one typ­i­cal scene, she told a bois­ter­ous crowd to ​"leave it all on the field. We have to take per­son­al respon­si­bil­i­ty for deliv­er­ing the change that Amer­i­ca wants." A field direc­tor with the Whit­mer cam­paign, on hear­ing that Oca­sio-Cortez would stump for El-Sayed, summed up her poten­tial impact on the race with a sim­ple: ​"Holy shit."
El-Sayed pushed on the need to inspire the elec­torate to turn out for the midterm pri­ma­ry. ​"Let's remem­ber democ­ra­cy takes work," he said at a ral­ly at Wayne State Uni­ver­si­ty on July 28. ​"Peo­ple say there is no way to get peo­ple like in this room to vote. But if we are will­ing to take back our democ­ra­cy, it will be real­i­ty for our future."
There is also the his­to­ry of Sanders' his­toric vic­to­ry in Michi­gan in March 2016, when he scored a stun­ning upset over Hillary Clin­ton in the Demo­c­ra­t­ic pri­ma­ry. Polls showed Sanders trail­ing Clin­ton by more than 20 points going into the elec­tion, and the win, which was deemed ​"one of the great­est upsets in mod­ern polit­i­cal his­to­ry," reen­er­gized his campaign.
And there is a late spate of pub­lic­i­ty for El-Sayed, includ­ing the endorse­ment by Sanders and sto­ries focus­ing on this race in sev­er­al main­stream out­lets, includ­ing Vox, the New York Times, Huff­Post and CNN. ABC called it ​"a micro­cosm of a big­ger fight." The Wash­ing­ton Post said Michi­gan is a test of whether Democ­rats will ​"lurch left." Time called the race both ​"a glimpse of the Demo­c­ra­t­ic Party's future" and ​"a win­dow into sev­er­al nation­al trends," test­ing Democ­rats' ​"abil­i­ty to field com­pelling can­di­dates who can speak to both vot­ers of col­or and work­ing-class whites."
Anoth­er Michi­gan upset?
El-Sayed, 33, has an M.D. from Colum­bia Uni­ver­si­ty and a doc­tor­ate in pub­lic health for Oxford. He was Detroit's health com­mis­sion­er from 2015 to 2017, and now lives in Macomb Coun­ty, north of Detroit, which could be con­sid­ered ground zero for Democ­rats' recent strug­gles with work­ing-class white voters.
In 1960, John Kennedy won the vote of its white pop­u­la­tion by 63 per­cent. Ronald Rea­gan won it by 66 per­cent in 1984. Sim­i­lar­ly, Barack Oba­ma won the coun­ty twice, but Don­ald Trump won it in 2016. Stan­ley Green­berg, a long­time ana­lyst of Macomb Coun­ty who recent­ly talked with Oba­ma-turned-Trump vot­ers there, not­ed that ​"in every focus group we hear more and more about the crip­pling cost of health care, espe­cial­ly among the women. They describe health care costs as ​'ridicu­lous' and ​'crap­py' and some­thing they increas­ing­ly can­not afford."
El Sayed's cen­tral issue, not coin­ci­den­tal­ly, is ​"Mich­care" — a sin­gle-pay­er health­care plan that would cov­er every­one under 65. He also sup­ports a wide range of robust­ly pro­gres­sive poli­cies, includ­ing uni­ver­sal pre‑K and broad­band inter­net, a $15 min­i­mum wage, a sup­port pro­gram for peo­ple released from prison, an end to for-prof­it char­ter schools, cam­paign finance reform and an expan­sion of ear­ly voting.
But for El Sayed, who has pledged to refuse cor­po­rate dona­tions, the theme con­nect­ing all the dots is the cor­rup­tion of pol­i­tics and the pub­lic sphere by cor­po­rate mon­ey and pri­va­ti­za­tion schemes.
Pres­i­dent Trump's Edu­ca­tion Sec­re­tary Bet­sy DeVos got her start in school pri­va­ti­za­tion in Michi­gan, and in many ways has left the state's edu­ca­tion sys­tem in dire straights. She has been a fre­quent tar­get of El-Sayed's on the cam­paign trail.
Both El-Sayed and Whit­mer have decried an April deci­sion by the Michi­gan Depart­ment of Envi­ron­men­tal Qual­i­ty to let the Nes­tle cor­po­ra­tion pump 400 gal­lons of water per minute from a well in the state. The com­pa­ny pays almost noth­ing for the water, which it bot­tles and sells as its Ice Moun­tain brand. The give­away of pub­lic resources looks par­tic­u­lar­ly bad in light of Michigan's high-pro­file fail­ures to meet min­i­mal qual­i­ty stan­dards for its pub­lic water sup­plies in Flint and else­where across the state.
The Nes­tle case was like­ly an easy call for Whit­mer, since it pro­voked wide­spread anger. It's the issue of health­care that clar­i­fies and high­lights the dis­tance between the two can­di­dates. Exec­u­tives at the insur­ance com­pa­ny Blue Cross Blue Shield (BCBS) have orga­nized fundrais­ers for Whitmer's cam­paign, and while the company's PAC hasn't donat­ed direct­ly to her, she has ben­e­fit­ed from over half a mil­lion dol­lars in untrace­able ​"dark mon­ey." Whit­mer, mean­while, has called a sin­gle-pay­er sys­tem in Michi­gan ​"not realistic."
In a nor­mal cycle, Whit­mer may have run unop­posed in this pri­ma­ry. She served in the state leg­is­la­ture for about 14 years, is well fund­ed, has deep con­nec­tions and has led by at least 20 points for much of the race.
But giv­en the unpre­dictable nature of our pol­i­tics over the past two years, El-Sayed believes an upset could be on the hori­zon. As he recent­ly told Vogue, ​"if you can pull more peo­ple out to vote, that's how you win. And that's what we're doing. As Alexan­dria always says, the vot­er we're going for is not the one who goes just from red to blue, it's from non­vot­er to vot­er. And that's what we're doing right now."
In El-Sayed, vot­ers have the choice of a can­di­date speak­ing direct­ly to their major con­cerns — health­care, cor­rup­tion, inequal­i­ty — and har­ness­ing the ener­gy of a build­ing move­ment at a moment when it's been dri­ven by its high­est-pro­file vic­to­ry to date, with rip­ple effects still being felt across the country.
"We're offer­ing a pol­i­tics that the estab­lish­ment hasn't offered in a long time," says Adam Joseph, the El-Sayed campaign's com­mu­ni­ca­tions direc­tor. ​"We're show­ing that real­ly bold posi­tions are pos­si­ble, and we're show­ing how we're going to get it done. The estab­lish­ment should be pret­ty wor­ried about it. Because we are going to win."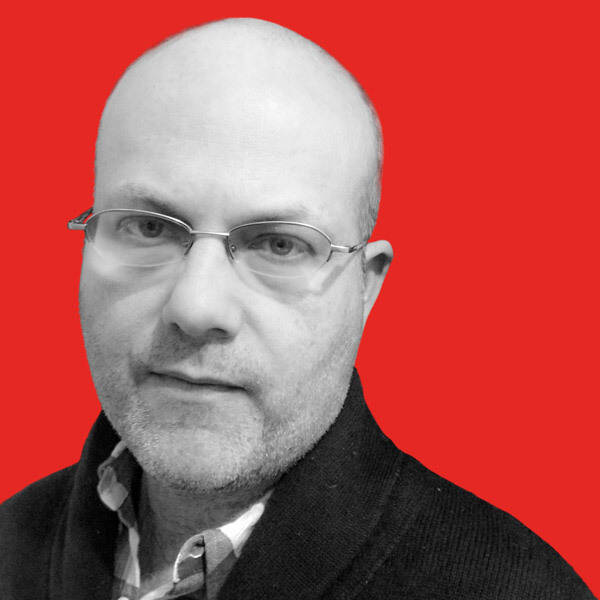 Theo Ander­son
is an In These Times con­tribut­ing writer. He has a Ph.D. in mod­ern U.S. his­to­ry from Yale and writes on the intel­lec­tu­al and reli­gious his­to­ry of con­ser­vatism and pro­gres­sivism in the Unit­ed States. Fol­low him on Twit­ter @Theoanderson
7
.