ACLU Sues 'Sheriff Joe' for Racial Profiling, Worksite Detentions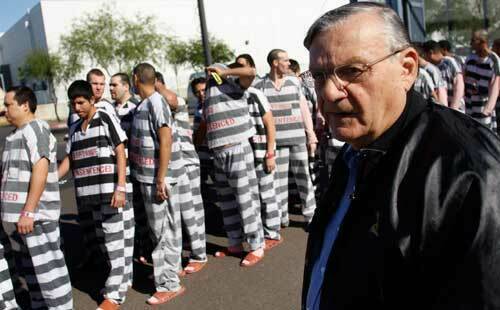 Mari­co­pa Coun­ty Sher­iff Joe Arpaio and sev­er­al of his deputies are fac­ing a law­suit claim­ing they ille­gal­ly arrest­ed, trans­port­ed and detained a U.S. cit­i­zen and a per­ma­nent legal res­i­dent at a work­site in Phoenix, Ariz., where deputies were con­duct­ing an immi­gra­tion raid.

The Amer­i­can Civ­il Lib­er­ties Union and the ACLU of Ari­zona filed the suit August 19 on behalf of Julian Mora, 66, and his son Julio, 19.

The inci­dent took place on Feb­ru­ary 11, when Julio Mora was dri­ving his dad to work. Accord­ing to the suit, just 100 yards from where the elder Mora worked at land­scap­ing busi­ness Handy­man Main­te­nance, Inc. (HMI), a Mari­co­pa Coun­ty Sheriff's Office vehi­cle cut in front of pick-up truck on a busy pub­lic road, forc­ing Mora to slam on his brakes. Anoth­er MCSO SUV flanked the truck.

Two deputies ordered the father and son to get out. They were frisked and restrained with tight plas­tic zip-tie hand­cuffs and tak­en to Mora's work­place, the site of the raid. The two joined over 100 oth­ers who were cor­ralled into an area that was said to resem­ble a heav­i­ly guard­ed armed camp with men wear­ing masks and car­ry­ing semi-auto­mat­ic rifles.

"Their sit­u­a­tion was extreme­ly unique. One of the most egre­gious aspects to the Moras [case] is the fact that they were not on the work­site. They were stopped and racial­ly pro­filed dur­ing a rou­tine traf­fic stop, then brought to the work­site. That makes it par­tic­u­lar­ly more prob­lem­at­ic and hard­er for the coun­ty to jus­ti­fy," said Alessan­dra Sol­er Meet­ze, exec­u­tive direc­tor of the Ari­zona ACLU.

The suit, filed in U.S. Dis­trict Court for the Dis­trict of Ari­zona, chal­lenges the Mari­co­pa Coun­ty Sheriff's Office (MCSO) deputies with vio­lat­ing the U.S. Constitution's Fourth and the Four­teenth Amend­ments – which guar­an­tee equal pro­tec­tion and free­dom from unrea­son­able search and seizures and unlaw­ful dis­crim­i­na­tion on the basis of race, eth­nic­i­ty and/​or nation­al ori­gin. (For an In These TImes fea­ture sto­ry on Sher­iff Arpaio and his actions, go here.)

The suit also cites sev­er­al vio­la­tions of Arizona's state con­sti­tu­tion. The suit is one of the first of its kind to chal­lenge Arapaio's attempts to enforce the Legal Ari­zona Work­ers Act by raid­ing local busi­ness­es to find peo­ple sus­pect­ed of iden­ti­ty theft and fraud. The act, also known as the employ­er-sanc­tions law, went into effect in 2008.

The ACLU-Ari­zona reports that Mari­co­pa Coun­ty sher­iff deputies have stepped up local immi­gra­tion enforce­ment raids tar­get­ing sites with pre­dom­i­nant­ly Lati­no work­ers. So far no employ­ers have been con­vict­ed for employ­er-sanc­tions vio­la­tions.

Dur­ing their deten­tion at HMI, the elder Mora, who is dia­bet­ic and has dif­fi­cul­ty con­trol­ling his blad­der, was denied the use of the bath­room to the point of almost uri­nat­ing on him­self and was final­ly tak­en out­side to a park­ing lot to relieve him­self; both men were denied food and water.

It should be not­ed that Mora is a legal per­ma­nent res­i­dent and has been for 30 years. His son is a U.S. cit­i­zen, born and raised in Ari­zona. That appar­ent­ly didn't mat­ter to deputies when they pulled the two over. Despite pro­vid­ing iden­ti­fi­ca­tion, the Moras were tak­en to the deten­tion area.

​"They thought it was a rou­tine traf­fic stop. They had no idea why they were being tak­en or where they were they were being tak­en to," said Sol­er Meet­ze.

​"We were treat­ed like crim­i­nals and nev­er told why. I was very scared. I nev­er thought some­thing like this would hap­pen to me. Now I know it can hap­pen to any­one, cit­i­zens too," said Julio Mora.

Since Arizona's employ­er sanc­tions law and the fed­er­al 287(g) pro­gram have been put in place, deputies can now ques­tion and arrest work­ers for alleged vio­la­tions of fed­er­al immi­gra­tion law. 287(g) pro­gram gives local law enforce­ment the pow­ers of fed­er­al agents when they enter into agree­ments with Home­land Security's Immi­gra­tion and Cus­toms Enforcement.
The pro­gram has been wide­ly crit­i­cized for increas­ing the use of racial pro­fil­ing and tar­get­ing immi­grants for arrest who are not sus­pect­ed of a crime. In Jan­u­ary, the Gov­ern­ment Account­abil­i­ty Office released a crit­i­cal report stat­ing the pro­gram need­ed bet­ter con­trols and more clar­i­ty.

Ear­li­er this year Julio Mora gave wit­ness tes­ti­mo­ny about his ordeal in a joint fed­er­al sub­com­mit­tee hear­ing April 2 on the impli­ca­tion 287(g) on civ­il rights.

​"To this day, I don't know why the offi­cers stopped us out of all the cars on the road. Maybe it was because of the Campesina radio sta­tion stick­er on our bumper or maybe it's because my dad was wear­ing his Mex­i­can tejana [hat] and they thought we were ille­gal. But they nev­er both­ered to ask us," stat­ed the Julio Mora.
Oth­er defen­dants named in the suit are Ray Jones, a cap­tain with the MCSO and Com­man­der of the Enforce­ment Sup­port Divi­sion; Lt. Joe Sousa, who also heads the Human Smug­gling Unit with the Enforce­ment Sup­port divi­sion; and four unnamed deputies.
Said Mora towards the end of his fed­er­al tes­ti­mo­ny April 2:
My dad says he's always tried to pro­tect me from these kinds of things, but that day I saw a man beg­ging an offi­cer not to deport him, offer­ing him some can­dy as a bribe. It opened my eyes to what is hap­pen­ing in Ari­zona. Most of the peo­ple in my neigh­bor­hood, they are just try­ing to get by and make a bet­ter life for their kids. The police are sup­posed to keep us safe, but they are arrest­ing us instead of the real crim­i­nals. I still think of that day some­times when I have to go to the bath­room. And I still think of the guy with the can­dy. They took away our pride – my dad's, this man's, and mine.
In a relat­ed sto­ry, a suit filed by the ACLU on behalf of immi­grants who have been detained for more than six months with­out receiv­ing bond hear­ings can go for­ward as a class action. The civ­il rights agency received approval today from a fed­er­al appeals court in California.
Rep­re­sent­ing the immi­grants are the ACLU of South­ern Cal­i­for­nia, the ACLU, the Stan­ford Law School Immi­grants' Rights Clin­ic and the law firm of Sid­ley Austin LLP. The suit was orig­i­nal­ly filed in May 2007 on behalf of Ale­jan­dro Rodriguez, a Mex­i­can immi­grant who was held for more than three years with­out ever receiv­ing a bond hearing.
Rose Arri­eta
was born and raised in Los Ange­les. She has worked in print, broad­cast and radio, both main­stream and com­mu­ni­ty ori­ent­ed — includ­ing being a for­mer edi­tor of the Bay Area's inde­pen­dent com­mu­ni­ty bilin­gual biweek­ly El Tecolote. She cur­rent­ly lives in San Fran­cis­co, where she is a free­lance jour­nal­ist writ­ing for a vari­ety of out­lets on social jus­tice issues.