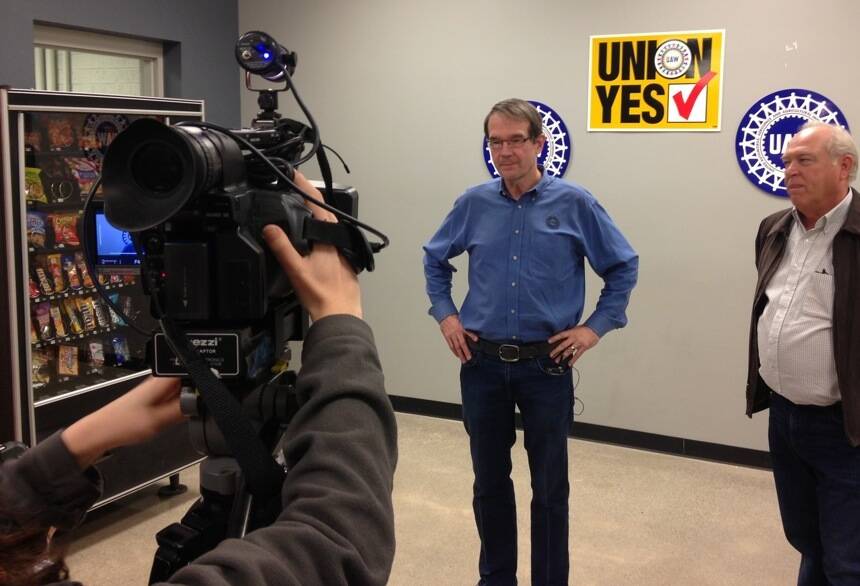 Work­ers and orga­niz­ers cite out­side inter­fer­ence, man­age­ment col­lu­sion, union mis­steps, two-tier agree­ments and Neil Young
​"I am excit­ed," auto work­er Justin King told me as he put on his cow­boy boots to get ready for the vic­to­ry par­ty planned for late Fri­day night. At approx­i­mate­ly 10 p.m., the Unit­ed Auto Work­ers union and Volk­swa­gen would announce the results of a three-day union elec­tion at the Volk­swa­gen plant in Chat­tanooga, Tenn.
King had rea­son to be excit­ed. For near­ly three years he had cam­paigned to get the union into his plant. As one of the lead­ers of the dri­ve, his sense was that the UAW had the sup­port of the major­i­ty of the plant's 1,550 hourly work­ers. Unlike in most union dri­ves, orga­niz­ers didn't have to wor­ry about the com­pa­ny threat­en­ing work­ers' job, because Volk­wa­gen had agreed to remain neu­tral in the process, so King felt cau­tious­ly opti­mistic that the sup­port would hold.
But Justin King nev­er got to enjoy his vic­to­ry par­ty. An hour after we spoke, retired Cir­cuit Court Judge Samuel H. Payne announced to a room­ful of reporters assem­bled in a Volk­swa­gen train­ing facil­i­ty that the UAW had lost the cam­paign, with 626 work­ers vot­ing in favor of the union and 712 vot­ing against. To the labor reporters, who had seen many union elec­tion results, it was jaw-drop­ping news. How could a union lose an unop­posed campaign?
Volk­swa­gen signed a 22-page neu­tral­i­ty agree­ment pledg­ing not to inter­fere in the union elec­tion at the Chat­tanooga plant. The com­pa­ny even let the union onto the shop floor in ear­ly Feb­ru­ary to give a pre­sen­ta­tion on the mer­its of organizing.
It is impos­si­ble to say why each of those 712 work­ers vot­ed against the union and what the UAW could have done dif­fer­ent­ly to win them over one by one. How­ev­er, In These Times' inter­views with both pro-union and anti-union work­ers — as well as low-lev­el Volk­swa­gen super­vi­sors, top UAW offi­cials and com­mu­ni­ty activists — point to a con­flu­ence of fac­tors, includ­ing out­side inter­fer­ence by GOP politi­cians and unsanc­tioned anti-union activ­i­ty by low-lev­el super­vi­sors. Some ques­tioned, too, whether mis­steps by the UAW and con­cerns about its pri­or bar­gain­ing agree­ments played a role.
GOP influence
The UAW was quick to blame the loss on pub­lic anti-union threats by right-wing politi­cians. Imme­di­ate­ly fol­low­ing the elec­tion results, UAW Pres­i­dent Bob King informed reporters, ​"We are obvi­ous­ly deeply dis­ap­point­ed. We're also out­raged by the out­side inter­fer­ence in this elec­tion. Nev­er before in this coun­try have we seen a U.S. sen­a­tor, a gov­er­nor and a leader of the Leg­is­la­ture threat­en the com­pa­ny with incen­tives and threat­en work­ers with a loss of prod­uct. That's outrageous."
Last week, Tennessee's Repub­li­can Gov­er­nor Bill Haslam told the Ten­nessean, ​"I think that there are some ram­i­fi­ca­tions to the vote in terms of our abil­i­ty to attract oth­er sup­pli­ers. When we recruit oth­er com­pa­nies, that comes up every time."
On Mon­day, two days before the elec­tion began, Repub­li­can State Sen­ate Speak­er Pro Tem­pore Bo Wat­son and Repub­li­can House Major­i­ty Leader Ger­ald McCormick sug­gest­ed that Volk­swa­gen might not receive future state sub­si­dies if the plant unionized.
Then on Wednes­day, U.S. Sen. Bob Cork­er (R‑Tenn.) — the for­mer may­or of Chat­tanooga — who had pledged the pre­vi­ous week not to com­ment pub­licly about the ongo­ing elec­tion, wad­ed back into the debate to declare, ​"I've had con­ver­sa­tions today and based on those am assured that should the work­ers vote against the UAW, Volk­swa­gen will announce in the com­ing weeks that it will man­u­fac­ture its new mid-size SUV here in Chattanooga."
When Volk­swa­gen Chat­tanooga Chair­man and CEO Frank Fis­ch­er refut­ed Cork­er, say­ing the union elec­tion would have no effect on the SUV deci­sion, Cork­er dou­bled down. ​"Believe me, the deci­sions regard­ing the Volk­swa­gen expan­sion are not being made by any­one in man­age­ment at the Chat­tanooga plant, and we are also very aware Frank Fis­ch­er is hav­ing to use old talk­ing points when he responds to press inquiries," Cork­er said in a state­ment on Thurs­day. ​"After all these years and my involve­ment with Volk­swa­gen, I would not have made the state­ment I made yes­ter­day with­out being con­fi­dent it was true and factual."
At a press con­fer­ence fol­low­ing the vote announce­ment, UAW Sec­re­tary-Trea­sur­er Den­nis Williams echoed union pres­i­dent Bob King in blam­ing the loss of sup­port for the union on the Repub­li­can politi­cians' statements.
​"When the gov­er­nor made his com­ments, we saw some move­ment at that time," said Williams. ​"When Sen. Cork­er said he was not going to be involved and then he came back from Wash­ing­ton, D.C., we had a feel­ing that some­thing was hap­pen­ing. Forty-three votes was the dif­fer­ence, so it's very dis­turb­ing when this hap­pens in the Unit­ed States of Amer­i­ca when a com­pa­ny and a union come togeth­er and have a fair elec­tion process."
The UAW also announced short­ly after the elec­tion that it was explor­ing legal options and might peti­tion the Nation­al Labor Rela­tions Board to order a new elec­tion because of the threats issued by Cork­er, the gov­er­nor and the lead­ers of the Ten­nessee State House and Senate.
Oppo­si­tion at the plant
How­ev­er, threats of work­ers los­ing their jobs are rou­tine dur­ing union elec­tions — though they usu­al­ly come from man­age­ment, not out­side forces — and unions still often pre­vail. Both pro-union work­ers and anti-union activists said that oth­er fac­tors played key roles in derail­ing the union drive.
While the neu­tral­i­ty agree­ment for­bade Volk­swa­gen from cam­paign­ing against the dri­ve, plant work­er and union activist Byron Spencer says that low-lev­el super­vi­sors and salaried employ­ees — who were not eli­gi­ble for the union — ignored the direc­tive and active­ly opposed the dri­ve. He also reports see­ing mul­ti­ple low-lev­el super­vi­sors and salaried employ­ees at the plant wear­ing ​"Vote No" T‑shirts in the days lead­ing up to the union election.
Pro-UAW work­er Wayne Cli­ett says there is no doubt in his mind that the oppo­si­tion by salaried employ­ees hurt the cam­paign. ​"The salaried peo­ple from Pilot Hall [the pres­ti­gious research and devel­op­ment cen­ter at the plant] stood out front every day this past week with [anti-UAW] shirts on, and I tru­ly believe they swayed the votes their way," says Cliett.
Indeed, In These Times inter­viewed one salaried employ­ee, Mary Fiorel­lo, who active­ly par­tic­i­pat­ed in the No 2 UAW com­mit­tee, an anti-union effort orga­nized by a group of hourly work­ers, who were eli­gi­ble for the union.
​"You have to look at from the point of view of a salaried sup­port per­son," says Fiorel­lo. ​"My job here is to help them do their job. I don't get paid if they don't make cars, and the union makes it all that hard­er. If they want to ask me for help on some­thing and its a union facil­i­ty, they can't even come up and ask me for help. And it makes it so much tougher for us here to be a team — and we are a team, and it's upset­ting when a group comes down from Detroit and tells us how we should be."
Crit­i­cisms of the UAW
The No 2 UAW cam­paign used the very neu­tral­i­ty agree­ment that the UAW signed to argue that the union was mak­ing cor­rupt deals with man­age­ment with­out work­er input. The anti-union cam­paign argued that the neu­tral­i­ty agree­ment seemed to indi­cate that UAW would not bar­gain for wages above what was offered by Volkswagen's com­peti­tors in the Unit­ed States. UAW and Volk­swa­gen agreed to ​"main­tain­ing and where pos­si­ble enhanc­ing the cost advan­tages and oth­er com­pet­i­tive advan­tages that [Volk­swa­gen] enjoys rel­a­tive to its com­peti­tors in the Unit­ed States and North America."
​"We got peo­ple to real­ize they had already nego­ti­at­ed a deal behind their backs — [work­ers] did­n't get to have a say-so," hourly plant work­er Mike Jarvis of No 2 UAW told reporters out­side of the plant last night.
Fiorel­lo also cit­ed the UAW's past con­ces­sions in bar­gain­ing with oth­er automak­ers as anoth­er exam­ple of why she opposed the union. In a series of con­tract nego­ti­a­tions in the late 1990s and 2000s, the UAW agreed to a two-tier wage sys­tem at Volkswagen's com­peti­tors at the Big Three automak­ers — Gen­er­al Motors, Ford and Chrysler. Two-tier agree­ments spec­i­fy that new hires will earn sig­nif­i­cant­ly less than exist­ing work­ers. Fiorel­lo notes that cur­rent­ly, new non-union assem­bly line work­ers at Volk­swa­gen start at $14.50 an hour—which, with cost-of-liv­ing dif­fer­ences between Ten­nessee and the Mid­west fac­tored in, is arguably slight­ly high­er than the just-under-$16-an-hour start­ing pay under the UAW two-tier con­tracts at the Big Three.
​"See, that's the kind of prob­lem. Our guys are being paid more than the union [work­ers at the Big Three]," says Fiorello.
​"What the UAW is offer­ing, we can already do with­out them," says hourly work­er Mike Bur­ton, who cre­at­ed the web­site for the No 2 UAW cam­paign. ​"We were only giv­en one choice [of a union]. When you are only giv­en one choice, it's BS. It would be nice if we had a union that came in here and forth­right said, ​"Here is what we can offer."
​"I am not anti-union, I am anti-UAW," Bur­ton con­tin­ues. ​"There are great unions out there, and we just weren't offered any of them."
Burton's argu­ment seemed to mir­ror that of Sen. Bob Cork­er, who rou­tine­ly made state­ments such as, ""It's not about union or anti-union, it's about the way the UAW con­ducts business."
When asked by In These Times if the UAW's his­to­ry of two-tier con­tracts hurt the unions' abil­i­ty to win over skep­ti­cal work­ers, UAW Pres­i­dent Bob King respond­ed, ​"I don't know. I am not going to spec­u­late because I wasn't in the plant."
Ques­tioned by Lydia DePil­lis of the Wash­ing­ton Post about why the union had agreed to cost-con­tain­ment mea­sures as part of the col­lec­tive bar­gain­ing agree­ment, King respond­ed, ​"Our phi­los­o­phy is, we want to work in part­ner­ship with com­pa­nies to suc­ceed. Nobody has more at stake in the long-term suc­cess of the com­pa­ny than the work­ers on the shop floor, both blue col­lar and white col­lar. With every com­pa­ny that we work with, we're con­cerned about competitiveness."
Some labor observers have ques­tioned whether pro­vi­sions in the neu­tral­i­ty agree­ment may have also ham­pered the UAW's abil­i­ty to make its case. ​"Though neu­tral­i­ty agree­ments often help avoid vocif­er­ous employ­er oppo­si­tion, unions also have to give up pow­er­ful orga­niz­ing or nego­ti­at­ing tools," says Moshe Mar­vit, a labor lawyer and fel­low at the Cen­tu­ry Foun­da­tion. In the case of the Chat­tanooga dri­ve, the neu­tral­i­ty agree­ment barred the UAW from mak­ing neg­a­tive com­ments about Volk­swa­gen. It also specif­i­cal­ly pre­vent­ed the UAW from hold­ing one-on-one meet­ings with work­ers at their homes except at the worker's express request. House vis­its are a com­mon tac­tic used by union orga­niz­ers to build trust with work­ers and answer ques­tions about indi­vid­ual needs and con­cerns. One long­time labor activist, Peter Hog­ness, was so shocked that the UAW didn't do house vis­its that he sent me a mes­sage today to ask me if it was true.
When asked by In These Times if the inabil­i­ty to make house vis­its hurt the union dri­ve, UAW Sec­re­tary-Trea­sur­er Den­nis Williams sim­ply respond­ed, ​"No."
Also, pro-union com­mu­ni­ty activists, who spoke with In These Times on con­di­tion of anonymi­ty out of fear of hurt­ing their rela­tion­ships with the UAW, spoke about dif­fi­cul­ties in get­ting the UAW to help them engage the broad­er Chat­tanooga com­mu­ni­ty. Many activists I spoke with dur­ing my two trips to Chat­tanooga said that when they saw the UAW being con­tin­u­al­ly blast­ed on local talk radio, news­pa­pers and bill­boards, they want­ed to get involved to help build com­mu­ni­ty support.
How­ev­er, they say that the UAW was luke­warm in part­ner­ing with them. Indeed, when I attend­ed a forum in Decem­ber orga­nized by Chat­tanooga for Work­ers, a com­mu­ni­ty group designed to build local sup­port for the orga­niz­ing dri­ve, more than 150 com­mu­ni­ty activists attend­ed — many from dif­fer­ent area unions — but I encoun­tered only three UAW mem­bers. Com­mu­ni­ty activists said they had a hard time find­ing ways to coor­di­nate sol­i­dar­i­ty efforts with the UAW, whose cam­paign they saw as insu­lar rather than community-based.
​"There's no way to win in the South with­out every­one that sup­ports you fight­ing with you," said one Chat­tanooga com­mu­ni­ty orga­niz­er, who pre­ferred to remain anony­mous. ​"Because the South is one giant anti-union campaign."
A harsh South­ern climate
Still, at the end of the day, unions make mis­steps in union elec­tions all the time and often face oppo­si­tion from man­age­ment, and the work­ers still some­times win. Indeed, the NLRB reports that unions won 60 per­cent of elec­tions con­duct­ed in fis­cal year 2013. So why didn't the UAW win in Chattanooga?
​"We thought we had the num­ber we need­ed," says Cli­ett. ​"We could ana­lyze for days and not real­ly know for sure, but I do think the last minute blitz of neg­a­tive cam­paign­ing from our politi­cians turned some votes to no. What is going on with these peo­ple? Lynyrd Skynyrd may not have liked the song writ­ten by Neil Young, ​'South­ern Man,' but Neil had a point."
In the 1974 song ​"Sweet Home Alaba­ma," Ron­nie Van Zant of Lynyrd Skynyrd sings, ​"Well I hope Neil Young will remem­ber: A South­ern man don't need him around any­how." The lyric is a ref­er­ence to Cana­di­an singer Neil Young's ​"South­ern Man," which crit­i­cized South­ern­ers for being opposed to social change.
But for one South­ern man, progress still feels achiev­able. ​"I'm a stub­born man," says Cli­ett. ​"Some are talk­ing about quit­ting. I will be walk­ing into the plant on Mon­day with my head held high and preach­ing the mes­sage of solidarity."
Full dis­clo­sure: The author's moth­er worked on an auto assem­bly line at a VW plant in West­more­land Coun­ty, Pa., until it closed in 1988, and was a mem­ber of UAW. UAW is a web­site spon­sor of In These Times. Spon­sors have no role in edi­to­r­i­al content.