After Valentine's Day Firing, Ill. Workers Protest for Better Severance Pay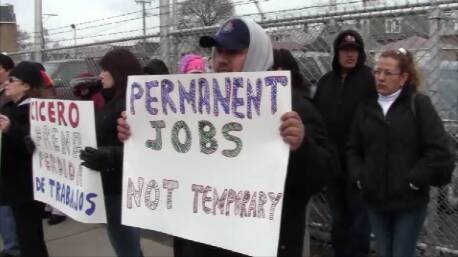 Consolidating packaging industry underscores proliferation of temp jobs
CHICAGO — Employees at Innerpac Inc., a Chicago-area packaging manufacturer, didn't have a great Valentine's Day this year. After the company sold itself to RockTenn, a multinational packaging and papergoods corporation based in Norcross, Ga., the workers were unceremoniously fired on the holiday.
Nine days later, on Wednesday February 23, 30 fired workers gathered with family, friends and representatives from the Chicago Workers' Collaborative to protest at the Cicero, Ill., plant. They demanded dignified treatment and tried to bring attention to a trend that accelerated during the Great Recession: Companies are turning full-time permanent jobs into part-time temporary work with little in the way of benefits.
More than 100 Innerpac workers lost their livelihoods, many of whom had worked for the company for 20 years or more. Innerpac offered a severance of three weeks' pay for each worker, which amounts to about $700 dollars. Offended by the paltry gesture, most employees refused to accept it, and plan to protest until Innerpac offers a more just severance. The company told employees they could be rehired at the new plant, RTS Packaging in Hillside, Ill., just west of Cicero. With decades of experience to their credit, the workers were hopeful.
But RTS hasn't hired more than 10 former workers, according to protesters at the plant, and at least two are now temp workers. According to the Chicago Workers' Collaborative, two temp agencies have each placed one former Innerpac worker at the new RTS plant.
When contacted for comment, the company not only refused to answer questions, but said there was no one at the plant capable of answering questions. Two separate secretaries referred me to Bob McIntosh, executive vice president, general counsel and secretary of RockTenn, whose total compensation in 2010 amounted to almost $1.4 million, according to Forbes.
Some quick math shows this to be almost 20 times the amount of the entire severance pay offered to the 100 fired Innerpac employees. McIntosh has yet to respond to requests for comment.
At least two of the workers who got jobs at RNS were hired through temporary staffing agencies, according to Leone Bicchieri, executive director of the Chicago Workers' Collaborative, a workers' rights group currently trying to help Innerpac employees.
"The most important part of what we're doing today is standing against the expansion of temporary jobs and for the increase of permanent employment," he said. More than 400,000 workers in Illinois are being staffed through temporary agencies — over 300,000 in the Chicago metropolitan area alone. In 2010, a quarter of all jobs created in the United States were temporary positions.
Temporary labor is the new norm, says Bicchieri: ​"If staffing agencies could be considered one industry, it would be the largest employer in Illinois." In contrast to the permanent positions formerly available at Innerpac, these jobs are unstable, pay less and rarely offer benefits.
The day of the protest was cold and bitter, with little tangible success except for the reassurance that the employees were not alone in their struggle. Univision Chicago was the only media, besides In These Times, present. The workers held signs decrying their lot, passed out flyers to walkers-by and received a few honks of solidarity from passing cars. They formed a circle at the main entrance to deliver a letter to the remaining managers, who refused to come down to accept it. Over the intercom, a man said he would call security and police if they didn't leave.
Faced with the indignity of being forcefully removed from a plant where many had spent decades of their working lives, they decided instead to end with optimism.
Bicchieri led the workers in closing chants. ​"We are going to end by clapping together, to show that alone we cannot accomplish much, but that we are strong if we unite! Sí! Se Puede! Sí! Se Puede! Long live the workers of Innerpac! Long live the workers of RTS!"
The crowd cheered and slowly dissipated to walk home down the dilapidated streets of Cicero's warehouse district. Though unsuccessful, they appeared empowered and left with smiles. Afterward, Bicchieri explained the chants.
"The workers of RTS need our support too," he said, noting the fact that even working in a plant, making paperboard partitions for a few hundred dollars a week, may be an enviable position, but perhaps only to the unemployed.

Bought and sold by private equity

The current problems for the workers started, ironically, when business got good. In 2006, Innerpac attracted the interest of Evolution Capital Partners, a private equity firm from Cleveland, Ohio. The firm raises money from the likes of U.S. Bank, National City Equity Partners, and industrial leaders of Ohio to buy small companies, grow them, and sell them for a profit. On its website, it admits to not caring what the companies make or sell, just that they have an opportunity for growth and need capital.
In November 2006, Evolution Capital Partners and the management of Innerpac bought the company. With the new investments, they were able to expand the business to include five manufacturing plants, becoming a national player in the cardboard partition industry. Then, in August 2010, Innerpac sold itself to RockTenn, a packaging corporation much loved by Wall Street analysts, with 95 factories across North and South America. By sales per share, a common metric used to value companies, it is the top ranked company in its industry. With $3 billion in sales in 2010, it easily purchased Innerpac for $24 million.
The consolidation of Innerpac's Cicero plant with RockTenn's nearby RTS Packaging (which it owns with Sonoco Products Company) continues a habit of the corporation in recent years. Between 2007 and 2010, it closed nine plants across the United States.
Currently, it is in the final stages of buying Smurfit-Stone, a containerboard manufacturer with its headquarters and seven facilities in the Chicago area. After the deal, RockTenn's cross-continental manufacturing network will more than double to 194 plants. Chicago will lose the headquarters and the jobs it provides to RockTenn's Georgia offices. If recent history is any indication, we'll soon see the closure of at least some of the area's plants.
Gene Marino, former president and CEO of Innerpac, who had been with the company since 1998, left the shuttered warehouses of Cicero with dividends in his pockets to become a partner with Evolution Capital. Beginning March 1, he will start and run its Chicago office in a high-rise in the city's Loop, where, according to a press release by the company, he will ​"continue to build the Evolution brand in the Chicago region." Workers of Chicago beware.
Be one of the first
Help kick off the new era of In These Times! Without a media that brings people together and creates a written record of the struggles of workers, their voices will be fragmented and forgotten.
The mission of In These Times is to be that written record, and to guide and grow those movements.
We have a lot of work ahead of us, and that work starts today. Early support is the most valuable support, and that's why we're asking you to pitch in now. If you are excited for this new era of In These Times, please make a donation today.
Joel Handley
, a former assistant editor at In These Times, is a Chicago-based independent journalist and freelance editor.