Who Do You Protect, Who Do You Surveil?
The Chicago Police Department has spent millions on high-tech spying equipment, including cell-phone tracking technology, but is extremely secretive about its use.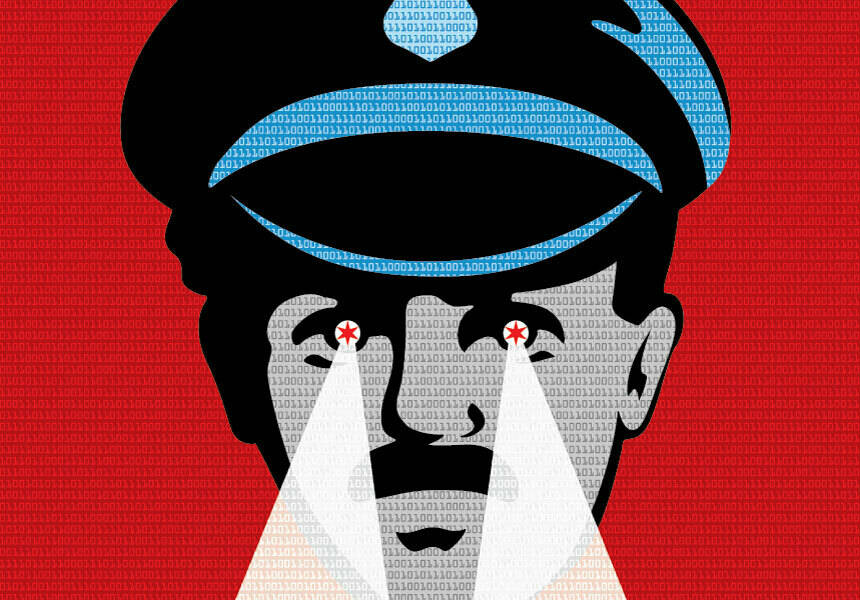 On Black Fri­day, 2014, the biggest shop­ping day of the year, hun­dreds of pro­test­ers marched to Wick­er Park, a trendy neigh­bor­hood on Chicago's north­west side. It was the third stop in a day-long march from one com­mer­cial dis­trict to the next: start­ing at downtown's Mag­nif­i­cent Mile, then head­ing north to an Apple Store, then west. Four days after the grand jury deci­sion not to indict Fer­gu­son police offi­cer Dar­ren Wil­son in the killing of Michael Brown, the event was part of a nation­wide action decry­ing com­pla­cent con­sumerism in the face of a nation­al tragedy. Wick­er Park's retail epi­cen­ter seemed an appro­pri­ate place to go.
Chicago Police officers are directed to report to the city's fusion center any 'information concerning strikes, labor-management incidents or union controversies or the possibility thereof.'
A Chica­go police offi­cer, how­ev­er, couldn't fig­ure out the route. He took to his radio and called in a request to the local ​"fusion cen­ter," the Chica­go Police Depart­ment (CPD) intel­li­gence hub. ​"One of the girls, she's kind of an orga­niz­er here, she's been on her phone a lot. You guys pick­ing up any infor­ma­tion, uh, where they're going, pos­si­bly?" the offi­cer asked.
"Yeah, we're keep­ing an eye on it."
The con­ver­sa­tion was quick, but when the audio from the call leaked online, activists saw proof of some­thing they'd long sus­pect­ed: Chica­go police were track­ing their cell phones, using a con­tro­ver­sial new technology.
The StingRay — both a brand name and a gener­ic term — is a suit­case-sized device that acts as a wire­tap for the wire­less age. But while a wire­tap mon­i­tors a sin­gle line, a stingray acts like a rov­ing cell phone tow­er, vac­u­um­ing in data from all near­by phones, tablets and oth­er wire­less devices. This includes call his­to­ry and cur­rent and pre­vi­ous loca­tions. Enhanced stingrays can also record and eaves­drop on phone calls.
An assort­ment of add-ons are now avail­able: The Fish­Hawk lis­tens in on calls; the Har­poon broad­ens the StingRay's range; the Amber­Jack anten­na helps pin­point indi­vid­ual phones; the King­Fish ana­lyzes call pat­terns, doing in one stroke what might have tak­en Detec­tive Lester Frea­mon an entire sea­son of The Wire to accomplish.
U.S. mil­i­tary and intel­li­gence agen­cies devel­oped stingray tech­nol­o­gy in the 1990s, and police depart­ments began using it as ear­ly as 2003. Before receiv­ing StingRays, police depart­ments must sign non-dis­clo­sure agree­ments. It wasn't until 2011, when the FBI pre­sent­ed infor­ma­tion gath­ered from a stingray in court, that domes­tic use of the devices came to pub­lic atten­tion. Civ­il lib­er­ties groups imme­di­ate­ly sound­ed the alarm.
The ACLU says stingrays vio­late pri­va­cy rights because they cap­ture infor­ma­tion from every phone in the vicin­i­ty, not just a suspect's. There are also con­cerns regard­ing Fourth Amend­ment restric­tions on unrea­son­able search and seizure, since stingrays can pen­e­trate the walls of a home and track a person's move­ments even while inside.
The ACLU has iden­ti­fied at least 48 state and local law enforce­ment agen­cies that are using stingrays. While the Har­ris Cor­po­ra­tion, mak­er of the StingRay brand device, assured the FCC the devices were for emer­gency use only (because they inter­fere with cell net­works), the few avail­able exam­ples of their deploy­ment show they are used for rou­tine police work — and to spy on peace­ful activists.
On Novem­ber 12, 2003, for exam­ple, police in Mia­mi-Dade, Flori­da, sought ​"retroac­tive autho­riza­tion" from the coun­ty for the ​"emer­gency" pur­chase of a stingray on Novem­ber 1. It was used to mon­i­tor protests at the Free Trade Area of the Amer­i­c­as Con­fer­ence, accord­ing to a pur­chase request released to the ACLU.
Police depart­ments have striv­en to keep the details of their stingray use under wraps. The Chica­go Police Depart­ment denied own­ing the devices until April 2014, after local activist Fred­dy Mar­tinez filed a Free­dom of Infor­ma­tion Act (FOIA) request. In response to that and sub­se­quent requests from Mar­tinez, CPD admit­ted it has owned stingray devices since 2005 and has pur­chased upgrades, anten­nae and soft­ware at a total cost of at least $640,000 — but has not dis­closed how or when the devices are used.
Stingrays are part of a post‑9/​11 push by the fed­er­al gov­ern­ment to step up local police depart­ments' intel­li­gence-gath­er­ing and coor­di­na­tion. Since 9⁄11, the Depart­ment of Home­land Secu­ri­ty (DHS) has giv­en more than $34 bil­lion to local law enforce­ment, in part for high-tech sur­veil­lance gear like stingrays and facial recog­ni­tion sys­tems. Sev­en­ty-eight DHS-fund­ed fusion cen­ters, where police offi­cers work side by side with fed­er­al agents, have sprung up across the coun­try, and 18,000 depart­ments and agen­cies swap reports daily.
The Chica­go Police Depart­ment has led the way in the new sur­veil­lance age. A six-month inves­ti­ga­tion by In These Times indi­cates CPD is using its new tools to tar­get poor com­mu­ni­ties of col­or and peace­ful activists orga­niz­ing against the city's power-holders.
New tech, same policing
Polic­ing in Chica­go has changed lit­tle since the depart­ment was found­ed in 1855. When the old ​"police force" (a group of part-time con­sta­bles) couldn't put down a con­struc­tion work­ers' strike, the city's busi­ness class pushed the city gov­ern­ment to fund a pro­fes­sion­al police depart­ment. CPD was tasked with shield­ing the well-to-do down­town res­i­dents from the sur­round­ing rab­ble. Offi­cers tar­get­ed the poor­est immi­grant group at the time: the Irish. In The Rise of the Chica­go Police Depart­ment: Class and Con­flict, 1850 – 1894, Sam Mitrani writes that while Irish Chicagoans made up only one-fifth of the city's pop­u­la­tion, they account­ed for two-thirds of arrests in the first six months of CPD's exis­tence. ​"While the police inves­ti­gat­ed a small num­ber of seri­ous crimes, the bulk of their activ­i­ty con­sist­ed of patrolling the every­day activ­i­ty of the immi­grant work­ing class," Mitrani writes.
They also attempt­ed to keep a lid on grow­ing work­ing-class unrest (which would erupt in the Hay­mar­ket affair in 1886). As ear­ly as May 1867, offi­cers were mon­i­tor­ing ral­lies for the eight-hour work­day. Police lis­tened to soap­box speech­es, infil­trat­ed meet­ings, arrest­ed speak­ers, intim­i­dat­ed strik­ers and shot demonstrators.
In the 20th cen­tu­ry, var­i­ous CPD intel­li­gence units — known col­lec­tive­ly as the Red Squad — broad­ened their tar­get lists from labor unions and anar­chists to, over time, Com­mu­nists, black rad­i­cals, neigh­bor­hood orga­ni­za­tions and New Left groups. Frank Don­ner, in Pro­tec­tors of Priv­i­lege: Red Squads and Police Repres­sion in Urban Amer­i­ca, writes that offi­cers stole mail­ing lists, bur­glar­ized homes and main­tained files on hun­dreds of thou­sands of Chicagoans. One small com­mu­ni­ty orga­ni­za­tion was infil­trat­ed ​"appar­ent­ly … because it opposed a cross-town express­way." CPD launched its first effort at high-tech sur­veil­lance in the 1960s, using tele­pho­to cam­eras to doc­u­ment the faces of pro­test­ers and rioters.
In 1982, a class action law­suit quelled such abus­es when a fed­er­al judge imposed a con­sent decree on the city of Chica­go that pro­hib­it­ed ​"inves­tiga­tive activ­i­ty … that is direct­ed toward First Amend­ment conduct."
How­ev­er, play­ing on fear of black gangs and ter­ror­ism, May­or Richard M. Daley con­vinced a fed­er­al court to ease the rules in 2001. The fol­low­ing year, under­cov­er police infil­trat­ed meet­ings of the Amer­i­can Friends Ser­vice Com­mit­tee, a Quak­er orga­ni­za­tion. In 2009, a judge dis­solved the con­sent decree in full. In oth­er words, at a time when CPD was test­ing out a new fusion cen­ter and an arse­nal of high-tech sur­veil­lance gad­gets such as stingrays, it was freed from the over­sight that pro­tect­ed Chicagoans from inves­ti­ga­tion for exer­cis­ing the First Amend­ment. Police could again con­duct secret sur­veil­lance, so long as they filled out a brief ​"First Amend­ment work­sheet" and received depart­men­tal approval.
Whom they chose to sur­veil was in keep­ing with the department's long his­to­ry. In addi­tion to its covert obses­sion with activists, the depart­ment has nev­er giv­en up its day-to-day focus on the poor and work­ing class. Today, African Amer­i­cans are the city's low­est-income racial group. Although they com­prise only one-third of the city's pop­u­la­tion, an analy­sis of 2010 arrest rates con­duct­ed by In These Times shows that 72 per­cent of all CPD arrests were of black res­i­dents (most fre­quent­ly for alleged drug vio­la­tions). Sim­i­lar­ly, an ACLU of Illi­nois report released in March found that black Chicagoans were sub­ject to 72 per­cent of ​"stop and frisks."
Malkia Cyril, the founder and exec­u­tive direc­tor of the Cen­ter for Media Jus­tice, wrote in a recent Huff­in­g­ton Post op-ed that ​"indis­crim­i­nate and covert col­lec­tion of pri­vate data expe­dites, expands and entrench­es" such dis­crim­i­na­to­ry policing.
CPD meets Big Data
In 2003, the Chica­go Police Depart­ment intro­duced Police Obser­va­tion Devices, or POD cam­eras — 30 large blue-and-white box­es mount­ed on poles — with the aim of film­ing open-air drug mar­kets. In March 2005, the city trum­pet­ed the program's first suc­cess. Cam­era oper­a­tors had spot­ted hand-to-hand drug trans­ac­tions and noti­fied a gang unit, which arrest­ed three alleged West Side dealers.
Despite this slow start, CPD tech wun­derkind Ron Huber­man, the founder of the pro­gram, tout­ed the cam­eras as ​"the future of crime fight­ing." Giv­ing a tour of the con­trol cen­ter to a Wired mag­a­zine writer in 2005, Huber­man showed off the cam­eras, becom­ing agi­tat­ed when he spot­ted what he thought was a drug deal. ​"You see that guy? … He's pitch­ing dope — you can tell. Fuck­er," Huber­man is quot­ed as say­ing. They zoom in on the sus­pect ("so tight I can see the wisps of a mus­tache," the writer says) and see him hold­ing a brown bag and mon­ey. Huber­man threat­ens to call in a bust then and there, but relents, sav­ing the footage to use anoth­er day.
Evi­dent­ly inspired by the pro­gram even before the first arrests, in 2004 May­or Daley announced the cre­ation of Oper­a­tion Vir­tu­al Shield. In the down­town busi­ness dis­trict, 250 new cam­eras would be equipped with algo­rithms that could flag someone's behav­ior as sus­pi­cious and alert the police.
These cam­eras proved a mod­est begin­ning to what would become the ​"most exten­sive and inte­grat­ed" sur­veil­lance net­work in the coun­try, accord­ing to for­mer DHS Sec­re­tary Michael Chertoff. Fund­ed by tens of mil­lions of dol­lars in DHS grants, Chicago's net­work has expand­ed to include cam­eras in more than 1,000 pri­vate busi­ness­es that have grant­ed access to the city, plus 7,000 cam­eras in pub­lic schools and 3,200 on Chica­go Hous­ing Author­i­ty prop­er­ty. (Notably, 84.9 per­cent of the city's pub­lic-school stu­dents and 93 per­cent of CHA house­holds are black or Lati­no.) Anoth­er 23,000 cam­eras have been installed in Chica­go Tran­sit Author­i­ty sta­tions, bus­es and trains.
By 2011, the last time CPD released com­plete stats, the num­ber of POD cam­eras had swelled to more than 1,200. Of the 632 POD address­es cur­rent­ly list­ed on CPD's web­site, more than 90 per­cent are in com­mu­ni­ties of col­or, pri­mar­i­ly in the city's low-income South and West Sides.
When CPD boast­ed in 2013 that the sur­veil­lance net­work had led to 4,500 arrests in a four-year span, Adam Schwartz, an ACLU attor­ney in Illi­nois, not­ed that this was less than 1 per­cent of all arrests. Numer­ous stud­ies have shown that video cam­eras don't reduce vio­lent crime and do lit­tle to curb prop­er­ty crime. Giv­en this, the ACLU won­ders why Chicagoans should give up so much pri­va­cy, not­ing that the cam­eras' zoom func­tions allow oper­a­tors to close­ly watch tar­gets and peer into cars and windows.
Mean­while, in 2005, the depart­ment secret­ly bought its first stingray equip­ment, tak­ing advan­tage of an Illi­nois law allow­ing police to make pur­chas­es out­side the nor­mal bud­getary and pro­cure­ment process­es by using seized drug mon­ey. Between 2009 and 2014, CPD acquired mul­ti­ple upgrades to its orig­i­nal devices, as well as Amber­Jack and King­Fish attachments.
While it was buy­ing stingrays, CPD intro­duced auto­mat­ic license plate read­ers (ALPRs) with some fan­fare. In 2006, Police Super­in­ten­dent Phil Cline unveiled to the Chica­go Sun-Times a ​"futur­is­tic squad car" out­fit­ted with an ALPR that could scan 3,600 plates per hour, auto­mat­i­cal­ly cat­a­loging the date, time and GPS loca­tion in a cen­tral data­base. Police would be alert­ed if their car's scan­ner caught a plate on a ​"hot list" of want­ed vehi­cles. A 2007 CPD report explained that the ALPR-equipped cars were sent to high-crime neigh­bor­hoods, as well as ​"demon­stra­tions and numer­ous spe­cial events through­out the city."
Today, of CPD's 25 ALPR-equipped squad cars, 22 are assigned to police dis­tricts and patrol areas with major­i­ty non-white pop­u­la­tions. The five major­i­ty white dis­tricts share three of the cars. The depart­ment has also installed plate-scan­ning soft­ware in its POD cameras.
The cam­eras auto­mat­i­cal­ly send license-plate scans to a police data­base, which offi­cers can check when­ev­er they're curi­ous about where a cer­tain car has trav­eled. The CPD also sub­scribes to a pri­vate ALPR data­base that lets it run plates against more than 3 bil­lion records.
This reten­tion of data is what most wor­ries the ACLU's Schwartz: ​"If you have hun­dreds of ALPRs around your city cap­tur­ing hun­dreds of license plates every hour … you can punch in somebody's license plate num­ber and see where they've been, or after the fact, you can punch in the loca­tion of a protest three years ago and see who was there."
The return of the Red Squad?
Chicago's $1 mil­lion fusion cen­ter, opened in 2008, is staffed with rotat­ing agents from the FBI, DHS and Drug Enforce­ment Agency, among oth­ers. They have access to a stream of data from 911 calls, mug shots, video feeds and police reports. The cen­ter got a makeover in 2014, with new wall-to-wall mon­i­tors pip­ing in the feeds from the city's sur­veil­lance cam­era net­work. Grant­ed a tour in June 2014, NBC Chica­go report­ed that if sur­veil­lance cam­eras rec­og­nize a tar­get, a match­ing mug shot and crim­i­nal his­to­ry appear on a mon­i­tor, sug­gest­ing that the fusion cen­ter runs advanced facial recog­ni­tion soft­ware. (CPD nev­er respond­ed to an In These Times request for a visit.)
Else­where, fusion cen­ters have tak­en their coun­tert­er­ror­ism man­date as license to sur­veil Mus­lims. A doc­u­ment trove released to the ACLU in North­ern Cal­i­for­nia in 2013 shows that fear of Mid­dle East­ern men ani­mates many of the ​"sus­pi­cious activ­i­ty reports" broad­cast from Cal­i­for­nia fusion cen­ters. Sam­ples include ​"Sus­pi­cious ME [Mid­dle East­ern] Males Buy Sev­er­al Large Pal­lets of Water," and ​"Two mid­dle east­ern look­ing males tak­ing pho­tographs of Fol­som Dam."
There have been no such accounts in Chica­go. How­ev­er, its fusion cen­ter appears typ­i­cal of a trend iden­ti­fied in a 2012 U.S. Sen­ate report: Many cen­ters have lost track of their coun­tert­er­ror­ism direc­tive. Chica­go police are direct­ed to noti­fy the fusion cen­ter of ​"any sig­nif­i­cant or news­wor­thy event with­in the city" (empha­sis in orig­i­nal). Of the more than 30 events list­ed as exam­ples, most are run-of-the-mill polic­ing. One, how­ev­er, stands out: Police are direct­ed to report ​"infor­ma­tion con­cern­ing strikes, labor-man­age­ment inci­dents or union con­tro­ver­sies or the pos­si­bil­i­ty there­of." CPD has yet to respond to a Novem­ber 2014 In These Times FOIA request ask­ing for exam­ples of reports cod­ed under this category.
It's clear that the cen­ter keeps a close eye on labor actions once they spill into the streets, along with all oth­er protests and march­es. In ​"pri­vate sec­tor home­land secu­ri­ty brief­in­gs," the fusion cen­ter and CPD assem­ble impres­sive lists of upcom­ing ral­lies and actions. It then sends the sched­ule out to down­town office build­ing man­agers and secu­ri­ty teams. One such brief­ing from August 2013 lists six upcom­ing events, includ­ing an anti-drone protest, ral­lies for women's rights and ani­mal lib­er­a­tion, protests against banks and Boe­ing head­quar­ters, and a march on City Hall ​"to stop police crimes." The list is sand­wiched between news of glob­al vio­lence — Egypt­ian police killed in an ambush, a Mis­soula bomb scare — and ​"sig­nif­i­cant dates" that tend heav­i­ly toward ter­ror­ism, such as the five-year anniver­sary of a sui­cide bomb­ing in Pak­istan. A dis­claimer on the brief­ing ​"rec­og­nizes that Amer­i­cans have con­sti­tu­tion­al­ly pro­tect­ed rights to assemble."
How police and fusion cen­ter staffers get the protest infor­ma­tion isn't clear — whether through protest per­mits, infil­tra­tors, stingrays, scour­ing of social media sites or some com­bi­na­tion there­of. Jack­son Pot­ter, a staff coor­di­na­tor for the Chica­go Teach­ers Union (CTU), tells In These Times that both police and school board mem­bers reg­u­lar­ly com­ment on things that are dis­cussed in closed-door union meet­ings before they're made pub­lic, though he thinks this is like­ly a func­tion of moles cul­ti­vat­ed by the school board, not police infil­tra­tors. In 2012, the union expelled ​"for life" a CTU del­e­gate whom FOIA requests revealed to be an infor­mant for the school board, just as the union was prepar­ing for a major strike.
Pot­ter stress­es that the union has a good rela­tion­ship with the city police, which he chalks up to work­ing-class sol­i­dar­i­ty. But he says he's not naïve about being tar­get­ed and sus­pects the police have files on many of the active CTU mem­bers and their com­mu­ni­ty part­ners. He says that when the union applies for protest per­mits, offi­cers will some­times say, ​"We were won­der­ing when you were going to call about this."
Once the police arrive at a protest, they make no secret of some of their sur­veil­lance activ­i­ties. Chica­go attor­ney Jer­ry Boyle recalls that police ​"had the full-blown oper­a­tion going" at a thou­sands-strong Take Back Chica­go ral­ly on Octo­ber 10, 2011, where Occu­py Chica­go, unions and grass­roots groups gath­ered to high­light the many ways big banks had dev­as­tat­ed the city. Sur­veil­lance vans, under­cov­er offi­cers and hand­held cam­eras were all deployed, says Boyle, a long-time legal observ­er for the Nation­al Lawyers Guild.
At protests and polit­i­cal events across the city, includ­ing the CTU pick­et lines in 2012 and recent demon­stra­tions against police tor­ture (after the Guardian revealed abus­es at a Chica­go police deten­tion facil­i­ty known as Homan Square), CPD offi­cers rou­tine­ly point cam­eras at crowds, some­times shov­ing them in pro­test­ers' faces. Babur Balos, a Chica­go orga­niz­er, sees the cam­eras as intim­i­da­tion. He jokes, ​"I think they're run­ning emp­ty cam­eras." CPD used that tac­tic in the 1960s.
The ques­tion remains: Is CPD using covert high-tech sur­veil­lance — stingrays, ALPRs — to inves­ti­gate activists? Since the lift­ing of the con­sent decree in 2009, CPD intel­li­gence units have con­duct­ed at least six ​"intel­li­gence gath­er­ing" inves­ti­ga­tions into First Amend­ment-pro­tect­ed activ­i­ties (one launched sev­er­al months before the decree offi­cial­ly end­ed), accord­ing to doc­u­ments released in March to the Chica­go Read­er. The redact­ed doc­u­ments show that police uti­lized ​"elec­tron­ic sur­veil­lance" and ​"under­cov­er meth­ods" against Occu­py Chica­go and pro­test­ers of the 2012 NATO Sum­mit in Chica­go. Anoth­er ​"intel­li­gence gath­er­ing" mis­sion began on Novem­ber 7, 2014, two days after a protest against police bru­tal­i­ty at CPD head­quar­ters and as the Black Lives Mat­ter move­ment was gain­ing steam in Chicago.
There's no spec­i­fi­ca­tion as to what ​"elec­tron­ic sur­veil­lance" means, but giv­en the indi­ca­tion that CPD used a stingray at the Black Fri­day protest in 2014 and its admis­sion of deploy­ing ALPRs at demon­stra­tions in 2007, it could very well be using this gear to sur­veil activists. At the height of the 20th cen­tu­ry Red Squad, offi­cers wrote down license plate num­bers out­side meet­ing spots and protest sites, and stole mail­ing lists to map social con­nec­tions. Today, a stingray deployed at the edge of an event, or an ALPR-equipped squad car cir­cling through a union hall park­ing lot, could replace much of that legwork.
In the past, offi­cers would use this type of infor­ma­tion to harass activists, tip off employ­ers and land­lords to the activ­i­ties of their work­ers and ten­ants, and cre­ate mas­sive police files. With­out court over­sight, the only things pre­vent­ing a return to such prac­tices are the per­son­al­i­ties of CPD offi­cials and the pro­fes­sion­al stan­dards to which they hold themselves.
Keep it like a secret
In These Times sub­mit­ted 11 FOIA requests in Novem­ber 2014 on a vari­ety of CPD high-tech sur­veil­lance activ­i­ties. After request­ing exten­sions, the depart­ment has giv­en par­tial answers to three of the 11 requests. Revised requests have yet to receive a response. The out­stand­ing requests include files on indi­vid­ual activists, video footage from demon­stra­tions and audits of offi­cers abus­ing depart­ment com­put­er systems.
Despite its appar­ent reluc­tance to dis­close details of its spy­ing, CPD active­ly pro­motes an image as an eager adopter of tech­nol­o­gy. In 2013, Chica­go police claimed to have made the country's first facial recog­ni­tion tech­nol­o­gy (FRT)-assisted arrest, cap­tur­ing a phone thief's face on a train sta­tion cam­era and match­ing it to pre­vi­ous mug shots. How­ev­er, in response to FOIA requests from In These Times and tech web­site The Verge, CPD said a search of records since 2013 turned up no ref­er­ence to facial recog­ni­tion tech­nol­o­gy. The Verge reports that the sus­pect­ed phone thief's arrest report did not men­tion FRT and his pub­lic defend­er was led to believe his client was iden­ti­fied in a police lineup.
To be fair, when it comes to dis­clos­ing its use of high-tech sur­veil­lance, CPD is a bit damned if it does, damned if it doesn't: sub­ject to FOIA law­suits if it with­holds infor­ma­tion, but under duress from fed­er­al agen­cies and tech­nol­o­gy man­u­fac­tur­ers to stay mum.
In Decem­ber 2014, for exam­ple, the FBI and Har­ris — the defense con­trac­tor that man­u­fac­tures StingRay — sup­port­ed the CPD's motion to the Cook Coun­ty Cir­cuit Court to dis­miss Martinez's FOIA law­suit. The FBI argued that the release of infor­ma­tion on StingRay would vio­late the Home­land Secu­ri­ty Act and oth­er fed­er­al laws, while Har­ris claimed that its pro­pri­etary trade secrets would be compromised.
The affi­davits also not­ed the penal­ties CPD would face if it caved. Har­ris said that a release of its man­u­als or guides ​"would make it dif­fi­cult for Har­ris to con­tin­ue pro­vid­ing equip­ment." Bradley Mor­ri­son, head of the FBI's tech­nol­o­gy track­ing unit, wrote a stern­er admo­ni­tion, claim­ing that dis­clos­ing details about StingRay could vio­late the Inter­na­tion­al Traf­fic in Arms Reg­u­la­tions, ​"a felony pun­ish­able by up to 20 years impris­on­ment and up to $1 mil­lion per occurrence."
Doc­u­ments released in the course of the law­suit sug­gest that CPD is not just hid­ing stingrays from the pub­lic, but also from judges, through an arcane trick police have used else­where across the coun­try. Police can ask a judge for a ​"pen reg­is­ter" court order to obtain a phone's incom­ing and out­go­ing call infor­ma­tion from a cell phone com­pa­ny. In Wash­ing­ton, Flori­da and Mary­land, court cas­es have shown that police rou­tine­ly seek pen reg­is­ter court orders to request infor­ma­tion that — unbe­knownst to the judges — they've already pro­cured, or plan to pro­cure, via stingrays, thus cov­er­ing up stingray use while secur­ing nom­i­nal authorization.
Since July 2013, the Chica­go Police Depart­ment has applied for at least 14 court orders that Sgt. Jack Cos­ta wrote in an affi­davit he ​"under­stood to autho­rize the use of" stingrays. The depart­ment refus­es to pro­duce these court orders, cit­ing a fed­er­al law that allows pen reg­is­ter orders to be sealed. Despite hav­ing obtained the court orders, CPD claimed in a Feb­ru­ary response to anoth­er FOIA request that it had not used stingrays in the pre­vi­ous five months (a time span that includes the sus­pect­ed police eaves­drop­ping on the 2014 Black Fri­day march).
Privacy's defend­ers
As tech­nolo­gies pro­lif­er­ate, loca­tion pri­va­cy has become a para­mount con­cern to the ACLU and civ­il lib­er­ties groups such as the Elec­tron­ic Fron­tier Foun­da­tion (EFF). Both stingrays and ALPRs, through their abil­i­ties to track his­tor­i­cal and real-time loca­tion data, can vio­late loca­tion pri­va­cy, which the EFF con­sid­ers a human right. Even the Inter­na­tion­al Asso­ci­a­tion of Chiefs of Police — a pro­fes­sion­al orga­ni­za­tion orig­i­nal­ly found­ed by Chica­go police to track and detain fugi­tives — has raised con­cerns about the pri­va­cy prob­lems posed by new technology.
Reg­u­la­tion efforts are tak­ing shape, such as a pend­ing Illi­nois Sen­ate bill draft­ed by the ACLU that would lim­it police use of ALPRs to open inves­ti­ga­tions and lim­it the data reten­tion peri­od to 30 days. Sim­i­lar efforts to force police to obtain search war­rants to use stingrays have gained ground in a hand­ful of states.
But even with reg­u­la­tion of high-tech sur­veil­lance, the ques­tion, chant­ed often at police offi­cers dur­ing street protests, still stands: ​"Who do you pro­tect? Who do you serve?"
Accord­ing to Sam Mitrani, when left­ist move­ments in the 19th cen­tu­ry and mid-20th cen­tu­ry real­ized that police were not work­ing in their inter­ests, huge mobi­liza­tions won con­ces­sions. More immi­grants were hired to the force, and some of the worst civ­il rights vio­la­tions were curbed. With a new move­ment for police reform and account­abil­i­ty swelling today, Mitrani says, ​"The more peo­ple who stand up and fight, the more demands they can make, the bet­ter off every­one will be."
This arti­cle was sup­port­ed by a grant from the Leonard C. Good­man Insti­tute for Inves­tiga­tive Report­ing.
Joel Han­d­ley
, a for­mer assis­tant edi­tor at In These Times, is a Chica­go-based inde­pen­dent jour­nal­ist and free­lance editor.