Chicago Police Tight-lipped About Use of License Plate Scanners, Despite $500,000 New Contract
A secretive contracting process—and limited responses to information requests—leave Chicagoans in the dark about how their license plate data is being collected and used.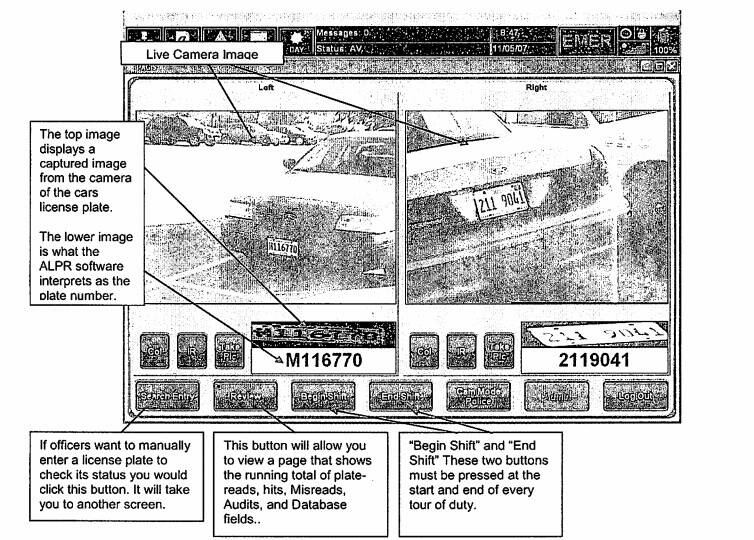 "We Sur­veil and Pro­tect" is an ongo­ing inves­ti­ga­tion into the tech­niques and tech­nol­o­gy that the Chica­go Police Depart­ment employs to spy on activists, unions and heav­i­ly policed com­mu­ni­ties of color.
Vigilant Solution's NVLS database grew from 1 billion records in 2013 to more than 3 billion today—an average of 12 license-plate scans for each of the 253 million vehicles in the United States—and adds more than 70 million new scans every month.
To sell law enforce­ment on its nation­wide net­work of auto­mat­ic license plate read­ers (ALPRs), Vig­i­lant Solu­tions tells the sto­ry of a fugitive's appre­hen­sion. In ear­ly 2013, a Long Beach, Cal­i­for­nia detec­tive entered the license plate num­ber of a long-sought cred­it-card fraud­ster into Vigilant's Nation­al Vehi­cle Loca­tion Ser­vice (NVLS) data­base, which con­tained 1 bil­lion scans of plates, com­piled from both pri­vate and law enforce­ment-run ALPR net­works. Up popped pho­tographs of the suspect's car, tagged with the date, time and GPS loca­tion. Many of the recent sight­ings were in Chica­go park­ing lots. The detec­tive asked for help from the U.S. Marshal's Chica­go office, which found and arrest­ed the sus­pect, and extra­dit­ed her back to California.
This account, from a Vig­i­lant press release, is the only pub­licly avail­able record of a spe­cif­ic arrest made in Chica­go using ALPR tech­nol­o­gy, despite the fact that the Chica­go Police Depart­ment has used license plate scan­ners since at least 2006 and began using Vigilant's soft­ware and data­base in Sep­tem­ber 2013.
As with oth­er high-tech sur­veil­lance gear, the city keeps infor­ma­tion about the ALPR pro­grams under tight seal. And with no reg­u­la­tions to gov­ern — or man­dates to dis­close — how and when police depart­ments use license plate data, the pub­lic has no way of know­ing the full scope of this per­va­sive technology.
Yet recent infor­ma­tion obtained by In These Times sug­gests that the use of ALPRs in Chica­go, while shroud­ed in secre­cy, is wide­spread and accelerating.
Last month, Chicago's Office of Emer­gency Man­age­ment and Com­mu­ni­ca­tions (OEMC) — which pur­chas­es equip­ment for CPD, runs the city's vast sur­veil­lance cam­era net­work, and is a fre­quent part­ner in sur­veil­lance with the police — made a $500,000 agree­ment with Vig­i­lant Solu­tions for ​"license plate recog­ni­tion soft­ware and data­base man­age­ment ser­vices." That brief descrip­tion, found in a month­ly sum­ma­ry of the city's pro­fes­sion­al ser­vices con­tracts, accounts for the entire­ty of the pub­licly avail­able infor­ma­tion about the agreement.
The Chica­go Police Depart­ment (CPD) has also been slow to pro­vide infor­ma­tion to In These Times about its use of ALPR. The depart­ment has yet to respond to two Free­dom of Infor­ma­tion Act requests sub­mit­ted by In These Times on Nov. 25, 2014, seek­ing doc­u­men­ta­tion of the CPD's rela­tion­ship with Vig­i­lant Solu­tions and oth­er pri­vate ALPR firms. The depart­ment asked for a one-month exten­sion, but that date has passed. The CPD did respond to a third FOIA request con­cern­ing the use of its in-house ALPR pro­gram. But the data it pro­vid­ed is dif­fi­cult to rec­on­cile with pre­vi­ous­ly report­ed num­bers. The CPD Office of News Affairs has ignored mul­ti­ple requests by In These Times to speak with offi­cials knowl­edge­able who can clar­i­fy the data and shed light on the department's use of ALPR technology.
Much to be LEARNed
The lack of infor­ma­tion about the new Vig­i­lant con­tract is due to an unusu­al­ly secre­tive process. Most OEMC soft­ware pur­chas­es are approved by the city's Depart­ment of Pro­cure­ment Ser­vices, which posts its con­tracts in an eas­i­ly search­able pub­lic data­base. The Vig­i­lant con­tract, how­ev­er, was approved by Chicago's Pub­lic Build­ing Com­mis­sion (PBC), a city agency chaired by May­or Rahm Emanuel, whose board includes Chica­go school board pres­i­dent David Vitale, Cook Coun­ty Board Pres­i­dent Toni Preck­win­kle and oth­er board-hop­ping civic leaders.
The PBC's mis­sion is to over­see the con­struc­tion and main­te­nance of build­ings. The agency often does not pub­lish the full text of its con­tracts and, unusu­al­ly, did not assign the Vig­i­lant agree­ment a con­tract number.
A spokesper­son for the PBC, Mol­ly Sul­li­van, told In These Times that the con­tract had like­ly not been post­ed because of ​"secu­ri­ty rea­sons," and that to see the text, one would need to make a Free­dom of Infor­ma­tion Act request. She declined to answer fur­ther ques­tions about the specifics of the agree­ment and the deci­sion to advance the con­tract through the PBC instead of the Depart­ment of Pro­cure­ment Services.
On Feb­ru­ary 17, In These Times sub­mit­ted four new FOIA requests with the PBC, OEMC, and Depart­ment of Pro­cure­ment Ser­vices ask­ing for all agree­ments with Vig­i­lant Solu­tions and oth­er ALPR com­pa­nies. (Odd­ly, the list­ing for the Vig­i­lant con­tract on the PBC's site now says ​"pro­gram wide" where it said ​"Office of Emer­gency Man­age­ment and Com­mu­ni­ca­tions." The change occurred since Feb­ru­ary 17.)
Although the city did not name the license plate recog­ni­tion soft­ware it acquired, the only ALPR soft­ware cur­rent­ly offered by Vig­i­lant Solu­tions is the Law Enforce­ment Archival and Report­ing Net­work (LEARN). Vigilant's flag­ship soft­ware allows police to pin­point the loca­tions of vehi­cles through search­es of the 3 bil­lion records in the NVLS data­base, as well as loca­tion data sup­plied by a client's own ALPR cam­eras. Users can search by loca­tion and time, or by license plate number.
Police depart­ments can share data direct­ly with oth­er agen­cies or upload it to the NVLS for all law enforce­ment part­ners to see.
The CPD and the Crime Pre­ven­tion and Infor­ma­tion Cen­ter — the Chica­go ​"fusion" cen­ter, where fed­er­al intel­li­gence agents and state and local law enforce­ment share infor­ma­tion — have appar­ent­ly been using LEARN since late 2013. A Depart­ment Notice dat­ed Sep­tem­ber 10, 2013 said that Chica­go police, under the com­mand of the fusion cen­ter, would take part in a LEARN pilot pro­gram. A select num­ber of offi­cers would be trained as LEARN oper­a­tors, while the fusion cen­ter would be respon­si­ble for man­ag­ing ​"any hot list used or cre­at­ed" by CPD offi­cers. (A hot list can include any num­ber of license plates, such as those belong­ing to stolen vehi­cles, that, when cap­tured by an ALPR cam­era, will auto­mat­i­cal­ly alert police.)
How­ev­er, no LEARN-relat­ed con­tracts or agree­ments are pub­licly avail­able, and the exis­tence of the pro­gram has, until now, gone unre­port­ed in the news. That kind of secre­cy is not unusu­al: A LEARN con­tract obtained by the Elec­tron­ic Fron­tier Foun­da­tion pro­hibits users from doing any pub­lic­i­ty around the pro­gram with­out writ­ten con­sent from Vig­i­lant. The pro­vi­sion, Vig­i­lant says, is ​"specif­i­cal­ly intend­ed to pro­hib­it users from coop­er­at­ing with any media out­let to bring atten­tion to LEARN."
One of the FOIA requests that In These Times sub­mit­ted to the CPD in Novem­ber 2014 asked for the num­ber of offi­cers trained as LEARN oper­a­tors and records of the fusion center's audits of the hot lists. CPD has not yet ful­filled the request.
Do the CPD's num­bers add up?
The Chica­go Police Depart­ment did respond, in part, to In These Times' request for infor­ma­tion about ALPR cam­eras the CPD owns and oper­ates. How­ev­er, the response sug­gests that the depart­ment is either wild­ly under­rep­re­sent­ing the amount of data the cam­eras col­lect or not keep­ing ade­quate records.
Like many police depart­ments across the coun­try, the CPD mounts ALPR cam­eras on the roofs of select squad cars, which con­tin­u­ous­ly scan plates while in oper­a­tion. Inte­grat­ed with the in-vehi­cle com­put­er and updat­ed every morn­ing with the lat­est data from hot lists, these ALPR sys­tems inform offi­cers when the cam­era picks up the license plate of a want­ed vehi­cle. All of the accrued license plate data — with or with­out sus­pi­cion of crim­i­nal­i­ty — is sent to a depart­ment-run database.
The depart­ment cur­rent­ly has 25 ALPR-equipped squad cars in ser­vice and anoth­er five down for repair, accord­ing to the CPD's Jan­u­ary 21 response to In These Times' FOIA request. (Four ALPR units have appar­ent­ly been junked.)
When the Chica­go Sun-Times report­ed on the launch of the pro­gram in May 2006, the depart­ment owned just one car and one van equipped with ALPR. By the end of June 2007, accord­ing to a 2007 ​"Tech­nol­o­gy Update" report pre­pared by the CPD's Infor­ma­tion Ser­vices Divi­sion, the fleet had grown to 15, and more than 7 mil­lion plates had been scanned, Accord­ing to an inter­nal CPD doc­u­ment released to the ACLU, by Jan. 5, 2010 the ALPR fleet had grown to ​"approx­i­mate­ly forty" vehi­cles and had scanned more than 500 mil­lion plates.
It comes as some sur­prise, then, that the CPD's FOIA response puts the total num­ber of plates scanned at 2.5 mil­lion — a 497.5 mil­lion drop from five years pri­or. This does not include records before May 2008, which the depart­ment says that it has not main­tained, and there­fore can­not tal­ly. But that would mean that 99 per­cent of the 500 mil­lion scans occurred between July 2007 and May 2008 — and that in 2010, a fleet that had dou­bled in size was col­lect­ing a frac­tion of the data.
The police department's FOIA response also gives the impres­sion that even as the ALPR-equipped fleet grew, use of the scan­ners to find stolen vehi­cles and make arrests fell abrupt­ly after 2008. The depart­ment says that ​"a man­u­al count" of such records per­formed in 2013 ​"revealed that there were 99 inci­dents in which stolen vehi­cles were recov­ered and arrests made with the help of ALPR tech­nol­o­gy between March 2008 and March 2013." But in 2007, the Infor­ma­tion Ser­vices Divi­sion cit­ed much high­er num­bers for the first year of the pro­gram, brag­ging that ALPRs had ​"result­ed in more than 743 recov­ered stolen vehi­cles, 15 recov­ered weapons, 103 asso­ci­at­ed drug recov­er­ies … [and] led to 371 active arrests" since the start of the program.
The department's Office of News Affairs declined In These Times' request to speak with an offi­cial about these dis­crep­an­cies, and did not respond to fol­low-up questions.
Sell­ing license-plate data to police: a boom­ing business
As the costs of man­u­fac­tur­ing cam­eras and stor­ing enor­mous amounts of data con­tin­ue to fall, the use of ALPRs has pro­lif­er­at­ed in the 21st cen­tu­ry. In the past decade, they have become a ubiq­ui­tous tool for law enforce­ment agen­cies and pri­vate indus­tries across the coun­try — stok­ing wor­ries among pri­va­cy advo­cates about large amounts of per­son­al data stored with few protections.
Ear­li­er this year, doc­u­ments released to the ACLU and addi­tion­al report­ing by the Wall Street Jour­nal revealed that the Drug Enforce­ment Agency (DEA) had cre­at­ed its own ALPR net­work and data­base, acces­si­ble to law enforce­ment agen­cies across the coun­try. That the DEA's ALPR cam­eras can also cap­ture pas­sen­gers' faces height­ened the con­cerns of civ­il lib­er­ty groups.
Vig­i­lant Solution's NVLS data­base grew from 1 bil­lion records in 2013 to more than 3 bil­lion today — an aver­age of 12 license-plate scans for each of the 253 mil­lion vehi­cles in the Unit­ed States — and adds more than 70 mil­lion new scans every month. Vig­i­lant says its LEARN soft­ware, specif­i­cal­ly designed for law enforce­ment, is used by more than 2,200 agen­cies across the coun­try. And Vig­i­lant is just one of many com­pa­nies jock­ey­ing for dom­i­nance in the ever-grow­ing industry.
Val­ued at $415.5 mil­lion in 2013, the glob­al ALPR indus­try is expect­ed to reach $1 bil­lion by 2020, accord­ing to mar­ket analy­sis firm Trans­paren­cy Mar­ket Research. Sev­er­al pri­vate data­base and soft­ware sys­tem providers, includ­ing MVTRAC, ELSAG, and oth­ers, also col­lect and share loca­tion data. These com­pa­nies mar­ket ALPRs and their atten­dant data not only to law enforce­ment, but to any com­pa­ny or gov­ern­ment agency inter­est­ed in track­ing vehi­cles: repos­ses­sion busi­ness­es, depart­ments of rev­enue, insur­ance and finan­cial ser­vices firms, toll booth and park­ing lot oper­a­tors, pri­vate secu­ri­ty and detec­tive ser­vices, and more.
How­ev­er, there are no fed­er­al laws reg­u­lat­ing law enforce­ment use of ALPRs or restrict­ing access to data­bas­es. Illi­nois, like 39 oth­er states, does not have any state-imposed reg­u­la­tions. And, accord­ing to the ACLU, police depart­ments are loathe to cre­ate any inter­nal poli­cies that would restrict their ALPR pro­grams. How wide­ly ALPR data is shared between police depart­ments, fed­er­al agen­cies and the pri­vate data­bas­es that sell that infor­ma­tion to any­one will­ing to pay, is unknown.
Vig­i­lant Solu­tions says that each client's pref­er­ences, poli­cies and applic­a­ble laws lim­it how its data are stored and shared. Mean­while, the com­pa­ny fights reg­u­la­tions pro­posed in state leg­is­la­tures, includ­ing efforts in Arkansas, Min­neso­ta, Utah, and Ver­mont.
In its response to In These Times' FOIA request, the CPD said it ​"has not shared ALPR data with any oth­er out­side law enforce­ment or intel­li­gence agen­cies." But that begs the ques­tion of why CPD's use of Vigilant's LEARN soft­ware is under the com­mand of the fusion cen­ter — whose explic­it mis­sion is infor­ma­tion-shar­ing among law enforce­ment and intel­li­gence agencies.
In These Times will con­tin­ue to push CPD to pro­vide respons­es to eight unful­filled FOIA requests from Novem­ber 2014 regard­ing police use of a num­ber of sur­veil­lance tech­nolo­gies, includ­ing ALPR — plus the four fol­low-up requests regard­ing ALPR — and to give a clear expla­na­tion of the con­flict­ing ALPR numbers.
This inves­ti­ga­tion is fund­ed by the Leonard C. Good­man Insti­tute for Inves­tiga­tive Report­ing.
Joel Han­d­ley
, a for­mer assis­tant edi­tor at In These Times, is a Chica­go-based inde­pen­dent jour­nal­ist and free­lance editor.