Alaska Grassroots Alliance Aim To Melt GOP's Cold Cold Heart
Armed with hot cocoa and a smile, these progressives have spent all year protesting Trump-era policies.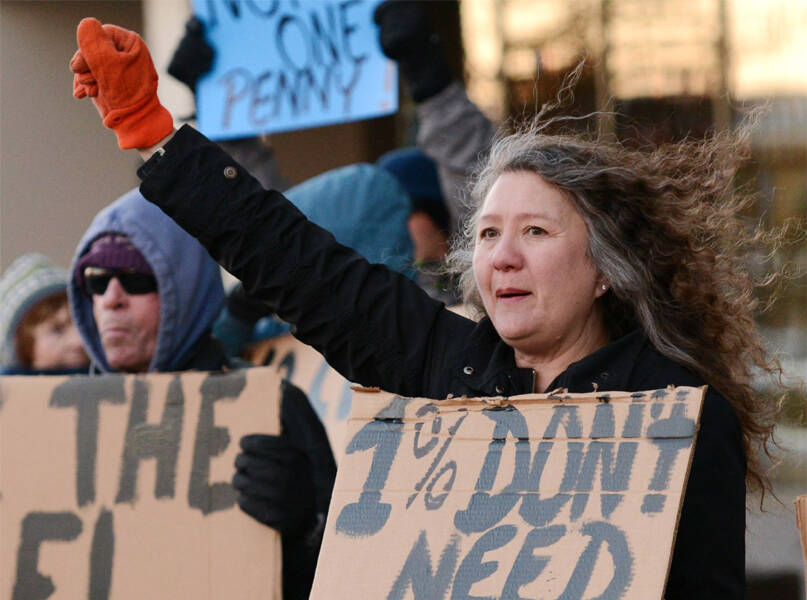 ANCHOR­AGE, ALAS­KA — On Nov. 14, 2017, bun­dled-up mem­bers of the Alas­ka Grass­roots Alliance gath­er on the side­walk out­side local offices of Sens. Lisa Murkows­ki and Dan Sul­li­van to protest the pend­ing Repub­li­can tax overhaul.
"You can't really afford to be nasty to anybody here because it might be your neighbor. Or you might be related to somebody. We want to get our point across but we think we can do it nicely."
Joni Bruner, an orga­niz­er with the Alliance, is wear­ing a puffy laven­der par­ka and tend­ing to urns of hot choco­late to for­ti­fy pro­test­ers against the sub­freez­ing tem­per­a­ture and the strong norther­ly wind. ​"It's real­ly cold," she says.
The Alliance serves as an umbrel­la for sev­er­al groups that have held ral­lies every Tues­day at the Anchor­age offices since Jan­u­ary 2017 in protest of Trump and con­gres­sion­al poli­cies. The Novem­ber event, adver­tised on Face­book as a ​"Tax Ral­ly & Hot Cocoa," drew about two dozen peo­ple. As pass­ing motorists honk in sup­port, pro­test­er George Beck, a retired teacher, explains that he con­sid­ers the tax bill to be ter­ri­ble policy.
"I'm cer­tain­ly against cut­ting all the ser­vices that are going to be cut because of these tax cuts for the wealthy," he says. He also sees the GOP approach as a reprise of the failed sup­ply-side eco­nom­ic the­o­ries of the 1980s. ​"You were there, right? Trick­le down? It didn't work in the Mid­dle Ages; still doesn't."
While the weath­er may be harsh, the atmos­phere of the ral­ly is friend­ly. Pro­test­ers have made a point of avoid­ing the antag­o­nism that has marked some of the ral­lies in the low­er 48 states, Bruner says. They know the names of most of the sen­a­tors' staffers, whether they have pets and what their favorite cup­cakes are.
The night of the health­care debate, Alliance mem­bers deliv­ered a cake to Murkowski's office. And they've kept up with one staffer through her preg­nan­cy and the birth of her baby.
"We've made pret­ty good friends with most of them," Bruner says. ​"You can't real­ly afford to be nasty to any­body here because it might be your neigh­bor. Or you might be relat­ed to some­body. We want to get our point across but we think we can do it nicely."
At one point, a woman comes out of the build­ing and asks the pro­test­ers to make space for a heater-repair van. (They do.) The woman turns out to be a nurse with whom Beck had worked at a local ele­men­tary school. They greet each oth­er with a quick hug. Beck chides her good-natured­ly for dash­ing out of the build­ing with­out her coat.
"You're not dressed for this," he says.
Pre­vi­ous­ly, some Alliance mes­sages seem to have made head­way, even though Alaska's three-mem­ber con­gres­sion­al del­e­ga­tion is all Repub­li­can. Most past ral­lies have focused at least in part on health­care, Bruner says. Murkows­ki became nation­al­ly famous as one of three GOP sen­a­tors to block the effort to strike down the Afford­able Care Act (ACA). Oba­macare is par­tic­u­lar­ly use­ful to Alas­ka res­i­dents; the state's small pop­u­la­tion and geo­graph­ic iso­la­tion make med­ical costs unsu­al­ly high and pri­vate insur­ers scarce.
"It feels like Lisa Murkows­ki lis­tened," says Lisa Brown, a social ser­vices work­er who, like oth­ers at the ral­ly, was hold­ing a sign read­ing, ​"LISA, DO THE RIGHT THING."
Two days after the Anchor­age ral­ly, the tax bill passed the House on a near-par­ty-line vote. No Democ­rats sup­port­ed it. Thir­teen Repub­li­cans broke with their par­ty to oppose it, but Alaska's sole House mem­ber, Don Young, was not among them. The bill then moved to the Senate.
Alliance mem­bers weren't sure if Murkows­ki would be on their side this time. She had been push­ing for Con­gress to allow oil drilling in the Arc­tic Nation­al Wildlife Refuge (ANWR) — a goal Alaskan politi­cians have pur­sued for decades. She has attached ANWR leg­is­la­tion to the same bud­get process used for the tax bill, which would shield it from fil­i­busters, low­er­ing the thresh­old for pas­sage from 60 votes to 51.
Still, Brown was opti­mistic that Murkows­ki would ​"do the right thing," recall­ing that the GOP's attempts to get Murkows­ki to sup­port the ACA repeal were unsuc­cess­ful. Beck was less confident.
"I think they final­ly fig­ured out some­thing that will real­ly get her re-elect­ed, which is what this is about," he says. It seems he was right.
On Nov. 29, 2017, Murkowski's office announced she was intend­ing to vote yes. As of press time, the bill had moved into debate, and was expect­ed to go to a vote shortly.