New York Isn't the Only City Waging a Fight Against Amazon
The corporate giant is still milking Nashville and other runners-up for further subsidies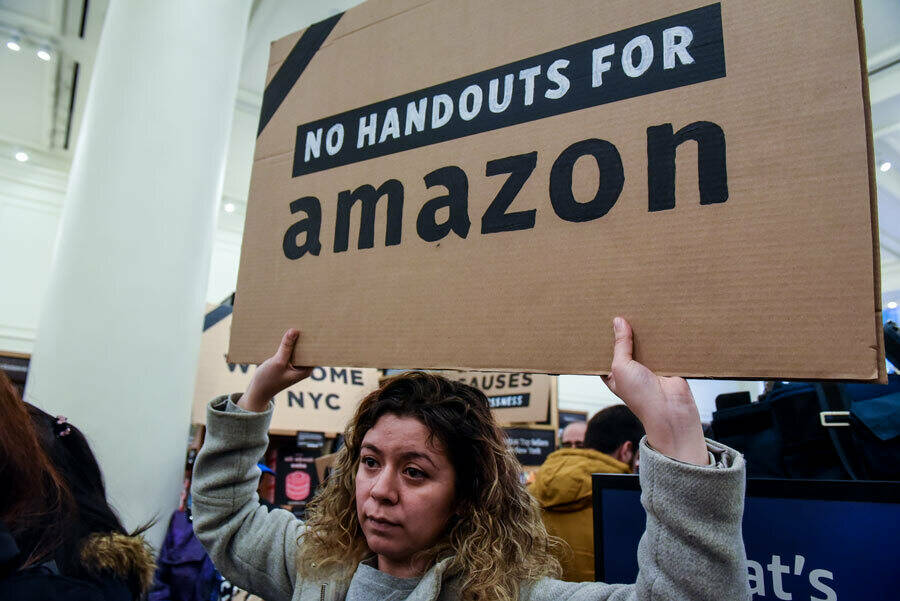 After this sto­ry went to press in the March issue of In These Times, Ama­zon backed out of its com­mit­ment to locate one of its two ​"HQ2" head­quar­ters in New York City, cit­ing oppo­si­tion from local law­mak­ers and res­i­dents. The sto­ry has been updat­ed to reflect.
HQ2 alerted the public to the long-running economic development subsidy scam, which nets corporations some $45 billion to $90 billion a year.
Nashville, Tenn. — Coun­ty employ­ee Richard Tip­pit approached the podi­um at a Jan­u­ary Metro Coun­cil meet­ing. Behind him, work­ers from local pub­lic-sec­tor unions held aloft a poster­board stamped ​"PAST DUE." Tip­pit began, ​"We're here tonight to deliv­er you an invoice for ser­vices per­formed by the employ­ees of Nashville Metro government."
He and his fel­low work­ers had come to col­lect $38 mil­lion in promised cost-of-liv­ing increas­es for 9,300 pub­lic employ­ees that the city had reneged on. ​"You paid every oth­er bill — you even added more bills," Tip­pit said, ​"but you didn't pay one of the most important."
"More bills" referred to a sore point: $15 mil­lion in sub­si­dies that Ama­zon extract­ed from the city in Novem­ber 2018 for a new logis­tics facil­i­ty. Ama­zon had effec­tive­ly jumped the line for pub­lic dol­lars ahead of Nashville's city workers.
Amazon's pro­posed 5,000-employee ​"Oper­a­tions Cen­ter of Excel­lence," which received an addi­tion­al $87 mil­lion in state sub­si­dies, was announced the same day as Amazon's new ​"HQ2" head­quar­ters in New York City and north­ern Vir­ginia. Nashville had been one of 20 final­ists for HQ2, the sub­ject of an unusu­al pub­lic auc­tion process.
Though eclipsed by the HQ2 announce­ment, the Nashville news sig­naled that Amazon's secre­tive pub­lic auc­tion, the HQ2 sweep­stakes, is not over. Through volu­mi­nous data col­lec­tion and skill­ful exploita­tion of short-term polit­i­cal dynam­ics, Ama­zon has turned the nor­mal­ly per­func­to­ry process of choos­ing a new office loca­tion into a les­son in how to raid munic­i­pal trea­suries. Now, it's hit­ting up the HQ2 also-rans for more pub­lic dol­lars to build out its empire. Even though the com­pa­ny has said it will not seek to relo­cate the New York HQ2 facil­i­ty after with­draw­ing its offer on Feb­ru­ary 14, it could still use the can­cel­la­tion as bait by mov­ing employ­ees intend­ed for HQ2 to oth­er cities.
In 2018, as the HQ2 der­by raged, Ama­zon qui­et­ly col­lect­ed $58.1 mil­lion from cities that bid for HQ2. That doesn't include the $102 mil­lion for the logis­tics cen­ter in Nashville or the rough­ly $1.8 bil­lion promised for the head­quar­ters in Vir­ginia. All told, in 2018, Ama­zon raked in near­ly $2 bil­lion from these deals. Four of the 20 final­ists — north­ern Vir­ginia, Nashville, Boston and Raleigh, N. C. — have received, in exchange for sub­si­dies, an Ama­zon facil­i­ty in or around their cities. More cities can expect to receive con­so­la­tion prizes like Nashville's, if they pony up.
The HQ2 race was more than a PR stunt. ​"Ama­zon has a fan­tas­tic data set of what com­mu­ni­ties are will­ing to pro­vide for the project, the process of obtain­ing these incen­tives, and risk asso­ci­at­ed with them," says Nathan Jensen, a pro­fes­sor of gov­ern­ment at the Uni­ver­si­ty of Texas at Austin. ​"Ama­zon sim­ply knows how high gov­ern­ments will jump."
HQ2 kicked off in Sep­tem­ber 2017 as a cross between an expan­sion project and a real­i­ty game show. Ama­zon announced it would solic­it bids across North Amer­i­ca for a sec­ond head­quar­ters, which would house 50,000 well-paid employ­ees and con­tribute $5 bil­lion in local investment.
It's not like Ama­zon need­ed to pass the hat for a new office. Ama­zon is the world's most high­ly val­ued com­pa­ny. It cap­tures rough­ly half of all e‑commerce sales and earned $56.6 bil­lion in the third quar­ter of 2018. As more Amer­i­cans use the inter­net for shop­ping, brick-and-mor­tar retail­ers have felt the pinch. Brands like Toys ​"R" Us, Gym­boree, Brook­stone and Nine West have gone bank­rupt, and retail­ers like Sears, Ann Tay­lor and The Gap have shut­tered hun­dreds of stores, leav­ing emp­ty husks in malls across the nation.
Local gov­ern­ments, most of which are reliant on prop­er­ty tax­es, have paid the price for this retail apoc­a­lypse. That hasn't stopped cities from cozy­ing up to Ama­zon, the destroy­er of their tax base. In the Unit­ed States, Cana­da and Mex­i­co, 238 cities applied for HQ2.
A year and a half lat­er, we still don't know all their names. Ama­zon only released the num­ber of bids, not where they came from. Prac­ti­cal­ly every­thing the House of Bezos does is secret. ​"It's clear that Ama­zon had a lot of require­ments to keep things con­fi­den­tial," says Pax­tyn Merten, who worked for pro-trans­paren­cy orga­ni­za­tion Muck­Rock on a project to col­lect every city's HQ2 bid. At last count, Muck­Rock has only acquired 82 of the 238 bids, and many of those are redacted.
Some of the more out­landish offers — a 21-foot saguaro cac­tus gift­ed by Tuc­son, Ariz., and a pro­posed renam­ing of 345 acres of Stonecrest, Ga., as ​"Ama­zon, Geor­gia" — have been made pub­lic. But like WWE, this game was rigged.
The even­tu­al win­ners of the HQ2 sweep­stakes, New York City and north­ern Vir­ginia, were almost cer­tain­ly Bezos' choic­es all along. Ama­zon already had large offices there, as New York and D.C. con­tain the tech-savvy work­forces, trans­porta­tion hubs, and edu­ca­tion­al facil­i­ties the com­pa­ny needs. CEO Jeff Bezos owns a home in New York and recent­ly bought a giant man­sion in D.C., along with the local news­pa­per. Amazon's most aggres­sive push­es recent­ly have been in enter­tain­ment (New York), adver­tis­ing (New York), and gov­ern­ment pro­cure­ment (D.C.), includ­ing a lucra­tive cloud con­tract with the Pen­ta­gon (lit­er­al­ly blocks from the new HQ loca­tion in Crys­tal City, Virginia).
In addi­tion to PR, the ersatz com­pe­ti­tion served sev­er­al pur­pos­es. It like­ly bid up the incen­tives from New York and North­ern Vir­ginia. Most impor­tant, it cre­at­ed a com­pre­hen­sive data­base of North Amer­i­can city planning.
Ama­zon won't just build head­quar­ters over the next sev­er­al years, but also logis­tics hubs, data farms, tech­nol­o­gy incu­ba­tors, dis­tri­b­u­tion cen­ters and home offices for its spate of affil­i­at­ed com­pa­nies, from Audi­ble to Twitch. Plus, it's adding phys­i­cal retail out­lets nation­wide. Thanks to HQ2, it knows avail­able site loca­tions for retail and com­mer­cial space in hun­dreds of cities, as well as what those cities are will­ing to fork over in subsidies.
The 20 final­ists deliv­ered even more gran­u­lar infor­ma­tion: race and eth­nic­i­ty demo­graph­ics, health and fit­ness oppor­tu­ni­ties, city­wide K‑12 per­for­mance, STEM degrees at near­by uni­ver­si­ties, zon­ing des­ig­na­tions through­out the metro region, even the price of milk, bread and an avo­ca­do at Whole Foods (an Ama­zon sub­sidiary). New York's response filled 253 pages.
All of that res­i­den­tial and con­sumer data is valu­able to an e‑sales com­pa­ny. ​"If I'm sell­ing stuff, I now have infor­ma­tion that my com­peti­tors do not have," says Mark Funkhouser, the for­mer may­or of Kansas City and cur­rent pub­lish­er of Gov­ern­ing mag­a­zine. ​"Where is the sales tax gen­er­at­ed? The prop­er­ty tax? Where are the sew­er lines?"
Some of the 20 final­ists began receiv­ing con­so­la­tion prizes even before the HQ2 deci­sion was announced. In May 2018, Ama­zon announced a region­al head­quar­ters for 2,000 machine learn­ing and robot­ics employ­ees in Boston. The com­pa­ny took home $30 mil­lion in incentives.
An HQ2 appli­ca­tion from Raleigh that pro­ject­ed 63 per­cent pop­u­la­tion growth in the next 30 years may have got Ama­zon think­ing. Last August, the city of Gar­ner, a 32,000-resident com­muter sub­urb of Raleigh, com­mit­ted to a giant Ama­zon ful­fill­ment cen­ter at a for­mer ConA­gra plant where a fatal explo­sion occurred in 2009. Ama­zon expects to pro­vide 1,500 ware­house jobs at the site.
For its part, Gar­ner is con­tribut­ing $600,000, about 2 per­cent of its 2019 bud­get, to a $5.1 mil­lion project to improve a state road lead­ing past the facil­i­ty. ​"This is not a sub­sidy but an invest­ment in pub­lic infra­struc­ture," says Joseph Stallings, eco­nom­ic devel­op­ment direc­tor for the city. North Carolina's Depart­ment of Trans­porta­tion will pro­duce up to $4.5 million.
To ful­fill its promis­es of two-day ship­ping, Ama­zon needs ware­house loca­tions every­where. So why did Gar­ner have to pony up pub­lic mon­ey to rebuild a road for an Ama­zon warehouse?
Stallings implies that cities must offer sub­si­dies to com­pete with oth­er offers. ​"If every­one is play­ing with a corked bat and you're not, you won't get far."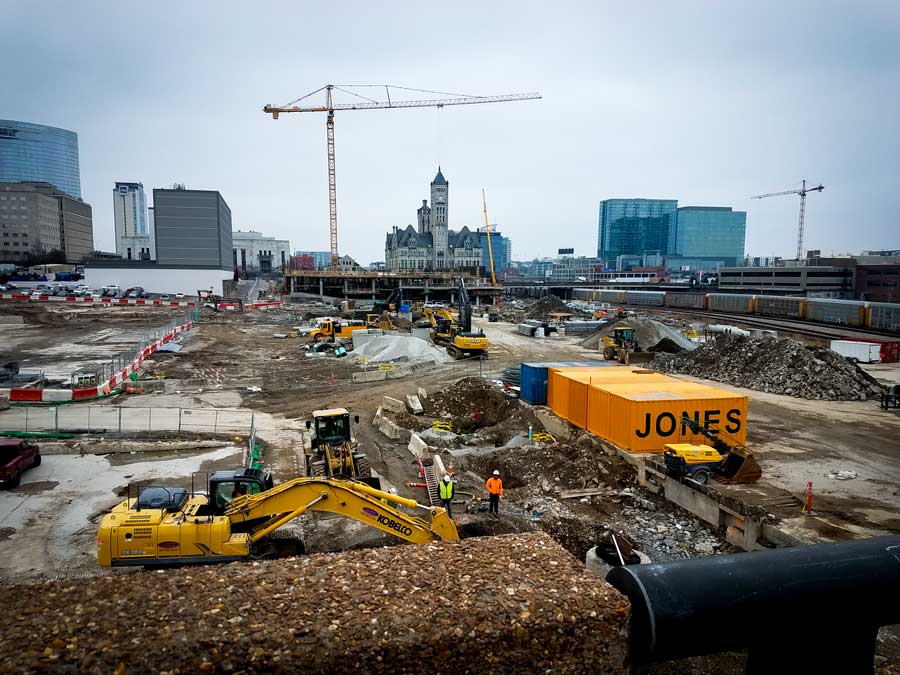 (The Nashville Yards com­plex was already under con­struc­tion when Ama­zon agreed to rent space there— and col­lect­ed $102 mil­lion in incen­tives for the priv­i­lege. Pho­to cour­tesy of David Dayen.)
It's hard to even take in all of Nashville Yards. It sits on 16 acres bisect­ed by a freight rail line, a few blocks from a neon-lit tourist trap of live music stages and bar­be­cue joints. The site plan includes a lux­u­ry hotel, a 4,500-seat the­ater, a movie mul­ti­plex, a con­do tow­er, restau­rants, green space and 1.5 mil­lion square feet of high-rise offices. In Novem­ber 2018, months after con­struc­tion began, Nashville learned it would include Ama­zon offices, too.
Accord­ing to Metro Coun­cil mem­ber Bob Mendes, the office tow­er Ama­zon will occu­py was already in site plans before the com­pa­ny got involved. Pre­sum­ably, the Nashville Yards devel­op­ers weren't plan­ning a large office tow­er to leave it emp­ty; they would have found a renter. Yet Ama­zon man­aged to extract $102 mil­lion for the priv­i­lege. Of that amount, $80 mil­lion comes in the form of cash grants: $500 per job for sev­en years from Nashville, and a $65 mil­lion grant from the state for cap­i­tal expen­di­tures. Ten­nessee is also pro­vid­ing $21.7 mil­lion in cred­its to off­set busi­ness tax­es. And if the com­pa­ny relo­cates employ­ees intend­ed for the New York City head­quar­ters to Nashville, the per-job cash grants the city and state have bestowed would grow.
Nashville had plen­ty to offer before the first dol­lar of incen­tives. Its down­town has expe­ri­enced explo­sive busi­ness growth. Sev­er­al col­leges, led by Van­der­bilt Uni­ver­si­ty, could serve as a tal­ent pipeline. But not only does Ama­zon jump into a turnkey office with­out pay­ing any con­struc­tion fees; it gets a logis­tics cen­ter in the most strate­gic set­ting for logis­tics in the country.
Three major inter­state high­ways and two rail yards con­verge in Nashville, and 75 per­cent of the U.S. pop­u­la­tion is reach­able with­in a two-hour flight. Logis­tics is close to half the econ­o­my in this part of the South­east, known as ​"Freight Alley." Over a dozen large logis­tics busi­ness­es call Nashville home; FedEx's head­quar­ters is in Mem­phis; and UPS sits four hours down the road in Atlanta. And we know Ama­zon is build­ing a ship­ping ser­vice to com­pete with FedEx and UPS.
Giv­en all these attrac­tions, were cash grants for Ama­zon nec­es­sary? ​"That's the $15 mil­lion ques­tion," says Mendes. He adds that the city grants were on the low side rel­a­tive to oth­er recent eco­nom­ic devel­op­ment deals in Nashville, and prob­a­bly weren't the deci­sive fac­tor for Ama­zon. But if that's the case, ​"Why did you have to give them the mon­ey?" asks Mark Nac­cara­to of SEIU Local 205, which rep­re­sents city workers.
Because the city of Nashville released its HQ2 pitch, we can see sim­i­lar­i­ties in the oper­a­tions cen­ter grant. Nashville Yards was offered as a poten­tial HQ2 loca­tion. The grant's offer of $500 per job for sev­en years echoes the HQ2 pro­pos­al of $500 a job for 15 years. Nashville also offered a prop­er­ty tax cut, but Amazon's rent­ing: They won't be pay­ing prop­er­ty tax.
The $87 mil­lion in state grants to Ama­zon are near­ly six times what Nashville is kick­ing in. But we know less about them and their ori­gins. The Ten­nessee Depart­ment of Eco­nom­ic and Com­mu­ni­ty Devel­op­ment decid­ed to keep the state's pitch for HQ2 secret for five years. Spokes­woman Jen­nifer McEach­ern told In These Times , ​"Pub­li­ca­tion of that mate­r­i­al would hin­der the state's future abil­i­ty to com­pete for eco­nom­ic devel­op­ment projects." Such con­ceal­ment ren­ders impos­si­ble pub­lic scruti­ny of what Ten­nessee asks of cor­po­ra­tions in exchange for tax­pay­er dollars.
There's no guar­an­tee the Ama­zon jobs will go to city res­i­dents rather than com­muters or nation­al recruits. Where those work­ers will live, and how they will get to the office, is an acute prob­lem for a city strug­gling with afford­abil­i­tyis­sues. Traf­fic snarls the Nashville area on a dai­ly basis, and a recent ref­er­en­dum to expand mass tran­sit failed. Hous­ing costs have spi­raled, with one-quar­ter of renters pay­ing over half their income in rent.
Despite run­away busi­ness growth, Nashville finds itself in a bud­get cri­sis. In the most recent assess­ment in 2017, Nashville's city gov­ern­ment decid­ed to keep prop­er­ty tax rev­enue con­stant, even though prop­er­ty val­ues had soared and pop­u­la­tion jumped. This cre­at­ed the low­est prop­er­ty tax rate in the city's his­to­ry, some­thing Nashville tout­ed in its pitch to Ama­zon. But it also cre­at­ed a mas­sive short­fall, as Nashville sud­den­ly couldn't afford pay increas­es for city work­ers or to fill a $40 mil­lion hole in the edu­ca­tion bud­get. The city backed out of the promised raises.
The Ama­zon project will do lit­tle to help. The prop­er­ty tax rev­enue won't come from Ama­zon, and the project is set in a devel­op­ment dis­trict where a por­tion of sales tax­es is ear­marked to pay down debt on a down­town con­ven­tion center.
At Nashville's Jan­u­ary 15 Metro Coun­cil meet­ing, city employ­ees spoke about the sting of see­ing their city slip cash to Ama­zon while work­ers got shaft­ed. ​"If the mon­ey for Ama­zon can be found, the mon­ey to pay those who are the back­bone of the city should be just as eas­i­ly iden­ti­fi­able," said There­sa Wag­n­er, a mid­dle school teacher. ​"It's time to make our chil­dren at least as valu­able as bil­lion­aire investors."
But the coun­cil opt­ed to defer a vote on a non­bind­ing res­o­lu­tion to halt any cor­po­rate incen­tive pay­ments until city employ­ees receive their cost-of-liv­ing increase. Mean­while, the coun­cil advanced a par­tic­i­pa­tion agree­ment for Nashville Yards, kick­ing in an addi­tion­al $15 mil­lion for infra­struc­ture improve­ments, over the objec­tions of some coun­cil mem­bers who saw it as an effec­tive dou­bling of Amazon's incentives.
Despite these defeats, activists have got­ten the atten­tion of the coun­cil and broad­ened eco­nom­ic devel­op­ment con­ver­sa­tions to whether projects ben­e­fit the entire com­mu­ni­ty. ​"Before, the think­ing was that all jobs are good jobs," says Michael Calla­han-Kapoor, an orga­niz­er with Stand Up Nashville, an SEIU Local 205-backed labor-com­mu­ni­ty coali­tion that has been crit­i­cal of the deal. ​"But that eco­nom­ic mod­el doesn't work."
The resis­tance to Amazon's post-HQ2 boun­ty, not only in Nashville but in New York and D.C., sug­gests that the sweep­stakes may have back­fired. Grass­roots protests, con­tentious city coun­cil meet­ings and even high-pro­file oppo­si­tion from Rep. Alexan­dria Oca­sio-Cortez led Ama­zon to can­cel the New York facil­i­ty. Amazon's fail­ure in New York offers a mod­el to local orga­niz­ers on how to lim­it or pre­vent cor­po­rate sub­si­dies that don't ben­e­fit the entire community.
Ama­zon did not respond to requests for com­ment for this story.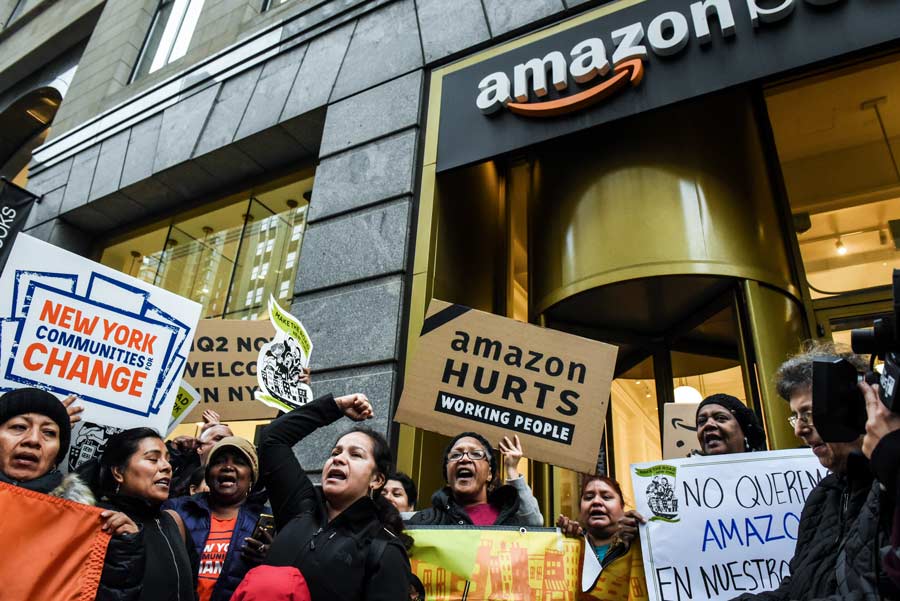 (Pro­test­ers with New York Com­mu­ni­ties for Change demon­strate in Man­hat­tan against the bil­lion-dol­lar sub­sidy pack­age for Amazon's New York head­quar­ters Nov. 26, 2018. Pho­to by Stephanie Keith/​Getty Images)
HQ2 alert­ed the pub­lic to the long-run­ning eco­nom­ic devel­op­ment sub­sidy scam, which nets cor­po­ra­tions some $45 bil­lion to $90 bil­lion a year from local gov­ern­ments. Nev­er­the­less, Ama­zon will be reap­ing the ben­e­fits of the sweep­stakes for years. In places like Nashville, those sub­si­dies feel like a wealth trans­fer, with mon­ey pulled away from ser­vices for society's most vul­ner­a­ble and put into the hands of America's biggest winners.
"To city lead­ers, eco­nom­ic devel­op­ment is jus­ti­fied because we will see returns on that invest­ment," says James Fras­er. ​"But the peo­ple reward­ed are not low-income people."
Funkhouser, the for­mer Kansas City may­or, thinks the only way to stop the bid­ding wars is to cre­ate a fed­er­al law pro­hibit­ing them. ​"It's ille­gal for an Amer­i­can firm to accept a bribe in Brazil," he says, refer­ring to the For­eign Cor­rupt Prac­tices Act. ​"But they can accept a bribe in the Unit­ed States. They can accept $102 mil­lion. It is absolute­ly straight-up corrupt."