Angry About Low Pay and Sweltering Heat, These Amazon Warehouse Workers Are Organizing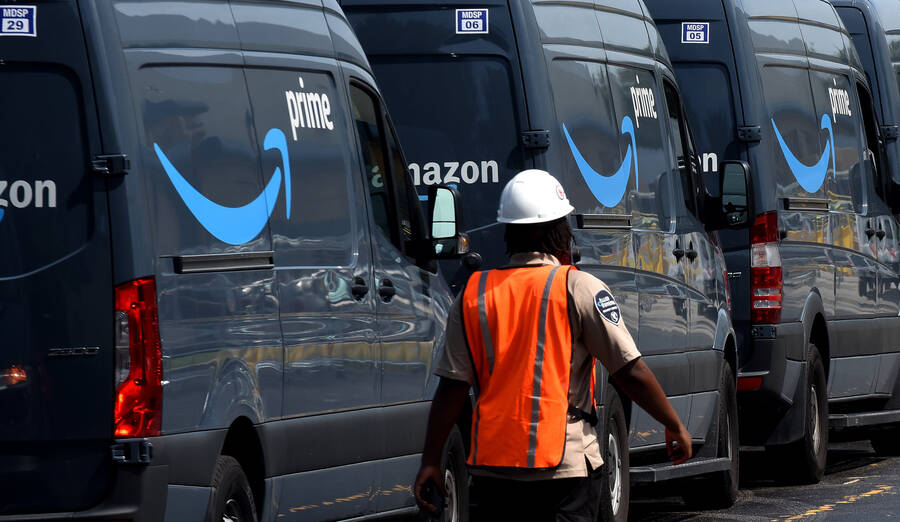 Thou­sands of Ama­zon work­ers struck on ​"Prime Day" this week in what was per­haps the largest multi­na­tion­al action to date against the online behe­moth. Euro­pean Ama­zon employ­ees have been wag­ing coor­di­nat­ed strikes against the com­pa­ny since 2013, but this time they were joined by U.S. coun­ter­parts at a Shakopee, Min­neso­ta ful­fill­ment cen­ter, where work­ers staged a first-of-its-kind six-hour work stop­page. To date, Ama­zon has suc­cess­ful­ly fend­ed off all attempts at union­iza­tion in the Unit­ed States since the company's found­ing in 1994.
Mean­while, at anoth­er U.S. Ama­zon facil­i­ty in Chica­go, a new orga­niz­ing effort is under­way. Ear­ly Tues­day morn­ing, a group of 30 work­ers at the company's DCH1 deliv­ery sta­tion on the city's South Side staged a ​"walk-in" to the facility's man­age­ment dur­ing a 2:30 a.m. break on the overnight shift.
The group deliv­ered a list of demands to site man­age­ment that includ­ed a pay bump, health insur­ance and func­tion­ing air con­di­tion­ing in the facil­i­ty, where work­ers say they are labor­ing in swel­ter­ing heat.
The DCH1 deliv­ery sta­tion is the last place that Ama­zon parcels arrive before reach­ing the doorsteps of Chica­go-area cus­tomers. Work­ers scan and sort at a gru­el­ing pace inside a build­ing with a met­al roof and walls, and tow­ers of pack­ages often block ven­ti­la­tion from over­head fans. The work­force includes seniors and peo­ple with med­ical con­di­tions such as dia­betes, and dehy­dra­tion and heat stroke are fre­quent prob­lems, accord­ing to four employ­ees at the facil­i­ty who spoke to In These Times on con­di­tion of anonymi­ty.
Last month, when a small fire broke out in the facil­i­ty, man­agers told work­ers not to leave their sta­tions, accord­ing to one of the employ­ees. No one was injured, but the inci­dent stoked anger.
DCH1 Ama­zo­ni­ans Unit­ed, which has launched a pub­lic Face­book page, says work­ers decid­ed to take action on Prime Day in part after hear­ing about Min­neso­ta work­ers' plans to strike. At present, the work­ers are not affil­i­at­ed with any union or com­mu­ni­ty organization.
They're also build­ing off a suc­cess­ful action this spring, when about 140 employ­ees — rough­ly a quar­ter of the work­force — signed a peti­tion demand­ing ade­quate access to drink­ing water at the facil­i­ty. Man­agers had stopped pro­vid­ing work­ers with water bot­tles, and five-gal­lon water jugs weren't being replaced through­out the day, says Ter­ry Miller (a pseu­do­nym), who has worked at the facil­i­ty for four and a half months.
Dur­ing his sec­ond week on the job, he remem­bers, a cowork­er passed out from dehydration.
But as soon as work­ers deliv­ered the peti­tion in May, a man­ag­er went out and bought water bot­tles, says Miller. Short­ly after that, water sta­tions were installed.
"Ever since then, peo­ple saw that if we move, if we demand our rights, we can win," says Fred Brown (a pseu­do­nym), anoth­er Ama­zon employ­ee who began work­ing at the facil­i­ty in 2017.
After cir­cu­lat­ing a sur­vey to deter­mine which issues fel­low employ­ees cared most about, work­ers decid­ed to stage anoth­er action for Amazon's high­ly pub­li­cized July Prime day. Appar­ent­ly short-hand­ed dur­ing this peak week, the facil­i­ty has been offer­ing employ­ees a pay bump to come in an hour before their reg­u­lar shift is sched­uled to start — they receive $18, rather than the usu­al $15, but only for the extra hour.
DCH1 Ama­zo­ni­ans Unit­ed is demand­ing ​"prime pay for Prime days," or $18 an hour through­out ​"black­out peri­ods" when work­ers aren't per­mit­ted to sched­ule time off and are han­dling a high vol­ume of pack­ages as a result of the company's promotions.
Employ­ees received a pay bump as part of a much-tout­ed deci­sion by Ama­zon CEO Jeff Bezos to raise the start­ing wage to $15 an hour. The announce­ment came after years of crit­i­cism from labor, as well the ​"Stop Bezos Act" intro­duced by Bernie Sanders that would have penal­ized large employ­ers that pay low wages.
But employ­ees at the DCH1 facil­i­ty typ­i­cal­ly have their hours capped at 28 a week, and many still strug­gle to pay their bills, says J.R. (a pseu­do­nym). After work­ing a home­care job dur­ing the week, on the week­ends he pulls three overnight shifts at the Ama­zon facil­i­ty and then reports for a child­care job with just a few hours of sleep in between.
"Jeff Bezos' net worth is about $160 bil­lion," he says. ​"Thank you for the $15, but you can't expect us to stay there for­ev­er. The way I see it, $15 is the new min­i­mum wage."
In a state­ment e‑mailed to In These Times, an Ama­zon spokesper­son said that the com­pa­ny is ​"proud to offer great employ­ment oppor­tu­ni­ties with excel­lent pay, ben­e­fits, and a safe work­place for our people."
The spokesper­son did not respond to In These Times' ques­tions about the facility.
Employ­ees who spoke with In These Times say that in addi­tion to low pay, work­ers are dis­sat­is­fied with the lack of health ben­e­fits. Accord­ing to the work­ers, they receive some vision and den­tal ben­e­fits, but in lieu of health insur­ance they are encour­aged to call a health hot­line number.
In the past year, Ama­zon has more than dou­bled the rate at which work­ers are expect­ed to scan pack­ages at the facil­i­ty, say the employ­ees, who also com­plain of seem­ing­ly arbi­trary write-ups and fir­ings. One of the work­ers says he was writ­ten up after a man­ag­er accused him of scan­ning a pack­age incor­rect­ly two months after the fact.
An inves­ti­ga­tion by the Verge this spring revealed that Ama­zon auto­mat­i­cal­ly tracks its employ­ees' pro­duc­tiv­i­ty and may fire as much as 10 per­cent of its work­force annu­al­ly for fail­ing to meet inter­nal targets.
After pre­sent­ing their list of demands on Tues­day, the DCH1 work­ers say they were promised a meet­ing with the site man­ag­er that has yet to occur. They are cir­cu­lat­ing a pub­lic peti­tion to demand the meeting.
In the mean­time, Brown says that news of Tuesday's action is reach­ing more cowork­ers. ​"You can feel the shift in pow­er," he says.
Ama­zon opened the DCH1 facil­i­ty in Chica­go in 2015. ​"I always say, they came to the wrong city," says J.R. ​"Chica­go is known for unions, so you can only get away with it for so long."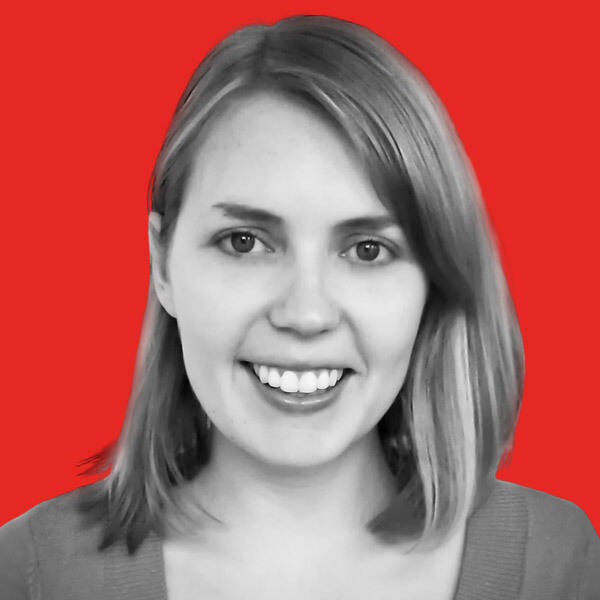 Rebec­ca Burns
is an award-win­ning inves­tiga­tive reporter whose work has appeared in The Baf­fler, the Chica­go Read­er, The Inter­cept and oth­er out­lets. She is a con­tribut­ing edi­tor at In These Times. Fol­low her on Twit­ter @rejburns.