Puerto Rico Is a Symptom of America's Rotting Democracy
We need to rebuild the island and our government.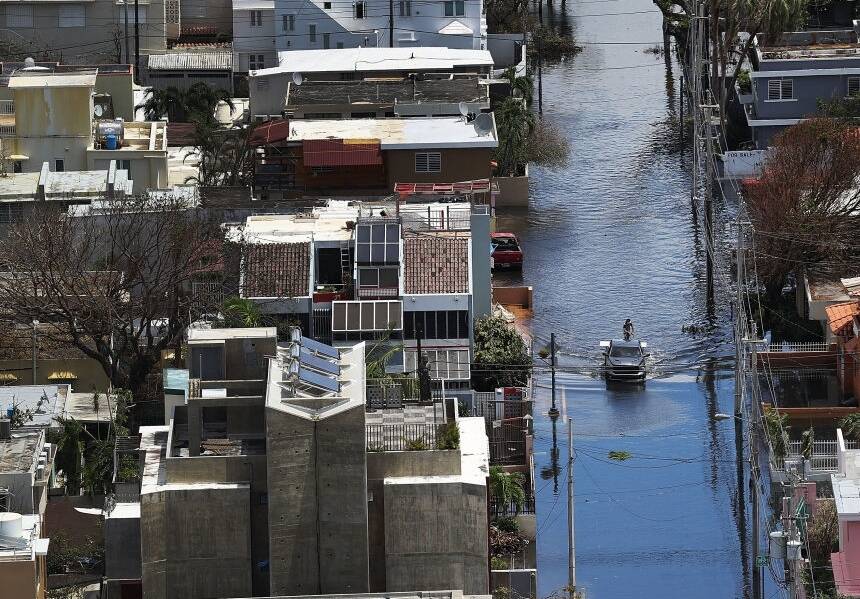 Fero­cious hur­ri­canes and oth­er cli­mate-fueled dis­as­ters are nature's stress tests. They expose faulty infra­struc­ture and sys­temic inequal­i­ties, to say noth­ing of incom­pe­tent lead­er­ship. With pay­ments on its mas­sive debt to Wall Street long pri­or­i­tized over safe elec­tric­i­ty, Puer­to Rico's archa­ic pow­er grid was already prone to blink out in a wind­storm. Then Maria hit. Help has been grudg­ing; Pres­i­dent Trump took eight days just to waive ship­ping restrictions.
We need to relinquish the notion that good government is ours by birthright and realize that democracy must be fought for, every day.
Social media is full of reminders that ​"Puer­to Rico is Amer­i­ca." That's true in more ways than one. More than any oth­er part of neglect­ed and dis­in­vest­ed Amer­i­ca, Puer­to Rico is a har­bin­ger of the coun­try's future.
Munic­i­pal debts have imposed sim­i­lar aus­ter­i­ty regimes around the coun­try, at the expense of our school sys­tems, munic­i­pal sewage dis­tricts and rur­al hospitals.
In the mid­dle of a Sep­tem­ber heat wave, many Detroit pub­lic schools closed for lack of air con­di­tion­ing. Detroit, like Puer­to Rico, was rav­aged by decades of fed­er­al dis­in­vest­ment. Then finan­cial firms swooped in, after a mar­ket crash they caused, to exploit and exac­er­bate munic­i­pal debt. Is it any won­der nei­ther place can stand up to extreme weather?
Oth­er forms of gov­ern­ment neglect can seem­ing­ly go unno­ticed indef­i­nite­ly, until the next dis­as­ter. Through some­thing called ​"reg­u­la­to­ry cap­ture," many gov­ern­ment sys­tems cre­at­ed to pro­tect health and safe­ty are full of rot. Cor­po­ra­tions infil­trate gov­ern­ment agen­cies with the inten­tion of shap­ing poli­cies that end up chan­nel­ing funds into their own cof­fers, at the expense of pub­lic welfare.
Take chem­i­cal reg­u­la­tion. Valerie Brown and Eliz­a­beth Gross­man report that Mon­san­to has cor­rupt­ed the EPA's eval­u­a­tions of the weed killer glyphosate, trade name Roundup, since 1973. ​"It's been on the mar­ket for 40 years," a Mon­san­to flack told me heat­ed­ly over the phone when asked for com­ment. ​"We'd know if there was a prob­lem!" If the com­pa­ny and its army of paid researchers have deemed glyphosate safe, it sure­ly must be so — nev­er mind flaws in the research repeat­ed­ly point­ed out by EPA sci­en­tists. In fact, we don't know how glyphosate — 128,000 tons of which are sprayed on U.S. crops each year, and which is present in every­thing from Dori­tos to Chee­rios — affects humans. With­out more inde­pen­dent, peer-reviewed, pub­licly avail­able stud­ies, we may nev­er know. The EPA, under­fund­ed and high­ly incen­tivized to use Monsanto's con­ve­nient research brief­in­gs, may nev­er insist on find­ing out.
We need to relin­quish the notion that good gov­ern­ment is ours by birthright and real­ize that democ­ra­cy must be fought for, every day.
As Nao­mi Klein notes in The Shock Doc­trine, nat­ur­al dis­as­ters offer an oppor­tu­ni­ty to cre­ate a soci­ety from scratch, to who­ev­er can seize it. After Kat­ri­na, neolib­er­als pri­va­tized New Orleans' school sys­tem. In depop­u­lat­ed Detroit, pro­gres­sives are exper­i­ment­ing with mutu­al aid and non-cap­i­tal­ist economies.
In Hous­ton, a tug-of-war is already under­way. For­mer Shell CEO Mar­vin Odum has been appoint­ed to lead Hur­ri­cane Har­vey recov­ery; at the same time, Ella Bak­er-inspired vol­un­teers are offer­ing direct aid to the storm-bat­tered and gov­ern­ment-neglect­ed north­east Hous­ton, vow­ing to rebuild the area ​"bet­ter than before."
We must assist in the pro­gres­sive rebuild­ing of both Puer­to Rico and Texas. We can also apply the same log­ic to the more insid­i­ous weak­en­ing of our social struc­tures. As the hur­ri­cane-force ego of Don­ald Trump meets the rot of our gov­ern­men­tal insti­tu­tions, what will it take for us to both resist and rebuild? What insti­tu­tions do we need as we roll up our sleeves and begin? A tru­ly demo­c­ra­t­ic Demo­c­ra­t­ic Par­ty and insis­tent grass­roots move­ments, to name two.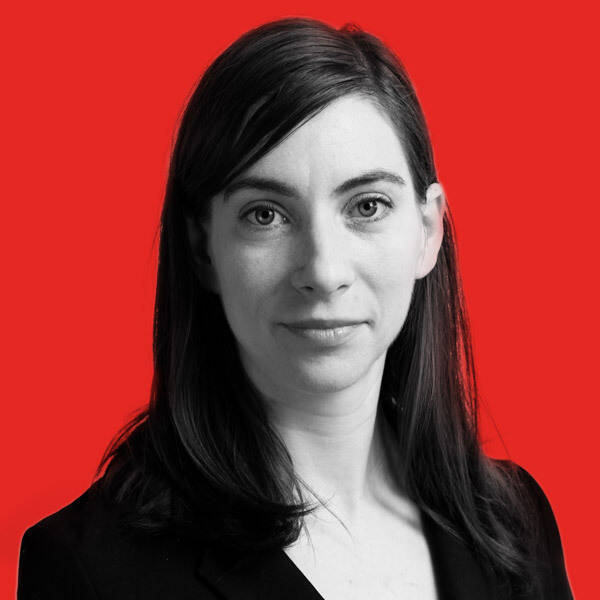 Jes­si­ca Stites is Exec­u­tive Edi­tor of In These Times, where she runs the Leonard C. Good­man Insti­tute for Inves­tiga­tive Report­ing and edits sto­ries on labor, neolib­er­al­ism, Wall Street, immi­gra­tion, mass incar­cer­a­tion and racial jus­tice, among oth­er top­ics. Before join­ing ITT, she worked at Ms. mag­a­zine and George Lakof­f's Rock­ridge Insti­tute. Her writ­ing has been pub­lished in the Los Ange­les Review of Books, Ms., Bitch, Jezebel, The Advo­cate and Alter­Net. She is board sec­re­tary of the Chica­go Read­er and a for­mer Chica­go Sun-Times board member.