Imagine Elizabeth Warren as President. Now Imagine Bernie Sanders.
We asked their supporters to really think through what a progressive president could—and couldn't—do.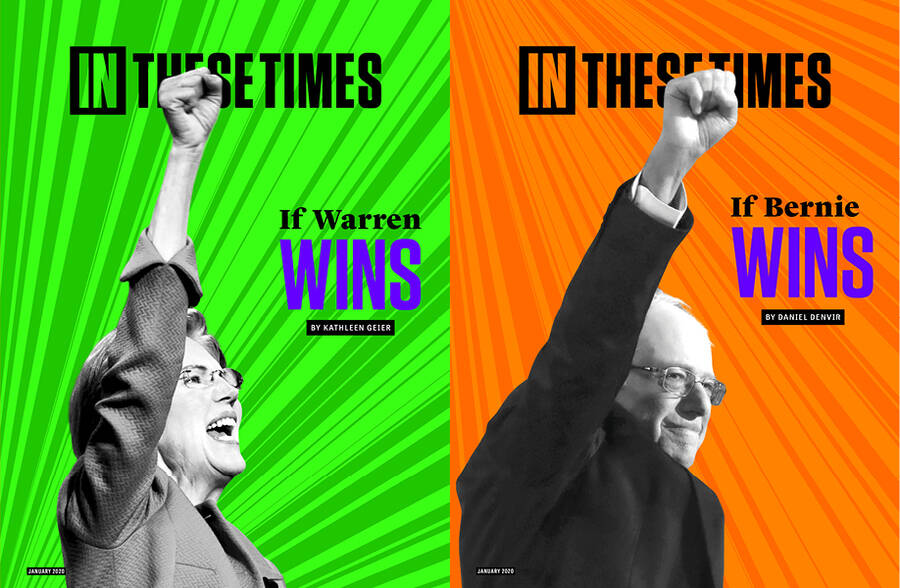 When we first con­ceived this dual-cov­er issue of In These Times, ear­ly in fall 2019, die-hard sup­port­ers of Bernie Sanders and Eliz­a­beth War­ren already seemed caught in an end­less loop.
Frus­trat­ed Sanders fans crit­i­cized War­ren for jump­ing in after she sat out 2016, stand­ing a lit­tle to Sanders' right and pulling pro­gres­sive sup­port. Defen­sive War­ren fans, wor­ried Sanders had plateaued, had high hopes for a female can­di­date who seemed fresh and full of momen­tum. Attacks and par­ries fol­lowed: She's a cap­i­tal­ist; no, they're both social democ­rats. He's a class reduc­tion­ist; no, he's build­ing a mul­ti-racial coali­tion. Wall Street secret­ly likes her; no, Wall Street def­i­nite­ly hates her. He's bad on repa­ra­tions and makes nativist com­ments; she's ter­ri­ble on for­eign pol­i­cy. She's cyn­i­cal­ly copy­ing Sanders; no, she's been like this for a decade.
Nobody seemed to con­vince any­one, and a lot of peo­ple remained qui­et­ly torn as the pri­maries approached.
How to break the loop? In These Times decid­ed to approach the debate in a new way. Poli­cies had been com­pared ad nau­se­am, but what did Sanders and War­ren sup­port­ers imag­ine these pres­i­den­cies would actu­al­ly look like? How would each over­come all the forces arrayed against them — Repub­li­cans, estab­lish­ment Democ­rats, the Supreme Court, corporations?
We asked two promi­nent pro­gres­sive jour­nal­ists and thinkers, Daniel Den­vir and Kath­leen Geier — Sanders and War­ren sup­port­ers, respec­tive­ly — to lay out the like­ly course of each pres­i­den­cy. Then we invit­ed two activists and schol­ars, Bri­an Tokar and Rachel Gilmer, to rebut their cases.
The argu­ments in all four pieces sur­prised, engaged and chal­lenged me. Whether or not any­thing here changes your think­ing, I hope it feels new. Just as this polit­i­cal moment does.
"What a Bernie Sanders Pres­i­den­cy Would Look Like" by Daniel Denvir
A rebut­tal by Bri­an Tokar: ​"Why Bernie Can't Be Orga­niz­er-In-Chief": (com­ing soon)
"What an Eliz­a­beth War­ren Pres­i­den­cy Would Look Like," by Kath­leen Geier
A rebut­tal by Rachel Gilmer: ​"War­ren's an Ally. We Need a Leader." (com­ing soon)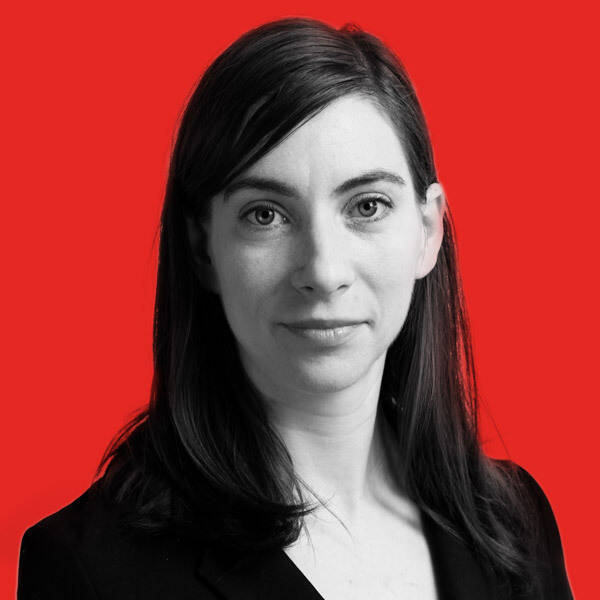 Jes­si­ca Stites is Exec­u­tive Edi­tor of In These Times, where she runs the Leonard C. Good­man Insti­tute for Inves­tiga­tive Report­ing and edits sto­ries on labor, neolib­er­al­ism, Wall Street, immi­gra­tion, mass incar­cer­a­tion and racial jus­tice, among oth­er top­ics. Before join­ing ITT, she worked at Ms. mag­a­zine and George Lakof­f's Rock­ridge Insti­tute. Her writ­ing has been pub­lished in the Los Ange­les Review of Books, Ms., Bitch, Jezebel, The Advo­cate and Alter­Net. She is board sec­re­tary of the Chica­go Read­er and a for­mer Chica­go Sun-Times board member.