Trouble in Candyland: American Licorice Workers Strike Over Healthcare Benefits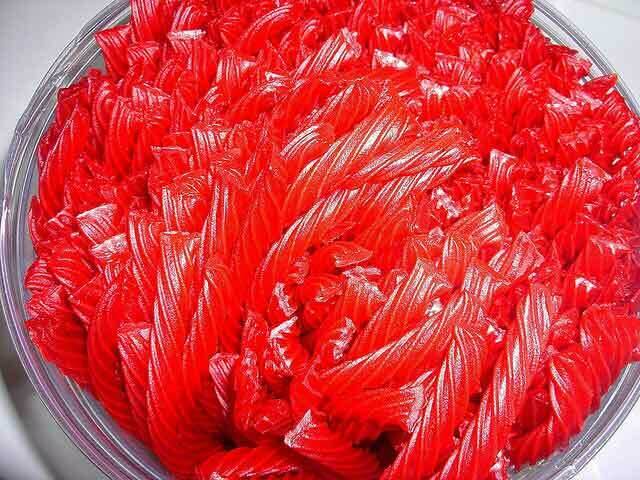 SAN FRAN­CIS­CO — For some, Red Vine licorice brings back child­hood mem­o­ries. Many still find the can­dy irre­sistible today.
The Bay Area com­pa­ny that makes Red Vines, the Amer­i­can Licorice Com­pa­ny, is in a labor strug­gle with its work­ers, 178 of whom went on strike last month. A break­through may be immi­nent, how­ev­er. Amer­i­can Licorice fac­to­ry work­ers in the East Bay are set to meet today at Oakland's Fed­er­al Medi­a­tion and Con­cil­i­a­tion Ser­vice office. Union offi­cials are hop­ing it will lead a return to the bar­gain­ing table.
The strike began on Decem­ber 5 when mem­bers of Bak­ery Work­ers Union Local 125, walked off in protest over what they say are unfair health­care and pen­sion ben­e­fits and wages. Talks began in August, when the pre­vi­ous labor con­tract expired.
The biggest hur­dle seems to be over health­care costs. Union offi­cials say work­ers had accept­ed min­i­mal rais­es in recent years in return for health­care ben­e­fits com­plete­ly cov­ered by the com­pa­ny. Accord­ing to union offi­cial­sAmer­i­can Licorice now wants the work­ers to pay $1,500 a year for a health­care plan for one per­son and $3,000 for a family.
The com­pa­ny told The Patch in a state­ment that it will con­tin­ue to pay for all pre­mi­ums for health insur­ance for indi­vid­u­als and their fam­i­lies as well as all of the insur­ance deductible amounts this year.
The com­pa­ny pro­pos­es to pay half that amount in 2013 and 2014, leav­ing work­ers to meet the rest of that pay­ment out-of-pock­et. Once the deductible is reached, the plan pays 100 per­cent of costs with in-net­work care providers. (There is no co-pay or co-insur­ance after a deductible is met.)
David Chung, busi­ness agent for the union, told The Patch that the com­pa­ny sent the strik­ers a let­ter in late Decem­ber stat­ing that if they didn't return to work they would be replaced. The com­pa­ny began hir­ing replace­ment work­ers on Jan­u­ary 3.
Accord­ing to a com­pa­ny statement:
Work is imme­di­ate­ly avail­able to those asso­ciates who walked off their jobs…We've com­mit­ted to pro­vid­ing com­pre­hen­sive com­pen­sa­tion pack­ages for our asso­ciates with improved health­care sup­port, increased wages and retire­ment ben­e­fits while con­tribut­ing to the health of the Union City econ­o­my, as we have done for the past forty years.
Assem­bly­man Bob Wieck­ows­ki told some 100 pick­et­ing work­ers that ​"Health­care ben­e­fits are not a lux­u­ry, health­care is a neces­si­ty of life."
Amer­i­can Licorice, found­ed in 1914 in Chica­go, also has offices in Indi­ana and Ore­gon. In 1924, the com­pa­ny expand­ed to the Bay Area, first in San Fran­cis­co and then mov­ing to Union City in the East Bay.
Rose Arri­eta
was born and raised in Los Ange­les. She has worked in print, broad­cast and radio, both main­stream and com­mu­ni­ty ori­ent­ed — includ­ing being a for­mer edi­tor of the Bay Area's inde­pen­dent com­mu­ni­ty bilin­gual biweek­ly El Tecolote. She cur­rent­ly lives in San Fran­cis­co, where she is a free­lance jour­nal­ist writ­ing for a vari­ety of out­lets on social jus­tice issues.