How Amy Winehouse's Pain Was Commodified
The new documentary AMY reveals how the media--and the men in her life--exploited Winehouse's mental illness, only to deify her after her death.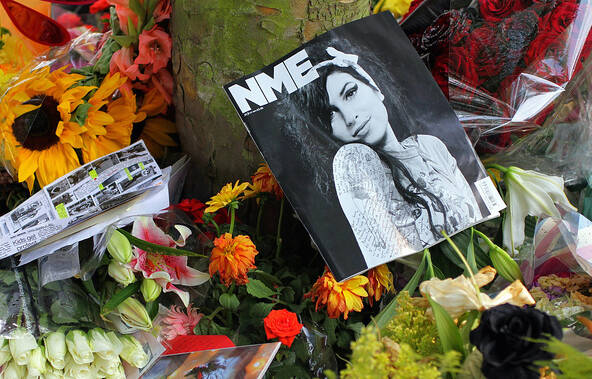 A whole lot of people started loving Amy Winehouse the day she died. In 2008, NME nominated her as its ​"Villain of the Year;" two days after her death on July 23, 2011, they were collecting ​"the most beautiful tributes" to her.
During her lifetime, Amy Winehouse's mental illness and pain were commodities. And they were profitable commodities.
Asif Kapadia's AMY—a great and immensely disturbing new documentary about the protracted death of a woman once held up as pop's worst sinner — has sparked a whole lot of public self-reflection about the media's accountability for her suffering. Take this sampling of recent headlines: ​"Who Killed Amy Winehouse?" (Daily Beast), ​"Who Killed Amy Winehouse?" (The Stranger), ​"Did The Internet Kill Amy Winehouse?" (Salon), and ​"You Didn't Kill Amy Winehouse, But You Didn't Save Her Either" (Deadspin).
Winehouse died of alcohol poisoning sped on by bulimia, but she registers as a victim of negligent manslaughter. No one was more publicly sick, no one was more publicly in danger, and no one received less sympathy. Kapadia's documentary doesn't steer away from this: There's an extended montage of comedians telling cruel Amy Winehouse jokes. We see paparazzi taunting her — at one point, clobbering her — until she lunges at them, giving them a shot of the ​"out of control" star at her scariest. We see Terry Richardson calmly snapping photos as she carves the words ​"I love Blake" into her stomach with a shard of glass. In her disastrous last concert in Belgrade, she stood on stage, dazed and mostly silent, at one point crumpling into fetal position after being booed off stage. We see talk-show hosts practically salivating as they talk about how ​"she blew it." She would be dead a few weeks later.
The really troubling thing about all this is that Winehouse had to die before anyone would or could see her as undeserving of their cruelty. During her lifetime, Amy Winehouse's mental illness and pain were commodities. And they were profitable commodities. The men in her life, in particular, seemed happy to court the tabloids that turned her into a caricature. Winehouse's father, Mitch, has vocally condemned the documentary, and it's not hard to see why: In one of her several failed bids for recovery, Winehouse retreated to the island of St. Lucia, away from her apartment, which had its own press corps camped on the doorstep 24 hours a day. Kapadia shows Mitch Winehouse arriving with a reality-TV crew for his new show, My Daughter Amy.
Similarly, Blake Fielder-Civil, Winehouse's husband, gets unsparing treatment. His reappearance in Winehouse's life after Back to Black—an album about how he unceremoniously dumped her — is presented as a moment out of a horror movie, with Fielder-Civil emerging out of the darkness like a slasher, rising up behind the heroine's shoulder just as she thinks she's escaped. We get the rundown on Fielder-Civil introducing her to heroin and crack, along with footage of the two of them in rehab, where Fielder-Civil smuggled in drugs.
But Kapadia doesn't even touch on the fact that Fielder-Civil allegedly sold naked photos of Winehouse to the press, nor that he invited the media to photograph him at her grave. One of the saddest truths of Winehouse's life is that so many people hurt her, so badly, that no single story can encapsulate all of the damage.
Kapadia's implicit condemnation of the media (and the media's condemnation of itself) is important, and necessary. But the key problem with a documentary like AMY—or a document like the one you're reading right now — is that ​"concern," or at least a particular, toxic, hand-wringing imitation of concern, was a part of the public's reaction to Winehouse from the beginning. And it's actually gotten worse since her death. As early as 2007, the UK's Daily Mail ran an article asking why no one had stepped in to save her — ​"Why is no one acting to stop the headlong rush into oblivion?" — but accompanied it with the most unflattering paparazzi photos it could find.
"I deplore this infuriatingly talented singer's selfish weakness, her suicidal self-obsession," writes the Daily Mail​'s Liz Jones. ​"Pity should be reserved for those who have tragedy inflicted upon them, like young cancer victims, not self-destructive junkies such as Amy." And then, a few sentences later, Jones asks why no one would ​"coax her back inside, wrap her up in a blanket and rock her in their arms until her demons abated."
The press may have been in no position to step in and save Winehouse – although, to be entirely fair, she was so accessible that knocking on the woman's door at 4 AM could give you enough material for a cover story – but they didn't have to step in and traumatize her, either. Her life was eagerly torn apart by the same people who publicly wrung their hands about her inability to get that life together; ​"concern" about Winehouse was less an emotion than it was an alibi.
Winehouse got shunted into one of two boxes: Whore or infant, filthy degenerate or misbehaving little girl, sometimes both in the same article. She was sick, yes. But her greater crime was to be unladylike—blunt, risk-taking, rule-breaking, openly and unapologetically sexual. When a man sneers in the face of convention, he's a rock star. When a woman does it, she's a dirty joke. The feeding frenzy around Winehouse was a way to shove her back into a more stereotypical femininity: To make her a Slut, or a Crazy Bitch, something we already knew how to talk about. It was a way to avoid dealing with her on her own terms, and to demonstrate that girls who colored outside the lines got punished.
Now, she's a Dead Girl — the most helpless, passive feminine stereotype of all. She's been punished for her sins with death, and can sin no more. And now, we love her. Or we love the tragedy of her. Or we love being right about her. It's hard to say. It's not just NME that did an about-face; the Daily Mail, the same outlet that told us to deplore Amy Winehouse without pity, ran the headline after her death, ​"Don't judge Amy Winehouse by her demons." That dichotomy — the awful, stupid, ugly woman, and the beloved, brilliant, beautiful corpse — defines how we talk about Winehouse to this day.
Kapadia's task, here, is to demonstrate the cruelty of fetishizing Winehouse's pain without actually taking part in the fetishization of that pain. He has to show her die without being one more person to gawk at her dying. And he has to argue that she was perceived unfairly, without participating in the ​"Saint Amy" hypocrisy that has become the most reliable way to generate Winehouse clicks.
His tactic is to let us spend time with the Amy Winehouse who was fully alive. He treats her lyrics as straight autobiography, and spends much of the movie unspooling those lyrics on screen as she sings. He quotes the musicians she worked with, all of whom are in awe of her. (Questlove notes that she schooled him on obscure jazz; Tony Bennett believes she was a vocalist on the level of Ella Fitzgerald.) He was given access to a wealth of home videos, many of them from her first manager, Nick Shymansky, who met her when she was 16. There's also the fact that Winehouse was famous in Britain first: Her 2003 album, Frank, wasn't released in the States until Back to Black became a hit, and Back to Black didn't become a hit until Winehouse was already a tabloid punchline. Her early British interviews show a healthy, happy, eloquent woman who never appeared on American television.
It's not entirely un-manipulative. Kapadia is so understandably concerned with keeping our sympathies on his subject that he elides some of her bigger controversies entirely; you wouldn't know, watching this movie, that Winehouse had ever chanted racial slurs on tape, or that she'd been arrested for assault. We shouldn't have to do this: If Amy Winehouse were the meanest, stupidest, most unrepentant asshole in the world, it would still be wrong to make fun of her for cutting herself. We shouldn't argue for compassion for the mentally ill because we find certain mentally ill people lovable; we should do it because mocking someone for a lethal illness is a violation of basic human decency.
Still, the approach works. You become so fully invested in the teenage girl who became ​"Amy Winehouse" that by the time you finally see an Amy Winehouse you recognize — her eyes dimmer, her speech slower, her hair up in that beehive — your stomach drops. In 2006, seeing that woman for the first time felt like the beginning of something. Now, it feels like the end.
It's the end of the Amy Winehouse trainwreck narrative, too. Now that she's a Dead Girl, we're turning a corner, sanctifying her. Kapadia's documentary is an important part of that process. But whether that forgiveness stops at Amy — whether any of the same compassion will be extended the next time we hear about some strange behavior from Courtney Love, or Lindsay Lohan, or Amanda Bynes, or, or, or — is an open question. Kapadia's documentary, at its finest, is not about any one woman. It challenges us, not to like Amy Winehouse better, but to change the way we look at women in pain. To stop making the jokes while these women are still alive, and while kindness can do something other than make us look good.
Socialism ... Seriously
"The most fun and accessible introduction to socialist ideas I've ever read."—Anand Gopal
For a limited time, when you donate $20 or more to support In These Times, we'll send you a copy of the new, expanded edition of Socialism ... Seriously by Danny Katch.