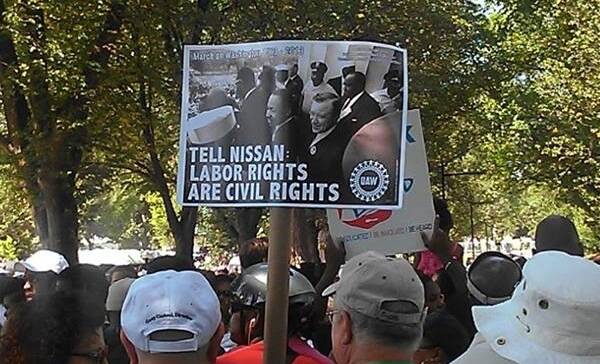 After Volk­swa­gen issued a let­ter in Sep­tem­ber say­ing the com­pa­ny would not oppose an attempt by the Unit­ed Auto Work­ers (UAW) to union­ize its 1,600-worker Chat­tanooga, Tenn., facil­i­ty, Sen. Bob Cork­er (R‑Tenn.) was flabbergasted.
​"For man­age­ment to invite the UAW in is almost beyond belief," Cork­er, who cam­paigned heav­i­ly for the plant's con­struc­tion dur­ing his tenure as may­or of Chat­tanooga, told the Asso­ci­at­ed Press. ​"They will become the object of many busi­ness school stud­ies — and I'm a lit­tle wor­ried could become a laugh­ing­stock in many ways — if they inflict this wound."
Cork­er isn't the only right-winger out to halt UAW's cam­paign. In the absence of any overt anti-union offen­sive by Volk­swa­gen, con­ser­v­a­tive polit­i­cal oper­a­tives wor­ried about the UAW get­ting a foothold in the South have stepped into the fray.
Leaked doc­u­ments obtained by In These Times, as well as inter­views with a vet­er­an anti-union con­sul­tant, indi­cate that a con­ser­v­a­tive group, Grover Norquist's Amer­i­cans for Tax Reform, appears to be pump­ing hun­dred of thou­sands of dol­lars into media and grass­roots orga­niz­ing in an effort to stop the union dri­ve. In addi­tion, the Nation­al Right-to-Work Legal Defense Foun­da­tion helped four anti-union work­ers in Octo­ber file a com­plaint with the Nation­al Labor Rela­tions Board claim­ing that Volk­swa­gen was forc­ing a union on them.
​"Every­one is def­i­nite­ly look­ing at this fight," the anti-union con­sul­tant, Mar­tin (not his real name), told In These Times. ​"This is the union fight going on right now and every­body [in the anti-union world] is look­ing to play their part and get com­pen­sat­ed for play­ing their part."
The last VW plant where work­ers don't have a voice
As the only major VW plant in the Unit­ed States, Chat­tanooga is also the only plant whose work­ers have no oppor­tu­ni­ty to join Ger­man-style ​"works coun­cils" — com­mit­tees of hourly and salaried employ­ees who dis­cuss man­age­ment deci­sions, like which plant will make spe­cif­ic car mod­els, on a local and glob­al scale.
Orga­niz­ing with the UAW, work­ers say, would help them to both form new works coun­cils and gain rep­re­sen­ta­tion at exist­ing ones — which, in turn, would attract more jobs to the area.
​"I per­son­al­ly feel like not hav­ing a union and not par­tic­i­pat­ing in a works coun­cil is going to do more dam­age for future expan­sion and new prod­uct devel­op­ment in Chat­tanooga than any union­iza­tion would do," says Volk­swa­gen employ­ee Justin King. ​"The way VW works on the inter­na­tion­al lev­el, [man­age­ment] almost expects to work with a union. Now, we aren't able to say, ​'Hey we would like to build that new SUV, or we would like to hire some new work­ers.' We are only hurt­ing our­selves by not going union."
Work­ers also say hav­ing a union would help the plant be more effi­cient. ​"On the assem­bly line, the process changes each year because [of] new mod­els," says work­er Chris Brown. ​"A voice in the com­pa­ny would help smooth the process from year to year."
Beyond this, VW employ­ees feel that orga­niz­ing could help address their prob­lems with cor­po­rate pol­i­cy, includ­ing the fact that near­ly one-fifth of work­ers at peak times in auto pro­duc­tion have been tem­po­rary employ­ees. Tem­po­rary employ­ees' start­ing wages are more than two dol­lars an hour low­er than full-time employ­ees', and their health­care and retire­ment ben­e­fits are much less robust, says the UAW.
Accord­ing to Brown, approx­i­mate­ly 200 – 300 ​"temps" are cur­rent­ly employed in the VW fac­to­ry — and the UAW says they can remain clas­si­fied as tem­po­rary even if they work at VW for years.
​"I am friends with these peo­ple, and they want a job. Some of these peo­ple have been there for 18 months as a temp and that's just … wrong," says Brown. ​"If this is a job that I do, they should be mak­ing the pay that I make. [They] should have the same job secu­ri­ty that I have as an employee."
Fel­low employ­ee Lau­ren Fein­auer agrees that a union would improve work­ers' com­mu­ni­ca­tion with man­age­ment. ​"We heard a lot in the begin­ning about how VW works with their employ­ees: close rela­tion­ships and a lot of com­mu­ni­ca­tion. I know there is a lot of that going on, but I think some of the VW way got lost in trans­la­tion," she says. ​"This is why we want a union."
This Sep­tem­ber, the UAW announced that a major­i­ty of VW work­ers have signed up to join the union. But accord­ing to the UAW, it and VW still have yet to agree on a process for rec­og­niz­ing the union. That has left time for out­side anti-union forces to try to dis­suade work­ers from join­ing the UAW — time that many of those groups have cap­i­tal­ized upon.
Anti-union con­sul­tants get in the game
In a pro­pos­al dat­ed Aug. 23, 2013, which was pre­sent­ed to a promi­nent anti-union group before being leaked to In These Times, Wash­ing­ton, D.C.-based con­sul­tant Matt Pat­ter­son out­lined a vision of how anti-union forces can work with com­mu­ni­ty groups to per­suade VW work­ers that orga­niz­ing is not in their long-term eco­nom­ic interest.
In the report, Pat­ter­son explained his approach thus far to lay­ing the ground­work for an anti-union cam­paign, which he calls the ​"Keep Ten­nessee Free Project," in Chat­tanooga. From last May to August, he said, he ​"lever­aged a $4,000 bud­get into a deep and effec­tive anti-UAW cam­paign that received nation­al media atten­tion, pres­sured politi­cians to issue pub­lic state­ments against union­iza­tion, forced the union to expend resources to counter our efforts, devel­oped an exten­sive intel­li­gence net­work that stretched from Chat­tanooga to Ger­many to Detroit and brought the ter­ri­ble eco­nom­ic lega­cy of the UAW to the fore­front of the debate."
Pat­ter­son claimed that dur­ing the sum­mer, he gen­er­at­ed 63 sto­ries denounc­ing the UAW effort in Chat­tanooga. In three months, he said, he was able to build a media echo cham­ber that now ham­mers Chat­tanooga with anti-union mes­sag­ing on a reg­u­lar basis.
And such remarks aren't idle boast­ing. The fruits of Patterson's anti-orga­niz­ing cru­sade have appeared in the Nation­al Review, Forbes and local Chat­tanooga TV sta­tion WDEF 12, in addi­tion to a host of small­er con­ser­v­a­tive talk radio shows.
But he didn't stop there — he also gath­ered grass­roots sup­port. ​"With­in a few weeks," he wrote, ​"I had orga­nized a coali­tion con­sist­ing of mem­bers of the Tea Par­ty, Stu­dents for Lib­er­ty, for­mer VW employ­ees, politi­cian and busi­ness­men to craft and deliv­er a con­sis­tent mes­sage that has shaped pub­lic opinion."
It's clear that Patterson's pro­pos­al was intend­ed for an audi­ence wor­ried that a vic­to­ry at Volk­swa­gen could fuel UAW union­iza­tion cam­paigns at the Nis­san plant in Can­ton, Miss., and at Mer­cedes-Benz in Vance, Ala. ​"Based on the suc­cess­es my coali­tion has already achieved, I am con­fi­dent that with the request[ed] resources, sig­nif­i­cant impact can made be over the next year in Ten­nessee, Alaba­ma, and through­out the South to keep the UAW from orga­niz­ing the for­eign-owned auto facil­i­ties that are the source of so many bad­ly-need­ed jobs," he assured pos­si­ble funders.
Accord­ing to vet­er­an anti-union con­sul­tant Mar­tin, Pat­ter­son orig­i­nal­ly asked for $160,000 in the pro­pos­al, which he sent to a vari­ety of anti-union groups, includ­ing Martin's. This, how­ev­er, was before Pat­ter­son found a backer for his project: Amer­i­cans for Tax Reform (ATR), the pet project of Repub­li­can mas­ter­mind Grover Norquist. Mar­tin says that after Pat­ter­son decid­ed to work with Amer­i­cans for Tax Reform, his pro­posed bud­get rose ​"sig­nif­i­cant­ly."
After the injec­tion of new funds, Patterson's voice in Chattanooga's anti-union debate grew even loud­er. Local TV sta­tion WTVC News Chan­nel 9 includ­ed him as an anti-union pan­elist in a tele­vised Octo­ber 17 dis­cus­sion about UAW orga­niz­ing. Since Sep­tem­ber, Pat­ter­son has also been quot­ed by the Asso­ci­at­ed Press, Nashville Pub­lic Radio, the Chat­tanooga Times Free Press and even the Detroit Free Press, the UAW's home turf newspaper.
Who's fund­ing the funder?
Mar­tin says he's uncer­tain of where the mon­ey for Pat­ter­son­'s project is com­ing from, because Amer­i­cans for Tax Reform is a 501(c)(4) that doesn't have to dis­close its donors. How­ev­er, he finds this secre­cy to be telling.
​"It is def­i­nite­ly cor­po­rate mon­ey. It is obvi­ous­ly some­one who does­n't want it known who is doing this, and they have done a good job of cov­er­ing it up, because I have absolute­ly no idea who is doing it," he says. ​"It could be the local Cham­ber [of Com­merce] try­ing to keep their fin­ger­print off of it. It could be Nis­san see­ing this is where they go to cut [union­iza­tion] off before it makes its way down to Mississippi."
Or, as he points out, the fund­ing could be com­ing from Volk­swa­gen itself. Though it stat­ed in Sep­tem­ber that it would not oppose the union, months lat­er, the com­pa­ny has yet to announce how it will rec­og­nize the sig­na­tures the UAW has gath­ered from a major­i­ty of work­ers. Indeed, a top leader at VW recent­ly pro­posed that work­ers should have to vote to union­ize on a secret bal­lot in addi­tion to sign­ing what the UAW says are legal­ly bind­ing cards.
Fur­ther­more, when speak­ing about VW's state­ment of neu­tral­i­ty, Cork­er told the Asso­ci­at­ed Press, ​"There was a lot of dis­sen­sion with­in the com­pa­ny … I don't think it, I know it. Can­did­ly, one board mem­ber got very involved and forced this let­ter to go out. I know that it's cre­at­ed tremen­dous amounts of ten­sion with­in the company."
In an email to In These Times, Volk­swa­gen spokesper­son Carsten Krebs denied that the com­pa­ny was giv­ing mon­ey to Pat­ter­son, but would not expand fur­ther on Volkswagen's posi­tion on the union drive.
Repub­li­can dissent
In his fre­quent com­ments to the press, Cork­er has echoed Patterson's asser­tion that union­iza­tion will lim­it job opportunities.
​"If they see the UAW is build­ing momen­tum in our state, oth­er com­pa­nies that are look­ing are not going to choose Ten­nessee [to set­tle in]; they're just not," an out­raged Cork­er said in September.
In a high-pro­file inter­view with NPR in Octo­ber, Cork­er con­tin­ued, ​"I mean, look at Detroit. Look at what's hap­pened." Refer­ring to Chrysler and Gen­er­al Motors, he said, ​"Look at all of the busi­ness­es that have left there. I mean, it's been phe­nom­e­nal. It's sad."
How­ev­er, not all Repub­li­cans are as alarmed by the prospect of the UAW enter­ing the region. Sen. Sax­by Cham­b­liss (R‑Ga.), whose dis­trict includes many VW work­ers who make the short com­mute across the bor­der to Chat­tanooga, said in an inter­view at the Atlanta air­port, ​"Hon­est­ly we have got a lot of employ­ees that work up at the Volk­swa­gen plant … You know I think one rea­son peo­ple are attract­ed to the South is that we are not heav­i­ly union­ized, but we have got unions … I real­ly had not thought too heav­i­ly about the VW plant, to tell you the truth."
When asked in a fol­low-up ques­tion if hav­ing ​"one union plant threat­ens all the rest of the South," Cham­b­liss respond­ed, ​"We have got a lot of union plants in the South … No, I don't think it's a problem."
Work­ers under fire
Nev­er­the­less, the ampli­fi­ca­tion of the Pat­ter­son-Cork­er mes­sage in the local media is putting a great deal of pres­sure on VW work­ers in Chattanooga.
​"I have had a lot of friends and neigh­bors come up and ask about me about the union," says King. ​"Some of them come up and say it's real­ly great, but I have had a lot peo­ple come up to me and say, ​'You guys are idiots. You guys are going to bank­rupt Volk­swa­gen and shut the plant down.' It def­i­nite­ly has turned into some­thing that every­one has an opin­ion on."
Brown says Corker's state­ments have also turned some of his co-work­ers against the union in a plant where he says the over­whelm­ing major­i­ty of the work­ers are Republicans.
​"It does have an effect because this is a hard­core Repub­li­can area in the Deep South, and a lot of these peo­ple are Repub­li­cans, so what the par­ty tells them is what they believe," he says.
Mar­tin tells In These Times that the cam­paign could get even more intense as oth­er anti-union groups try to enter the con­flict, includ­ing his own. In his opin­ion, Patterson's cam­paign hasn't been that sophis­ti­cat­ed, main­ly focus­ing on get­ting politi­cians to make state­ments and get­ting Pat­ter­son him­self to appear reg­u­lar­ly in the press — leav­ing plen­ty of room for oth­er anti-union groups to join in the effort.
​"It remains to be seen if [Patterson's strat­e­gy] will be effec­tive," says Mar­tin. ​"In the anti-union work that I have done in the past, we are far more sur­gi­cal and high-tech … [Patterson's cam­paign] is sur­pris­ing­ly unso­phis­ti­cat­ed. There is no web pres­ence now, no Face­book, no Twit­ter — all the stuff that is usu­al­ly typ­i­cal in anti-union campaigns."
In the mean­time, VW work­ers think it's unfair that out­side forces are pres­sur­ing them.
​"I find it dis­turb­ing that out­side par­ties are try­ing to inter­fere with a deci­sion that should rest sole­ly with the com­pa­ny, the work­ers, and the UAW," says Brown. ​"The Repub­li­can par­ty is into gov­ern­ment keep­ing its hands off of busi­ness, but in this instance they are see­ing how deep they can get into it. "
King agrees that anti-union con­sul­tants and leg­is­la­tors don't actu­al­ly have VW employ­ees' inter­ests at heart.
​"I would invite any of the rep­re­sen­ta­tive from these spe­cial inter­ests or any of those politi­cians to come work for a few weeks in the fac­to­ry and see how they feel about issue," he says. ​"They should walk a few days in our shoes … A lot of peo­ple would feel dif­fer­ent about it if they got more of a chance to talk to some of the Volk­swa­gen employees."
Full dis­clo­sure: The author's moth­er worked on an auto assem­bly line at a VW plant in West­more­land Coun­ty, Pa., until it closed in 1988, and was a mem­ber of the UAW .
The UAW is a web­site spon­sor of In These Times.