Appalachia's Coal Industry is Collapsing—But the Mountains Aren't Coming Back
The fall of West Virginia's coal mono-industry leaves the area without its peaks and forests. Only an uncertain future remains.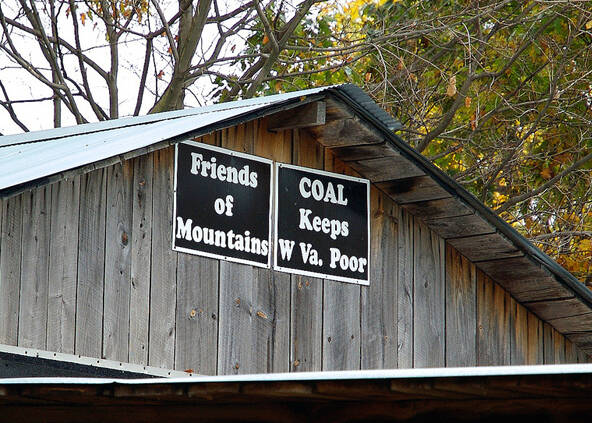 This post first appeared at TomDis​patch​.com.
It's unclear just what West Virginia's future will hold. Coal has been the region's mono-industry for so long that it's hard to imagine anything else.
In Appalachia, explo­sions have lev­eled the moun­tain tops into per­fect race tracks for Ryan Hensley's all-ter­rain vehi­cle (ATV). At least, that's how the 14-year-old sees the bar­ren expans­es of dirt that stretch for miles atop the hills sur­round­ing his home in the for­mer coal town of Whitesville, West Virginia.
"They're going to blast that one next," he says, point­ing to a peak in the dis­tance. He's refer­ring to a process known as ​"moun­tain-top removal," in which coal com­pa­nies use explo­sives to blast away hun­dreds of feet of rock in order to unearth under­ground seams of coal.
"And then it'll be just blank space," he adds. ​"Like the Tay­lor Swift song."
Skin­ny and shirt­less, Hens­ley looks no more than 11 or 12. His ribs and col­lar­bones pro­trude from his taut skin. Dip­ping tobac­co is tucked into his right cheek. He has a head of cropped blond curls that jog some mem­o­ry of mine, but I can't quite fig­ure out what it is. He's point­ing at a peak named Coal Riv­er Moun­tain. These days, though, it's known to activists here as ​"the Last Moun­tain," as it's the only ridge­line in this area that's still large­ly intact.
We con­tin­ue pick­ing our way along a path on top­less Kay­ford ​"Moun­tain," a few miles from Hensley's home­town (pop­u­la­tion 514, accord­ing to the 2010 cen­sus), as he resumes chron­i­cling his adven­tures on ATVs. Near­by is the Seng Creek mine, still semi-active and one of Hensley's favorite rac­ing spots. Active mines are always the best race tracks, he assures me, since you get the added thrill of out­run­ning secu­ri­ty guards and watch­ing explo­sions, which sound, he tells me, like hun­dreds of dump trucks emp­ty­ing their loads all at once.
As we walk, we're care­ful to step over crevices known as ​"mine cracks" — deep nar­row drops into the earth most often formed by the cav­ing in of old under­ground mines. Hens­ley stops to peer into one crack filled with bro­ken Bud Lite bot­tles and I joke that it leads straight through to China.
But Hens­ley knows bet­ter. At his young age, he's already an expert on every­thing about moun­tain-top removal: how com­pa­nies blast the peaks with ammo­ni­um nitrate and fuel oil—the same chem­i­cal com­bi­na­tion that Tim­o­thy McVeigh used to det­o­nate the Alfred P. Mur­rah Fed­er­al Build­ing in Okla­homa City in 1995. He knows that the process fills the air with tox­ic coal dust, ben­zene, and car­bon monox­ide, while con­t­a­m­i­nat­ing near­by streams with arsenic.
How­ev­er, Hens­ley doesn't know and can hard­ly imag­ine what this region — his home — was like before the peaks were removed. ​"I wasn't alive when those moun­tains were there," he observes a few hours lat­er. And even though the indus­try in West Vir­ginia is in the grips of an unprece­dent­ed col­lapse that threat­ens to dethrone King Coal once and for all, this 14-year-old and all the oth­er chil­dren grow­ing up in the shad­ow of these ​"blank spaces" will nev­er see the decap­i­tat­ed peaks return to thick­ly forest­ed moun­tain tops.
The King Is Dead
In the first half of this year, at least six domes­tic coal com­pa­nies filed for bank­rupt­cy. In Feb­ru­ary, West Virginia's Cov­ing­ton Coal fell, fol­lowed by Xin­er­gy and Grass Creek Coal in April, Patri­ot and Birm­ing­ham Coal & Coke in May, and A&M Coal in June. In August came the biggest announce­ment of all: the $10-bil­lion coal giant Alpha Nat­ur­al Resources had entered the bank­rupt­cy sweep­stakes, too.
Only four years ear­li­er, Alpha had secured its posi­tion as one of the world's largest coal out­fits by pur­chas­ing the Appalachi­an com­pa­ny Massey Ener­gy for $7 bil­lion and expand­ing its oper­a­tions to 60 mines, many in Appalachia. But its reign would prove short-lived. The price of coal has been plum­met­ing as util­i­ty com­pa­nies shift to sig­nif­i­cant­ly cheap­er shale gas, extract­ed through the drilling process known as hydraulic frac­tur­ing, or frack­ing, to pro­duce pow­er. This April, for the first time since the U.S. Ener­gy Infor­ma­tion Admin­is­tra­tion began col­lect­ing data in 1973, gas sur­passed coal as the nation's num­ber one pro­duc­er of energy.
By late July, the New York Stock Exchange announced that it had sus­pend­ed trad­ing of Alpha Nat­ur­al Resources' stock because it was worth next to nothing.
In August, the inevitable occurred. Alpha sub­mit­ted a bank­rupt­cy fil­ing which read in part: ​"The unprece­dent­ed changes fac­ing the coal indus­try run deep and are occur­ring at a fre­net­ic and unpre­dictable pace… The U.S. coal indus­try as cur­rent­ly struc­tured is unsustainable."
By now, the funer­al was under­way and the first obit­u­ar­ies were appear­ing. Head­lines in var­i­ous papers not only announced Alpha's demise, but offered autop­sies for the entire indus­try. As the New York Times put it in its head­line three days after the fil­ing: ​"King Coal, Long Besieged, Is Deposed by the Market."
Caus­es of death: the explo­sion of cheap nat­ur­al gas, the ris­ing costs of new envi­ron­men­tal and work­er safe­ty reg­u­la­tions, and a sim­ple geo­log­i­cal real­i­ty — the indus­try has already mined out the major­i­ty of all eco­nom­i­cal­ly recov­er­able coal.
This ener­gy ver­sion of régime change had been long in the mak­ing. The coal­fields are filled with now-aban­doned com­pa­ny towns, where the indus­try once employed hun­dreds of thou­sands of men to work in under­ground mines. The extrac­tion process gen­er­at­ed mas­sive wealth, at least for the mine own­ers. In the late 1880s, Bramwell, West Vir­ginia, was reput­ed­ly home to the high­est con­cen­tra­tion of mil­lion­aires per capi­ta of any town in the Unit­ed States. Today, its high school still boasts of that lega­cy through its teams' nick­name: the Bramwell Millionaires.
In the sec­ond half of the twen­ti­eth cen­tu­ry, many of those towns all but evap­o­rat­ed as the indus­try turned to strip min­ing, a mech­a­nized process that uses heavy machin­ery rather than mus­cle pow­er to carve away rock and expose seams of coal run­ning along hill­sides. The town of Kay­ford, which sits at the base of its name­sake moun­tain, is one such exam­ple. Once a com­pa­ny town for men employed in the mines, its main road is now lined only with poplars, sycamores, and bass­wood, a few poured-con­crete foun­da­tions, and a crum­bling sin­gle-sto­ry brick wall. The town's last build­ing is said to have burned down toward the end of the 1970s.
The for­mer town is still, how­ev­er, home to an active strip mine called Alpha's Repub­lic #1, which employs few peo­ple but has man­aged to extract a con­sid­er­able amount of coal. In 2012, orga­niz­ers with the cli­mate jus­tice group Moun­tain Jus­tice formed a human block­ade to shut down work traf­fic going in and out of the site. It was just one of dozens and dozens of block­ades, ​"tree-sits," and oth­er direct actions Moun­tain Jus­tice has exe­cut­ed as part of a decade-long cam­paign, which has won reg­u­la­to­ry improve­ments to reduce water con­t­a­m­i­na­tion, shield­ed schools in the coal­fields from the worst health impacts of min­ing, mod­er­at­ed flood­ing caused by that min­ing, and demand­ed the indus­try do more to replant trees and grass­es on old mine sites. That cam­paign also helped inspire almost all the major envi­ron­men­tal activism in the nation today — from the uni­ver­si­ty divest­ment move­ment to tree sits in Texas to block the Key­stone XL pipeline to the arrest this month of peo­ple seek­ing to halt the con­struc­tion of the first com­mer­cial tar sands mine in this country.
In many ways, how­ev­er, Moun­tain Jus­tice's protests were among the least extreme in the state's long his­to­ry of orga­niz­ing. Dri­ve far­ther up the moun­tain and you'll find con­crete bunkers built by hired guns from the Bald­win-Felts Detec­tive Agency sent in to quell a pow­er­ful min­er's strike in 1912 – 1913. Less than 10 years lat­er, as many as 10,000 armed min­ers from West Vir­ginia would launch the largest labor upris­ing in the nation's history.
The Moun­tains at the Cen­ter of the World
Even high­er up the moun­tain, past the bunkers, lies Stan­ley Heirs Park, a 50-acre swath of land sur­round­ed by the final stage of coal extrac­tion: moun­tain-top removal.
In the 1970s, as more and more of the read­i­ly avail­able coal was extract­ed from West Virginia's under­ground mines and ridge lines, com­pa­nies decid­ed to take strip min­ing to its log­i­cal con­clu­sion: they would sim­ply blast away the entire tops of moun­tains to get at the remain­ing coal. The results are vis­i­ble in the flat­tened, bar­ren mines that sur­round the park, includ­ing the Seng Creek mine where Ryan Hens­ley likes to ride his ATV.
Hens­ley and dozens of oth­ers con­verged here for an annu­al Fourth of July cel­e­bra­tion, an event host­ed by the fam­i­ly of the late Lar­ry Gib­son, a promi­nent orga­niz­er against moun­tain-top removal. His fam­i­ly has lived here on Kay­ford Moun­tain since the late 1700s and this sec­tion alone has remained unblast­ed because Gib­son turned the fam­i­ly plot into a land trust in order to fend off the industry.
Before his death in 2012, Gib­son was much hat­ed in the area for tak­ing on the coal com­pa­nies, so his friends and neigh­bors tell me as we share fried chick­en and Bud­weis­er. His house was rid­dled with bul­lets. His dogs were poi­soned or shot. But he suc­ceed­ed in pro­tect­ing at least his small plot of land from the explo­sives. Now, as his fam­i­ly points out, the land that used to lie in the shad­ow of sur­round­ing taller peaks has become, after 30 years of moun­tain-top removal, the high­est site in the area.
Few know more about the impact of the min­ing indus­try than Elise Keaton, a 30-some­thing native West Vir­gin­ian with the enthu­si­as­tic, com­mand­ing voice of a camp coun­selor. Years ago, she did what many of the state's res­i­dents do if they can: she left. She earned a law degree in Texas and lat­er helped with dis­as­ter relief in post-Kat­ri­na New Orleans.
"But being from West Vir­ginia is like hav­ing a fish­hook in your heart," she tells me. So she returned and, fol­low­ing Gibson's death, took over the role of edu­cat­ing new­com­ers about Kay­ford. Stand­ing at the edge of the Seng Creek mine, owned by the now bank­rupt coal com­pa­ny Patri­ot, Keaton explains that the sur­round­ing moun­tain peaks have been reduced by at least 400 feet, if not more. The removed earth — known in indus­try par­lance as the ​"over­bur­den" — was dumped into the near­by val­leys, where it cov­ered streams, reduc­ing the region's fresh water supply.
Before coal com­pa­nies came along, Appalachia had been ​"bur­dened" by these moun­tains for more than 400 mil­lion years. They were formed by the same col­li­sion of tec­ton­ic plates that pro­duced the sin­gle super­con­ti­nent Pangea. The Appalachi­an moun­tain range then lay at the heart of the world's only uni­fied landmass.
Today, the unblast­ed sec­tions of West Virginia's moun­tains are blan­ket­ed by a tem­per­ate for­est so diverse that researchers are still dis­cov­er­ing new species, includ­ing a red­dish-orange cray­fish that was plucked out of the water in 2013 and dubbed Cam­barus hat­fiel­di—a Latin play on the name of the famed West Vir­ginia fam­i­ly, the Hat­fields, who feud­ed with their neigh­bors across the riv­er in Ken­tucky, the McCoys.
Keaton recent­ly invit­ed a for­est expert to vis­it Kay­ford Moun­tain and sur­vey the decom­mis­sioned mines. The coal com­pa­nies have made only the most mea­ger efforts to reclaim this dev­as­tat­ed land by plant­i­ng quick-growth pine trees, black locust, grass seed, and oth­er plants that can live with high lev­els of acids in the soil. Keaton want­ed to know how long it would take for these stands of iden­ti­cal pines to be trans­formed into a diverse rain­for­est, so she took the expert to one of the ridges and asked him when the real for­est would grow back.
"And he said," Elise recalled, "'About 100 mil­lion years.'"
Before his death, Gib­son dubbed the entrance to the Seng Creek mine ​"Hell's Gate," since for many years this site looked out across a vast expanse of gray bro­ken only by the move­ments of mas­sive machines and those explo­sions, which occurred every day of the year. A writer for Smith­son­ian Mag­a­zine who vis­it­ed Kay­ford in 2009, while this mine was still being blast­ed fre­quent­ly, wrote that ​"enter­ing a moun­tain­top site is like cross­ing into a war zone."
Now, few are the explo­sions at Seng Creek, but the noth­ing­ness remains.
There's almost no sound down in the mine itself except for the muf­fled rush of the wind unshield­ed by trees. Heaps of sand­stone and frag­ment­ed shale rock stretch for what looks like miles. Much of the sur­face dirt has been packed down into undu­lat­ing wide roads by the giant wheels of coal trucks. Most of the birds long ago left this des­o­late spot, although you can hear the occa­sion­al singing of mead­owlarks from near­by recla­ma­tion sites. ("We've nev­er had mead­ow larks here before," Keaton lat­er tells me, as she stands on a near­by ridge over­look­ing a decom­mis­sioned mine seed­ed with grass. ​"But this is more like a mead­ow now.")
I walk to the far edge of the mine, sit down, and peer into some of the cylin­dri­cal holes, about 11 inch­es in diam­e­ter, that work­ers once drilled into the shale rock as places to pack full of ammo­ni­um nitrate. I recall what one of the festival's musi­cians said about coal — that he liked to think of it as old sun­light trapped inside rocks as long decom­posed organ­ic mat­ter. Maybe it would be sim­pler, he added, just to use new sun­light, as the weekend's solar-pow­ered event was, in fact, doing.
Final­ly, hours lat­er, I con­clude that there is very lit­tle else to be writ­ten, at least by me, at the edge of a moun­tain top that's been trans­formed into blank, dead space. After all, I'm new to West Vir­ginia, which gives me some­thing in com­mon with Ryan Hens­ley: I nev­er saw the moun­tains here, either. And I nev­er will.
The Life That's Left
This state's longest-serv­ing gov­er­nor once famous­ly asked: ​"Why does every­thing bad hap­pen to West Virginia?"
His ques­tion gibed well with the sense I ran into that the state's his­to­ry is a trag­ic one and that the coal industry's col­lapse is its grim final act. Indeed, it's unclear just what West Virginia's future will hold. Coal has been the region's mono-indus­try for so long that it's hard to imag­ine any­thing else. Elise Keaton points out that the region's rich coal­fields were a major part of the rea­son Pres­i­dent Abra­ham Lin­coln approved a con­tro­ver­sial Act of Con­gress in 1863 to carve out West Vir­ginia as a new state. It was one of only two states cre­at­ed in the midst of the Civ­il War and even some of Lincoln's advi­sors deemed the move uncon­sti­tu­tion­al. But annex­ing the region was mil­i­tar­i­ly expe­di­ent. It gave the north all those rich coal­fields and the prized Bal­ti­more & Ohio Rail­road, which hauled Union sol­diers south to the front lines and Appalachi­an coal north from Charleston to sta­tions in Bal­ti­more, Philadel­phia, and New York City.
In oth­er words, West Vir­ginia was cre­at­ed, as Keaton puts it, as a resource colony.
Per­haps, in the end, the death of coal will spell not doom but lib­er­a­tion for the state, free­ing it from the ener­gy needs of the rest of the nation. These days, as the coal indus­try crum­bles, West Vir­gini­ans are ral­ly­ing in sup­port of what's being called ​"tran­si­tion work" — the build­ing, that is, of a new econ­o­my based on agri­cul­ture, local arts, winer­ies, and the like.
Indeed, if West Vir­ginia is able to build these alter­na­tive economies, if the state is able to do more than sim­ply piv­ot from being a coal colony to becom­ing a shale gas sup­pli­er, it will pro­vide evi­dence that any region can be trans­formed as the planet's indus­tri­al­ized nations hur­tle into a post-fos­sil fuel future, kick­ing and scream­ing every step of the way.
Such a tran­si­tion will require not only build­ing anew, but also heal­ing old wounds.
Hours lat­er, Hens­ley begins plead­ing for one more expe­di­tion in Stan­ley Heirs Park, so we set off for Hell's Gate with a hand­ful of oth­ers. As we walk, I sud­den­ly real­ize just whom his cropped blond hair, which has felt so eeri­ly famil­iar, brought to mind: a young work­er I met in North Dakota's frack­ing fields in the sum­mer of 2014, short­ly before he was beat­en to death out­side a bar. In that moment of recog­ni­tion, I find myself pleased that Hens­ley will have, at best, a slim chance of find­ing a coal job when he's old­er, but then I begin to wor­ry about where the need for work will car­ry him if new indus­tries haven't sprung up in time.
Anoth­er mem­ber of our group is Charles Lee Williams, a for­mer min­er who lives a few miles away. Forty-six years old, Williams has a round head and small, deep-set blue eyes. He's a man who knows about death in the coal­fields bet­ter than most. He worked for coal giant Massey Ener­gy until 2010, when a series of explo­sions ripped through sub­ter­ranean tun­nels at his work­site killing 29 of his co-work­ers — and near­ly get­ting him, too. The force of the blasts, he tells me, was so pow­er­ful that it felt as if his skull were being sucked out of his head.
Now, Williams spends most nights dream­ing of the ghosts of those men. He sought treat­ment once for the result­ing PTSD, but the pills pre­scribed for him only seemed to make the night­mares worse. In them, he tells me, his for­mer co-work­ers usu­al­ly appear headless.
After we've returned from Hell's Gate, Williams con­fess­es that it's his first time sur­vey­ing a moun­tain-top removal site from above — despite liv­ing so close to mines that the explo­sions some­times shake his house.
"It feels like there's noth­ing alive left over there," he says. Then he paus­es and adds, ​"That's what it feels like in the morn­ings, too. That there ain't no life left in me, neither."
Lau­ra Gottes­di­ener
is a jour­nal­ist, social jus­tice activist, and author of A Dream Fore­closed: Black Amer­i­ca and the Fight for a Place to Call Home pub­lished this month by Zuc­cot­ti Park Press. She is an asso­ciate edi­tor for Wag­ing Non­vi­o­lence, and she has writ­ten for Rolling Stone, Ms. mag­a­zine, The Ari­zona Repub­lic, The New Haven Advo­cate, The Huff­in­g­ton Post, Alter­Net and oth­er pub­li­ca­tions. She lived and worked in the People's Kitchen dur­ing the occu­pa­tion of Zuc­cot­ti Park.