The Trump Administration Is Waging a War on Civilians In Syria
The United States is now one of the deadliest warring parties in Syria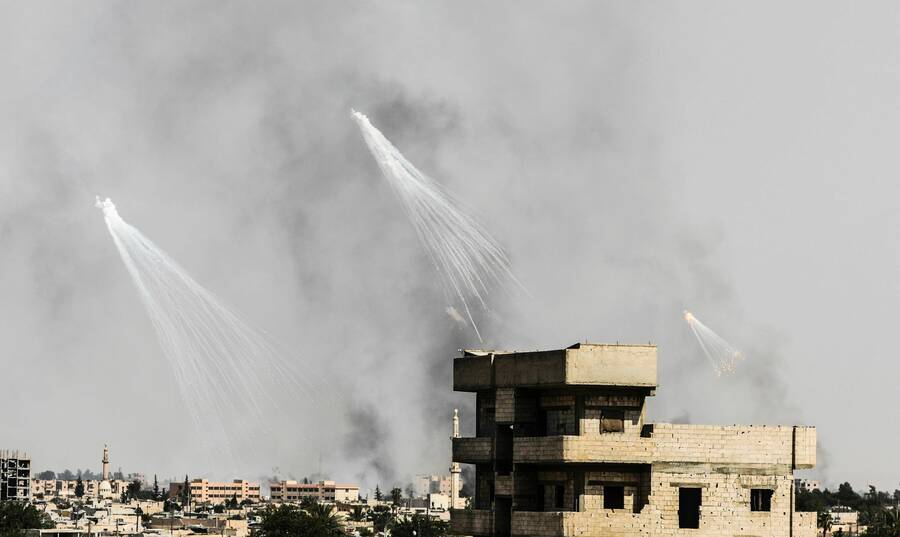 This arti­cle first appeared in Tom Dis­patch.
The United States has launched nearly 95 percent of all coalition airstrikes in Syria in recent months, meaning the campaign is, in fact, almost exclusively an American affair.
It was mid­day on Sun­day, May 7th, when the U.S.-led coali­tion war­planes again began bomb­ing the neigh­bor­hood of Was­sim Abdo's family.
They lived in Tabqa, a small city on the banks of the Euphrates Riv­er in north­ern Syr­ia. Then occu­pied by the Islam­ic State (ISIS, also known as Daesh), Tabqa was also under siege by U.S.-backed troops and being hit by dai­ly artillery fire from U.S. Marines, as well as U.S.-led coali­tion airstrikes. The city, the sec­ond largest in Raqqa Province, was home to an air­field and the cov­et­ed Tabqa Dam. It was also the last place in the region the U.S.-backed forces need­ed to take before launch­ing their much-antic­i­pat­ed offen­sive against the Islam­ic State's self-pro­claimed cap­i­tal, Raqqa.
His par­ents, Muhammed and Salam, had already fled their home once when the build­ing adja­cent to their house was bombed, Was­sim Abdo told me in a recent inter­view. ISIS had been arrest­ing civil­ians from their neigh­bor­hood for try­ing to flee the city. So on that Sun­day, the cou­ple was tak­ing shel­ter on the sec­ond floor of a four-sto­ry flat along with oth­er fam­i­ly mem­bers when a U.S.-led airstrike report­ed­ly struck the front half of the build­ing. Abdo's sis­ter-in-law Lama fled the struc­ture with her two chil­dren and sur­vived. But his par­ents and 12-year-old cousin were killed, along with dozens of their neigh­bors, as the con­crete col­lapsed on them.
As an exiled human rights activist, Was­sim Abdo only learned of his par­ents' death three days lat­er, after Lama called him from the Syr­i­an bor­der town of Kobane, where she and her two chil­dren had been trans­port­ed for med­ical treat­ment. Her daugh­ter had been wound­ed in the bomb­ing and although the U.S.-backed, Kur­dish-led troops had by then seized con­trol of Tabqa, it was impos­si­ble for her daugh­ter to be treat­ed in their home­town, because weeks of U.S.-led coali­tion bomb­ing had destroyed all the hos­pi­tals in the city.
A War Against Civilians
Islam­ic State fight­ers have now essen­tial­ly been defeat­ed in Mosul after a nine-month, U.S.-backed cam­paign that destroyed sig­nif­i­cant parts of Iraq's sec­ond largest city, killing up to 40,000 civil­ians and forc­ing as many as one mil­lion more peo­ple from their homes. Now, the Unit­ed States is focus­ing its ener­gies – and war­planes – on ISIS-occu­pied areas of east­ern Syr­ia in an offen­sive dubbed ​"Wrath of the Euphrates."
The Islam­ic State's bru­tal treat­ment of civil­ians in Syr­ia has been well report­ed and pub­li­cized. And accord­ing to Lieu­tenant Gen­er­al Stephen Townsend, the com­man­der of the U.S.-led war against ISIS in Iraq and Syr­ia, the bat­tle to ​"lib­er­ate" these regions from ISIS is the ​"most pre­cise cam­paign in the his­to­ry of warfare."
But reports and pho­tographs from Syr­i­an jour­nal­ists and activists, as well as first-per­son accounts from those with fam­i­ly mem­bers liv­ing in areas under U.S. bom­bard­ment, detail a strik­ing­ly dif­fer­ent tale of the Amer­i­can offen­sive – one that looks a lot less like a bat­tle against the Islam­ic State and a lot more like a war on civilians.
These human rights groups and local reporters say that, across Syr­ia in recent months, the U.S.-led coali­tion and U.S. Marines have bombed or shelled at least 12 schools, includ­ing pri­ma­ry schools and a girls' high school; a health clin­ic and an obstet­rics hos­pi­tal; Raqqa's Sci­ence Col­lege; res­i­den­tial neigh­bor­hoods; bak­eries; post offices; a car wash; at least 15 mosques; a cul­tur­al cen­ter; a gas sta­tion; cars car­ry­ing civil­ians to the hos­pi­tal; a funer­al; water tanks; at least 15 bridges; a makeshift refugee camp; the ancient Rafiqah Wall that dates back to the eighth cen­tu­ry; and an Inter­net café in Raqqa, where a Syr­i­an media activist was killed as he was try­ing to smug­gle news out of the besieged city.
The Unit­ed States is now one of the dead­liest war­ring par­ties in Syr­ia. In May and June com­bined, the U.S.-led coali­tion killed more civil­ians than the Assad régime, the Rus­sians, or ISIS, accord­ing to the Syr­i­an Net­work for Human Rights, a non­govern­men­tal orga­ni­za­tion that has been mon­i­tor­ing the death toll and human rights vio­la­tions in Syr­ia since 2011.
"This admin­is­tra­tion wants to achieve a quick vic­to­ry," Dr. Fadel Abdul Ghany, chair­man of the Syr­i­an Net­work for Human Rights recent­ly told me, refer­ring to the Trump White House. ​"What we are notic­ing is that the U.S. is tar­get­ing and killing with­out tak­ing into con­sid­er­a­tion the ben­e­fits for the mil­i­tary and the col­lat­er­al dam­age for the civil­ians. This, of course, amounts to war crimes."
And nowhere is this war against civil­ians more acute than in ISIS-occu­pied Raqqa, where trapped fam­i­lies are liv­ing under dozens of airstrikes every day.
Hotel of the Revolution
Locat­ed at the con­flu­ence of the Euphrates and Balikh rivers in north­ern­Syr­ia, Raqqa was first set­tled more than 5,000 years ago. By the late eighth cen­tu­ry, it had grown into an impe­r­i­al city, filled with orchards, palaces, canals, recep­tion halls, and a hip­po­drome for horse rac­ing. Its indus­tri­al quar­ters were then known as ​"the burn­ing Raqqa," thanks to the flames and thick smoke pro­duced by its glass and ceram­ic fur­naces. The city even served briefly as the cap­i­tal of the vast Abbasid Empire stretch­ing from North Africa to Cen­tral Asia.
Toward the end of the thir­teenth cen­tu­ry, wars between the Mon­gol and Mam­luk empires anni­hi­lat­ed Raqqa and its sur­round­ing coun­try­side. Every sin­gle res­i­dent of the city was either killed or expelled. Accord­ing to Ham­burg Uni­ver­si­ty pro­fes­sor Ste­fan Hei­de­mann, who has worked on a num­ber of exca­va­tions in and around Raqqa, the scorched-earth war­fare was so extreme that not a sin­gle tree was left stand­ing in the region.
Only in the mid­dle of the twen­ti­eth cen­tu­ry when irri­ga­tion from the Euphrates Riv­er allowed Raqqa's coun­try­side to flour­ish amid a glob­al cot­ton boom did the city ful­ly reemerge. In the 1970s, the region's pop­u­la­tion again began to swell after then-Pres­i­dent Hafez al-Assad – the father of the present Syr­i­an leader, Bashar al-Assad – ordered the con­struc­tion of a mas­sive hydro­elec­tric dam on the Euphrates about 30 miles upstream of Raqqa. Was­sim Abdo's father, Muhammed, was an employ­ee at this dam. Like many of these work­ers and their fam­i­lies, he and Salam lived in Tabqa's third neigh­bor­hood, which was filled with four-sto­ry apart­ment flats built in the 1970s not far from the dam and its pow­er station.
Despite these agri­cul­tur­al and indus­tri­al devel­op­ments, Raqqa remained a small provin­cial cap­i­tal. Abdalaz­iz Alhamza, a cofounder of the watch­dog group Raqqa Is Being Slaugh­tered Silent­ly, which is made up of media activists from Raqqa liv­ing in the city as well as in exile, writes that the local news nor­mal­ly didn't even men­tion the city in its weath­er forecasts.
In the mid-2000s, a drought began to with­er the local cash crops: cot­ton, pota­toes, rice, and toma­toes. As in oth­er regions of Syr­ia, farm­ers migrat­ed from the coun­try­side into the city, where over­stretched and ill-func­tion­ing pub­lic ser­vices only exac­er­bat­ed long-sim­mer­ing dis­sat­is­fac­tions with the Assad régime.
As the 2011 rebel­lion broke out across Syr­ia, Was­sim Abdo and thou­sands of oth­ers in Raqqa, Tabqa, and near­by vil­lages began agi­tat­ing against the Syr­i­an gov­ern­ment, flood­ing the streets in protest and form­ing local coor­di­nat­ing coun­cils. The régime slow­ly lost con­trol of ter­ri­to­ry across the province. In March 2013, after only a few days of bat­tle, anti-gov­ern­ment rebels oust­ed gov­ern­ment troops from the city and declared Raqqa the ​first ​liberated provin­cial cap­i­tal​ in all of Syr­ia. The city, then the sixth largest in Syr­ia, became ​"the hotel of the revolution."
With­in less than a year, how­ev­er, despite fierce protests and oppo­si­tion from its res­i­dents, ISIS fight­ers had ful­ly occu­pied the city and the sur­round­ing coun­try­side. They declared Raqqa the cap­i­tal of the Islam­ic State.
Despite the occu­pa­tion, Wassim's par­ents nev­er tried to flee Tabqa because they hoped to reunite with one of their sons, Azad, who had been kid­napped by ISIS fight­ers in Sep­tem­ber 2013. In retire­ment, Muhammed Abdo opened a small elec­tron­ics store. Salam was a house­wife. Like tens of thou­sands of oth­er civil­ians, they were liv­ing under ISIS occu­pa­tion in Tabqa when, in the spring of 2017, U.S. Apache heli­copters and war­planes first began appear­ingin the skies above the city. U.S. Marines armed with how­itzers were deployed to the region. In late March, Amer­i­can heli­copters air­lift­ed hun­dreds of U.S.-backed troops from the Kur­dish-led mili­tias known as the Syr­i­an Demo­c­ra­t­ic Forces​ to the banks of the dammed riv­er near the city. Addi­tion­al forces approached from the east, trans­port­ed on Amer­i­can speed­boats.
By the begin­ning of May, the Abdos' neigh­bor­hood was under almost dai­ly bom­bard­ment by the U.S.-led coali­tion forces. On May 3rd, coali­tion war­planes report­ed­ly launched up to 30 airstrikes across Tabqa's first, sec­ond, and third neigh­bor­hoods, strik­ing homes and a fruit mar­ket and report­ed­ly killing at least six civil­ians. The fol­low­ing night, anoth­er round of coali­tion airstrikes bat­tered the first and third neigh­bor­hoods, report­ed­ly killing at least sev­en civil­ians, includ­ing women and chil­dren. Sep­a­rate airstrikes that same night near the city's cen­ter report­ed­ly killed anoth­er six to 12 civil­ians.
May 7th, mul­ti­ple bombs report­ed­ly dropped by the U.S.-led coali­tion struck the build­ing where Muhammed and Salam had tak­en shel­ter, killing them and their 12-year-old grand­son. Three days lat­er, the Syr­i­an Demo­c­ra­t­ic Forces announced that they had ful­ly seized con­trol of Tabqa and the dam. The mili­tia and its U.S. advis­ers quick­ly set their sights east to the upcom­ing offen­sive in Raqqa.
But for the Abdo fam­i­ly, the tragedy con­tin­ued. Muhammed and Salam's bod­ies were buried beneath the col­lapsed apart­ment build­ing. It took 15 days before Wassim's broth­er Rashid could secure the heavy machin­ery required to extract them.
"Nobody could approach the corpses because of the dis­fig­ure­ment that had occurred and the smell ema­nat­ing from them as a result of being left under the rub­ble for such a long peri­od of time in the hot weath­er," Was­sim told me in a recent inter­view.
That same day their bod­ies were final­ly recov­ered. On May 23rd, his par­ents and nephew were buried in the Tabqa cemetery.
"In Raqqa There Are Many Caus­es of Death"
A few days after the Abdos' funer­al, the U.S.-led coali­tion began drop­ping leaflets over Raqqa instruct­ing civil­ians to flee the city ahead of the upcom­ing offen­sive. Accord­ing to pho­tos of leaflets pub­lished by Raqqa Is Being Slaugh­tered Silent­ly, the warn­ings read, in part, ​"This is your last chance… Fail­ing to leave might lead to death."
ISIS fight­ers, in turn, pro­hib­it­ed civil­ians from escap­ing the city and plant­ed land­mines in Raqqa's out­skirts. Nev­er­the­less, on June 5th, dozens of civil­ians heed­ed the coalition's warn­ings and gath­ered at a boat stand on the north­ern banks of the Euphrates, where they wait­ed to be fer­ried out of the city. Before the war, fam­i­lies had pic­nicked along this river­bank. Teenagers jumped into the water from Raqqa's Old Bridge, built in 1942 by British troops. A hand­ful of riv­er front cafés opened for the season.
"The riv­er is the main mon­u­ment of the city, and for many peo­ple there's a roman­tic mean­ing to it," Syr­i­an jour­nal­ist Mar­wan Hisham, cur­rent­ly co-writ­ing Broth­ers of the Gun, a book about life in ISIS-occu­pied Raqqa, told me.
But on June 5th, as the fam­i­lies were wait­ing to cross the riv­er to escape the impend­ing U.S.-backed offen­sive, coali­tion war­planes launched a bar­rage of airstrikes tar­get­ing the boats, report­ed­ly mas­sacring as many as 21 civil­ians. The coali­tion acknowl­edges launch­ing 35 airstrikes that destroyed 68 boats between June 4th and June 6th, accord­ing to the jour­nal­is­tic out­let Air­wars. Lieu­tenant Gen­er­al Stephen Townsend lat­er boast­ed about the tac­tic, tellingthe New York Times: ​"We shoot every boat we find."
The day after the attack on flee­ing civil­ians at the boat stand, the long-await­ed U.S.-backed ground offen­sive offi­cial­ly began.
After three years of ISIS rule, Raqqa had become one of the most iso­lat­ed cities in the world. The mil­i­tants banned res­i­dents from hav­ing home inter­net, satel­lite dish­es, or Wi-Fi hotspots. They arrest­ed and killed local reporters and banned out­side jour­nal­ists. On the day U.S.-backed troops launched their ground offen­sive against the city, ISIS fur­ther sought to restrict report­ing on con­di­tions there by order­ing the immi­nent shut­down of all Inter­net cafés.
Despite these restric­tions, dozens of Syr­i­an jour­nal­ists and activists have risked and still risk their lives to smug­gle infor­ma­tion out of besieged Raqqa – and their efforts are the only rea­son most West­ern reporters (includ­ing myself) have any infor­ma­tion about the war our coun­tries are cur­rent­ly wag­ing there.
Every day, these media activists fun­nel news out of the city to exiled Syr­i­ans run­ning media out­lets and human rights orga­ni­za­tions. The most famous among these groups has become Raqqa Is Being Slaugh­tered Silent­ly, which won the 2015 Inter­na­tion­al Press Free­dom Award for its report­ing on the ISIS occu­pa­tion and now pub­lish­es hourly updates on the U.S.-backed offen­sive. All this news is then com­piled and cross-checked by inter­na­tion­al mon­i­tor­ing groups like Air­wars, whose researchers have now found them­selves track­ing as many as a half-dozen coali­tion attacks result­ing in civil­ian casu­al­ties every day.
It's because of this work that we know the Raqqa offen­sive offi­cial­ly began on June 6th with a bar­rage of airstrikes and artillery shelling that report­ed­ly hit a school, a train sta­tion, the immi­gra­tion and pass­port build­ing, a mosque, and mul­ti­ple res­i­den­tial neigh­bor­hoods, killing between six and 13 civil­ians. Two days lat­er, bombs, artillery shells, and white phos­pho­rus were report­ed­ly unleashed across Raqqa, hit­ting – among oth­er places – the Al-Hason Net Inter­net café, killing a media activist and at least a dozen oth­ers. (That jour­nal­ist was one of at least 26 media activists to be killed in Syr­ia this year alone.) Oth­er bombs report­ed­ly hit at least eight shops and a mosque. Pho­tosalso showed white phos­pho­rus explod­ing over two res­i­den­tial neighborhoods.
White phos­pho­rus is capa­ble of burn­ing human flesh to the bone. When exposed to oxy­gen, the chem­i­cal ignites reach­ing a tem­per­a­ture of 1,500 degrees Fahren­heit. It's so flam­ma­ble that its burns can reignite days lat­er if the ban­dages are removed too soon.
U.S. mil­i­tary offi­cials have not denied using white phos­pho­rus in the city. The Pen­ta­gon has, in fact, pub­lished pho­tos of U.S. Marines deployed to the Raqqa region trans­port­ing U.S.-manufactured white phos­pho­rus muni­tions. Its spokes­men claim that the U.S. mil­i­tary only uses this incen­di­ary agent to mark tar­gets for air strikes or to cre­ate smoke screens and there­fore remains in accor­dance with inter­na­tion­al law. But in the days after the report­ed attack, Amnesty Inter­na­tion­al warned: ​"The US-led coalition's use of white phos­pho­rus muni­tions on the out­skirts of al-Raqqa, Syr­ia, is unlaw­ful and may amount to a war crime." (Amnesty sim­i­lar­ly accused the U.S. of poten­tial­ly com­mit­ting war crimes dur­ing its cam­paign against ISIS in Mosul.)
Fol­low­ing the report­ed white phos­pho­rus attacks on June 8th and 9th, Raqqa's main com­mer­cial and social avenue – Feb­ru­ary 23rd Street – report­ed­ly came under three straight days of bomb­ing. Syr­i­an jour­nal­ist Mar­wan Hisham, who grew up in that city, recalls how that street had once been lined with cafés, enter­tain­ment venues, and shops. Its west­ern edge runs into Rashid Park, one of the city's main pub­lic spaces. Its east­ern edge stretch­es to the ancient Abbasid Wall.
Between June 9th and June 11th, as many as 10 civil­ians were killed in repeat­ed bomb­ings of Feb­ru­ary 23rd Street and its major inter­sec­tions, accord­ing to reports com­piled by Air­wars. (These sorts of air strikes, osten­si­bly aimed at lim­it­ing the mobil­i­ty of ISIS fight­ers, were also employed in Mosul, parts of which are now in ruins.) On those same days, four adults and four chil­dren were report­ed­ly killed in airstrikes on Raqqa's indus­tri­al dis­trict, anoth­er 21 civil­ians were killed in the west of the city, and at least 11 more civil­ians, again includ­ing chil­dren, when airstrikes report­ed­ly destroyedhomes on al-Nour street, which is just around the cor­ner from the al-Rayan Bak­ery, bombed less than two weeks later.
On that day, June 21st, a Raqqa res­i­dent named Abu Ahmad was return­ing from get­ting water at a near­by well when, he lat­er told Reuters, he began hear­ing peo­ple scream­ing as hous­es crum­bled. He said that as many as 30 peo­ple had died when the apart­ment flats around the bak­ery were lev­eled. ​"We could­n't even do any­thing," he added. ​"The rock­et launch­ers, the war­planes. We left them to die under the rub­ble." Only a few days ear­li­er, coali­tion war­planes had destroyed anoth­er source of bread, the al-Nadeer bak­ery on al-Man­sour Street, one of Raqqa's old­est thoroughfares.
In July, the U.S.-led coali­tion bombed the ancient Abbasid Wall, and U.S.-backed troops breached Raqqa's Old City. U.S. advis­ers began to oper­ateinside Raqqa, call­ing in more airstrikes from there.
More and more names, pho­tographs, and sto­ries of the coalition's vic­tims were smug­gled out by local jour­nal­ists. Accord­ing to these reports, on July 2nd, Jami­la Ali al-Abdul­lah, her three chil­dren, and up to 10 of her neigh­bors were killed in her neigh­bor­hood. On July 3rd, at least three fam­i­lies were killed, includ­ing Yass­er al-Abdul­lah and his four chil­dren, A'ssaf, Zain, Jude, and Rimas. On July 5th, an elder­ly man named Yasin died in an airstrike on al-Man­sour Street. On July 6th, Anwar Has­san al-Hariri was killed along with her son Mohammed, her daugh­ter Shatha, and her tod­dler Jana. Five mem­bers of the al-Sayyed fam­i­ly per­ished on July 7th. Sis­ters Haz­ar and Elhan Abdul Aad­er Shashan died in their home on July 12th, while sev­en mem­bers of the Ba'anat fam­i­ly were killed on July 13th, as was Mar­wan al-Sala­ma and at least ten of his fam­i­ly mem­bers on July 17th.
Hun­dreds more were report­ed­ly wound­ed, includ­ing Isma'il Ali al-Thla­ji, a child who lost his eye­sight and his right hand. And these are, of course, only some of the report­ed names of those killed by the U.S.-led coali­tion.
"In Raqqa, there are many caus­es of death," the jour­nal­ists at Raqqa Is Being Slaugh­tered Silent­ly wrote. These include ​"indis­crim­i­nate airstrikes by inter­na­tion­al coali­tion war­planes, dai­ly artillery shelling by Syr­i­an Demo­c­ra­t­ic Forces, and ISIS mines scat­tered through­out the sur­round­ing landscape."
For those who sur­vive, con­di­tions inside the city only con­tin­ue to wors­en. Coali­tion bomb­ing report­ed­ly destroyed the two main pipes car­ry­ing water into the city in the 100-degree July heat, forc­ing peo­ple to ven­ture to the banks of the Euphrates, where at least 27 have been report­ed­ly killed by U.S.-led bomb­ing while fill­ing up jugs of water.
A Coali­tion in Name Only
The Unit­ed States has launched near­ly 95 per­cent of all coali­tion airstrikes in Syr­ia in recent months, mean­ing the cam­paign is, in fact, almost exclu­sive­ly an Amer­i­can affair. ​"The French and British are launch­ing about half a dozen strikes a week now," Chris Woods, direc­tor of Air­wars, explained to me. ​"The Bel­gians maybe one or two a week." In com­par­i­son, in Raqqa province last month the U.S. launched about twen­ty air or artillery strikes every sin­gle day.
In June alone, the U.S.-led coali­tion and U.S. Marines fired or dropped approx­i­mate­ly 4,400 muni­tions on Raqqa and its sur­round­ing vil­lages. Accord­ing to Mark Hiz­nay, the asso­ciate direc­tor of Human Rights Watch's arms divi­sion, these muni­tions includ­ed 250-pound pre­ci­sion-guid­ed small diam­e­ter bombs, as well as MK-80 bombs, which weigh between 500 and 2,000 pounds and are equipped with pre­ci­sion-guid­ed kits. The bombs are dropped by B‑52 bombers and oth­er war­planes, most tak­ing off from the al-Udeid Air Base in Qatar, Incir­lik Air Base in Turkey, or the USS George H.W. Bush, an air­craft car­ri­er sta­tioned off Syria's coast in the east­ern Mediterranean.
Hun­dreds of U.S. Marines, most like­ly from the 24th Marine Expe­di­tionary Unit, are also posi­tioned out­side Raqqa and are fir­ing high explo­sive artillery rounds into the city from M777 How­itzers. In late June, the Marines' offi­cial Twit­ter feed boast­ed that they were con­duct­ing artillery fire in sup­port of U.S.-backed troops 24 hours a day.
The result of this type of war­fare, says Air­wars' Chris Woods, is a stag­ger­ing increase in civil­ian casu­al­ties. Accord­ing to an analy­sis by the group, since Pres­i­dent Trump took office six months ago, the U.S.-led cam­paign has report­ed­ly killed near­ly as many civil­ians in Syr­ia and Iraq as were killed in the pre­vi­ous two and a half years of the Oba­ma administration.
And for sur­viv­ing civil­ians, the con­di­tions of war don't end once the bomb­ing stops, as life today in the city of Tabqa indicates.
As of mid-July, accord­ing to Was­sim Abdo, Tabqa still has nei­ther run­ning water nor elec­tric­i­ty, even though dis­placed fam­i­lies have begun return­ing to their homes. There's a short­age of bread, and still no func­tion­ing schools or hos­pi­tals. The Tabqa Dam, which once gen­er­at­ed up to 20% of Syria's elec­tric­i­ty, remains inop­er­a­ble. (U.S.-led coali­tion airstrikes report­ed­ly dam­aged the struc­ture repeat­ed­ly in Feb­ru­ary and March, when they burnedthe main con­trol room, caus­ing the Unit­ed Nations to warn of a threat of cat­a­stroph­ic flood­ing down­stream.) The U.S.-backed troops in Tabqa have, accord­ing to Abdo, banned the Inter­net and U.S. offi­cials admit that chil­dren in the area are being infect­ed by dis­eases car­ried by flies feed­ing off corpses still buried in the rubble.
Mean­while, less than 30 miles to the east, the bat­tle for con­trol of Raqqa con­tin­ues with tens of thou­sands of civil­ians still trapped inside the besieged city. Lieu­tenant Gen­er­al Stephen Townsend has indi­cat­ed that the U.S.-led coali­tion may soon increase the rate of airstrikes there yet again.
From Was­sim Abdo's per­spec­tive, that coali­tion cam­paign in Syr­ia has so far killed his par­ents and nephew and ruined his home­town. None of this, under­stand­ably, looks any­thing like a war against ISIS.
"My opin­ion of the inter­na­tion­al coali­tion," he told me recent­ly, ​"is that it's a per­for­mance by the inter­na­tion­al com­mu­ni­ty to tar­get civil­ians and infra­struc­ture and to destroy the coun­try." And this type of war­fare, he added, ​"is not part of elim­i­nat­ing Daesh."
Lau­ra Gottes­di­ener
is a jour­nal­ist, social jus­tice activist, and author of A Dream Fore­closed: Black Amer­i­ca and the Fight for a Place to Call Home pub­lished this month by Zuc­cot­ti Park Press. She is an asso­ciate edi­tor for Wag­ing Non­vi­o­lence, and she has writ­ten for Rolling Stone, Ms. mag­a­zine, The Ari­zona Repub­lic, The New Haven Advo­cate, The Huff­in­g­ton Post, Alter­Net and oth­er pub­li­ca­tions. She lived and worked in the People's Kitchen dur­ing the occu­pa­tion of Zuc­cot­ti Park.