Faced With Exorbitant Utility Costs, New York State Residents Fight To Keep The Lights On
A housing rights organization in Poughkeepsie, New York, stands with its community against a utility company's attempt to disconnect low-income family homes.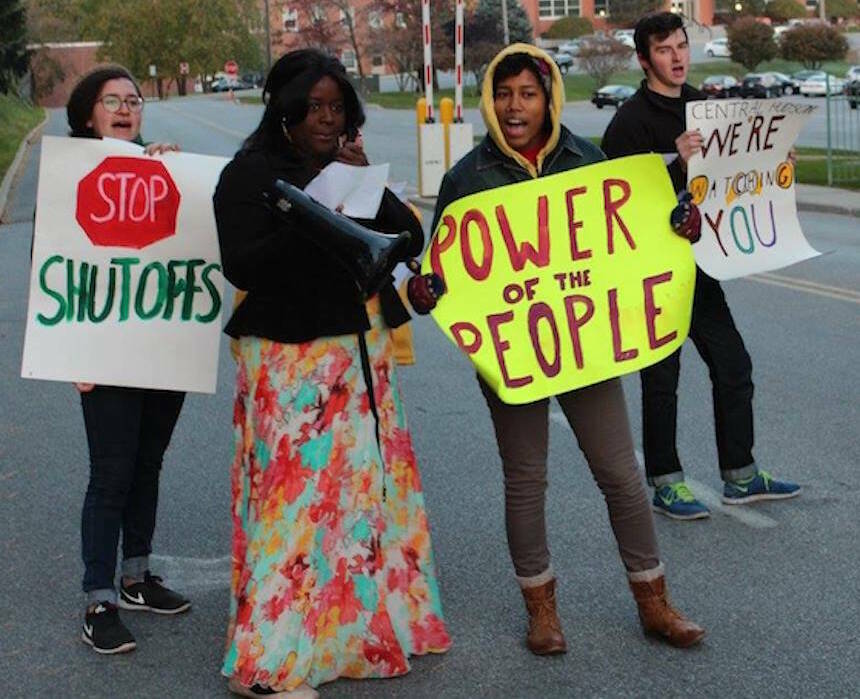 This post first appeared at YES! mag­a­zine.
When most people picture debt, they think about foreclosures, student loans, and outlandish medical bills. But for an increasing number of Americans, the soaring cost of energy is also pushing families deeper into the red.
On her street of clap­board hous­es in Pough­keep­sie, New York, Don­na West was the lady with no lights.
"That's how peo­ple on the block know me," said West. ​"But I'm not hang­ing my head in shame — no, Lord."
Broad-shoul­dered and with a soft expres­sion, West and her three chil­dren have been liv­ing in the dark for months. They charge their cell phones at the laun­dro­mat. West and her daugh­ter, Princess, who are both asth­mat­ic, per­form their neb­u­liz­er treat­ments at a neighbor's home. In the ear­ly morn­ings, West heats water on the stove so the kids can take luke­warm baths before school. Princess even invent­ed a song to cut through the darkness:
We have no lights
at 2 Gray Street.
When you come in our house,
you can­not see.
You will fall down the stairs,
like I did yesterday…
The prob­lem was that Cen­tral Hud­son Gas & Elec­tric Corp., the monop­oly ener­gy provider for the city of Pough­keep­sie and two coun­ties in the Mid-Hud­son Riv­er Val­ley, claimed that West owed an out­stand­ing bal­ance of $12,882.26. It was a fig­ure so shock­ing to West, who had been pay­ing the util­i­ty com­pa­ny between $100 and $200 each month con­sis­tent­ly over the last 16 years, that she car­ried around her bill in her purse. ​"I have to show peo­ple my bill because they don't believe me," she said.
West is one of the newest mem­bers of Nobody Leaves Mid-Hud­son, a Pough­keep­sie hous­ing rights orga­ni­za­tion that has set its sights not on JP Mor­gan-Chase or Fan­nie Mae but on a local cor­po­ra­tion sad­dling res­i­dents with hous­ing-relat­ed debt: the pri­vate­ly owned util­i­ty com­pa­ny Cen­tral Hud­son Gas & Elec­tric Corp.
Nation­al­ly, ener­gy util­i­ty com­pa­nies' rates have been ris­ing through­out the last decade, and Cen­tral Hud­son is no excep­tion. On July 1, Cen­tral Hud­son imposed a dra­mat­ic rate hike: a 7 to 9 per­cent increase for elec­tric­i­ty and a 5 per­cent increase for gas. For many across the Mid-Hud­son Riv­er Val­ley, ener­gy costs were unaf­ford­able even before these increas­es. From mid-2013 to mid-2014, the com­pa­ny cut off ener­gy from more than 10,000 house­holds, includ­ing West's, for lack of payment.
When most peo­ple pic­ture debt, they think about fore­clo­sures, stu­dent loans, and out­landish med­ical bills. But for an increas­ing num­ber of Amer­i­cans, the soar­ing cost of ener­gy is also push­ing fam­i­lies deep­er into the red.
"Peo­ple are going with­out food and med­i­cine to try to pay their util­i­ty bills," said Jonathan Bix, an orga­niz­er with Nobody Leaves Mid-Hud­son. ​"Peo­ple are choos­ing between heat­ing and eat­ing, and a huge amount of peo­ple are still falling into debt and get­ting their pow­er shut off."
In fact, a study by the Cen­ter for Finan­cial Ser­vices Inno­va­tion found that util­i­ty bills were the num­ber one rea­son peo­ple were forced to take out short-term loans such as pay­day loans, caus­ing a debt trap that Pough­keep­sie res­i­dent Mary Grace Wyck­huyse, anoth­er mem­ber of Nobody Leaves Mid-Hud­son, knows well. In 2012, she was liv­ing in Las Vegas with her chil­dren and work­ing at a call cen­ter for — of all things — an ener­gy com­pa­ny. Yet, with the call center's com­mis­sion-only pay struc­ture, her own util­i­ty debts were mount­ing. Final­ly, she bor­rowed $300 from Dol­lar Loan Cen­ter, a store­front pay­day lender, to keep her lights on.
"I got the util­i­ty paid off but not the loan," she said.
With the high inter­est rate, the debt bal­looned and soon went into col­lec­tions, leav­ing her to con­tend with a bar­rage of calls from col­lec­tors and a hit to her credit.
For near­ly 20 years, Cen­tral Hud­son has oper­at­ed more or less unchal­lenged — until Nobody Leaves Mid-Hud­son came along. First emerg­ing as an anti-evic­tion work­ing group of the 2011 Occu­py move­ment, the group spun off into its own orga­ni­za­tion and soon began sup­port­ing home­own­ers fight­ing fore­clo­sure with guid­ance from the long­time hous­ing-rights group City Life/​Vida Urbana in Boston and the nation­al umbrel­la group Right to the City.
In the sum­mer of 2013, Zakiyyah Salahud­din, a long­time com­mu­ni­ty orga­niz­er in Pough­keep­sie and one of the group's key mem­bers, brought anoth­er issue to the table: util­i­ty bills.
"I knew a lot of fam­i­lies who were hurt­ing," she explained.
Plus, she'd lived the prob­lem per­son­al­ly. Salahud­din had been shut off at least four times by Cen­tral Hud­son over the years. Once, she watched a whole refrigerator's worth of new­ly bought food spoil. Anoth­er time, her heat was shut off in the dead of win­ter. ​"You see your breath in the house," she said. ​"You get pneu­mo­nia. And then you've got a doctor's bill, too."
As oth­er mem­bers shared sim­i­lar expe­ri­ences, the orga­ni­za­tion decid­ed to launch a new cam­paign called ​"People's Power."
Nobody Leaves began can­vass­ing neigh­bor­hoods and fly­er­ing at the Social Ser­vices office. The num­ber of mem­bers swelled — each with their own sto­ry. One man lived in a small two-room trail­er, yet his month­ly bill often topped $200. Anoth­er woman moved into a new apart­ment in Jan­u­ary and owed $3,000 by March. Mem­ber Tanya Bar­ber, who lives with her 1‑year-old grand­son, was threat­ened with shut-off after she missed one pay­ment on her pay­ment plan. ​"I tried to explain to them there was a baby in the house," she recalled. ​"And their response was: ​'I don't know what to tell you. You reneged on your agreement.'"
Cen­tral Hud­son declined to com­ment on spe­cif­ic cas­es for this piece but said, ​"We are sym­pa­thet­ic to the dif­fi­cul­ties that many cus­tomers face due to dif­fi­cult eco­nom­ic con­di­tions, and we work with them to the best of our abil­i­ty to keep their accounts current."
After host­ing a util­i­ties rights clin­ic and a mas­sive mem­ber­ship meet­ing, the group esca­lat­ed their actions. In ear­ly March, dozens marched to Cen­tral Hudson's head­quar­ters to demand a meet­ing with the company's CEO. A few days lat­er, the group flood­ed a pub­lic hear­ing about the rate hikes, where mem­ber Angela New­man testified.
At 59, New­man suf­fers from con­ges­tive heart fail­ure, chron­ic obstruc­tive pul­monary dis­ease, and asth­ma, for which she requires dai­ly breath­ing treat­ments. She explained to the audi­ence that she had applied for Cen­tral Hudson's Life Sup­port Pro­gram, offered to those who require elec­tric­i­ty for nec­es­sary med­ical equip­ment, but was denied because she needs her elec­tron­ic neb­u­liz­er four or five times a day — not a con­stant 24 hours. Short­ly after­wards, Cen­tral Hud­son abrupt­ly cut off her elec­tric­i­ty while New­man was in the mid­dle of her morn­ing breath­ing treat­ment. ​"I breathed about two puffs, and the machine stopped," she recalled. ​"Every­thing just went off."
She rushed to the hos­pi­tal. On arrival, she called Cen­tral Hud­son before receiv­ing care ​"because that's when they want­ed their money."
When New­man recount­ed this sto­ry at the pub­lic hear­ing, she wasn't the only one crying.
Nobody Leaves is demand­ing the com­pa­ny expand its assis­tance pro­gram, strength­en the pro­tec­tion pol­i­cy to pro­hib­it any shut-offs of homes with chil­dren 12 years old or younger dur­ing the win­ter months, and release data on who is being shut off. Nobody Leaves Mid-Hud­son is also explor­ing pos­si­ble mod­els of col­lec­tive bar­gain­ing with Cen­tral Hud­son, as well as ways to move toward the long-term vision: pub­licly owned, pub­licly run util­i­ties companies.
The group has also pledged an inter­nal com­mit­ment to its mem­bers: Once some­one becomes a mem­ber of Nobody Leaves, she is join­ing a ​"Shut-off Free Zone" — mean­ing the group will ensure that all its peo­ple have power.
The ​"Shut-off Free Zone" pledge is rem­i­nis­cent of that of the Span­ish grass­roots anti-fore­clo­sure group PAH, the Platafor­ma de Afec­ta­dos por La Hipote­cas. Accord­ing to orga­niz­ers, PAH promis­es its mem­bers that once they join, they'll nev­er be home­less. After all, util­i­ty shut-offs are akin to fore­clo­sures in that both act as debt enforce­ment mech­a­nisms. To build seri­ous move­ments to resist debt, then, groups such as PAH and Nobody Leaves must be able to offer pro­tec­tion against the col­lec­tors' form of pun­ish­ment — whether that's evic­tion or hav­ing the lights shut off.
In Spain, the strength of this type of pledge — refresh­ing in its prac­ti­cal­i­ty and rad­i­cal in its auton­o­my — is now on full dis­play: The wide­spread PAH move­ment helped lay the foun­da­tion for the left-wing elec­toral insur­gency that won the Barcelona and Madrid munic­i­pal elec­tions in May and could also pro­vide the polit­i­cal ground­work for the elec­tion of the left-lean­ing Podemos par­ty in December's nation­al elections.
On the Sat­ur­day of Memo­r­i­al Day week­end, Don­na West joined Mary Grace Wyck­huyse, staff orga­niz­ers Spencer Resnick and Jonathan Bix, and vol­un­teer Rose­mary Lopez to help can­vass West's neighborhood.
"Sign this for me?" West asked her across-the-street neigh­bor, point­ing to a peti­tion of sig­na­tures oppos­ing the sum­mer rate hike. The woman extend­ed her hand for the clipboard.
At West's house, Princess was repaint­ing the front steps a peri­win­kle blue.
"We've got to work with what we have," West said, com­ment­ing on the bold col­or selection.
Some­times, when all you have are your neigh­bors, that's more than enough.
With the help of Nobody Leaves, West filed a com­plaint with the Pub­lic Ser­vice Com­mis­sion, the state util­i­ty reg­u­la­to­ry agency, about her out­sized debt.
As a result, in ear­ly June, Cen­tral Hud­son was forced to restore ser­vice to her home — the lat­est in a string of near­ly a dozen vic­to­ries in the group's efforts to ensure that all of its mem­bers have ser­vice. As the elec­tric­i­ty flick­ered on that Mon­day morn­ing, Don­na West went from being the lady on the block with no lights to the woman in a move­ment with power.
Lau­ra Gottes­di­ener
is a jour­nal­ist, social jus­tice activist, and author of A Dream Fore­closed: Black Amer­i­ca and the Fight for a Place to Call Home pub­lished this month by Zuc­cot­ti Park Press. She is an asso­ciate edi­tor for Wag­ing Non­vi­o­lence, and she has writ­ten for Rolling Stone, Ms. mag­a­zine, The Ari­zona Repub­lic, The New Haven Advo­cate, The Huff­in­g­ton Post, Alter­Net and oth­er pub­li­ca­tions. She lived and worked in the People's Kitchen dur­ing the occu­pa­tion of Zuc­cot­ti Park.