Michigan Is in the Midst of a "Massive Experiment in Unraveling U.S. Democracy"
The austerity-on-steroids measures currently taking place in Michigan may soon be coming to a state near you.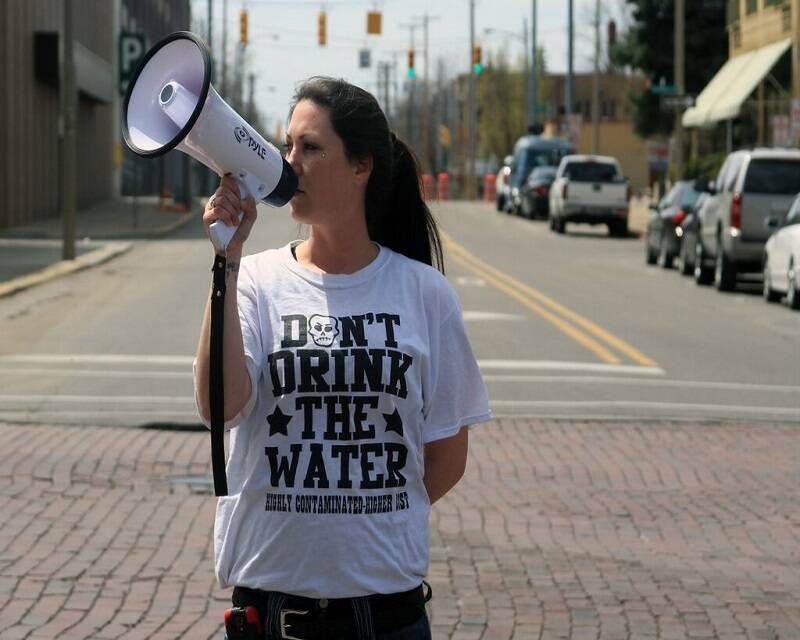 This post first appeared at TomDis​patch​.com
A wispy white-haired woman waves a gallon jug filled with pee-colored liquid from her home tap. 'They don't care that they're killing us!' she cries.
Some­thing is rot­ten in the state of Michigan.
One city neglect­ed to inform its res­i­dents that its water sup­ply was laced with can­cer­ous chem­i­cals. Anoth­er dis­solved its pub­lic school dis­trict and replaced it with a char­ter school sys­tem, only to wit­ness the for-prof­it man­age­ment com­pa­ny it hired flee the scene after deter­min­ing it couldn't turn a prof­it. Numer­ous cities and school dis­tricts in the state are now run by sin­gle, state-appoint­ed tech­nocrats, as per­mit­ted under an emer­gency finan­cial man­ag­er law pushed through by Rick Sny­der, Michigan's aus­ter­i­ty-pro­mot­ing gov­er­nor. This leg­is­la­tion not only strips res­i­dents of their local vot­ing rights, but gives Snyder's appointee the pow­er to do just about any­thing, includ­ing dis­solv­ing the city itself — all (no mat­ter how dis­as­trous) in the name of ​"fis­cal responsibility."
If you're think­ing, ​"Who cares?" since what hap­pens in Michi­gan stays in Michi­gan, think again. The state's aggres­sive bal­ance-the-books style of gov­er­nance has already spread beyond its bor­ders. In Jan­u­ary, New Jer­sey Gov­er­nor Chris Christie appoint­ed bank­rupt­cy lawyer and for­mer Detroit emer­gency man­ag­er Kevyn Orr to be a ​"legal advis­er" to Atlantic City. The Detroit Free Press described the move as ​"a state takeover sim­i­lar to Gov. Rick Sny­der's state inter­ven­tion in the Motor City."
And this spring, amid the hul­la­baloo of Repub­li­cans enter­ing the 2016 pres­i­den­tial race, Gov­er­nor Sny­der launched his own nation­al tour to sell ​"the Michi­gan sto­ry to the rest of the coun­try." His trip was fund­ed by a non­prof­it (fed, nat­u­ral­ly, by undis­closed dona­tions) named ​"Mak­ing Gov­ern­ment Account­able: The Michi­gan Story."
To many Michi­gan­ders, this sound­ed as ridicu­lous as Jeb Bush launch­ing a super PAC dubbed ​"Mak­ing Iraq Free: The Bush Fam­i­ly Sto­ry." Except Sny­der wasn't plan­ning to enter the pres­i­den­tial rat race. Instead, he was attempt­ing to main­stream Michigan's form of aus­ter­i­ty pol­i­tics and its sig­na­ture emer­gency man­age­ment leg­is­la­tion, which stripped more than half of the state's African-Amer­i­can res­i­dents of their local vot­ing rights in 2013 and 2014.
As the gov­er­nor jaunt­ed around the coun­try, Ann Arbor-based pho­tog­ra­ph­er Eduar­do Gar­cía and I decid­ed to set out on what we thought of as our own two-week Mag­i­cal Michi­gan Tour. And while we weren't dri­ving a spe­cial­ly out­fit­ted psy­che­del­ic tour bus — we spent most of the trip in my grandmother's 2005 Prius — our jour­ney was nev­er­the­less remark­ably sur­re­al. From the south­west banks of Lake Michi­gan to the east­ern tips of the penin­su­la, we criss­crossed the state vis­it­ing more than half a dozen cities to see if there was anoth­er side to the governor's sto­ry and whether Michi­gan real­ly was, as one Detroit res­i­dent put it, ​"a mas­sive exper­i­ment in unrav­el­ing U.S. democracy."
Stop One: Water Wars in Flint
Just as we arrive, the march spills off the side­walk in front of the city coun­cil building.
"Stop poi­son­ing our chil­dren!" chants a lit­tle girl as the crowd tum­bles down South Sag­i­naw Street, the city's main drag. We're in Flint, Michi­gan, a place that hit the head­lines last year for its brown, chem­i­cal-laced, pos­si­bly tox­ic water. A wispy white-haired woman waves a gal­lon jug filled with pee-col­ored liq­uid from her home tap. ​"They don't care that they're killing us!" she cries.
We catch up with Claire McClin­ton, the for­mi­da­ble, grand­moth­er­ly orga­niz­er of the Flint Democ­ra­cy Defense League, as we approach the roil­ing Flint Riv­er. It's been a long­time dump­ing ground for the Ford Motor Company's river­front fac­to­ries and, as of one year ago today, the only source of the city's drink­ing water. On April 25, 2014, on the instruc­tion of the city's emer­gency man­ag­er, Flint stopped buy­ing its sup­plies from the Detroit Water and Sew­er­age Depart­ment and start­ed draw­ing water direct­ly from the riv­er, which meant a bud­getary sav­ings of $12 mil­lion a year. The down­side: peo­ple start­ed get­ting sick.
Since then, tests have detect­ed E. coli and fecal bac­te­ria in the water, as well as high lev­els of tri­halomethanes, a car­cino­genic chem­i­cal cock­tail known as THMs. For months, the city con­cealed the pres­ence of THMs, which over years can lead to increased rates of can­cer, kid­ney fail­ure, and birth defects. Still, it was obvi­ous to local res­i­dents that some­thing was up. Some of them were break­ing out in mys­te­ri­ous rash­es or expe­ri­enc­ing bouts of severe diar­rhea, while oth­ers watched as their eye­lash­es and hair began to fall out.
As we cross a small foot­bridge, McClin­ton recounts how the city coun­cil recent­ly vot­ed to ​"do all things nec­es­sary" to get Detroit's water back. The emer­gency man­ag­er, how­ev­er, imme­di­ate­ly over­rode their deci­sion, terming it ​"incom­pre­hen­si­ble."
"This is a whole dif­fer­ent mod­el of con­trol," she com­ments dri­ly and explains that she's now work­ing with oth­er res­i­dents to file an injunc­tion com­pelling the city to return to the use of Detroit's water. One prob­lem, though: it has to be filed in Ing­ham Coun­ty, home to Lans­ing, the state cap­i­tal, rather than in Flint's Gene­see Coun­ty, because the deci­sion of a state-appoint­ed emer­gency man­ag­er is being chal­lenged. ​"Under state rule, that's where you go to redress griev­ances," she says. ​"Just anoth­er under­min­ing of our local authority."
In the mean­time, many city res­i­dents remain frus­trat­ed and con­fused. A few weeks before the march, the city sent out two notices on the same day, pack­aged in the same enve­lope. One, print­ed in black-and-white, stat­ed blunt­ly: ​"Our water sys­tem recent­ly vio­lat­ed a drink­ing water stan­dard." The sec­ond, in flashy col­or, had this cheery mes­sage: ​"We are pleased to report that City of Flint water is safe and meets U.S. Envi­ron­men­tal Pro­tec­tion Agency guide­lines… You can be con­fi­dent that the water pro­vid­ed to you today meets all safe­ty stan­dards." As one recip­i­ent of the notices com­ment­ed, ​"I can only sur­mise that the point was to con­fuse us all."
McClin­ton march­es in silence for a few min­utes as the crowd dou­bles back across the bridge and begins the ascent up Sag­i­naw Street. Sud­den­ly, a man jumps onto a life-size stat­ue of a run­ner at the River­front Plaza and begins to cloak him in one of the group's T‑shirts.
"Hon­ey, I don't want you get­ting in any trou­ble!" his wife calls out to him.
He's strug­gling to pull a sleeve over one of the cast-iron arms when the dron­ing weeoo-weeooo-weeoo of a police siren blares, caus­ing a brief fren­zy until the man's son real­izes he's mis­tak­en­ly hit the siren fea­ture on the mega­phone he's carrying.
After a few more tense moments, the crowd surges for­ward, leav­ing behind the stat­ue, legs stretched in mid-stride, arms raised tri­umphant­ly, and on his chest a new cot­ton T‑shirt with the slo­gan: ​"Water You Fight­ing For?"
Stop Two: The Tri-Cities of Cancer
The next after­noon, we bar­rel down Inter­state 75 into an indus­tri­al hellscape of smoke stacks, flare offs, and 18-wheel­ers, en route to anoth­er tox­i­c­i­ty and account­abil­i­ty cri­sis. This one was caused by a mas­sive tar sands refin­ery and dozens of oth­er indus­tri­al pol­luters in south­west Detroit and neigh­bor­ing Riv­er Rouge and Ecorse, cities which lie along the banks of the Detroit River.
Already with a slight headache from a haze of emis­sions, we meet pho­tog­ra­ph­er and com­mu­ni­ty leader Emma Lock­ridge and her neigh­bor Antho­ny Park­er in front of their homes, which sit right in the back­yard of that tar sands refinery.
In 2006, the tox­i­c­i­ty lev­els in their neigh­bor­hood, known sim­ply by its zip code as ​"48217," were 45 times high­er than the state aver­age. And that was before Detroit gave $175 mil­lion in tax breaks to the bil­lion-dol­lar Marathon Petro­le­um Cor­po­ra­tion to help it expand its refin­ery com­plex to process a surge of high-sul­fur tar sands from Alber­ta, Canada.
"We're a donor zip," explains Lock­ridge as she set­tles into the driver's seat of our car. ​"We have all the indus­try and a tax base, but we get noth­ing back."
We set off on a whirl­wind tour of their neigh­bor­hood, where schools have been torn down and parks closed due to the tox­i­c­i­ty of the soil, while so many res­i­dents have died of can­cer that it's hard for their neigh­bors to keep track. ​"We used to play on the swings here," says Lock­ridge, point­ing to a rust­ed yel­low swing set in a fenced-off lot where the soil has test­ed for high lev­els of lead, arsenic, and oth­er poi­so­nous chem­i­cals. ​"Jump­ing right into the lead."
As in oth­er regions of Michi­gan, peo­ple have been flee­ing 48217 in droves. Here, how­ev­er, the depop­u­la­tion results not from dein­dus­tri­al­iza­tion, but from tox­i­c­i­ty, thanks to an ever-expand­ing set of fac­to­ries. These include a waste­water treat­ment com­plex, salt mines, asphalt fac­to­ries, cement plants, a lime and stone foundry, and a hand­ful of steel mills all clus­tered in the tri-cities region.
As Lock­ridge and Park­er explain, they have demand­ed that Marathon buy their homes. They have also implored the state to cap emis­sion lev­els and have filed law­suits against par­tic­u­lar­ly tox­ic fac­to­ries. In response, all they've seen are more fac­to­ries giv­en more breaks, while the res­i­dents of 48217 get none. Last spring, for exam­ple, the Michi­gan Depart­ment of Envi­ron­men­tal Qual­i­ty per­mit­ted the AK Steel plant, locat­ed close to the neigh­bor­hood, to increase its tox­ic emis­sions as much as 725 times. The approval, accord­ing to the Detroit Free Press, came after ​"Gov. Rick Snyder's busi­ness-pro­mot­ing agency worked for months behind the scenes" lob­by­ing the Depart­ment of Envi­ron­men­tal Quality.
"Look at this cute lit­tle tree out of nowhere over here!" Lock­ridge exclaims, slow­ing the car in front of a scrawny plant whose branch­es, in the midst of this indus­tri­al waste­land, bend under the weight of white blossoms.
"That tree ain't gonna grow up," Park­er responds. ​"It's dead already."
"It's try­ing," Lock­ridge insists. ​"Aww, it's kind of sad. It's a Char­lie Brown tree."
The absur­di­ty of life in such an envi­ron­ment is high­light­ed when we reach a half-mile stretch of side­walk sand­wiched between a mas­sive steel mill and a coal-fired pow­er plant that has been des­ig­nat­ed a ​"Well­ness Walk."
"Ener­gize your Life!" implores the sign affixed to a chain-link fence sur­round­ing the pow­er plant. It's an unlike­ly site for an exer­cise walk, giv­en that the state's health offi­cials con­sid­er this strip and the near­by park ​"the epi­cen­ter of the state's asth­ma burden."
After a sad laugh, we head for Zug Island, a Home­land Secu­ri­ty-patrolled area pop­u­lat­ed by what look to be giant black vac­u­um clean­ers but are actu­al­ly blast fur­naces. The island was named for mil­lion­aire Samuel Zug, who built a lav­ish man­sion there only to dis­cov­er that it was sink­ing into swamp­land. It is now home to U.S. Steel, the largest steel man­u­fac­tur­er in the nation.
On our way back, we make a final stop at Oak­wood Heights, an almost entire­ly vacant and par­tial­ly razed sub­di­vi­sion locat­ed on the oth­er side of the Marathon plant. ​"This is the white area that was bought out," says Lock­ridge. The scene is eerie: small res­i­den­tial streets lined by grassy fields and the occa­sion­al emp­ty house. That Marathon paid res­i­dents to evac­u­ate their homes in this pre­dom­i­nant­ly white sec­tion of town, while refus­ing to do the same in the pre­dom­i­nant­ly African Amer­i­can 48217, which sits clos­er to the refin­ery, strikes nei­ther Lock­ridge and Park­er nor their neigh­bors as a coincidence.
We sur­vey the rem­nants of the for­mer neigh­bor­hood: bun­dles of ragged news­pa­pers some­one was once sup­posed to deliv­er, a stuffed ted­dy bear aban­doned on a wood­en porch, and a child­less tri­an­gle-shaped play­ground whose con­struc­tion, a sign reads, was ​"made pos­si­ble by gen­er­ous dona­tions from Marathon."
As this par­tic­u­lar­ly unmag­i­cal stop on our Michi­gan tour comes to an end, Park­er says qui­et­ly, ​"I've got to get my fam­i­ly out of here."
Lock­ridge agrees. ​"I just wish we had a refuge place we could go to while we're fight­ing," she says. ​"You see we're surrounded."
Stop Three: The Great White North
Not all of Michigan's prob­lems are caused by emer­gency man­age­ment, but this sweep­ing new pow­er does lie at the heart of many local con­tro­ver­sies. Lat­er that night we meet with retired Detroit city work­er, jour­nal­ist, and orga­niz­er Russ Bel­lant who has made him­self some­thing of an expert on the subject.
In 2011, he explains, Gov­er­nor Sny­der signed an emer­gency man­ag­er law known as Pub­lic Act 4. The impact of this law and its pre­de­ces­sor, Pub­lic Act 72, was dra­mat­ic. In the city of Pon­ti­ac, for instance, the num­ber of pub­lic employ­ees plum­met­ed from 600 to 50. In Detroit, the emer­gency man­ag­er of the school dis­trict waged a six-year slash-and-burn cam­paign that, in the end, shut­tered 95 schools. In Ben­ton Har­bor, the man­ag­er effec­tive­ly dis­solved the city gov­ern­ment, declar­ing: ​"The fact of the mat­ter is, the city man­ag­er is now gone. I am the city man­ag­er. I replace the finan­cial direc­tor, so I'm the finan­cial direc­tor and the city man­ag­er. I am the may­or and the com­mis­sion. And I don't need them."
So in 2012, Bel­lant can­celled all his com­mit­ments in Detroit, packed his car full of choco­late pud­ding snacks, canned juices, and fliers and head­ed north to sup­port a statewide cam­paign to repeal the law through a bal­lot ref­er­en­dum in that fall's gen­er­al elec­tion. For two months, he criss­crossed the upper reach­es of Michigan's Low­er Penin­su­la, the part of the state that peo­ple say looks like a hand, as well as the remote Upper Penin­su­la that bor­ders Wis­con­sin and Canada.
"Sev­en or eight hours a day, I would just knock on doors," he says.
In Novem­ber, the efforts paid off and vot­ers repealed the act, but the cel­e­bra­tion was short-lived. Less than two months lat­er, dur­ing a lame-duck ses­sion of the state leg­is­la­ture, Gov­er­nor Sny­der pushed through and signed Pub­lic Act 436, a broad­er ver­sion of the leg­is­la­tion that was ref­er­en­dum-proof. Since then, finan­cial man­agers have con­tin­ued to shut down fire depart­ments, out­source police depart­ments, sell off park­ing meters and pub­lic parks. In Flint, the man­ag­er even auc­tioned off the plas­tic San­ta Claus that once adorned city hall, set­ting the ini­tial bid­ding price at $5.
And here's one fact of life in Michi­gan: emer­gency man­age­ment is nor­mal­ly only imposed on major­i­ty-black cities. From 2013 to 2014, 52% of the African Amer­i­can res­i­dents in the state lived under emer­gency man­age­ment, com­pared to only 2% of white res­i­dents. And yet the repeal vote against the pre­vi­ous ver­sion of the act was a demo­graph­ic land­slide: 75 out of 83 coun­ties vot­ed to nix the leg­is­la­tion, includ­ing all of Michigan's north­ern, over­whelm­ing­ly white, rur­al coun­ties. ​"I think peo­ple just inter­nal­ized that P.A. 4 was unde­mo­c­ra­t­ic," Bel­lant says.
That next morn­ing, we trav­el north to the city of Alpe­na, a 97% white lake­side town where Bel­lant knocked on doors and the recall was tri­umphant. The far­ther north we head, the more the land­scape changes. We pass signs implor­ing res­i­dents to ​"Take Back Amer­i­ca: Lib­er­ty Yes, Tyran­ny No." Gas sta­tions fea­ture clay fig­urines of hill­bil­lies drink­ing moon­shine in bathtubs.
It's almost evening when we arrive. We spend part of our vis­it at the Dry Dock, a dive bar over­seen by a raspy-voiced bar­tender where all the polit­i­cal and demo­graph­ic divides of the state — and, in many ways, the coun­try — are on full dis­play. Two masons are argu­ing about their union; the younger one likes the pro­tec­tions it pro­vides, while his col­league ditched the local because he didn't want to pay the dues. That move became pos­si­ble only after Sny­der signed con­tro­ver­sial ​"right-to-work" leg­is­la­tion in 2012, allow­ing work­ers to opt-out of union dues and caus­ing a sharp decline in union mem­ber­ship ever since.
Above their heads, the tele­vi­sion screen projects inten­tion­al­ly ter­ri­fy­ing images of the upris­ing in Bal­ti­more in response to the police mur­der of Fred­die Gray, an unarmed African Amer­i­can man. ​"The Bloods, the Crips, and the Guer­ril­las are out for the Nation­al Guard," com­ments a car­pen­ter about the unarmed pro­test­ers, a sneer of dis­dain in his voice. ​"Not that I like the fuck­ing cops, either," he adds.
Through­out our vis­it, peo­ple repeat­ed­ly told us that Alpe­na ​"isn't Detroit or Flint" and that they have absolute­ly no fear of the state seiz­ing con­trol of their sleepy, white, touristy city. When we press the ques­tion with the own­er of a bicy­cle shop, the hos­til­i­ty ris­es in his voice as he explains: ​"Things just run the way they should here" — by which he means, of course, that down in Detroit and Flint, res­i­dents don't run things the way they should.
Yet, mis­con­cep­tions notwith­stand­ing, the coun­ty vot­ed to repeal Pub­lic Act 4 with a stag­ger­ing 63% of those who turned out opt­ing to strike down the law.
Reflect­ing Bellant's feel­ing that locals grasped the law's unde­mo­c­ra­t­ic nature in some basic way, even if it would nev­er affect them per­son­al­ly, one res­i­dent offered this expla­na­tion: ​"When you think about liv­ing in a democ­ra­cy, then this is like finan­cial mar­tial law… I know they say these cities need help, but it didn't feel like some­thing that would help."
Stop Four: The Fugi­tive Task Force
The next day, as 2,000 sol­diers from the 175th Infantry Reg­i­ment of the Nation­al Guard fanned out across Bal­ti­more, we head for Detroit's west side where, only 24 hours ear­li­er, a law enforce­ment offi­cer shot and killed a 20-year-old man in his liv­ing room.
A crowd has already gath­ered near his house in the ear­ly sum­mer heat, exchang­ing con­do­lences, wav­ing signs, and jostling for posi­tion as news crews set up cam­eras and micro­phones for a press con­fer­ence to come. Ver­sions of what hap­pened quick­ly spread: Ter­rance Kel­lom was fatal­ly shot when offi­cers swarmed his house to deliv­er an arrest war­rant. The author­i­ties claim that he grabbed a ham­mer, prompt­ing the shoot­ing; his father, Kevin, con­tends Ter­rance was unarmed and kneel­ing in front of him when he was shot sev­er­al times, includ­ing once in the back.
Kel­lom is just one of the 489 peo­ple killed in 2015 in the Unit­ed States by law enforce­ment offi­cers. There is, how­ev­er, a dis­turb­ing twist to Kellom's case. He was not, in fact, killed by the police but by a fed­er­al agent work­ing with a lit­tle known mul­ti-juris­dic­tion­al inter­a­gency task force coor­di­nat­ed by the U.S. Marshals.
Sim­i­lar task forces are deployed across the coun­try and they all share the same sor­did his­to­ry: the Mar­shals have been hunt­ing peo­ple ever since the 1850 Fugi­tive Slave Act com­pelled the agency to cap­ture slaves flee­ing north for free­dom. One nine­teenth-cen­tu­ry news­pa­per account, cel­e­brat­ing the use of blood­hounds in such hunts, wrote: ​"The Cuban dog would fre­quent­ly pull down his game and tear the run­away to pieces before the offi­cers could come up."
These days, Detroit's task force has grown par­tic­u­lar­ly active as bud­get cuts have dec­i­mat­ed the local police depart­ment. Made up of fed­er­al Immi­gra­tion and Cus­toms offi­cers, police from half a dozen local depart­ments, and even employ­ees of the Social Secu­ri­ty Admin­is­tra­tion office, the Detroit Fugi­tive Appre­hen­sion Team has nabbed more than 15,000 peo­ple. Arrest rates have soared since 2012, the same year the local police bud­get was chopped by 20%. Even beyond the task force, the num­ber of fed­er­al agents patrolling the city has risen as well. The Bor­der Patrol, for exam­ple, has increased its pres­ence in the region by ten­fold over the last decade and just two weeks ago announced the launch of a new $14 mil­lion Detroit station.
Kevin Kel­lom approach­es the bar­ri­cade of micro­phones and begins speak­ing so qui­et­ly that the gath­ered news­cast­ers crush into each oth­er in an effort to catch what's he's say­ing. ​"They assas­si­nat­ed my son," he whis­pers. ​"I want jus­tice and I'm going to get justice."
Yet today, six weeks after Terrance's death, no charges have been brought against the Immi­gra­tion and Cus­toms Enforce­ment agent who fired the fatal shot. Oth­er law enforce­ment offi­cers who have killed Michi­gan res­i­dents in recent years have sim­i­lar­ly escaped pun­ish­ment. Detroit police offi­cer Joseph Week­ley was video­taped killing sev­en-year-old Aiyana Jones with a sub­ma­chine gun dur­ing a SWAT team raid on her home in 2010. He remains a mem­ber of the depart­ment. Ann Arbor police offi­cer David Reid is also back on duty after fatal­ly shoot­ing 40-year-old artist and moth­er Aura Ross­er in Novem­ber 2014. The Ann Arbor police depart­ment ruled that a ​"jus­ti­fi­able homi­cide" because Ross­er was hold­ing a small kitchen knife dur­ing the encounter — a rul­ing that Rosser's fam­i­ly mem­bers and city res­i­dents are con­test­ing with an ongo­ing cam­paign call­ing for an inde­pen­dent inves­ti­ga­tion into her death.
And such dead­ly inci­dents con­tin­ue. Since Kellom's death, law enforce­ment offi­cers have fatal­ly shot at least three more Michi­gan res­i­dents — one out­side the city of Kala­ma­zoo, anoth­er near Lans­ing, and a third in Bat­tle Creek.
Stop Five: The Unprof­itable All-Char­ter School District
Our final stop is Muskegon Heights, a small city on the banks of Lake Michi­gan, home to per­haps the most spec­tac­u­lar edu­ca­tion­al deba­cle in recent his­to­ry. Here's the Spar­kNotes ver­sion. In 2012, mem­bers of the Muskegon Heights pub­lic school board were giv­en two options: dis­solve the dis­trict entire­ly or suc­cumb to an emer­gency manager's rule. On arrival, the man­ag­er announced that he was dis­solv­ing the pub­lic school dis­trict and form­ing a new sys­tem to be run by the New York-based for-prof­it char­ter school man­age­ment com­pa­ny Mosaica Edu­ca­tion. Two years lat­er, that com­pa­ny broke its five-year con­tract and fled because, accord­ing to the emer­gency man­ag­er, ​"the prof­it just sim­ply was­n't there."
And here's a grim foot­note to this saga: in 2012, in prepa­ra­tion for the new char­ter school dis­trict, cryp­ti­cal­ly named the Muskegon Heights Pub­lic School Acad­e­my Sys­tem, the emer­gency man­ag­er laid off every sin­gle school employee.
"We knew it was com­ing," explained one of the city's long­time ele­men­tary school teach­ers. She asked not to be iden­ti­fied, so I'll call her Susan. ​"We received let­ters in the mail."
Then, around one a.m. the night before the new char­ter school dis­trict was slat­ed to open, she received a voice­mail ask­ing if she could teach the fol­low­ing morn­ing. She agreed, arriv­ing at Mar­tin Luther King Ele­men­tary School for what would be the worst year in her more than two-decade career.
When we vis­it that school, a sin­gle-sto­ry brick build­ing on the east side of town, the glass of the front door had been smashed and the halls were emp­ty, save for two peo­ple remov­ing air con­di­tion­ing units. But in the fall of 2012, when Susan was sum­moned, Mar­tin Luther King was still filled with stu­dents — and chaos. Sched­ules were in dis­ar­ray. Stu­dent com­put­ers were bro­ken. There were sup­ply short­ages of just about every­thing, even rolls of toi­let paper. The district's already bare­bones spe­cial edu­ca­tion pro­gram had been fur­ther gut­ted. The ​"new," non-union­ized teach­ing staff — about 10% of whom ini­tial­ly did not have valid teach­ing cer­tifi­cates — were over­whelm­ing­ly young, inex­pe­ri­enced, and white. (Approx­i­mate­ly 75% of the town's res­i­dents are African American.)
"Every­thing was about mon­ey, I felt, and every­one else felt it, too," Susan says.
With her salary slashed to less than $30,000, she picked up a sec­ond job at a near­by after-school pro­gram. Her health fal­tered. Instruct­ed by the new admin­is­tra­tion nev­er to sit down dur­ing class, a back con­di­tion wors­ened until surgery was required. The stress began to affect her short-term mem­o­ry. Final­ly, in the spring, Susan sought med­ical leave and nev­er came back.
She was part of a mass exo­dus. Advo­cates say that more than half the teach­ers were either fired, quit, or took med­ical leave before the 2012 – 2013 school year end­ed. Mosaica itself wasn't far behind, break­ing its con­tract at the end of the 2014 school year. The emer­gency man­ag­er said he under­stood the com­pa­ny's finan­cial assess­ment, com­par­ing the school sys­tem to ​"a broke-down car." That spring, Gov­er­nor Sny­der vis­it­ed and called the dis­trict ​"a work in progress."
Across the state, the edu­ca­tion trend has been toward pri­va­ti­za­tion and increased con­trol over local dis­tricts by the governor's office, with results that are, to say the least, under­whelm­ing. This spring, a report from The Edu­ca­tion Trust, an inde­pen­dent nation­al edu­ca­tion non­prof­it, warned that the state's sys­tem had gone ​"from bad to worse."
"We're now on track to per­form low­er than the nation's low­est-per­form­ing states," the report's author, Amber Arel­lano, told the local news.
Lat­er that after­noon, we vis­it­ed the city's James Jack­son Muse­um of African Amer­i­can His­to­ry, where we sat with Dr. James Jack­son, a fam­i­ly physi­cian and long­time advo­cate of com­mu­ni­ty-con­trolled pub­lic edu­ca­tion in the city.
He explains that the city's now-fail­ing strug­gle for local con­trol and qual­i­ty edu­ca­tion is part of a sig­nif­i­cant­ly longer his­to­ry. Most of the town's fam­i­lies orig­i­nal­ly arrived here in the first half of the twen­ti­eth cen­tu­ry from the Jim Crow South, where pub­lic schools for Black stu­dents were not only abysmal­ly under­fund­ed, but also thwart­ed by cen­sor­ship and out­side gov­er­nance, as his­to­ri­an Carter Good­win Wood­son explained in his ground­break­ing 1933 study, The Mis-Edu­ca­tion of the Negro. Well into the twen­ti­eth cen­tu­ry, for exam­ple, the Dec­la­ra­tion of Inde­pen­dence and the U.S. Con­sti­tu­tion were barred from grade-school text­books for being too aspi­ra­tional. ​"When you con­trol a man's think­ing you do not have to wor­ry about his actions," Wood­son wrote back then.
More than eight decades lat­er, Dr. Jack­son offered sim­i­lar thoughts about the Muskegon Heights takeover as he led us through the muse­um, his bright yel­low T‑shirt remind­ing us to ​"Hon­or Black His­to­ry Every Day 24⁄7 — 365."
"We have to con­trol our own edu­ca­tion," Jack­son said, as we passed sepia news­pa­per clip­pings of civ­il rights march­es and an 1825 bill of sale for Peg­gy and her son Jonathan, pur­chased for $371 by James Aiken of War­ren Coun­ty, Geor­gia. ​"Until we con­trol our own school sys­tem, we can't be prop­er­ly educated."
As we leave, we stop a moment to take in an elec­tron­ic sign hang­ing in the museum's win­dow that, between announce­ments about upcom­ing book club meet­ings and the establishment's hours, flashed this refrain in red letters:
The edu­ca­tion of
Muskegon Heights
Belongs to the People
Not the governor
The fol­low­ing day, we final­ly arrived back in Detroit, our note­books and iPhone audio records and cam­era mem­o­ry cards filled to the brim, heads spin­ning from every­thing we had seen, our aging Prius-turned-tour-bus in seri­ous need of an oil change.
While we had been bump­ing along on our Mag­i­cal Michi­gan Tour, the nation­al land­scape had, in some ways, grown even more sur­re­al. Bernie Sanders, the inde­pen­dent social­ist sen­a­tor from Ver­mont, announced that he was chal­leng­ing Hillary Clin­ton for the Demo­c­ra­t­ic tick­et. Detroit neu­ro­sci­en­tist Dr. Ben Car­son — famous for declar­ing that Oba­macare was ​"the worst thing that has hap­pened in this nation since slav­ery" — entered the Repub­li­can cir­cus. And amid the tur­moil, Gov­er­nor Snyder's style con­tin­ued to attract atten­tion, includ­ing from the edi­tors of Bloomberg View, who tout­ed his expe­ri­ence with ​"urban revi­tal­iza­tion," con­clud­ing: ​"His brand of pol­i­tics deserves a wider audience."
So buck­le your seat belts and watch out. In some ​"revi­tal­ized" Bloomber­gian future, you, too, could flee your school dis­trict like the stu­dents and teach­ers of Muskegon Heights, or drink con­t­a­m­i­nat­ed water under the man­date of a state-appoint­ed man­ag­er like the res­i­dents of Flint, or be guar­an­teed tox­ic fumes to breathe like the neigh­bors of 48217, or get shot like Ter­rance Kel­lom by fed­er­al agents in your own liv­ing room. All you have to do is let Rick Snyder's yel­low sub­ma­rine cruise into your neighborhood.
Lau­ra Gottes­di­ener
is a jour­nal­ist, social jus­tice activist, and author of A Dream Fore­closed: Black Amer­i­ca and the Fight for a Place to Call Home pub­lished this month by Zuc­cot­ti Park Press. She is an asso­ciate edi­tor for Wag­ing Non­vi­o­lence, and she has writ­ten for Rolling Stone, Ms. mag­a­zine, The Ari­zona Repub­lic, The New Haven Advo­cate, The Huff­in­g­ton Post, Alter­Net and oth­er pub­li­ca­tions. She lived and worked in the People's Kitchen dur­ing the occu­pa­tion of Zuc­cot­ti Park.