As Verizon Strike Enters Its Fourth Week, Local Unions Take the Lead in Solidarity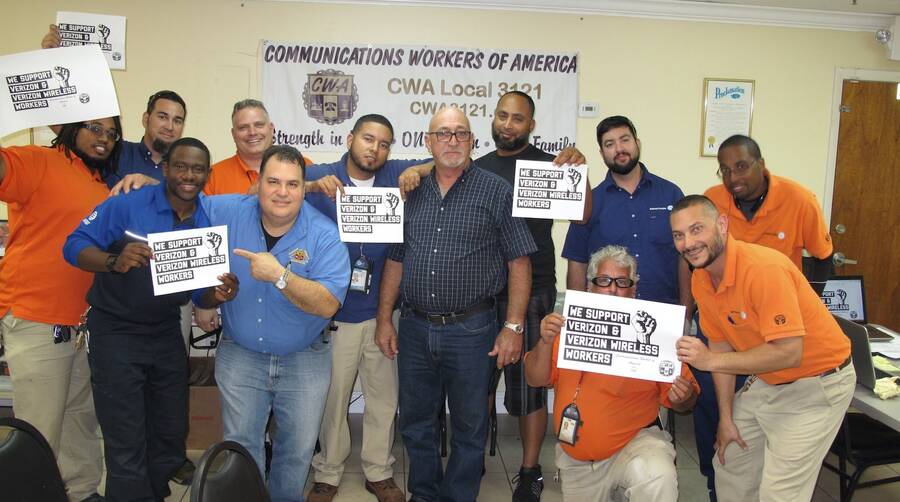 This post first appeared at Labor Notes.
As the strike by 39,000 Ver­i­zon and Ver­i­zon Wire­less work­ers con­tin­ues into its fourth week, efforts are under­way to broad­en pick­et­ing at Ver­i­zon Wire­less stores across the coun­try. Work­ers at sev­en Wire­less stores in Brook­lyn, New York, and Everett, Mass­a­chu­setts, are on strike, along with wire­line work­ers from Mass­a­chu­setts to Virginia.
The Com­mu­ni­ca­tion Work­ers are work­ing with Jobs with Jus­tice to get local unions and com­mu­ni­ty groups across the coun­try to ​"Adopt-a-Store" — mean­ing they would agree to pick­et and leaflet out­side Ver­i­zon Wire­less cor­po­rate stores at least twice a week for two to three hours.
But a few CWA locals didn't wait for a lead from their Dis­trict or the nation­al to get going.
"We still believe in the old adage that an injury to one is an injury to all," said Dave Rat­cliff, sec­re­tary-trea­sur­er of Local 6012 in Tul­sa, Okla­homa, which pick­et­ed a Ver­i­zon Wire­less store on the after­noon of Sat­ur­day, April 23. ​"We saw our union broth­ers and sis­ters in the North­east strug­gling and we want­ed to let them and Ver­i­zon know that they're not alone."
Thir­ty peo­ple showed up to the pick­et — includ­ing mem­bers of the North­east­ern Okla­homa Labor Coun­cil, along with Trans­port Work­ers Local 514 mem­bers who work as mechan­ics at Amer­i­can Airlines.
The pick­et tar­get­ed the busiest store in the area. ​"It drove the store man­ag­er crazy with us being there — I don't think they expect­ed us to show up at all," said Chad Barn­hill, pres­i­dent of Local 6012, whose mem­bers work pri­mar­i­ly at AT&T and AT&T Mobility.
The local ABC and NBC affil­i­ates in Tul­sa both kicked off their six o'clock news­casts with cov­er­age of the pick­ets. (See a clip here.)
Mean­while, in Indi­ana, mem­bers of CWA Local 4900 orga­nized infor­ma­tion­al pick­ets out­side of Ver­i­zon Wire­less loca­tions in South Bend, Koko­mo, Ander­son, and Fort Wayne. Local 4900 rep­re­sents 3,000 tele­com work­ers through­out Indi­ana, most­ly at AT&T.
The first pick­et, out­side a Wire­less store in South Bend, was orga­nized by shop stew­ards Nick Fullmer and Brett Sloop. Both attend­ed the 2016 Labor Notes Con­fer­ence at the begin­ning of April, where they net­worked with oth­er tele­com union activists, includ­ing lead­ers of some of the locals now on strike.
"Com­ing back [from the Con­fer­ence], we had a feel­ing it wouldn't be long before those guys went out," said Fullmer.
Over break­fast at the Con­fer­ence, he and Sloop swapped info with CWA Local 1102 mem­bers from Stat­en Island, New York, includ­ing the local's pres­i­dent. Thanks to that con­nec­tion, "[we were] able to send him pic­tures and a per­son­al let­ter say­ing Local 4900 has your back, we're stand­ing behind you guys," said Fullmer. "[He replied] to say they're look­ing for­ward to repay­ing us in the future."
Com­mon grievances
Both Fullmer and Sloop are AT&T Premise Tech­ni­cians, mean­ing they install and repair U‑Verse ser­vices (the AT&T equiv­a­lent of Ver­i­zon FiOS) — and now DirecTV, too.
They see echoes of what's hap­pen­ing at AT&T in the Ver­i­zon bat­tle. ​"Whether it's Ver­i­zon or it's us, or any of the com­pa­nies out there," said Fullmer, ​"it seems to be the same strug­gle we're going through — more work, less pay; reduc­ing head­count; reduc­ing ben­e­fits and increas­ing health­care costs; cut­ting or elim­i­nat­ing pensions."
Sloop said many techs are wor­ried that AT&T might cut back on their con­struc­tion work­force, which builds and main­tains the fiber lines and infra­struc­ture. ​"There's work to be put out there, there's cus­tomers to be had," he said. ​"And the com­pa­nies, they don't want to spend that mon­ey for the infra­struc­ture. They don't want to make that investment."
Fullmer said hear­ing about the severe dis­ci­pline that Ver­i­zon has been dish­ing out to long-term work­ers ​"was real­ly an eye-open­er. We have our issues at AT&T," he said, ​"but I can't imag­ine hav­ing to go to work every day in that envi­ron­ment. And that's anoth­er rea­son why we want to sup­port Ver­i­zon work­ers — they shouldn't have it that bad."
Unlike Ver­i­zon, AT&T is still hir­ing — both for Premise Tech and call cen­ter jobs. Still, the union is fight­ing for job security.
"I believe that we're all in the same strug­gle — I think it's con­sis­tent from bar­gain­ing table to bar­gain­ing table," said Rat­cliff. ​"Con­stant­ly the com­pa­nies are out­sourc­ing, and con­tract­ing out what work they can. They're con­stant­ly look­ing for ways to improve their bot­tom line as opposed to ways to be a bet­ter cor­po­rate citizen."
In next year's nego­ti­a­tions — the AT&T South­west con­tract expires in April 2017 — Local 6012 lead­ers antic­i­pate a fight to main­tain pen­sions, lim­it health­care increas­es, and win bet­ter lan­guage on contracting.
More pick­ets planned
CWA Local 3808 in Nashville, Ten­nessee, will pick­et the Ver­i­zon Wire­less store in Green Hills — the wealth­i­est part of the city — on Fri­day, April 29. The orga­niz­er there, Dar­lene Stone, is a for­mer CWA Local 1400 mem­ber from Ver­mont, who was forced into ear­ly retire­ment in 2009 after Ver­i­zon sold off a chunk of its New Eng­land oper­a­tions to Fair­point, which soon found itself on the verge of bankruptcy.
Stone said that in addi­tion to AT&T work­ers and mem­bers of the Ten­nessee AFL-CIO, she expects T‑Mobile call cen­ter work­ers to join the pick­et. These work­ers are mem­bers of T‑Mobile Work­ers Unit­ed (TU), CWA's nation­al orga­niz­ing effort at the wire­less giant.
Local 6012, mean­while, is hop­ing to hit all six Ver­i­zon Wire­less stores in the Tul­sa area.
And on April 29, Local 4900 will be back out in front of a Ver­i­zon Wire­less cor­po­rate store in South Bend. The local is also plan­ning more pick­ets through­out Indi­ana next week.
The local has shared pic­tures of the pick­ets with mem­bers across the state via the Local 4900 app, which a major­i­ty of the mem­ber­ship has down­loaded. ​"It's not always easy to get infor­ma­tion between dif­fer­ent areas," said Sloop, ​"and that app has been a tool to do that."
Sloop said he also sent pic­tures of the pick­ets to oth­er CWA locals around the Mid­west, hop­ing to encour­age them to orga­nize their own.
In addi­tion to show­ing sup­port with the Ver­i­zon strike, Local 4900's Sloop hopes that these sol­i­dar­i­ty efforts can build a stronger net­work of local unions. At their sec­ond South Bend pick­et, they were joined by mem­bers of the Nation­al Asso­ci­a­tion of Let­ter Car­ri­ers, IUE-CWA Local 84809 mem­bers from Steel Ware­house, a local steel plant, and Jobs with Jus­tice activists.
"Whether you're CWA, the Let­ter Car­ri­ers, the Steel Ware­house work­ers, the air­lines — you're only as strong as your weak­est link," said Sloop. ​"We want every­body to see that."
"

Pre­pared for the long haul"

Ver­i­zon pre­sent­ed what it termed its ​"last, best, and final offer" to the unions at the bar­gain­ing table on Thurs­day, April 28 — their first bar­gain­ing ses­sion since the strike's start.

CWA Dis­trict 1 termed the company's offer ​"lit­tle more than the ​"same old bull­shit.'" Accord­ing to the union's bar­gain­ing report, while Ver­i­zon backed away from part of its pro­pos­al to be able to trans­fer work­ers any­where in the foot print for up to two months at a time, they refused to budge on lan­guage around clos­ing call cen­ters, which would lead to jobs mov­ing off­shore, and refused to return any con­tract­ed out plant work to the bar­gain­ing unit.

Fur­ther, the Dis­trict says, ​"there is still not one word about improv­ing the wages, ben­e­fits and work­ing con­di­tions of Ver­i­zon Wire­less retail store employ­ees or a fair con­tract for the VZW techs."

Ver­i­zon has announced that it will cut off strik­ing work­ers' health insur­ance as of May 1.

Morale on the pick­et lines remains high. ​"We've all been here so long that we under­stand much more what's at stake," said Greg Cal­abrese, a cable main­te­nance tech­ni­cian and mem­ber of Local 1109 in Brook­lyn. This is his fifth strike in his 19 years with the company.

The last Ver­i­zon strike end­ed after two weeks with­out a set­tle­ment, and it took anoth­er 10 months for the union to get a deal. This time, said Cal­abrese, ​"nobody wants to go back with­out a con­tract. Every­body knows what we're fac­ing and are pre­pared for the long haul."

Cal­abrese joined an ear­ly morn­ing pick­et out­side a Brook­lyn Mar­riott, which suc­ceed­ed in get­ting the man­ag­er to kick out sev­er­al scabs who were stay­ing there. Local 1101 in Man­hat­tan and Local 1102 on Stat­en Island have also suc­cess­ful­ly giv­en scabs the boot with ear­ly morn­ing wake-up calls at local hotels over the past week.

IBEW and CWA locals in New Jer­sey held sev­er­al mass ral­lies this week, includ­ing one in front of the state­house in Tren­ton. Dan­ny Nunez, a facil­i­ties tech­ni­cian and mem­ber of IBEW Local 827 who's spent 29 years with the com­pa­ny, said, ​"It's like night and day from the time I start­ed. There's just no respect for us anymore."

"They real­ly push us like machines — if they could hire robots they would," said Tom Boy­lan, anoth­er Local 827 mem­ber who's been a line­man for 27 years. ​"Now our bath­room breaks are watched and timed. Super­vi­sors used to be for­mer techs who knew the job. Now, they have no idea."

"It's hard to believe," said Nunez, ​"that a com­pa­ny that makes so much mon­ey is always try­ing to nick­el and dime us like this."

"I'll stay out for as long as it takes, and I'll nev­er cross a pick­et," said Boylan.

Next week, in addi­tion to man­ning the pick­et lines, CWA and IBEW activists will head to the Ver­i­zon share­hold­ers' meet­ing in Albu­querque, New Mex­i­co. A YouGov sur­vey found that pub­lic per­cep­tion of the com­pa­ny is at its low­est point in three years, when news emerged that Ver­i­zon was shar­ing mil­lions of records with the Nation­al Secu­ri­ty Agency.

Meghan Bro­phy con­tributed to report­ing for this story.

The Com­mu­ni­ca­tions Work­ers of Amer­i­ca rep­re­sent In These Times edi­to­r­i­al staff and are a spon­sor of In These Times. Spon­sors play no role in edi­to­r­i­al content.