At Market Basket, the Benevolent Boss Is Back. Should We Cheer?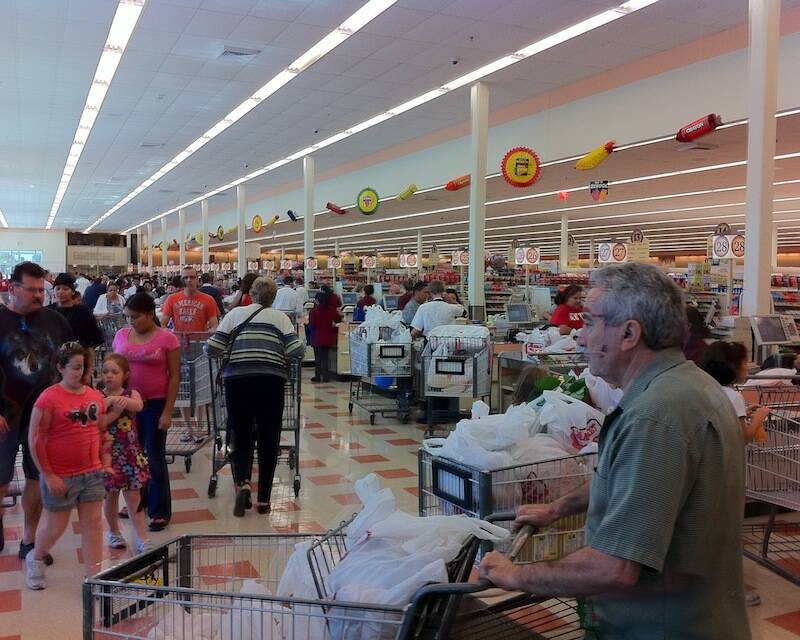 Lots of exec­u­tives may claim to think of their employ­ees as fam­i­ly. But it's the rare boss who actu­al­ly treats his work­ers as well as his blood rel­a­tives. The 25,000 employ­ees of Mar­ket Bas­ket, a chain of 71 New Eng­land gro­cery stores, see com­pa­ny pres­i­dent Arthur T. Demoulas as that boss. At least, that's the sto­ry one gets from the press cov­er­age of the bit­ter pow­er strug­gle and chain-wide strike that has been front­page news in New Eng­land all summer.
Oust­ed in June, Demoulas regained con­trol of the com­pa­ny this week in what's being hailed as a vic­to­ry for work­ers. But is it?
Fam­i­ly feud
Since 2008, Demoulas has presided over the chain, which is known for its low prices, exem­plary treat­ment of employ­ees, and, as the Boston Globe put it recent­ly, ​"one of the longest, costli­est, and nas­ti­est court bat­tles in [Mass­a­chu­setts] legal history."
The feud was between two Greek-Amer­i­can cousins, both named Arthur, and both jostling to occu­py the com­pa­ny throne. The chain was found­ed in 1916 by a Greek immi­grant cou­ple, Arthur and Efra­sine Demoulas, who lat­er sold the com­pa­ny to two of their sons. Those sons are the fathers of the two Arthurs. Arthur S. sued Arthur T.'s father in 1990 for alleged­ly defraud­ing his side of the fam­i­ly of their shares in the com­pa­ny. After years of lit­i­ga­tion, a judge grant­ed 50.5 per­cent own­er­ship of the com­pa­ny to Arthur S.'s side of the fam­i­ly. How­ev­er, Arthur T. and his father main­tained direct con­trol of the com­pa­ny for years, in part thanks to a share­hold­er on Arthur S.'s side of the fam­i­ly who vot­ed with Arthur T. in a 2008 Board of Direc­tors vote.
Yet despite this con­tro­ver­sial his­to­ry with his flesh-and-blood fam­i­ly, Arthur T. Demoulas is known as the con­sum­mate ​"fam­i­ly man" for his employ­ees. Accord­ing to press reports, full-time clerks at Mar­ket Bas­ket start at $12 per hour, and ben­e­fits include gen­er­ous retire­ment plan con­tri­bu­tions and health insur­ance. All work­ers, includ­ing part-timers, receive bonus­es four times a year. In an indus­try known for high work­er turnover, the com­pa­ny has a rep­u­ta­tion pro­vid­ing work­ers with decades-long careers, thanks to a com­pa­ny cul­ture of pro­mot­ing from with­in that employ­ees attribute to Arthur T.
Such treat­ment has led work­ers at Mar­ket Bas­ket to refer to Demoulas as ​"Artie T." and speak of him with incred­i­ble affec­tion. The web­site We Are Mar­ket Bas­ket con­tains dozens of tes­ti­mo­ni­als from Mar­ket Bas­ket employ­ees about the wis­dom and kind­ness of their boss. Many, such as Susan Tur­geon, a bak­ery man­ag­er, men­tion his vis­its to the stores.
​"I feel great when Artie T. comes into our store," she writes in a tes­ti­mo­ni­al. ​"He doesn't for­get to talk to any­one whether it be man­age­ment, full time, part time, cashiers or bag­gers. He cares about us all and it is so obvi­ous when you talk to him."
Oth­ers ref­er­ence the extra­or­di­nary atten­tion Demoulas pays to work­ers' fam­i­lies and per­son­al lives. Michael Desmond, an assis­tant store direc­tor, recounts Demoulas attend­ing his father's funer­al: ​"I was in shock that this man took time out of his busy life to com­fort my fam­i­ly dur­ing this dif­fi­cult time. He not only payed [sic] his respects but stayed and talked with every mem­ber of my fam­i­ly, aunts, uncles, broth­ers, sis­ters, my chil­dren, grand­kids. … That kind ges­ture showed me what a great man I am work­ing for."
This degree of loy­al­ty between CEO and work­er sparked a very unusu­al strike at Mar­ket Bas­ket — one in which man­age­ment was instru­men­tal. After Arthur S. Demoulas replaced Arthur T. with two exec­u­tives from out­side the com­pa­ny on June 23, under the order of Mar­ket Basket's Board of Direc­tors, protests erupt­ed among store man­agers and oth­er employ­ees, unit­ed by a sin­gle demand: to bring Arthur T. Demoulas back. On July 18, angry work­ers took the action to the next lev­el, hold­ing a large ral­ly out­side the company's main office in Tewks­bury, Massachusetts.
Mar­ket Basket's new lead­er­ship respond­ed to the employ­ee unrest by fir­ing the eight vet­er­an man­agers — sev­er­al with many decades of ser­vice for the com­pa­ny — who orga­nized the push­back. But the fir­ings did noth­ing to quell the upris­ing. Instead, the work­ers went on strike. Retail work­ers formed pick­et lines, ware­house and dis­tri­b­u­tion work­ers stopped mak­ing deliv­er­ies, and out­side sup­port­ers issued a wide­spread request for cus­tomers to boy­cott the chain.
The indus­tri­al action gut­ted the busi­ness, cost­ing it tens of mil­lions of dol­lars over the course of six weeks. The new exec­u­tives cut to zero the hours of all part-time employ­ees on August 7, leav­ing the stores with skele­tal staffs and free­ing up part-timers to walk the pick­et lines, too. Despite August 12 threats of fir­ing man­agers and full-time work­ers from the new exec­u­tives — which prompt­ed an employ­ee to file an August 26 unfair labor prac­tice charges with the Nation­al Labor Rela­tions Board — protests and pick­ets con­tin­ued unin­ter­rupt­ed. The gov­er­nors of Mass­a­chu­setts and New Hamp­shire got involved in try­ing to bro­ker a sale of Arthur S.'s major­i­ty to Arthur T. — a $1.5 bil­lion deal that was final­ly announced Wednes­day, August 29.
​"Effec­tive imme­di­ate­ly, Arthur T. Demoulas is return­ing to Mar­ket Bas­ket with day-to-day oper­a­tional author­i­ty of the com­pa­ny," read a state­ment from Demoulas and the share­hold­ers of Mar­ket Bas­ket released that evening. ​"He and his man­age­ment team will return to Mar­ket Bas­ket dur­ing the inter­im peri­od while the trans­ac­tion to pur­chase the Com­pa­ny is com­plet­ed. … All Asso­ciates are wel­come back to work with the for­mer man­age­ment team to restore the Com­pa­ny back to nor­mal operations."
A vic­to­ry, but for whom?
At a time when pro­tract­ed strikes are increas­ing­ly rare at union­ized work­places, let alone non-union com­pa­nies like Mar­ket Bas­ket, the store action drew nation­al atten­tion as an unusu­al­ly suc­cess­ful and mil­i­tant work stop­page. A cus­tomer peti­tion in sup­port of the work­ers' demands gar­nered near­ly 30,000 sig­na­tures, and a crowd-sourced fund to sup­port strik­ing ware­house work­ers and truck dri­vers raised more than $100,000.
Left-wing media out­lets were par­tic­u­lar­ly cap­ti­vat­ed by the strike. In Labor Notes, retired orga­niz­ing direc­tor of the ILWU Peter Olney writes, ​"It is refresh­ing to see a real S‑T-R-I-K‑E in retail that paral­y­ses com­merce with the sup­port of the cus­tomer com­mu­ni­ty," and says that this strike ​"looks like a strike should." At Jacobin, Michael Lee-Mur­phy prais­es Mar­ket Bas­ket work­ers for their mil­i­tan­cy: ​"Work­ers here have tak­en the kind of mil­i­tant action that unions shy away from. This is what union­ism at its best can look like."
For­mer Labor Sec­re­tary Robert Reich, fur­ther­more, laud­ed Arthur T. Demoulas for pro­mot­ing a kinder, gen­tler busi­ness mod­el that he calls ​"stake­hold­er cap­i­tal­ism." Even Esquire has called Mar­ket Bas­ket ​"The Last Stand for the Mid­dle Class."
The media has almost uni­form­ly declared the out­come a hap­py end­ing for work­ers. US News and World Report cheered that ​"Labor Day cel­e­bra­tions came ear­ly" for Mar­ket Bas­ket work­ers, and For­tune deemed Mar­ket Bas­ket ​"the biggest labor sto­ry of the year."
The voice of the resis­tance to Arthur S. Demoulas' takeover — in oth­er words, the employ­ees behind the We Are Mar­ket Bas­ket web­site, who appear to be the main online mouth­piece for direct­ing the strike cam­paign—declared vic­to­ry on the web­site on Wednes­day. ​"Details are emerg­ing as we write this, but we want­ed to let the world know that we have emerged from this cri­sis vic­to­ri­ous! … Tonight we raise a glass to Artie T and each oth­er, as we have achieved the most improb­a­ble of upsets. Tomor­row we go to work and nev­er, in the his­to­ry of peo­ple going to work, will so many peo­ple be so hap­py to punch the clock." (WAMB did not respond to numer­ous In These Times requests for an interview.)
It's not obvi­ous, how­ev­er, how hap­py an end­ing is in store for the vast major­i­ty of Mar­ket Basket's employees.
Despite Mar­ket Basket's rep­u­ta­tion as a ster­ling employ­er, Mar­ket Basket's part-time employ­ees — who make up about 80 per­cent of chain's work­force—have much less favor­able work­ing con­di­tions than the full-time work­ers. Accord­ing to the Boston Globe, those part-timers earn about $8 to $10 an hour, sig­nif­i­cant­ly less than the oft-cit­ed $12 hourly start­ing wage for full-timers. And while the part-time work­ers receive bonus­es, and those who work at least 1,000 hours a year are eli­gi­ble for a prof­it-shar­ing pro­gram, they don't get Mar­ket Basket's vaunt­ed health insur­ance and retire­ment ben­e­fits. Those con­di­tions make Mar­ket Bas­ket look less like an excep­tion and more like the rule in an indus­try dom­i­nat­ed by non-union retail­ers such as Wal­mart and Tar­get, both of which com­pete with tra­di­tion­al gro­cery stores.
It's unclear whether the sale to Arthur T. will allow the com­pa­ny to main­tain even these stan­dards, how­ev­er. Accord­ing to The Guardian, Arthur T. financed his acqui­si­tion of the com­pa­ny with $550 mil­lion from pri­vate equi­ty giant the Black­stone Group. Indus­try ana­lysts told the Boston Her­ald that the new cred­i­tors will expect ​"imme­di­ate returns," which may force changes to Mar­ket Basket's busi­ness mod­el. That could mean rais­ing prices, but it could also mean low­er­ing costs through var­i­ous cuts to payroll.
A recent class-action law­suit filed in Mass­a­chu­setts also alleges that Mar­ket Bas­ket vio­lat­ed state labor law by lock­ing in restock­ers and clean­ers dur­ing the overnight shift while the stores are closed. Mass­a­chu­setts law requires that work­ers either be allowed to leave the premis­es for an unpaid lunch break or be paid for their time. For­mer employ­ee Daniel Sheri­dan, one of the plain­tiffs in the case, told the Boston Globe, ​"Yeah, they're good to their employ­ees, but they're steal­ing from their employees."
The dis­crep­an­cy between Mar­ket Basket's squeaky-clean rep­u­ta­tion as an employ­er and the expe­ri­ence of work­ers like Sheri­dan calls into ques­tion the true val­ue of a ​"benev­o­lent" boss like Arthur T. Demoulas. Look­ing clos­er at much of the glow­ing press about Demoulas' man­age­ment style reveals that many of his most vocal sup­port­ers are man­agers, even senior man­age­ment. The tes­ti­mo­ni­als at We are Mar­ket Bas­ket come almost entire­ly from management.
Accord­ing to Den­nis Desmond, a part-time night clean­er at Mar­ket Bas­ket Store 48 in Haver­hill — whose hours, like those of all the part-time work­ers, were cut to zero dur­ing the strike — man­age­ment helped coor­di­nate the action. ​"At my facil­i­ty, and at the [New Hamp­shire] facil­i­ty, employ­ees were paid [by man­age­ment] to hold protest signs," he told In These Times in an email.
Is a strike real­ly a strike if the rank and file is told not to work by their direct super­vi­sors? And will this strike ben­e­fit the part-time work­ers who make up the major­i­ty of the work­force, or just the already well-paid man­agers who appeared to be lead­ing the charge?
These ques­tions — as-yet unan­swered by the media and the campaign's most vocal employ­ee rep­re­sen­ta­tives — are why it's impor­tant for observers on the Left to take care when refer­ring to Mar­ket Bas­ket ​"work­ers." Nor­mal­ly, when pro­gres­sives dis­cuss labor dis­putes, those in charge are clear­ly labeled as man­age­ment. In the case of Mar­ket Bas­ket, man­agers' deci­sion to take indus­tri­al action has led the media to recast them as ​"work­ers," although they still wield pow­er over rank-and-file work­ers and enjoy sig­nif­i­cant­ly high­er com­pen­sa­tion and ben­e­fits. And while laid-off man­agers and full-timers imme­di­ate­ly got their jobs back from Arthur T., part-timers received no assur­ance that their hours would be ful­ly restored.
The obvi­ous coun­ter­bal­ance to man­agers who may or may not have the work­ers' best inter­ests at heart is a union. In New Eng­land, work­ers at Mar­ket Bas­ket rivals like Stop and Shop and Shaws are union­ized under the Unit­ed Food and Com­mer­cial Work­ers (UFCW). When the Mar­ket Bas­ket protests began, UFCW issued a state­ment in sup­port of the work­ers, say­ing: ​"Mar­ket Bas­ket work­ers have an unas­sail­able right to engage in col­lec­tive action in defense of their ben­e­fits and work­ing con­di­tions. These work­ers deserve a guar­an­tee that their liveli­hoods will not be jeop­ar­dized by a change in management."
UFCW also set up a web­site with basic infor­ma­tion for Mar­ket Bas­ket work­ers about their legal rights, and encour­aged work­ers to get in touch with the union. Accord­ing to UFCW spokes­woman Moira Bul­loch, union­ized Stop and Shop work­ers attend­ed Mar­ket Bas­ket ral­lies and per­formed out­reach to workers.
​"Hun­dreds of Mar­ket Bas­ket work­ers have reached out to us through our local offices, our web­sites, and through social media," says Bul­loch. ​"We have been lis­ten­ing to their con­cerns, and help­ing work­ers weigh their options going forward."
Bul­loch is non-com­mit­tal about whether the UFCW will launch a cam­paign to orga­nize Mar­ket Bas­ket, but she does stress the ben­e­fits of a poten­tial con­tract for Mar­ket Bas­ket workers.
​"Even if Arthur T. is rein­stat­ed as CEO, even if he rehires all of the man­agers who have been replaced, and restores the com­pa­ny, it will only last as long as Arthur T. remains with the com­pa­ny," she points out. ​"When he retires, Mar­ket Bas­ket will be back on the auc­tion block, or parceled out amongst the heirs. The only way that work­ers can pre­serve their Mar­ket Bas­ket and their jobs is to secure a union contract."
The UFCW is not plan­ning to dis­ap­pear now that Arthur T. is back. On Wednes­day, amid reports that the sale was immi­nent, Bul­loch stat­ed: ​"The UFCW will con­tin­ue talk­ing to any work­ers who are inter­est­ed in bar­gain­ing to gain more mean­ing­ful assur­ances from Mar­ket Bas­ket that their fam­i­lies will not suf­fer through anoth­er lay-off because of a future fam­i­ly feud."
Get­ting Mar­ket Basket's 20,000 part-time work­ers to orga­nize, how­ev­er, will be a tall order. Desmond, who has only worked for Mar­ket Bas­ket for a year but has fam­i­ly mem­bers who also work for the com­pa­ny, rec­og­nizes the ben­e­fits of union­iza­tion. He was for­mer­ly a mem­ber of AFSCME, and his father was a mem­ber of the IBEW. But at Mar­ket Bas­ket, he says, things are different.
​"There's nev­er been any talk about hav­ing a union. We've nev­er had to talk about it because our boss treats us like gold," he says. ​"We have all the ben­e­fits of a union with­out a union."
That's an atti­tude the now-rein­stat­ed lead­ers of the Mar­ket Bas­ket protest seem to share. In an inter­view with WGBH, Tom Gor­don, one of the eight pro­test­ers whose fir­ings touched off the strike, said, ​"Don't want any part of a union. We don't need a union." Gor­don is a mem­ber of management.
Julia Car­rie Wong is a free­lance jour­nal­ist liv­ing in San Fran­cis­co. You can fol­low her on Twit­ter @juliacarriew or email her at julia.carrie.wong [at] gmail​.com.