Guards Need Job Security of Their Own, Say Apple Store Protesters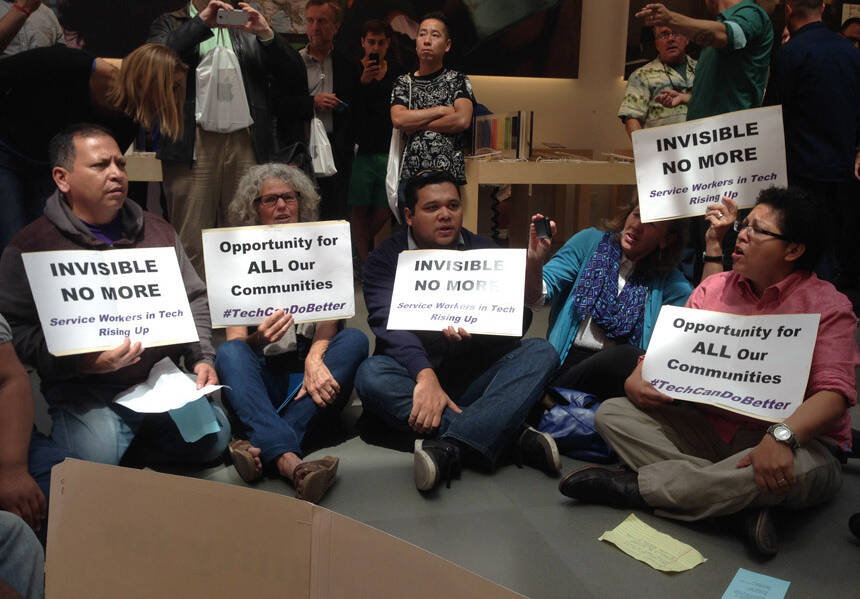 Twelve union activists staged a sit-in at an Apple Store in San Fran­cis­co last week to protest the tech giant's use of a non-union sub­con­trac­tor, Secu­ri­ty Indus­try Spe­cial­ists (SIS). The Thurs­day action came on the same day that Apple was drum­ming up buzz for a new prod­uct launch in ear­ly Sep­tem­ber. But the pro­test­ers, who car­ried signs read­ing ​"Invis­i­ble No More," were intent on redi­rect­ing pub­lic atten­tion to the rarely acknowl­edged men and women who pro­vide secu­ri­ty at Apple's North­ern Cal­i­for­nia head­quar­ters and retail stores.
​"We are invis­i­ble and that real­ly needs to stop," says Kay­la Gor­don, who attend­ed the protest but did not take part in the sit-in. Gor­don, who worked as an offi­cer for SIS until her hours were cut in 2012, says about the indus­try, ​"You don't have a voice. It's a hier­ar­chy, and you don't even know who's con­trol­ling the show."
As a secu­ri­ty guard, she con­tin­ues, ​"All you know is, ​'Be qui­et, shut up, you don't have a voice or you can't work here anymore.'"
The protest was orga­nized by SEIU Unit­ed Ser­vice Work­ers West (USWW), a union of more than 40,000 jan­i­tors, secu­ri­ty offi­cers, air­port, and oth­er prop­er­ty ser­vice work­ers in San Fran­cis­co. Samuel Kehinde, orga­niz­ing direc­tor for USWW, says the union is ​"call­ing on Apple to be a leader in Sil­i­con Val­ley" and ​"use respon­si­ble con­trac­tors who allow work­ers to have a voice on the job." Of major com­pa­nies pro­vid­ing secu­ri­ty for the tech indus­try, SIS is the only one that does­n't have a sin­gle union con­tract any­where in the coun­try, accord­ing to SEIU. Union rep­re­sen­ta­tives esti­mate that it pro­vides more than 200 sub­con­tract­ed secu­ri­ty offi­cers for Apple in North­ern Cal­i­for­nia alone.
Short­ly after noon on Thurs­day, the pro­test­ers — who includ­ed lead­ers of the Ser­vice Employ­ees Inter­na­tion­al Union (SEIU) and oth­er unions in Cal­i­for­nia — sat down in a cir­cle and began chant­i­ng ​"Apple, Apple, you're no good, treat your work­ers like you should." They then read the names of Sil­i­con Val­ley secu­ri­ty offi­cers who have joined the union's cam­paign to raise stan­dards in the industry.
Although numer­ous police offi­cers were already sta­tioned at the store in advance of the protest, nei­ther the police nor Apple man­age­ment attempt­ed to force the pro­test­ers to leave. The doors remained open and cus­tomers con­tin­ued to shop.
Around 1:00 p.m., the pro­test­ers moved to block the entrance to the store by sit­ting down on the side­walk direct­ly in front of the store. Police quick­ly declared that this con­sti­tut­ed an unlaw­ful assem­bly and arrest­ed the 12 pro­test­ers for fail­ing to fol­low police orders. Accord­ing to the com­mand­ing offi­cer on the scene, the pro­test­ers will be cit­ed and released.
Through­out the sit-in, about 150 oth­er sup­port­ers ral­lied and pick­et­ed out­side the store.
Nick Leahy, a spokesper­son for Apple, arrived at the store short­ly after the protest began, but refused to answer any ques­tions about the protest or Apple's choice of secu­ri­ty con­trac­tor. Apple did not respond to writ­ten requests for comment.
None of the SIS secu­ri­ty guards work­ing dur­ing the protest agreed to be inter­viewed, with one stat­ing, ​"I'm not allowed to dis­cuss anything."
Accord­ing to Kehinde, SIS, which pro­vides secu­ri­ty for Google, Twit­ter and eBay as well as Apple, fre­quent­ly intim­i­dates work­ers and retal­i­ates against those who get involved with the union around the coun­try. SIS itself reports that SEIU has been try­ing to orga­nize its employ­ees for five years.
​"Work­ers are very scared," Kehinde says. ​"In the past, work­ers who got involved in union activ­i­ty got pushed to on-call" — mean­ing their hours were reduced. Most secu­ri­ty offi­cers are already strug­gling to get enough hours of work to sur­vive, he says.
Though SIS is arguably one of the most egre­gious offend­ers in terms of its treat­ment of work­ers, SEIU USWW is attempt­ing to orga­nize all of the approx­i­mate­ly 3,000 secu­ri­ty offi­cers who serve Sil­i­con Valley's major tech campuses.
These secu­ri­ty offi­cers are often part of what SEIU calls an ​"under­class of Black and Lati­no work­ers" in the wealthy but increas­ing­ly unequal Bay Area. A report released on August 25 by advo­ca­cy group Work­ing Part­ner­ships USA con­trasts Sil­i­con Valley's high­ly paid tech work­ers — the medi­an wage for a sys­tems soft­ware devel­op­er in San­ta Clara Coun­ty, for exam­ple, is $63.62 per hour — with the sub­con­tract­ed work­ers who serve tech com­pa­nies as secu­ri­ty offi­cers, whose medi­an hourly wage is $14.17.
Because the work­ers are not direct­ly employed by the tech com­pa­nies, they don't have access to the industry's vaunt­ed ​"ben­e­fits and ameni­ties," the report con­tin­ues. A major­i­ty of secu­ri­ty offi­cers in San­ta Clara aren't even grant­ed any paid sick days. And these work­ers are dis­pro­por­tion­ate­ly Black and Lati­no, espe­cial­ly when com­pared to the over­whelm­ing­ly white or Asian make­up of tech's direct workforce.
This dis­crep­an­cy, Work­ing Part­ner­ships notes, is con­tribut­ing to a cycle of racial­ized pover­ty that won't be ame­lio­rat­ed by quick-fix hir­ing initiatives.
​"If tech com­pa­nies are seri­ous about build­ing a pipeline from K‑12 schools for a more diverse tech work­force," the report states, ​"it starts with pay­ing their par­ents a liv­able wage."
Accord­ing to the report, San Jose, the major city in San­ta Clara Coun­ty, has the least num­ber of ​"mid­dle-income house­holds" of the largest 357 U.S. met­ro­pol­i­tan areas. In San­ta Clara Coun­ty as a whole, for that mat­ter, 36 per­cent of Black-head­ed house­holds and 59 per­cent of Lati­no-head­ed ones fall below the ​"Self-Suf­fi­cien­cy Stan­dard" — a mea­sure that deter­mines how much income a house­hold needs to sur­vive with­out pub­lic subsidies.
Work­ing Part­ner­ships USA blames the ​"fail­ure of Sil­i­con Val­ley busi­ness­es to gen­er­ate mid­dle-wage jobs, com­bined with the lack of access to high-wage tech jobs" for leav­ing ​"large num­bers of Black and Lati­no work­ers trapped in low-wage, near pover­ty-lev­el work." And giv­en tech's huge role in the local econ­o­my, activists point out, the onus is on com­pa­nies like Apple to hire from con­trac­tors that pay employ­ees a decent salary.
For exam­ple, reports SEIU, the union­ized secu­ri­ty work­ers in the area — most of whom are employed with­in San Francisco's city lim­its — start at a min­i­mum of $14 per hour but receive year­ly increas­es, get ful­ly paid health insur­ance for sin­gles and afford­able cov­er­age for fam­i­lies, and have job pro­tec­tions, vaca­tion and paid sick leave. The union con­tract also includes job advance­ment lan­guage that helps part-time work­ers move into full-time jobs. Union­ized secu­ri­ty guards com­prised much of the crowd pick­et­ing out­side the Apple store on Thursday.
Gor­don, who is now an activist with SEIU USWW, says she's glad the union held such a pub­lic protest. ​"Peo­ple need to hear what's going on," she says.
She feels that sub­con­tract­ed tech work­ers need access to the same sort of resources as those with lush engi­neer­ing jobs in the same com­pa­nies. ​"Secu­ri­ty offi­cers should at least get sick days," she says, ​"and more hours to take care of their families."
​"I have an iPhone myself," Gor­don adds, not­ing that she and oth­er con­sumers are boost­ing Apple's prof­its, ​"We should all be able to ben­e­fit from this economy."
Julia Car­rie Wong is a free­lance jour­nal­ist liv­ing in San Fran­cis­co. You can fol­low her on Twit­ter @juliacarriew or email her at julia.carrie.wong [at] gmail​.com.