Fresh Off the Boat: At Last, a Show Where Asian-Americans Aren't the Butt of the Joke
In a welcome departure from most depictions of Asian families, Fresh Off the Boat pokes fun at the ignorance and blandness of white American culture.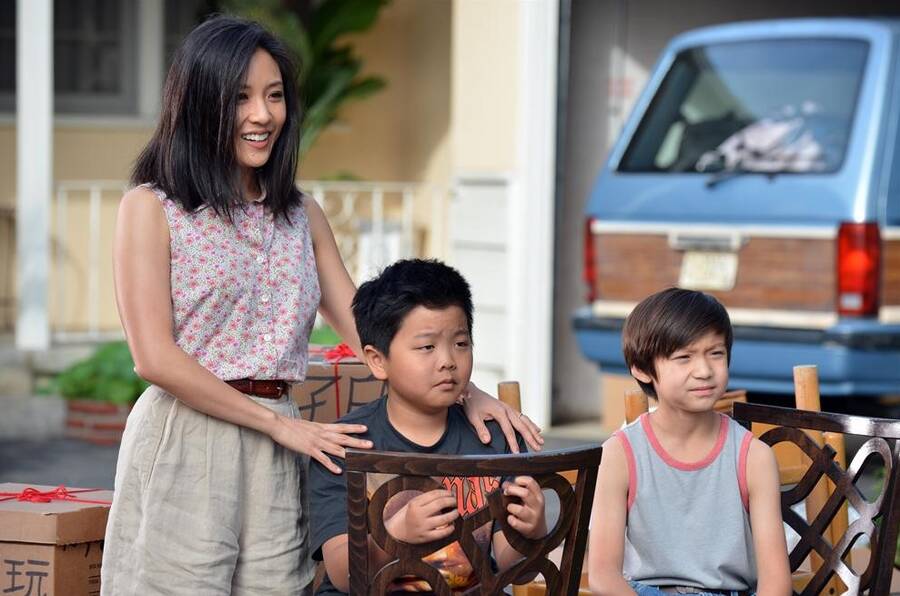 Twen­ty  years  ago  this March, All-Amer­i­can Girl, a net­work sit­com star­ring Mar­garet Cho as the daugh­ter of a Kore­an-Amer­i­can fam­i­ly, was can­celled after a sin­gle dis­ap­point­ing sea­son. Although the inter­ven­ing decades have seen a slow but steady increase in the avail­able roles for Asian-Amer­i­can actors on tele­vi­sion, the debut of Fresh Off the Boat on ABC in Feb­ru­ary was the first time that an Asian-Amer­i­can fam­i­ly was back at the cen­ter of a prime­time tele­vi­sion show.
It's not the most sophisticated racial humor, but at a time when mainstream comedy continues to rely on racial stereotypes, lampooning the racists instead of the racialized is a step in the right direction.
Based on the epony­mous mem­oir of writer and chef Eddie Huang, Fresh Off the Boat fol­lows a fic­tion­al Eddie at age 11 in 1995, as he and his fam­i­ly adjust to a new life and new neigh­bors, after mov­ing from Wash­ing­ton, D.C.'s Chi­na­town to a white sub­urb of Orlan­do, Flori­da. ​"There is oppor­tu­ni­ty here to make a bet­ter life for our fam­i­ly," insists Eddie's father, Louis (Ran­dall Park), despite the skep­ti­cism and dis­may of his uproot­ed wife and sons.
The show suc­ceeds in many places where All-Amer­i­can Girl failed. All-Amer­i­can Girl suf­fered from a fun­da­men­tal­ly pro-assim­i­la­tion point of view that relied on min­ing the oth­er­ness of Kore­an cul­ture for cheap laughs, par­tic­u­lar­ly through the broad­ly stereo­typed moth­er and grand­moth­er char­ac­ters. Cho's teenage pro­tag­o­nist, Mar­garet Kim, with her white friends and ​"All-Amer­i­can" ways, served as a mod­el of a minor­i­ty ​"cool" enough not to be hung up on old-coun­try traditions.
By con­trast, Fresh Off the Boat large­ly sub­verts the white gaze, pok­ing fun instead at the igno­rance and bland­ness of white Amer­i­cans and ​'90s white cul­ture. The rollerblad­ing neigh­bor­hood ladies who can't stop say­ing ​"exot­ic" and the child­ish intol­er­ance for dif­fer­ent cuisines (shared by chil­dren and adults alike) are the punch­lines here. It's not the most sophis­ti­cat­ed racial humor, but at a time when main­stream com­e­dy con­tin­ues to rely on racial stereo­types — wit­ness the Asian school­girl jokes in the pilot episode of Seth McFarlane's 2013 sit­com Dads, Sat­ur­day Night Live's Taran Kil­lam nar­rat­ing a mar­tial arts bat­tle with a fake Asian accent or How I Met Your Moth­er putting white actors in yel­low­face — lam­poon­ing the racists instead of the racial­ized is a step in the right direction.
Still, Fresh Off the Boat strug­gles to por­tray a racial land­scape that goes beyond the white/non-white bina­ry. Young Eddie (Hud­son Yang) is defined by his love of hip hop and black cul­ture. While his par­ents sing along to Ace of Base and Bon­nie Raitt, his inter­nal sound­track fea­tures Noto­ri­ous B.I.G., Nas and Ol' Dirty Bas­tard. ​"If you were an out­sider, hip hop was your anthem, and I was def­i­nite­ly the black sheep of my fam­i­ly," Eddie's voiceover explains. Set just three years after the L.A. riots exposed deep divi­sions, resent­ment and anger between some blacks and Asians, the show's rela­tion­ship to hip hop needs to be more com­pli­cat­ed than a facile equiv­a­lence between Asian and African-Amer­i­can out­sider statuses.
Fresh Off the Boat does set up a com­pli­cat­ed racial inter­ac­tion in the pilot, when Eddie aban­dons the sole black student's cafe­te­ria table for the chance to bud­dy up with cool, Noto­ri­ous B.I.G.-loving white kids, only to be reject­ed by the white kids for eat­ing Chi­nese food. Wal­ter, the black stu­dent, sees a chance to move one step up in the social hier­ar­chy and calls Eddie a ​"Chink." Eddie — who stayed calm in the face of a white kid's taunts that ​"Ying Ming is eat­ing worms" — los­es his tem­per and fights Walter.
Here was a moment when Fresh Off the Boat could explore fas­ci­nat­ing themes — whites' and Asians' simul­ta­ne­ous embrace of black cul­ture and rejec­tion of black peo­ple, the internecine bat­tles between dif­fer­ent com­mu­ni­ties of col­or — if it had the courage. Unfor­tu­nate­ly, the pilot backs away from the com­plex­i­ties of the cafe­te­ria encounter, tak­ing refuge in a voiceover by Eddie that attempts to cast a hip hop sen­si­bil­i­ty on the clas­sic immi­grant nar­ra­tive: ​"When you live in a Lunch­ables world, it's not always easy being home­made Chi­nese food, but it's also what makes you spe­cial. …. Because you don't have to pre­tend to be some­one else in order to belong. Like B.I.G. said, ​'If you don't know, now you know.' " The mono­logue is a for­tune-cook­ie end­ing to an authen­tic Chi­nese meal, and it leaves a dry taste.
The most excit­ing part of Fresh Off the Boat is Jes­si­ca Huang, Eddie's moth­er, played by Con­stance Wu. Eddie assures us that his moth­er came ​"way before all that Tiger Mom stuff," and while Jes­si­ca does check some stereo­typ­i­cal box­es — she insists on tutor­ing her sons for sev­er­al hours after school because she's wor­ried they're not being chal­lenged, and bul­lies her hus­band about sav­ing mon­ey — her char­ac­ter is rich­er and more indi­vid­u­al­ized than we're used to see­ing in depic­tions of Asian women. She loves Stephen King and Pete Sam­pras, throws a mean fast­ball (using an onion) and mocks white Amer­i­can cul­ture with a dry sense of humor.
Above all, Jes­si­ca is a seething ball of desire. She wants her chil­dren to strive, her hus­band to suc­ceed and her neigh­bors to eat her stinky tofu. Her fierce desires dri­ve much of the show's plot and form its emo­tion­al core. This is the hon­est and unbri­dled want that lies at the heart of immi­grant sto­ries, prompt­ing indi­vid­u­als to strike out in search of a life that is ​"more than okay," as Louis says. If Fresh Off the Boat man­ages to devel­op the rest of its char­ac­ters as suc­cess­ful­ly as it has Jes­si­ca, it has a chance of becom­ing ​"more than okay," too.
Julia Car­rie Wong is a free­lance jour­nal­ist liv­ing in San Fran­cis­co. You can fol­low her on Twit­ter @juliacarriew or email her at julia.carrie.wong [at] gmail​.com.