As Ferguson 'Weekend of Resistance' Begins, Organizers Weigh How to Turn a Moment into a Movement
With thousands descending on Ferguson today to demand justice for Michael Brown, a creator of #BlackLivesMatter thinks now may be the time to win long-term victories.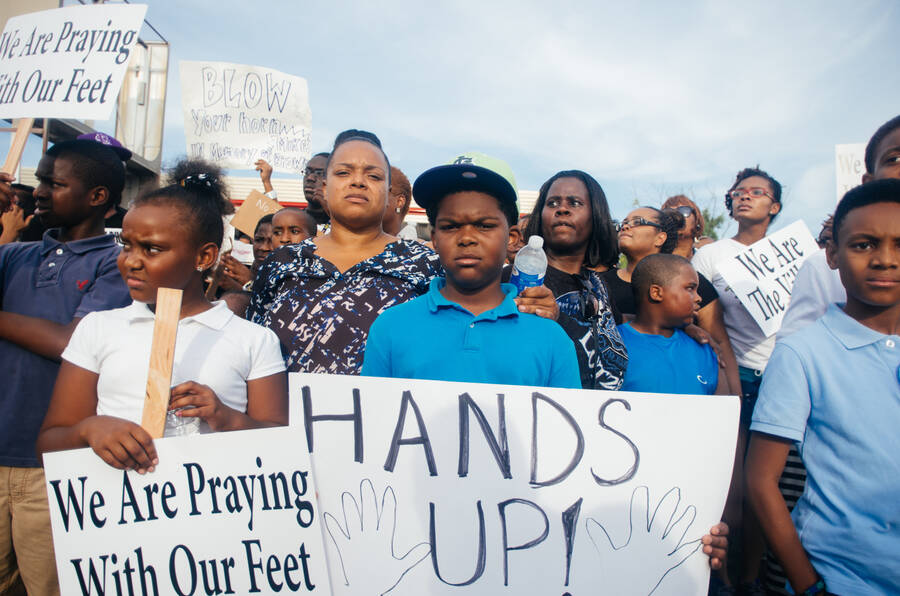 Thou­sands of activists are expect­ed to con­verge on Fer­gu­son, Mis­souri start­ing Fri­day, Octo­ber 10, for a ​"Week­end of Resis­tance" to sup­port the ongo­ing protest move­ment that arose in the wake of the police killing of Michael Brown on August 9. Fer­gu­son Octo­ber, as the ini­tia­tive is called, was orga­nized by a coali­tion of recent­ly formed and long­stand­ing com­mu­ni­ty orga­ni­za­tions in the St. Louis area, includ­ing Hands Up Unit­ed, The Orga­ni­za­tion for Black Strug­gle and Mis­souri­ans Orga­niz­ing for Reform and Empow­er­ment (MORE).
The people participating in the Ferguson rebellion are making the connection between racism, poverty and police violence.
Begin­ning Fri­day with a march to the office of Bob McCul­loch, the attor­ney charged with pros­e­cut­ing the police offi­cer who shot and killed Brown, the week­end will include numer­ous ral­lies, protests, polit­i­cal forums, and teach-ins, and will cul­mi­nate with planned civ­il dis­obe­di­ence actions on Octo­ber 13.
Ali­cia Garza is one of the orga­niz­ers work­ing on the ground in Fer­gu­son with the wave of new activists who have tak­en to the streets in the wake of Brown's killing. Based in Oak­land, Cal­i­for­nia, Garza is the Spe­cial Projects Direc­tor for the Nation­al Domes­tic Worker's Alliance (NDWA). Garza is a co-cre­ator of #Black­Lives­Mat­ter, a ​"polit­i­cal project" and online plat­form that aims to con­front anti-black racism and reaf­firm black human­i­ty. Garza is also a mem­ber of Left­Roots, a ​"nation­al for­ma­tion of Left social move­ment orga­niz­ers and activists" seek­ing to build social­ism in the 21st century.
In the after­math of Brown's killing, Garza recalls feel­ing ​"not only com­plete­ly hor­ri­fied, but com­plete­ly rage­ful." She says, ​"Just like when any mem­ber of your fam­i­ly is hurt in any way, there's a real urge to be there." She respond­ed to a ​"call com­ing from folks on the ground … for black folks in par­tic­u­lar who were orga­niz­ers and medics and attor­neys and heal­ers to come and sup­port the com­mu­ni­ty of Fer­gu­son and the St. Louis com­mu­ni­ty more broadly."
With the back­ing of the NDWA, Garza trav­eled to Fer­gu­son about three weeks after Brown's death, and spent two weeks work­ing ​"to help sup­port capac­i­ty build­ing on the ground." Dur­ing that time, the Black Lives Mat­ter team orga­nized a Free­dom Ride that Garza says ​"mobi­lized more than 500 black peo­ple from all over the coun­try to come to Fer­gu­son, to not only stand in sol­i­dar­i­ty but to lend con­crete and mate­r­i­al sup­port to orga­niz­ers who work on the front lines of the Fer­gu­son rebellion."
Garza says her work in Fer­gu­son was to ​"make sure the orga­ni­za­tions and activists on the ground had the capac­i­ty to real­ly hold this moment and extend it into a movement."
After return­ing to the Bay Area, Garza received a call from the coali­tion orga­niz­ing Fer­gu­son Octo­ber ask­ing for sup­port. On Sep­tem­ber 28, she returned to Fer­gu­son, where she spoke with In These Times.
When you arrived in Fer­gu­son, who were the peo­ple and groups on the ground that you end­ed up work­ing with? What does the orga­niz­ing look like?
Some­body who was born and raised in the Bay Area has the priv­i­lege of grow­ing up in a place that has a long his­to­ry of polit­i­cal activism and orga­niz­ing and many insti­tu­tions and orga­ni­za­tions that exist to sup­port social change. When I arrived here, there was a stark dif­fer­ence. Cer­tain­ly there are quite a few orga­ni­za­tions on the ground here that are orga­niz­ing around var­i­ous issues, but I learned very quick­ly that this moment was real­ly dif­fer­ent. In some ways, orga­ni­za­tions here were grap­pling with how to show up in a moment where most peo­ple are in motion — for the most part, spon­ta­neous motion — and it does­n't look like our reg­u­lar orga­niz­ing work.
When I came here, first I start­ed meet­ing peo­ple and get­ting to know the orga­ni­za­tions on the ground and the work they were doing. There's a great orga­ni­za­tion here that was found­ed after I arrived called Mil­len­ni­al Activists Unit­ed, which is a real­ly dynam­ic and incred­i­ble group of young women, many of whom are queer women, who are black, who have been some of the most cre­ative and inno­v­a­tive forces on the ground. Oth­er folks are doing real­ly incred­i­ble work around labor rights like the young fast food work­er activists from Show Me 15, who have also been on the front lines fight­ing for jus­tice for Mike Brown.
My first two weeks were real­ly about get­ting to know the land­scape and hav­ing move­ment build­ing con­ver­sa­tions with folks. A moment like this is not pre­dictable. It real­ly tests our acu­men around how we build rela­tion­ships — across dif­fer­ence, with peo­ple that we don't always like, with peo­ple we have polit­i­cal dif­fer­ences with. So I spent some time real­ly sit­ting with folks and help­ing them strate­gize about how to send this from a moment into a movement.
In com­ing here the sec­ond time, I was asked to play some­what of an orga­niz­ing direc­tor role for a coali­tion of orga­ni­za­tions and activists that have come togeth­er to fight for jus­tice for Mike Brown. The plan was to cre­ate a week­end of resis­tance here with the goal of bring­ing thou­sands of peo­ple from across the coun­try to Fer­gu­son to par­tic­i­pate in tar­get­ed civ­il dis­obe­di­ence actions and cul­tur­al activ­i­ties, to have an oppor­tu­ni­ty to build rela­tion­ships and sol­i­dar­i­ty with local orga­ni­za­tions and activists and to devel­op strate­gies that folks can take home. My work here is train­ing young orga­niz­ers to go out into St. Louis and talk with folks about join­ing the move­ment, get­ting folks to com­mit to par­tic­i­pat­ing in the week­end of resis­tance as the first step in join­ing the move­ment — and fig­ur­ing out if we can build some infra­struc­ture that can be sus­tained long after this weekend.
You have a back­ground in com­mu­ni­ty orga­niz­ing, but you're now work­ing with the NDWA. We've seen Richard Trum­ka, the pres­i­dent of the AFL-CIO, speak out about Fer­gu­son, and the AFL-CIO and SEIU have endorsed Fer­gu­son Octo­ber. Do you see peo­ple mak­ing a con­nec­tion between police vio­lence, racism and eco­nom­ic issues, and do you think that work­place orga­niz­ing has in impor­tant role to play here?
What was so impor­tant about Richard Trumka's speech was that he was real­ly try­ing to make the con­nec­tion for labor that we have to be broad­er. We have to orga­nize peo­ple from a per­spec­tive of their whole being, as opposed to nar­row­ly iden­ti­fy­ing who peo­ple are and what they care about. The actu­al line that he used in his speech was, ​"One of our broth­ers, Dar­ren Wil­son, mur­dered our sis­ter's son, Les­ley McSpad­den." Les­ley McFad­den is a UFCW mem­ber. She works at a local gro­cery store chain in the deli. Dar­ren Wil­son, of course, is a Fer­gu­son police officer.
He was real­ly try­ing to acti­vate orga­nized labor to see this as our issue. He's address­ing some dynam­ics that are real and in some ways real­ly uncom­fort­able to talk about, one of which is there are tons of black work­ers here in St Louis who work for pover­ty wages, who live in com­mu­ni­ties that have been rav­aged by pover­ty and racism. If we're only orga­niz­ing peo­ple around class issues, we're miss­ing a huge part of peo­ple's expe­ri­ences and a huge oppor­tu­ni­ty to gal­va­nize peo­ple around a broad­er pro­gres­sive agen­da that can win big vic­to­ries — not just for work­ers, but for all peo­ple who are on the margins.
When you look at folks who are par­tic­i­pat­ing in the rebel­lion, you see folks who are wear­ing Show Me 15 t‑shirts. Those young peo­ple are mak­ing the con­nec­tion between racism, pover­ty, and police and state vio­lence. It points to an oppor­tu­ni­ty for us to make sure we're address­ing issues of racism in our com­mu­ni­ties and con­nect­ing racism to pover­ty and exploitation.
As the Nation­al Domes­tic Work­ers Alliance — which rep­re­sents 10,000 or more women of col­or or immi­grant women in a large­ly infor­mal sec­tor doing invis­i­ble work that holds our coun­try togeth­er — that's a no-brain­er. We under­stand the role of gen­der, race, and class are intri­cate­ly con­nect­ed. It's real­ly the face of the new labor move­ment. What's hap­pen­ing in St. Louis is excit­ing because folks on the ground are mak­ing that con­nec­tion — and wait­ing for the rest of us in the pro­gres­sive move­ment to also make those con­nec­tions so we can build a stronger move­ment that can actu­al­ly win impact­ful, long last­ing vic­to­ries for our people.
This moment is a real oppor­tu­ni­ty, and it's up to all of us whether we're going to take advan­tage of it or not. Peo­ple here are ask­ing ques­tions about rel­e­vance and effec­tive­ness; they real­ly want to win. They're not stand­ing any more for the okey-doke.
When you say peo­ple want to win — what does jus­tice look like to them? What are people's big­ger pic­ture demands?
Peo­ple are talk­ing about vic­to­ries that are larg­er than Dar­ren Wil­son. They are talk­ing a lot about ensur­ing that we trans­form polic­ing in this coun­try, and par­tic­u­lar­ly in St Louis. And peo­ple are talk­ing about real­ly striv­ing to chal­lenge the sys­tems of white suprema­cy and racism that per­vade almost every­thing. And they're talk­ing about mak­ing sure that the lead­er­ship of young women of col­or is being ele­vat­ed, which I think is bril­liant, and can real­ly serve as a bea­con for all of us.
There are a num­ber of social­ist orga­ni­za­tions endors­ing and tak­ing part in the week­end of resis­tance, includ­ing the Inter­na­tion­al Social­ist Orga­nizion, Social­ist Alter­na­tive and Left­Roots. What is a use­ful role for left­ists to play in the strug­gle in Fer­gu­son? How do you nav­i­gate your dif­fer­ent roles an orga­niz­er with NDWA, Black Lives Mat­ter and Left­Roots? Do you think hav­ing an explic­it­ly left­ist ori­en­ta­tion is impor­tant to this work or should it be put aside in this moment?
I do think it's impor­tant to enter into any space as a left­ist. But I also acknowl­edge — and think it's impor­tant for all of us to acknowl­edge — that the his­to­ry of the Left in this coun­try has been one that, in some ways, has been fair­ly dis­con­nect­ed from the real strug­gles that are hap­pen­ing in black com­mu­ni­ties, immi­grant com­mu­ni­ties, com­mu­ni­ties of col­or and oth­er oppressed groups. That's because it has pre­dom­i­nant­ly been a space of white men. When many peo­ple think of left­ists, they think of white men sell­ing news­pa­pers who are going to tell you what you should think and how you should make rev­o­lu­tion hap­pen now.
What Third World lib­er­a­tion move­ments showed this coun­try was that peo­ple make the road by walk­ing—that we need to be guid­ed by strong vision and a strong, dis­ci­plined prac­tice, but we also need to be nim­ble and hum­ble and flex­i­ble. For me, it's impor­tant to lead with my pol­i­tics, but the way that I do that is by show­ing up. Cer­tain­ly there are still sects in this coun­try that think that the way that rev­o­lu­tion hap­pens, the way that social trans­for­ma­tion hap­pens, is by talk­ing about it to death, or by ​"insti­gat­ing action." I think what's real­ly impor­tant when we're talk­ing about sus­tained trans­for­ma­tion is that peo­ple have to be real­ly invest­ed. Peo­ple real­ly have to believe in it. And peo­ple have to actu­al­ly have a prac­tice that is also transformative.
For me, as some­one who wears many hats, I actu­al­ly see them as one and the same. My work with domes­tic work­ers — who are large­ly women of col­or and immi­grant women, who are poor and low-income — is real­ly sim­i­lar to my work with Black Lives Mat­ter, which is lift­ing up the human­i­ty and cen­tral­i­ty of black lives in this coun­try as a vision and a por­tal for the future… which is real­ly sim­i­lar to my work with Left Roots, which is about build­ing a strong, vibrant left that's root­ed in com­mu­ni­ties of col­or and women and queer folks and oth­ers who have tra­di­tion­al­ly been on the mar­gins, and real­ly devel­op­ing the strate­gies we need to build effec­tive, long-term, sus­tained social transformation.
You frame Fer­gu­son as a moment that needs to become a move­ment. Where on the path towards becom­ing a move­ment do you think activists in Fer­gu­son are and what needs to hap­pen next to keep mov­ing in that direction?
I think peo­ple are get­ting stronger, they're get­ting sharp­er, they're get­ting smarter, and that's real­ly inspir­ing. The feel­ing here is both one of antic­i­pa­tion and one of com­mit­ment and ded­i­ca­tion. There's a lot of buzz around the week­end of resis­tance. Most peo­ple that we've talked to are real­ly excit­ed and are down to join the move­ment make his­to­ry together.
The oth­er feel­ing that I get in Fer­gu­son is one of real hope and resilience. Peo­ple have not for­got­ten. It's been six­ty days of con­tin­ued and ongo­ing resis­tance. Peo­ple have faced some of the ugli­est shit that they could, and they're still here. There's a real sense of vibran­cy and resilience — espe­cial­ly from young peo­ple, who are putting their lives on the line to make sure that this does­n't go away.
Julia Car­rie Wong is a free­lance jour­nal­ist liv­ing in San Fran­cis­co. You can fol­low her on Twit­ter @juliacarriew or email her at julia.carrie.wong [at] gmail​.com.