At School Closing Hearings, Chicago Officials Give Residents the Silent Treatment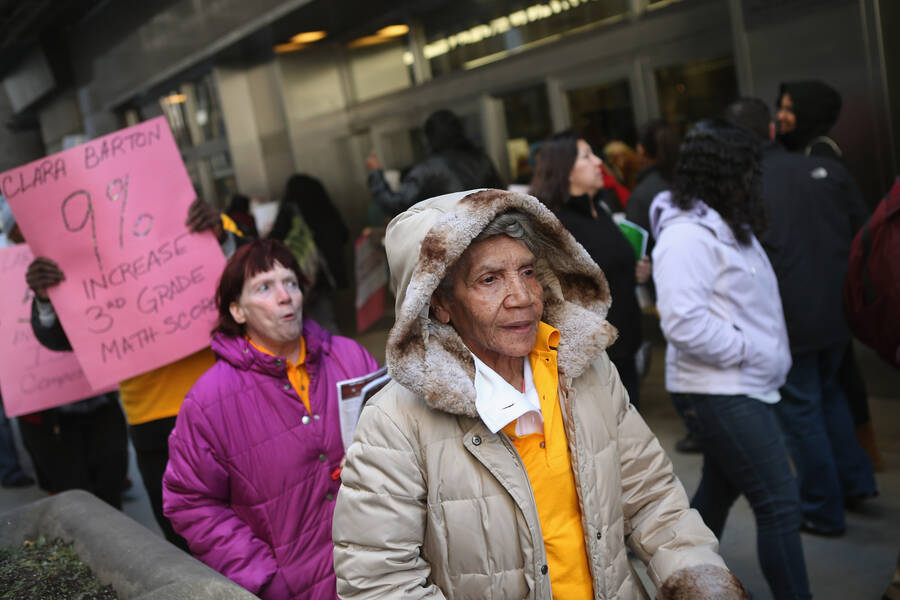 Com­mu­ni­ty frus­tra­tion with the Chica­go Pub­lic Schools is high fol­low­ing last month's pro­pos­al from CPS that 53 ele­men­tary schools and one small high school be shut down, and the staff at six addi­tion­al schools fired. Sev­er­al aspects of CPS's announce­ment have fueled the anger and con­fu­sion, includ­ing shift­ing ratio­nales for the clos­ings and a lack of clar­i­ty regard­ing the aca­d­e­m­ic future of stu­dents impact­ed by the school actions.
But one rea­son for the inten­si­ty of the uproar may be, iron­i­cal­ly, CPS's pub­lic engage­ment process itself.
Here's how it works. At month­ly Board of Edu­ca­tion meet­ings and three com­mu­ni­ty hear­ings that CPS holds for each pro­posed school clos­ing, mem­bers of the pub­lic are allowed to sign up to speak for a max­i­mum of two min­utes in front of CPS offi­cials. The pub­lic speak­er goes up to the podi­um and talks. CPS offi­cials make no response. Then the next pub­lic speak­er goes to the podi­um. Think an open mic night, or a wit­ness tes­ti­mo­ny with no cross-examination.
CPS explains that the for­mat is ​"designed to ensure that the max­i­mum num­ber of peo­ple have an oppor­tu­ni­ty to have their voic­es heard," writes CPS spokes­woman Robyn Ziegler to Work­ing in These Times in an e‑mail. ​"An open dis­cus­sion with Q‑and‑A would cut down on the num­ber of peo­ple who could have an oppor­tu­ni­ty to be heard."
Rod Est­van, an edu­ca­tion pol­i­cy spe­cial­ist at the dis­abil­i­ty advo­ca­cy group Access Liv­ing, calls the for­mat a pub­lic rela­tions move. ​"They have decid­ed that they are bet­ter off just let­ting peo­ple rant and rave," says Est­van, who sits on a CPS spe­cial edu­ca­tion advi­so­ry com­mit­tee. ​"One bad state­ment in response could be a head­line if there is a reporter at the meeting."
But if silence is a PR strat­e­gy, it may be back­fir­ing. The Chica­go Teach­ers Union – a vocal crit­ic of the clos­ings — finds it insult­ing. ​"The for­mat is designed to sup­press real input from par­ents, stu­dents and the com­mu­ni­ty," says CTU spokes­woman Stephanie Gadlin, ​"They don't even give peo­ple the cour­tesy of feed­back." This week, advo­cates asso­ci­at­ed with the Raise Your Hand par­ents coali­tion in the Austin neigh­bor­hood began to boy­cott hearings.
The total silence from CPS offi­cials also appears to con­found the pub­lic at large.
Last Mon­day, for exam­ple, CPS held a hear­ing on West Town's Peabody Ele­men­tary School, which is slat­ed for clo­sure pri­mar­i­ly for run­ning below capac­i­ty. The dis­trict will send stu­dents to Otis Ele­men­tary School, which is about 0.6 miles south of Peabody.
One Peabody teacher after anoth­er came up and charged CPS with an ulte­ri­or motive: want­i­ng to use the shut­tered build­ing to put in a char­ter school run by the Noble Net­work. ​"We have heard Noble told its staff that they are look­ing at this build­ing," said Deb­bie Rat­u­lows­ki, a sixth grade Lan­guage Arts teacher.
Is this true? Noble Net­work says it is not. But nei­ther of the two CPS offi­cials present com­ment­ed on the mat­ter. Absent a response, the Noble rumor took up 20 min­utes of the hear­ing, or 10 dif­fer­ent speak­ers. Soon enough, the rumor mor­phed into a larg­er accu­sa­tion that May­or Rahm Emanuel wants to turn over pub­lic schools to polit­i­cal­ly con­nect­ed char­ter school oper­a­tors. A com­mu­ni­ty mem­ber attend­ing the meet­ing had no con­text in which to assess whether the Noble rumor was cor­rect, a crazed con­spir­a­cy the­o­ry, or false but per­haps gen­er­al­ly indica­tive of the district's pro-Noble and pro-char­ter school policies.
Oth­er speak­ers at the hear­ing raised polite ques­tions. Stephen Rynkiewicz, of the East Vil­lage Asso­ci­a­tion, want­ed to know about instruc­tion­al resources for Peabody stu­dents at Otis. Rynkiewicz did not get a response from a CPS cen­tral office rep­re­sen­ta­tive. There was no one present from Otis Ele­men­tary to respond.
Will Rynkiewicz get his ques­tion answered? Ziegler of CPS notes that the dis­trict has infor­ma­tion on its web­site and an infor­ma­tion­al phone line. But Ziegler did not answer this reporter's ques­tion about how fre­quent­ly CPS got back to peo­ple who raised ques­tions at com­mu­ni­ty hearings.
Wendy Kat­ten, co-direc­tor of the Raise Your Hand parent's coali­tion, says that par­ents she works with occa­sion­al­ly get a call back from CPS after ask­ing a ques­tion at a pub­lic meet­ing. ​"But it is most­ly a one-way street," Kat­ten says. ​"It is frus­trat­ing for par­ents to not have a dialogue."
The pub­lic hear­ing for­mat used by CPS is a stan­dard one for Chica­go gov­ern­ment. What seems unique about CPS, though, is the absolute lack of recog­ni­tion of each speak­er. By con­trast, at a Chica­go Park Dis­trict board or city coun­cil com­mit­tee hear­ing, those mak­ing com­ments are often told the appro­pri­ate offi­cial to con­tact with their con­cern. At Chica­go Hous­ing Author­i­ty hear­ings, board mem­bers can respond with blank looks to the gripes of pub­lic hous­ing ten­ants. How­ev­er, CHA pub­lish­es writ­ten respons­es to ques­tions raised at each meet­ing, a prac­tice CPS does not have for its pub­lic sessions.
The School Dis­trict of Philadel­phia this year employed a hear­ing for­mat like CPS's after the Philadel­phia School Reform Com­mis­sion rec­om­mend­ed clos­ing 37 schools. Accord­ing to Jesse Brax­ton, an edu­ca­tion orga­niz­er at Action Unit­ed in Philadel­phia, the pub­lic com­ments at Philadel­phia school clos­ing hear­ings also did not get respons­es. ​"It's been an incred­i­bly frus­trat­ing process," Brax­ton says. Still, fol­low­ing the hear­ings, the School Reform Com­mis­sion did reduce its clos­ing list from 37 to 23 schools. ​"It's hard to say if that was part of the plan ini­tial­ly or in response to the pub­lic," Brax­ton says.
Brax­ton says that the lev­el of dia­logue between the pub­lic and the School Reform Com­mis­sion depends on who is part of the five-mem­ber board. For oth­er school sys­tems in flux, like Detroit, board offi­cials have actu­al­ly been too talkative.
But in Emanuel's brief two-year tenure, Chica­go school offi­cials have con­sis­tent­ly stayed mum when con­front­ed by the pub­lic. This was the case at the Feb­ru­ary 2012 board meet­ing where mem­bers vot­ed to close or replace staff at 17 schools with min­i­mal dis­cus­sion or response to pub­lic com­ments. Dur­ing that ses­sion some mem­bers of the pub­lic were even turned away. The board is expect­ed to vote on the 54 clos­ings and six staff replace­ments a month from now at its May board meeting.
Matthew Blake
is a free­lance jour­nal­ist based in Chica­go. He has writ­ten for the
Chica­go Jour­nal, Wash­ing­ton Month­ly, Wash­ing­ton Inde­pen­dent
and
The Nation
, among oth­er publications.