Across all finan­cial sec­tors — whether it's telecom­mu­ni­ca­tions, ener­gy, trans­porta­tion, tech or agri­cul­ture — the largest multi­na­tion­al cor­po­ra­tions are active­ly seek­ing to con­sol­i­date their glob­al pow­er by acquir­ing their com­pe­ti­tion. ​"Merg­er mania," as it's known on Wall Street, is not a new devel­op­ment, rather a peren­ni­al eco­nom­ic phe­nom­e­non. But while lucra­tive for a company's share­hold­ers and CEOs, his­to­ry has shown us time and time again that unop­posed monop­o­lies are almost always bad for society-at-large.
On the farm front, as we've dis­cussed on numer­ous occa­sions, last Sep­tem­ber Mon­san­to announced its inten­tion to merge with Bay­er in a $66 bil­lion deal. If the merg­er goes through, Mon­san­to-Bay­er would dom­i­nate the chem­i­cal and seed mar­kets along­side Dow-DuPont and Syn­gen­ta-Chem­Chi­na — the four oth­er glob­al agri­cul­ture and chem­i­cal giants expect­ed to merge by the end of the year. As a result, Amer­i­can farm­ers, who have seen seed prices rise and incomes fall with­in the last decade, would face yet high­er prices and less choice. While farm­ers con­tin­ue to speak out against the deal, many incum­bent politi­cians remain silent.
Austin Frerick wants to go to Con­gress as rep­re­sen­ta­tive of Iowa's 3rd con­gres­sion­al dis­trict, which cov­ers the south­west cor­ner of the state, includ­ing Des Moines. To get there he is run­ning in the 2018 Demo­c­ra­t­ic pri­ma­ry, and stop­ping monopoloies is on of the cen­tral planks of his cam­paign. Frerick, 27, a for­mer econ­o­mist at the Depart­ment of Trea­sury, is part of a wave of younger pro­gres­sives run­ning for office as Democ­rats. He sees anti-trust issues as part and par­cel of a pro­gres­sive polit­i­cal agen­da. Frerick also sup­ports sin­gle-pay­er health­care, a $15 min­i­mum wage, repro­duc­tive rights, cam­paign finance reform and a uni­ver­sal high­er edu­ca­tion sys­tem. RAITT spoke with Frerick about Mon­san­to, cor­po­rate char­i­ty and rur­al communities.
Rur­al Amer­i­ca In These Times: You recent­ly penned an op-ed against the Mon­san­to-Bay­er merg­er. What has the response been like so far? And what does it mean for a Demo­c­rat to be mak­ing a call to stop it?
Austin Frerick: I was shocked by how pos­i­tive the response to the piece was. Peo­ple are hap­py I'm speak­ing up. But we've seen this show before. Chuck Grass­ley has been a sen­a­tor for 30 years, and while he has ques­tioned merg­ers, includ­ing between Mon­san­to and Bay­er — but they keep hap­pen­ing! Just from the Demo­c­ra­t­ic stand­point, peo­ple are very impressed, and I think they get caught off guard by that: Here's a Demo­c­rat who's actu­al­ly going to speak to Big Ag?
A lot of peo­ple that live in rur­al com­mu­ni­ties feel dis­re­spect­ed. I didn't real­ize how much sta­tis­tics and math go into farm­ing. A lot of this stuff can get very com­pli­cat­ed very quick, but there needs to be a will­ing­ness to learn. I'm a young man, but I love it, and farm­ers love it when I'm like, ​'I don't know, tell me more. I have a base knowl­edge but I would like to know more.'
How has your time work­ing at the Trea­sury influ­enced your campaign/​your call against agribusi­ness consolidation?
When I was work­ing in the tax pol­i­cy depart­ment at the Trea­sury, I did a research project on phar­ma­ceu­ti­cal char­i­ty. As it turns out, eight phar­ma­ceu­ti­cal com­pa­nies do a quar­ter of cor­po­rate char­i­ty. Why? In a paper I wrote on Hepati­tis C, I basi­cal­ly argued that Mil­ton Fried­man was right — that feels kind of fun­ny to say — when he famous­ly said that cor­po­rate social respon­si­bil­i­ty is usu­al­ly a cloak for oth­er actions.
Hepati­tis C meds cost $80,000. So what phar­ma did is they cre­at­ed all these inde­pen­dent char­i­ties that will pay your co-pay — 5 per­cent of the $80,000, or $4,000. So they'll donate $4,000 per per­son to these char­i­ties — and then they get a tax deduc­tion for that char­i­ty work and hide that mon­ey away in Ire­land. It's com­i­cal­ly corrupt.
My final paper for the Trea­sury was about monop­o­lies. We kept notic­ing more and more risk-free returns — basi­cal­ly, in a per­fect mar­ket, if every­one makes a prof­it, some­one los­es mon­ey. It should be zero-sum, but we saw all this ​"extra return," which is essen­tial­ly monop­oly prof­its. You might expect that in the phar­ma­ceu­ti­cal indus­try — where you research a drug and you get a ten-year monop­oly — but we were see­ing it every­where. And you'd think the bar­ri­ers to entry to make crack­ers shouldn't be that high, but you're see­ing com­pa­nies that make high monop­oly prof­its. Hon­est­ly, it was curios­i­ty about that that led me here. Now, there's just an illu­sion of choice. When you walk into a mall and you see Sun­glass Hut, LensCrafters, Pearle Vision, Tar­get Opti­cal, Sears Opti­cal — it's all one com­pa­ny. They're just hit­ting dif­fer­ent social class­es with the same product.
How does cor­po­rate char­i­ty play out on the ground with com­pa­nies like Mon­san­to or oth­er major sellers?
It's all PR. When a com­pa­ny does mil­lions of dol­lars in busi­ness a year, giv­ing out a thou­sand-dol­lar check is a nice sym­bol­ic ges­ture. For exam­ple, I wrote my under­grad­u­ate the­sis on slaugh­ter­hous­es in Iowa. There's a lot of pover­ty in the small­er com­mu­ni­ties where these slaugh­ter­hous­es are, to the point where peo­ple can't afford hous­ing. But the super­in­ten­dents and may­ors I spoke with were telling me how excit­ed they were that Tyson gave them free hot dogs for a back-to-school grill out. Wouldn't it be bet­ter if they could just pay the peo­ple more?
It's great that they're hand­ing out grants, but they're also hol­low­ing out these com­mu­ni­ties. In Iowa, we've seen half of our seed co-ops close in the last decade. This land is the most pro­duc­tive eco­nom­i­cal­ly it's ever been, but the com­mu­ni­ties are thriv­ing the least they've ever thrived.
And these com­mu­ni­ties also bear the brunt of envi­ron­men­tal harms per­pe­trat­ed by big ag. Nitrate runoff and the Clean Water Act has been a big top­ic in Iowa in recent years.
Oh, yeah. My part­ner is from the East Coast, and he point­ed out to me that grow­ing up, it's very nor­mal in Iowa in the spring­time for them to shut down cer­tain beach­es, state parks. The nitrates are too high, and you can't go in the water. It's kin­da screwy that it's so nor­mal in the cul­ture that you just accept that.
You make a lot of com­par­isons with the ear­ly 20th cen­tu­ry, when Roo­sevelt was ​"trust-bust­ing," and with the 1980s, when the most recent farm cri­sis hit. In what way are the strug­gles farm­ers fac­ing today unique?
What's scary about the farm cri­sis, if it's going to be a farm cri­sis, is that it's a dif­fer­ent type. The last one was dri­ven by inter­est rates. At this point, I think the Fed is pur­pose­ly keep­ing them low for polit­i­cal rea­sons. They're afraid. We're hav­ing all of this con­flict this past week­end in Char­lottesville, when the economy's grow­ing. Imag­ine what hap­pens when the growth rate is at neg­a­tive 3 per­cent. It's incred­i­bly scary that social sta­bil­i­ty is being incor­po­rat­ed into Fed policy.
We're going to have a record soy­bean yield, and corn's already glut­ted. And in Iowa, some­where between 30 and 40 per­cent of corn goes to ethanol, but it seems like bat­tery tech­nol­o­gy is quick­ly mov­ing along. So what hap­pens when cars move to bat­ter­ies? Where does that 30-to-40 per­cent go? I haven't had these kinds of con­ver­sa­tions yet.
And when three com­pa­nies effec­tive­ly dom­i­nate a mar­ket, you just can't orga­nize their places of employ­ment because they can out­spend you, and shut­ting down one plant means noth­ing to them. I see old-fash­ioned Ted­dy Roo­sevelt-style trust-bust­ing going hand-in-hand with union­iza­tion — you bust and then organize.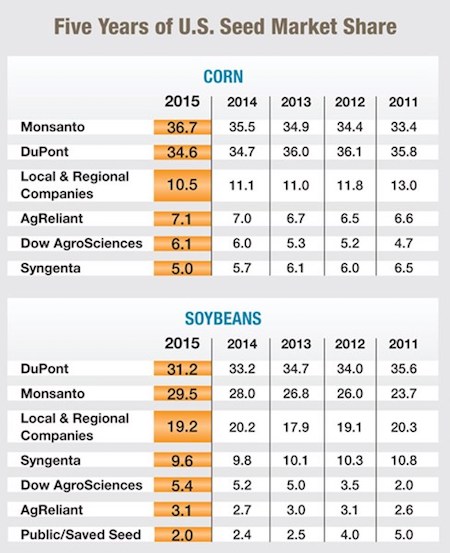 In 2015, Mon­san­to and DuPont brands still dom­i­nat­ed the mar­ket for both corn and soy­beans. For corn, one share point equals 350,000 units (bags of seed). In soy­beans, one share point equals 830,000 units. These esti­mates are based on 31,400 and 140,000 plant pop­u­la­tions, respec­tive­ly. (Source: ver​dant​part​ners​.com)
When we talk about a farm cri­sis, what we're real­ly talk­ing about a rur­al com­mu­ni­ty cri­sis. The thing I'm talk­ing the most about is the child pover­ty — and child pover­ty grows in times of eco­nom­ic growth in this coun­try. The poor­est parts of Iowa are these small lit­tle towns.
Wel­fare reform is a big thing of mine, but we failed with wel­fare reform. Block grant­i­ng does not work. I worked on this when I was at the Con­gres­sion­al Research Ser­vice. Every state is sup­posed to reg­u­lar­ly con­vene a pan­el of pover­ty experts to rethink how they're going to spend their mon­ey. When I first start­ed work­ing for the Con­gres­sion­al Research Ser­vice, I had to pull the plans for from each state. Last time Iowa's pan­el met? 1996.
Tom Harkin has this great say­ing: Soci­ety is about the lost, the lone­ly and the left behind. And what does that say when we're just let­ting more and more fall behind? When you fund pro­grams through block grants, what you're real­ly say­ing is, you're cut­ting ser­vices to the dis­abled and to kids with med­ical con­di­tions, and you're let­ting more kids starve. We're bet­ter than this.
On a lighter note, you have a pret­ty great list of heroes on your Twit­ter bio: Jane Addams, Tom Harkin, Rupaul and Thur­man Arnold. Would you talk a lit­tle bit about what two of them mean to you?
One of my heroes is Tom Harkin. Some for­get he was a big human rights per­son, but he fought for a lot of the Afford­able Care Act. He worked to sub­si­dize pro­duce so that stu­dents could get free fruit in the morn­ing. And he designed these bills to be fund­ed for the long-term — with per­ma­nent, rather than appro­pri­at­ed, funds — so that Con­gress couldn't cut these pro­grams. Peo­ple don't real­ize a lot of these things until they dive in.
But I also love RuPaul. I met an old gay farm cou­ple the oth­er day in south­ern Iowa and it's a per­son­al thing of mine — I'm a young gay man. Gay­ness in Amer­i­can soci­ety is por­trayed as an urban phe­nom­e­non, so it's real­ly inter­est­ing to see it play out in rur­al spaces. So I just love the show. It cel­e­brates an art form that a lot of peo­ple view neg­a­tive­ly. It's a cel­e­bra­tion of dif­fer­ence. I think it will have a lin­ger­ing impact in our society.
So you spend a lot of time talk­ing about Roo­sevelt. But, pre­vent­ing the Mon­san­to-Bay­er merg­er aside, there is a crossover between Sanders' 2016 pres­i­den­tial cam­paign and your own. To what extent did that peri­od influ­ence your plans for your cam­paign and/​or your views?
Sen­a­tor Sanders just raised my expec­ta­tions. He taught me that health care is a right. He made that into a val­ue state­ment. He expand­ed the realm of possibilities.
We're on the cusp of a big pro­gres­sive moment, but I don't think we can get there with­out tack­ling these eco­nom­ic giants. You can pass rules, but when com­pa­nies like Mon­san­to have these mar­ket shares, they can buy up polit­i­cal influ­ence. We've seen this already under the Oba­ma admin­is­tra­tion. They had good inten­tions — but if you don't get at the root cause, these com­pa­nies are going to be able to even­tu­al­ly buy off the sys­tem, and the momen­tum will be lost. This is a once-in-a-gen­er­a­tion oppor­tu­ni­ty. And I think this is the per­fect moment for that.
(Austin Frerick can be reached on Twit­ter @AustinFrerick. For more infor­ma­tion vis­it Austin​Fr​erick​.com)