Rural Stories Making Headlines (August 13, 2017)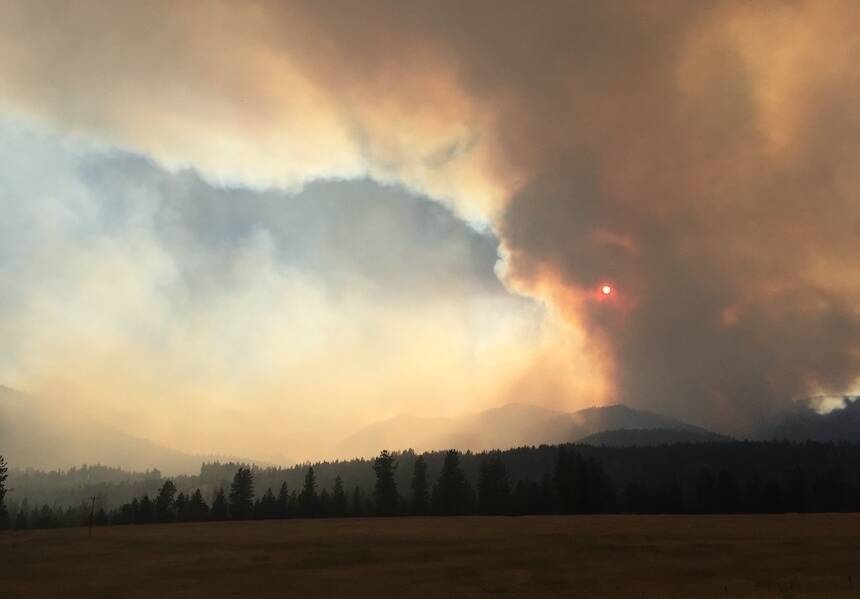 Too busy to fol­low the news this week? Tak­ing a break from Twit­ter? RAITT has you covered.
On the inter­na­tion­al front, Pres­i­dent Trump and state media spokes­peo­ple for the Demo­c­ra­t­ic People's Repub­lic of North Korea (DPRK) spent much of last week try­ing to find the right words to con­vey their abil­i­ty and readi­ness to anni­hi­late a lot of inno­cent peo­ple. At a press con­fer­ence on Fri­day, the ​"Amer­i­ca first" pres­i­dent also sur­prised many when he stat­ed that he was­n't rul­ing out a ​"mil­i­tary option" in Venezuela. That said, U.S. cor­po­rate earn­ings, fear­less­ly re-report­ed by Bre­it­bart as a big win for the new admin­is­tra­tion, are the best they've been in 13 years. Wages for most Amer­i­cans, unfor­tu­nate­ly, remain stag­nant. Also, yes­ter­day, in Char­lottesville, Va., one per­son died and 19 oth­ers were injured at a white nation­al­ist ral­ly when a man attacked counter-pro­tes­tors with his car.
The fol­low­ing sto­ries you may have missed, how­ev­er, are about mas­sive wild­fires in Mon­tana, anoth­er Mon­san­to cov­er up, poor excus­es from an Illi­nois util­i­ty and a new rur­al report­ing project in Texas.
Earth, wind, and fire
On July 25, the fed­er­al gov­ern­ment reject­ed a request for emer­gency fund­ing from Mon­tana, which is cur­rent­ly bat­tling numer­ous wild­fires in the state. The fund­ing would have allowed the state to recoup 75 per­cent of what it's spent on fire con­trol. Ron­ja Abel, spokes­woman for Gov. Steve Bul­lock (D), says that the state is appeal­ing the rejec­tion. At least two fire­fight­ers have died on the job this wild­fire sea­son, both in Mon­tana.
Mon­tana, how­ev­er, is not the only area bat­tling record wild­fires this sum­mer. As of Aug. 9, there were 128 fires burn­ing In British Colum­bia. Smoke from the fires is so thick that as it drifts down into the North­west Unit­ed States, it's caus­ing a slight cool­ing effect. Not that you'd notice — the tem­per­a­tures in the Pacif­ic North­west have been sky-high, with Ore­gon sur­pass­ing sev­er­al dai­ly records last week. As Grist reporter Eric Holthaus put it, ​"It's feel­ing a lit­tle apocalypse‑y in the Pacif­ic North­west this week." Fire­fight­ers are trav­el­ling from as far as Aus­trail­ia to assist in putting out the flames.
More Mon­san­to shenanigans
Mon­san­to has found itself stuck in the revolv­ing head­line door as of late. Last week, lawyers leaked emails between the biotech com­pa­ny and ​"inde­pen­dent" glyphosate researchers to the New York Times, which report­ed that Mon­san­to is play­ing a much more active role behind the scenes than it lets on when it comes to influ­enc­ing the media and aca­d­e­m­ic research.
Ear­li­er this week, in much the same vein: Reuter's found that Mon­san­to sent out sam­ples of Xtendi­Max, its new dicam­ba-based her­bi­cide, to researchers under the con­di­tion that they not test its volatil­i­ty (the extent to which a for­mu­la will vapor­ize and trav­el across fields after appli­ca­tion). Why not? ​"This prod­uct need­ed to get into the hands of grow­ers," Monsanto's Vice Pres­i­dent for Glob­al Strat­e­gy, Scott Par­tridge, told Reuters. Even with­out the volatil­i­ty test­ing, the EPA approved Xtendi­Max in Sep­tem­ber of last year. How­ev­er, as of July 19, 2.5 mil­lion acres of crops have been report­ed dam­aged by dicam­ba drift and the EPA is now (final­ly) review­ing restric­tions on dicam­ba labels.
To top it all off, the Guardian report­ed on Thurs­day that Mon­san­to ​"con­tin­ued to pro­duce and sell tox­ic indus­tri­al chem­i­cals known as PCBs [poly­chlo­ri­nat­ed biphenyls] for eight years after learn­ing that they posed haz­ards to pub­lic health and the envi­ron­ment." Recent­ly released archival doc­u­ments showed that as many as ten years before PCBs, which were orig­i­nal­ly man­u­fac­tured as lubri­cants and coolants, were wide­ly banned, Mon­san­to seems to have rec­og­nized their poten­tial for seri­ous human and envi­ron­men­tal harm — while con­tin­u­ing to mar­ket the chem­i­cals as safe to the public.
Rur­al Illinois
As report­ed by Mid­west Ener­gy News, a util­i­ty com­pa­ny is play­ing on the age-old trope of the urban-rur­al divide in down­state Illi­nois — an area that includes ​"almost every­where out­side the Chica­go met­ro­pol­i­tan area." The util­i­ty, Ameren Illi­nois, is argu­ing that it can't meet new ener­gy effi­cien­cy tar­gets passed in a 2016 ener­gy law because its down­state cus­tomer base is low­er-income, more geo­graph­i­cal­ly spread out and less edu­cat­ed. There­fore, the util­i­ty says, it needs to spend more on out­reach pro­grams before it can work on effi­cien­cy measures.
Crit­ics, which include the Nation­al Resources Defense Coun­cil, the Envi­ron­men­tal Defense Fund, Citizen's Util­i­ty Board, and indi­vid­ual ener­gy con­sul­tants, aren't buy­ing it. They point out that Ameren's request would lead to 27 per­cent less in ener­gy sav­ings over the next four years, as well as $36 mil­lion saved in penal­ties, and $36 in bonus­es for exceed­ing their low­ered ener­gy targets.
And the argu­ment the util­i­ty com­pa­ny employed in the hopes of earn­ing these sav­ings? It's a red her­ring, say crit­ics. Accord­ing to David Kola­ta, exec­u­tive direc­tor of the Cit­i­zens Util­i­ty Board:
"They're try­ing to split our com­mu­ni­ty and it's not work­ing. It's not an either-or. There should be an appro­pri­ate invest­ment in low-income pro­grams, but they can do that and still meet their targets."
"

We need full por­traits, not caricatures."

The Austin-based non­prof­it news orga­ni­za­tion and bimonth­ly mag­a­zine, Texas Observ­er, has just intro­duced a new rur­al report­ing project, promis­ing to deliv­er nuanced report­ing on rur­al issues and to keep jour­nal­ism from becom­ing a white-col­lar, city-based pro­fes­sion in the Lone Star state. The long-term project aims to bridge the gap between Texas' urban and rur­al pop­u­la­tions. While 80 per­cent of Tex­ans live in urban areas, Texas has the largest rur­al pop­u­la­tion of any state: 3.8 million.

Explain­ing their rea­sons for launch­ing the project For­rest Wilder, the Observer's edi­tor, writes:
Trump's elec­tion taught the nation many painful lessons. Among them: the tra­di­tion­al divide between town and coun­try has become a chasm. Peo­ple in blue, urban enclaves dis­cov­ered, or redis­cov­ered, the depth of anger and resent­ment felt in for­got­ten, most­ly rur­al, cor­ners of Amer­i­ca. The nation­al media went through a peri­od of self-exam­i­na­tion. How did we get it so wrong? Many jour­nal­ists pledged to get out more, to spend more time in neglect­ed or ignored com­mu­ni­ties. Pro­gres­sives are in con­flict over whether to retreat to com­fort­able geog­ra­phy and demog­ra­phy or to re-engage with com­mu­ni­ties that ral­lied to Trump's trou­bling but effec­tive message.

But a seis­mic elec­tion out­come shouldn't be required to gen­er­ate inter­est in bridg­ing the urban-rur­al divide. Here in Texas, we've long suf­fered from a pecu­liar dichoto­my: The state's self-image is one of the fron­tier, of vast ranch­es and cow­boys. But Texas is an urban state. More than 80 per­cent of Tex­ans now live in an urban area, and the vast major­i­ty of pop­u­la­tion growth is con­cen­trat­ed in cities. Fol­low I‑45 from Dal­las to Hous­ton and then I‑10 from Hous­ton to San Anto­nio and then I‑35 north through Austin back to Dal­las: That tri­an­gle is the future of Texas.

Yet Texas also has the largest rur­al pop­u­la­tion of any state: 3.8 mil­lion peo­ple. We con­tain mul­ti­tudes — uneasy mul­ti­tudes increas­ing­ly at odds. No won­der our pol­i­tics is so riv­en. Recent­ly, Lieu­tenant Gov­er­nor Dan Patrick (late of Bal­ti­more, Mary­land) said ​"all our prob­lems in Amer­i­ca" stem from ​"cities that are most­ly con­trolled by Demo­c­rat mayors."

Dan Patrick was not just dis­re­spect­ful toward cities; he also belied an igno­rance of the real issues faced by small towns and the coun­try. The fact is, rur­al Amer­i­ca, rur­al Texas, is under tremen­dous stress. Many prob­lems are the same as in the cities: stag­nant wages, income inequal­i­ty, health-care woes, racial con­flicts. But rur­al Texas faces a set of issues all its own: stag­nant or declin­ing pop­u­la­tions, eco­nom­ic dis­lo­ca­tions from glob­al­iza­tion and trade, a severe short­age of pri­ma­ry care physi­cians, land frag­men­ta­tion, water scarci­ty and myr­i­ad agri­cul­tur­al chal­lenges that bare­ly reg­is­ter with city dwellers.

More intan­gi­bly, many com­mu­ni­ties are cop­ing with an unrav­el­ing of a way of life as young peo­ple flee and polit­i­cal lead­ers are con­sumed with ide­o­log­i­cal con­cerns. I grew up in the coun­try, and some­times it's hard to explain, to those who didn't, the mix­ture of pride and resent­ment that comes from liv­ing ​"out here." (I blame main­stream radio coun­try for the shal­low fix­a­tion on dirt roads, cheap beer and car­toon­ish religion.)

One of the rea­sons we've reached an impasse of mutu­al mis­un­der­stand­ing is that media is con­cen­trat­ed in the cities and jour­nal­ism has increas­ing­ly become a white-col­lar pro­fes­sion requir­ing an elite edu­ca­tion. Too often, jour­nal­ists in Austin, Hous­ton, Dal­las and oth­er metro areas treat much of the rest of Texas as fly­over coun­try. Mean­while, many small-town news­pa­pers have been absorbed by cor­po­rate chains that have lit­tle to no inter­est in robust, enter­prise report­ing. And, sad­ly, many fam­i­ly-owned papers have for ages stu­dious­ly avoid­ed rock­ing the local establishment.

For more sto­ries fol­low Rur­al Amer­i­ca In These Times on Face­book and Twit­ter through­out the week!
Eme­line Pos­ner
is a sum­mer
2017
Rur­al Amer­i­ca In These Times edi­to­r­i­al intern.