On a small plot of land on the out­skirts of Chica­go, a farm col­lec­tive­ly owned by gen­der-non-con­form­ing immi­grants will cul­ti­vate pro­duce and a younger gen­er­a­tion of food jus­tice activists. That's the vision that Viviana Moreno, Nadia Sol Ireri Unzue­ta Car­ras­co and Jazmín Mar­tinez, orga­niz­ers and farm­ers based in Chicago's Lit­tle Vil­lage neigh­bor­hood, are work­ing to turn into reality.
Cata­tum­bo Col­lec­tive, as the three call them­selves, told Rur­al Amer­i­ca In These Times in an email: ​"We're approach­ing a work­er-owned farm through an inter­sec­tion­al and holis­tic lens that under­stands that our community's issues can be addressed in part by sus­tain­able farm­ing and food jus­tice edu­ca­tion­al programs."
Viviana, Ireri and Jazmín have known each oth­er from years of orga­niz­ing against depor­ta­tions in Chica­go and work­ing in Lit­tle Village's Semi­l­las de Jus­ti­cia com­mu­ni­ty garden.
Of Venezue­lan and Mex­i­can her­itage, the three incor­po­rate their fam­i­lies' expe­ri­ences — with land stew­ard­ship and NAF­TA-dri­ven migra­tion — and the his­to­ry of campesinos' and Indige­nous peo­ples' land strug­gles into their approach.
As they got more involved with Chicago's urban agri­cul­ture move­ment, Ireri found few resources that pro­vid­ed the need­ed his­tor­i­cal or cul­tur­al con­text. ​"His­to­ry of the land, his­to­ry of the exploita­tion and abuse of peo­ple work­ing the land, and the his­to­ry of resis­tance and resilience by Indige­nous peo­ple and peo­ple of col­or," Ireri says, was lacking.
They found a resource in Soul Fire Farm, a peo­ple-of-col­or-led farm and edu­ca­tion­al cen­ter based in Grafton, N.Y. Last sum­mer, they all attend­ed Soul Fire's Black and Lat­inx Farmer Immer­sion, a pro­gram designed to impart eco­log­i­cal­ly-restora­tive farm­ing tech­niques to peo­ple of col­or and to fos­ter con­ver­sa­tion about racism, and racial jus­tice, in the food system.
At Soul Fire, co-founders Leah Pen­ni­man and Jon­ah Vitale-Wolff ​"gave us the space to come togeth­er, look at each oth­er and real­ize [that] we are who we have been wait­ing for," Viviana says. ​"Our indi­vid­ual sto­ries and his­to­ries had already brought us togeth­er and Soul Fire solid­i­fied our com­mit­ment to land jus­tice and reparations."
Cata­tum­bo is part of an inter­na­tion­al, decades-old move­ment for food sov­er­eign­ty. Coined by inter­na­tion­al farmer coali­tion Via Campesina in 1996, ​"food sov­er­eign­ty" is the idea that food pro­duc­tion and dis­tri­b­u­tion should be con­trolled by work­ers, not by pow­er­ful, prof­it-dri­ven cor­po­ra­tions. Now, orga­ni­za­tions like Soul Fire, Cata­tum­bo and oth­er groups of farm­ers of col­or are build­ing a racial jus­tice aspect into that frame­work, and are look­ing to uplift Black, Brown, Indige­nous, and immi­grant farm­ers — those who have borne the brunt of labor exploita­tion, land theft and dis­crim­i­na­to­ry agri­cul­tur­al pol­i­cy — all the while advo­cat­ing for eco­log­i­cal farm­ing prac­tices and racial healing.
At Soul Fire Farm, one of the food sov­er­eign­ty movement's sev­er­al hubs, immer­sion pro­grams have been sup­port­ing Black and Brown farm­ers across the Unit­ed States and high­light­ing their his­to­ry. Now, a younger gen­er­a­tion of Soul Fire alums — like Cata­tum­bo Col­lec­tive — are putting them­selves on the map.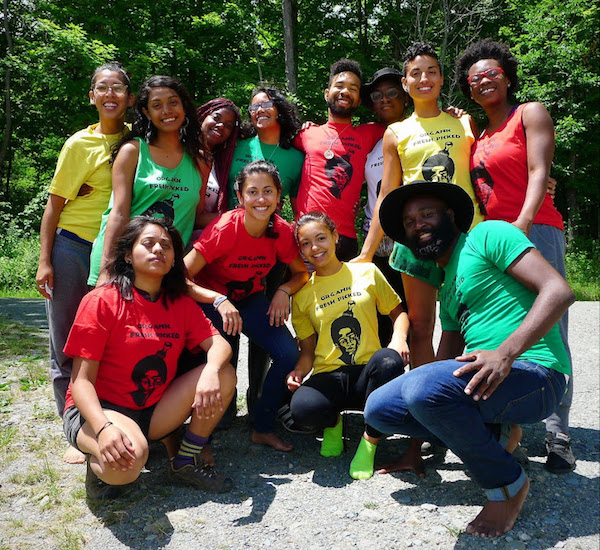 The Cata­tum­bo Col­lec­tive and oth­er pro­gram par­tic­i­pants dur­ing the

2017

Black-Lat­inx Farmer Immer­sion Pro­gram at Soul Fire Farm in Grafton, N.Y.
(Image: Capers Rumph / cour­tesy of Soul Fire Farm)
Build­ing Black and Brown farms through reparations
After attend­ing the Black and Lat­inx Farmer Immer­sion Pro­gram, Viviana, Ireri and Jazmín left with the con­fi­dence to com­mit to form­ing Cata­tum­bo Col­lec­tive. But while they were there, they start­ed a con­ver­sa­tion that would lead to the online repa­ra­tions map that Soul Fire launched ear­li­er this year.
"[Work toward repa­ra­tions] has been hap­pen­ing for a cou­ple of years, but as far as the offi­cial map that was just launched, that came out of Viviana's work," Pen­ni­man tells Rur­al Amer­i­ca In These Times. ​"We were talk­ing about … repa­ra­tions gifts, and she just said, ​'We need to spread this and have more peo­ple-to-peo­ple sol­i­dar­i­ty.' And so we made it happen!"
The map, which has attract­ed near­ly 45,000 views to date, lists 44 farm­ers of col­or and their spe­cif­ic needs, which range from equip­ment and seeds to fund­ing, land access and legal advice.
Soul Fire Far­m's inter­ac­tive peo­ple-to-peo­ple repa­ra­tions map. (Source: Google Maps)
At Per­spek­tive Farms in rur­al Penn­syl­va­nia, a Black fam­i­ly of tree farm­ers are look­ing for fund­ing to build a green­house. In New Jer­sey and in Alaba­ma, orga­niz­ers are look­ing for the funds to start an Indige­nous farm­ing col­lec­tive and an Indige­nous-led ecov­il­lage, respec­tive­ly. Out­side a wildlife refuge on the island of Hon­olu­lu, the Four Women Rad­i­cals farm is look­ing for 5 acres of land to start a com­mu­ni­ty farm ded­i­cat­ed to edu­cat­ing Black and Brown women on sus­tain­ing themselves.
As a tool for a grass­roots move­ment, the map is specif­i­cal­ly designed to facil­i­tate peo­ple-to-peo­ple dona­tions. The loca­tion of each farm and project is denot­ed by a pin. When view­ers click on a pin, a side­bar pops up with infor­ma­tion about that spe­cif­ic farmer's vision and needs. It also pro­vides the farmer's con­tact infor­ma­tion, so that the view­er can get in touch if they are inter­est­ed in mak­ing a contribution.
Already, some of the tens of thou­sands of clicks have led to fund­ing for sev­er­al farm­ers' projects. From one donor, Dal­las Robin­son received $7,000, which she'll use toward the pur­chase of a trac­tor and the con­struc­tion of a cool room for pro­duce stor­age. With that gift, she'll be on track to open her herb and mush­room farm, the Har­ri­et Tub­man Free­dom Farm, in Red Oak, N.C. in ear­ly 2019.
Anoth­er repa­ra­tions map vic­to­ry came recent­ly to Jahshana Olivierre, a com­mu­ni­ty builder in Canar­sie, N.Y., who received $2,800 through the repa­ra­tions map—enough to fund an apothe­cary appren­tice­ship, which will help her build knowl­edge to start her own youth-led herbal apothe­cary and coop­er­a­tive.
These repa­ra­tions vic­to­ries fol­low ear­li­er gifts that orig­i­nat­ed from a dif­fer­ent Soul Fire pro­gram, Uproot­ing Racism in the Food Sys­tem Immer­sion. The pro­gram offers train­ing for peo­ple who have posi­tion­al priv­i­lege in the food sys­tem and want to learn how to avoid being com­plic­it with white suprema­cy in their day-to-day work.
Two Black- and Brown-led farms in cen­tral New York, Har­mo­ny Farm, in Goshen, N.Y., and Wild Seed Com­mu­ni­ty Farm, in Miller­ton, N.Y., were cre­at­ed through gifts of land and fund­ing by alums of the Uproot­ing Racism program.
"There's an awak­en­ing con­scious­ness that repa­ra­tions are nec­es­sary and aren't seen as some fringe unrea­son­able demand, but real­ly an essen­tial part of racial heal­ing," says Penniman.
Insti­tu­tion­al repa­ra­tions — such as the 1999 Pig­ford v. Glick­manclass action dis­crim­i­na­tion suit that won $1.25 bil­lion for Black farm­ers denied loans and assis­tance by the USDA — are nec­es­sary, Pen­ni­man says. But she points out that the aver­age pay­out was $50,000 per farmer, ​"which is not enough to get a good trac­tor, let alone get your land back."
Accord­ing to a paper in the South­ern Rur­al Soci­ol­o­gy jour­nal, as of 2002 Black-owned or ‑oper­at­ed farms num­bered less than 20,000 and tend­ing a total of 2 mil­lion acres — a decrease from the 1920 peak of 926,000 farms on 16 mil­lion acres.
"We absolute­ly do need to con­tin­ue to lit­i­gate, and to do that pol­i­cy work, but we don't have to wait for that to enact repa­ra­tions," Pen­ni­man says. ​"We can actu­al­ly start right away with these peo­ple-to-peo­ple trans­fers, of wealth that was stolen, to the peo­ple from whom it was stolen."
Get­ting farm­ers of col­or on the map
Cata­tum­bo Collective's pri­ma­ry goal for the map was to help facil­i­tate these trans­fers of wealth. But, inci­den­tal­ly, the map may also help towards build­ing up an online data­base of farm­ers of col­or, who have long been under­rep­re­sent­ed by demo­graph­ic surveys.
While gov­ern­ment-led sur­veys are like­ly to under­rep­re­sent small-scale and Black and Brown-oper­at­ed farms, inde­pen­dent sur­veys are no more like­ly to have accu­rate counts, as Nathan Rosen­berg and Clay H. East recent­ly argued in the New Food Econ­o­my.
For exam­ple, the Wash­ing­ton Post and oth­er out­lets share uplift­ing sto­ries of how the youngest cohort of farm­ers is defined by its ded­i­ca­tion to sus­tain­able tech­niques and its diver­si­ty — but they draw on a Nation­al Young Farmer Coali­tion sur­vey that skews toward ​"high­ly edu­cat­ed, ex-urban, first-time farm­ers," a group that is unrep­re­sen­ta­tive of the full spread of farm­ers under 35.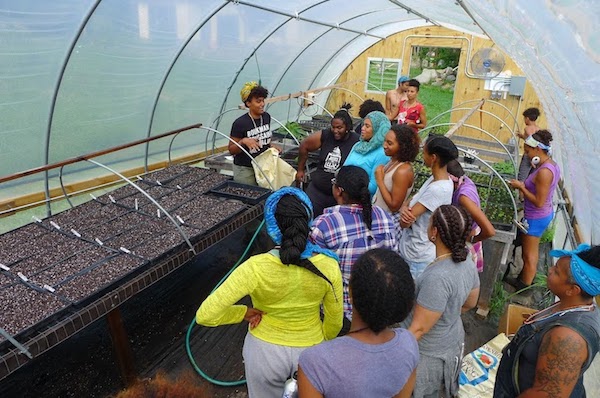 The Soul Fire Farm team show vis­i­tors around a hoop­house at the start of the grow­ing sea­son. (Image: Capers Rumph / cour­tesy of Soul Fire Farm)
USDA cen­sus data
, on the oth­er hand, tells a dif­fer­ent sto­ry: name­ly, that the youngest gen­er­a­tion (
35
and under) of farm­ers is slight­ly more white (
94
per­cent) and male (
90
per­cent) than old­er gen­er­a­tions, and more like­ly to prac­tice con­ven­tion­al, indus­tri­al­ized agriculture.
In real­i­ty, the num­ber of young farm­ers of col­or is like­ly high­er than the cur­rent USDA esti­mate, though by how much is unclear.
One rea­son for this dis­crep­an­cy in nar­ra­tive is that the USDA has long failed to account for small-scale farms in its cen­sus. (As of 2002, Black farm­ers were like­ly to oper­ate less than 50 acres of farm­land, far below the nation­al aver­age of 440.) Although the USDA has been work­ing to improve its method­ol­o­gy since 1997, its counts are like­ly still too low, giv­en how small farms are decreas­ing in num­ber at the same time as ​"very small" farms and gar­dens are increas­ing. By their very nature, very small farms and gar­dens, whether in rur­al or urban areas, are dif­fi­cult to track from year to year.
Inde­pen­dent and grass­roots maps like Soul Fire's repa­ra­tions map will not serve as a replace­ment for more com­pre­hen­sive sur­veys, but farm­ers like Pen­ni­man and the Cata­tum­bo mem­bers see it as a step in the right direc­tion. In the mean­time, it serves the more impor­tant func­tion of help­ing peo­ple of col­or and allies locate, and sup­port Black and Brown farms.
​"We do need a direc­to­ry of POC-run farms and health cen­ters. This map may or may not be the thing, but it has been a long time call-out that we have need­ed in our move­ment," Pen­ni­man says, adding a shout-out to Tasha Bowens, who pub­lished a book called the Col­or of Food, which maps out farm projects run by peo­ple of col­or. ​"But I do think that we need a curat­ed space, a vet­ted space, that says these are the farms that are legit run by peo­ple of col­or that legit exist, and this is what they offer."
In the mean­time, the map's cre­ators are hop­ing to expand the breadth of the map, which cur­rent­ly skews heav­i­ly toward the North­east, where they've built their net­work. ​"That is not where most of the Black farm­ers are," says Pen­ni­man, ​"They're in the South, and in the West. But I am real­ly excit­ed for it to grow. This project is just one hum­ble and small piece of that over­all move­ment for Black land sovereignty."
Catatumbo's bea­con for food justice
The Cata­tum­bo Riv­er, from which the agri­cul­tur­al col­lec­tive pulls its name, flows from Colom­bia down into Venezuela. For around two-thirds of the year, and for as many as 10 hours a night, light­ning storms linger over the mouth of the Cata­tum­bo Riv­er, where it emp­ties into Lake Mara­cai­bo. The sharp bursts of light­ning that the storms gen­er­ate are so bright that they have func­tioned as a ​"nat­ur­al light­house" for gen­er­a­tions of sailors.
It's a strik­ing name for the farm col­lec­tive that the three Chicagoans envi­sion build­ing, both in the inter­est of cul­ti­vat­ing eco­log­i­cal­ly and teach­ing younger mem­bers of their com­mu­ni­ties to do the same. But it won't be built overnight: Cata­tum­bo hasn't yet received repa­ra­tions. To start, they need assis­tance find­ing a plot of land, a truck and guid­ance on how to form a busi­ness as res­i­dents of mixed doc­u­men­ta­tion sta­tus. Through the map that they helped to cre­ate, they've received numer­ous mes­sages and offers of assis­tance, but most of those offers have not mate­ri­al­ized. None of them denies that it's a long road for­ward to their peri-urban farm, but it's one they're com­mit­ted to following.
In the mean­time, the voic­es behind Cata­tum­bo are help­ing to shape the con­ver­sa­tion around urban agri­cul­ture and food jus­tice in Chica­go. At a Feb­ru­ary 2018 Chica­go food pol­i­cy sum­mit, a break­out ses­sion on Black and Lat­inx agri­cul­tur­al his­to­ry, which Viviana helped to lead, pulled half the summit's atten­dees. And until they fund their farm, you can find Viviana, Jazmín and Ireri in Chica­go, orga­niz­ing, teach­ing, and using the gar­dens they do have to grow and to impart their knowl­edge about stew­ard­ship to others.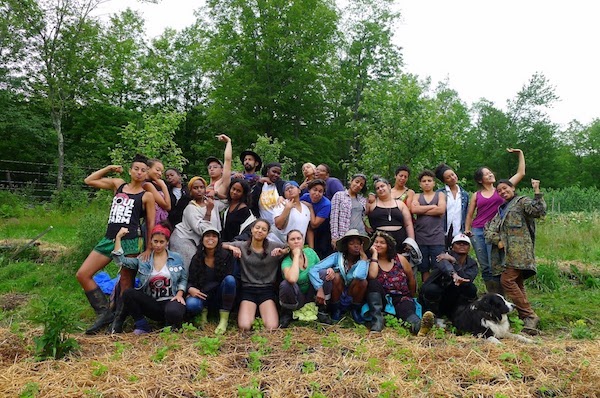 A Soul Fire Farm team pos­es for a pic­ture in the field. (Image: Capers Rumph / cour­tesy of Soul Fire Farm)