"Drain the swamp," Trump's anti-cor­rup­tion ral­ly­ing cry on the cam­paign trail, has itself been drained of any strength it once car­ried. Its defla­tion began even before the inau­gu­ra­tion, when the pres­i­dent-elect began assem­bling a cab­i­net that con­sist­ed of the very fig­ures he'd promised to oust: lob­by­ists, bankers, busi­ness­men and career politi­cians. The media, how­ev­er, con­tin­ues to sus­tain the emp­ty metaphor.
Polit­i­cal inac­cu­ra­cies aside, the lan­guage per­pet­u­ates a dan­ger­ous and deep-seat­ed mis­per­cep­tion that wet­lands are imped­i­ments to devel­op­ment and progress.
Trump was not the first politi­cian to invoke swamp­land as a stand-in for an unde­sir­able fea­ture of Amer­i­can pol­i­tics. Social­ist Rep. Vic­tor Berg­er (S. Wisc.), used ​"swamp" as a sur­ro­gate for the cap­i­tal­ist sys­tem in 1907, writ­ing in an essay: ​"We should have to drain the swamp — change the cap­i­tal­ist sys­tem — if we want to get rid of those mos­qui­tos [cap­i­tal­ist spec­u­la­tors]." Ronald Rea­gan revived the metaphor in the 1980s to cri­tique Big Gov­ern­ment and, in 2006, Nan­cy Pelosi used it to crit­i­cize lob­by­ist influ­ence in the GOP-dom­i­nat­ed House.
But as Repub­li­cans renew their efforts to roll back both state and fed­er­al pro­tec­tions for wet­lands, the most recent resur­gence of swamp­land metaphor in our nation­al dis­course has grown increas­ing­ly troubling.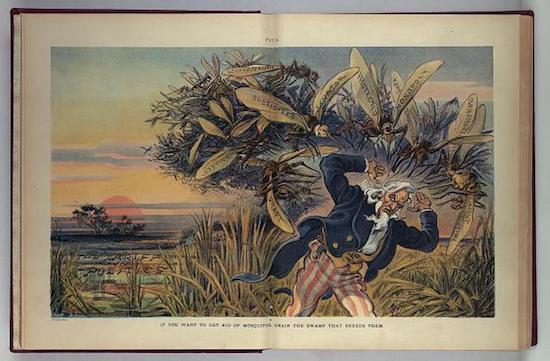 An ear­ly

20

th cen­tu­ry swamp-based polit­i­cal car­toon.
(Source: Library of Congress)
A recent Politi­co head­line asks, ​"Has Trump drained the swamp in Wash­ing­ton?" The lede in a Post arti­cle begins, ​"Less than a year after Pres­i­dent Trump rode into town promis­ing to purge Wash­ing­ton of cor­rupt insid­er deal­ing and prof­i­teer­ing, the swamp seems as fetid as ever." The list goes on — an op-ed in the Times enti­tled, ​"Trump made the swamp worse. Here's how to drain it," adds to the ubiq­ui­ty of sim­i­lar­ly themed arti­cles in the New York­er, The Atlantic, as well as even more main­stream sites like Newsweek, NBC and ABC. But even left­ist pub­li­ca­tions, like The Nation, Salon, Truthout (and even In These Times), despite devot­ed cov­er­age of envi­ron­men­tal issues, write neg­a­tive con­no­ta­tions of wet­lands into their pages.
This is problematic.
As ecol­o­gists have writ­ten for decades, swamps and their wet­land kin — fens, bogs, stand­ing pools and marsh­es — are invalu­able ecosys­tems. They fil­ter water, absorb flood­wa­ters, store car­bon and pro­vide habi­tats for innu­mer­able plant and ani­mal species, includ­ing endan­gered migra­to­ry birds like whoop­ing cranes and trum­peter swans.
Wet­land drainage can be dev­as­tat­ing on many lev­els. As ecol­o­gist Adam Rosen­blatt point­ed out in an op-ed last year, the exten­sive drain­ing of the Ever­glades result­ed in fires rav­aging thou­sands of acres for years, soil nutri­ent deple­tion, ground­wa­ter deple­tion and the intru­sion of salt­wa­ter into South Florida's aquifer. Restora­tion efforts, begun in earnest in 2000, will take at least 30 years and will cost an esti­mat­ed $7.8 billion.
But you would nev­er learn this from the media.
Last fall, for Slate, writer John Kel­ly dove into the polit­i­cal his­to­ry of the metaphor — and its ties to ear­ly 20th cen­tu­ry social­ism — but neglect­ed to men­tion at any point in the arti­cle that swamp drain­ing is eco­log­i­cal­ly dev­as­tat­ing. (He was moved enough, how­ev­er, to offer a sar­don­ic cor­rec­tion to Trump's lan­guage about swamp drain­ing: ​"You can't drain a swamp like you emp­ty a bath," writes Kel­ly, ​"You have to build spe­cial ditch­es and canals that redi­rect the water. But know­ing that would require doing a lit­tle bit of home­work.") Anoth­er ​"explain­er" piece, to which Kel­ly links, lists the many per­mits and envi­ron­men­tal stud­ies that would be required for Trump to drain wet­land areas in the cap­i­tal. But only at the end of the piece does the author offer a brief ​"bonus explain­er" on why the prac­tice of swamp drain­ing is mis­guid­ed. The reminder reads:
Is drain­ing a swamp a good idea? No. While swamps have a neg­a­tive con­no­ta­tion, that is large­ly due to our mis­un­der­stand­ing of their eco­log­i­cal use. Swamps play a huge­ly impor­tant role in the ecosys­tem. They help pre­vent ero­sion, they're able to hold excess water to help pre­vent flood­ing, they help fil­ter out pol­lu­tion, they pro­vide fish nurs­eries, and they pro­vide habi­tats for more than one-third of all endan­gered species. It wasn't until part­way through the 20th cen­tu­ry that ecol­o­gists began to under­stand these ben­e­fits. Once they did, the pace of swamp drainage in the Unit­ed States slowed down considerably.
Some might argue that the media's engage­ment with polit­i­cal swamp metaphor, though unfor­tu­nate, is unlike­ly to have a tan­gi­ble impact on wet­land con­ser­va­tion efforts. (Bre­it­bart made a sim­i­lar argu­ment in a snide response to Adam Rosenblatt's op-ed.) But as the cur­rent administration's attack on wet­lands con­tin­ues, the media's lan­guage may be help­ing to skew the dia­logue around con­ser­va­tion and envi­ron­men­tal reg­u­la­tion toward Repub­li­can interests.
As Envi­ron­men­tal Pro­tec­tion Agency (EPA) admin­is­tra­tor Scott Pruitt trav­els around the coun­try meet­ing with Repub­li­cans about water reg­u­la­tions, Repub­li­can leg­is­la­tors are work­ing to repeal the Clean Water Rule (CWR). This Oba­ma-era reg­u­la­tion, still under lit­i­ga­tion, would expand fed­er­al pro­tec­tions for iso­lat­ed wet­lands and streams under the author­i­ty of the EPA and the U.S. Army Corps of Engi­neers — pro­tec­tions that had exist­ed in unclear legal ter­ri­to­ry for decades due to murky lan­guage in the 1972 Clean Waters Act.
Unsur­pris­ing­ly, Trump would ben­e­fit per­son­al­ly from this repeal.
The CWR would raise water­way main­te­nance costs for golf course own­ers, who are among the biggest offend­ers when it comes to wet­land dis­tur­bances. The Trump orga­ni­za­tion has been cit­ed pre­vi­ous­ly for wet­land dis­tur­bances at the site of a golf course in Bed­min­ster, N.J. Accord­ing to Bloomberg, 20 Trump Orga­ni­za­tion employ­ees are mem­bers of the Nation­al Golf Asso­ci­a­tion — an orga­ni­za­tion that spent $30,000 lob­by­ing against the CWR when it was being writ­ten in 2015.
Should the leg­is­la­tion be repealed, more than 20 mil­lion acres of iso­lat­ed wet­lands would have their fed­er­al pro­tec­tions rescind­ed, mak­ing them more vul­ner­a­ble to drainage, dis­tur­bance and fill­ing. And if reg­u­la­tion of these wet­lands falls back to state con­trol, then we might see a lot more of the shenani­gans announced in Wis­con­sin this sum­mer: a leg­isla­tive pack­age from its Repub­li­can admin­is­tra­tion offer­ing large tech devel­op­ment exemp­tions from wet­land dis­tur­bance regulations.
Also in Wis­con­sin, Repub­li­can leg­is­la­tors are push­ing a pair of bills that envi­ron­men­tal­ists are call­ing the ​"end game" for devel­op­ment in wet­land areas. The bills, SB600 and AB547, would remove state pro­tec­tions for all wet­lands not pro­tect­ed on the fed­er­al lev­el by elim­i­nat­ing the per­mit appli­ca­tion process over­seen by the state's Depart­ment of Nat­ur­al Resources (DNR) altogether.
If passed, these bills would imme­di­ate­ly open up as many as one mil­lion acres of wet­lands, or one-fifth of Wisconsin's total wet­land acreage, to drainage, fill­ing and dis­tur­bance. (Res­i­dents and con­ser­va­tion­ists voiced con­cerns to the bills' coau­thors, Assem­bly Major­i­ty Leader Jim Steineke and Sen. Roger Roth, at a pub­lic hear­ing last week, but it is not clear whether this will have any impact on the bill.)
This attempt to roll back state-lev­el wet­lands pro­tec­tions in Wis­con­sin is egre­gious, but politi­cians in Repub­li­can-dom­i­nat­ed states have been push­ing back against nec­es­sary envi­ron­men­tal reg­u­la­tions for years. And under the new admin­is­tra­tion, Repub­li­can law­mak­ers are slow­ly grow­ing more con­fi­dent. Ear­li­er this year, leg­is­la­tors in South Car­oli­na intro­duced a bill that would elim­i­nate pub­lic hear­ings when devel­op­ers or farm­ers sub­mit plans to dis­turb wet­land areas.
Even on the fed­er­al lev­el, the cur­rent per­mit­ting process for devel­op­ing land on or near pro­tect­ed wet­lands is not enough to hold devel­op­ers accountable.
If a devel­op­er insists that wet­land dis­tur­bance is ​"unavoid­able," the Army Corps of Engi­neers offers per­mits allow­ing drain­ing or fill­ing on the con­di­tion that the devel­op­ers invest dou­ble the dis­turbed acreage in a wet­land mit­i­ga­tion bank. But as many point out, for unique ecosys­tems, for instance tama­rack bogs, which form over thou­sands of years, mit­i­ga­tion is not always an ade­quate exchange for wet­land drainage. And to add insult to injury, it's unclear how many devel­op­ers sat­is­fy these mit­i­ga­tion requirements.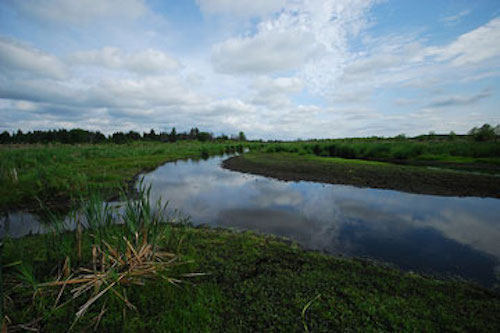 Jef­fer­son Tama­rack Swamp, forest­ed wet­lands inside south­east­ern Wis­con­sin's Jef­fer­son Marsh Wildlife Area.
(Image: Joshua May­er /
dnr​.wi​.gov
)
A 2015 report showed that, in the greater Hous­ton area, the Army Corps of Engi­neers had no track­ing sys­tem in place. The report found ​"lit­tle or no evi­dence of com­pli­ance" for half the per­mits reviewed in eight coun­ties around Hous­ton. But fed­er­al agen­cies aren't going to receive the prop­er staff and prop­er bud­get they need to be able to over­see the per­mit­ting process with care, trans­paren­cy and effi­cien­cy. At least not under Pruitt, who has just announced that the reign­ing cham­pi­on of weak­en­ing state reg­u­la­tions — none oth­er than Cathy Stepp, the for­mer sec­re­tary of Wisconsin's DNR — will be head­ing the EPA's Region 5 offices.
The cur­rent Repub­li­can assault on wet­land pro­tec­tions, and on the agen­cies that help to reg­u­late wet­lands, will only con­tin­ue to grow in scale on the state and fed­er­al lev­els. While they wage this qui­et war, it is imper­a­tive that the media recon­sid­er the way in which it talks about swampland.
When writ­ers engage with wet­lands on the terms set by peo­ple like Trump or Walk­er — politi­cians who have ide­o­log­i­cal agen­das to imple­ment and prof­its to make from drain­ing actu­al swamps and there­by cre­at­ing land that can be opened to com­mer­cial devel­op­ment — they not only pre­dis­pose peo­ple to feel ambiva­lence toward wet­land ecosys­tems, they skew the larg­er dia­logue toward Repub­li­can interests.
In fact, few Amer­i­cans have any expo­sure to wet­lands, because few such regions remain. The 20 mil­lion acres of wet­lands that may lose their fed­er­al pro­tec­tions are noth­ing in com­par­i­son with the approx­i­mate­ly 110 mil­lion acres that were already drained by the 1980s. Mean­while, a con­ser­v­a­tive esti­mate puts the total num­ber of wet­lands in Amer­i­ca at around 50 per­cent of the orig­i­nal pre-set­tle­ment total. In agri­cul­tur­al states like Indi­ana and Illi­nois, that num­ber is clos­er to 15 per­cent. Those that do remain are increas­ing­ly con­cen­trat­ed in wet­land mit­i­ga­tion sites, pre­dom­i­nant­ly in rur­al, sparse­ly pop­u­lat­ed areas.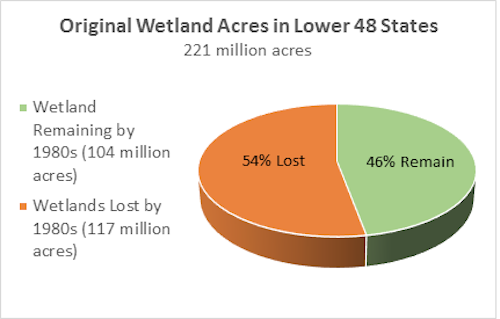 (Source: nrcs​.usda​.gov)
But while many Amer­i­cans may not be inter­act­ing with wet­lands on a dai­ly basis, most Amer­i­cans, myself includ­ed, do read the media every day. Every time ​"drain the swamp" appears in a head­line or in a lede, it desen­si­tizes read­ers to the impor­tance of wet­land ecosys­tems and strength­ens, even if indi­rect­ly, Repub­li­can argu­ments against wet­land regulation.
It's time the media final­ly recon­sid­ers its use of a well-worn metaphor and assumes respon­si­bil­i­ty for pro­vid­ing crit­i­cal eco­log­i­cal infor­ma­tion. There is no swamp in Wash­ing­ton, D.C., or any­where in the Unit­ed States, that needs to be drained — but there is a pile of politi­cians who stand to prof­it from con­vinc­ing Amer­i­cans that there is.